Novell Technical Subscriptions
Take Technical Understanding to the Next Level
It's nearly 1:00 a.m. and you're slumped over the keyboard muttering at your system. Hours ago, your reconfiguring was interrupted by a bizarre error code. You've rebooted, searched the Knowledgebase, checked product documentation, reviewed Cool Solutions and even skimmed the support forums, but you haven't been able to pinpoint a solution. And although you could call and open a technical support incident, you know you'll find the answer somewhere, if you just look hard enough.
If this scenario sounds all too familiar, you should consider Novell LogicSource®. Most companies offer some type of product documentation, but only Novell has LogicSource—an advanced technical resource that provides code-level explanations of the concepts, processes, components and operations behind the following Novell products:
Novell eDirectory
Novell GroupWise
Novell ZENworks for Desktops
Ideal for troubleshooting, LogicSource is designed for administrators who want to understand how Novell software works. If they know enough about the underlying technology and processes, administrators can accurately diagnose and rapidly solve problems. Understanding their products also empowers administrators to get the most out of them. LogicSource is a comprehensive tool: it consolidates detailed information and is a powerful, Web-accessible and cost-effective resource for any administrator of eDirectory™, GroupWise® or ZENworks® for Desktops.
Examine the Nuts and Bolts of LogicSource
Now released every three to six months, LogicSource contains the information most relevant to an administrator. LogicSource is created and maintained by experts, the people who wade neck-deep in code and are often called upon when no one else knows an answer. These experts comb implementation reports and support-call logs to identify and address emerging issues.
The experts include the following standard sections in each LogicSource product:
Understanding
Processes
Troubleshooting
Understanding
As its name suggests, this section explains the product in detail, providing an understanding of both product components and related concepts. For example, LogicSource for GroupWise includes a chapter that explains the fundamentals of messaging systems, specifically describing how e-mail works. The following chapter then describes GroupWise-specific concepts in great detail. By addressing multiple levels of knowledge, LogicSource is a valuable resource for administrators with anywhere from two days to ten years of experience.
The following figure is an excerpt from the Understanding section of LogicSource for ZENworks for Desktops. It illustrates just the Web Services components (there are at least seven other sets of components) and includes links to detailed charts, graphs and slides that provide more information about each component.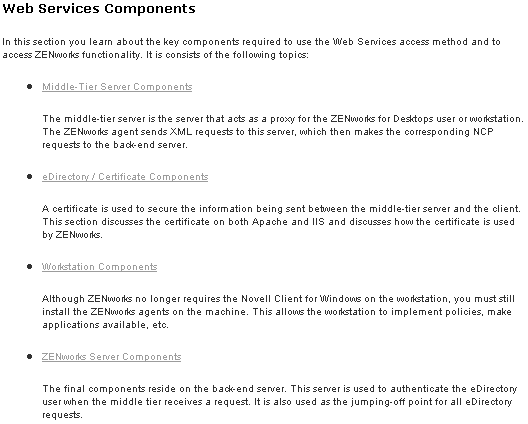 Figure 1—Excerpt from Understanding section of LogicSource for ZENworks for Desktops
Understanding is an essential part of LogicSource: with in-depth knowledge about the purpose and function of individual components, administrators have a much simpler time managing and troubleshooting the entire application.
Processes
Administrators value LogicSource for far more than its detailed explanations and bulleted lists: LogicSource itemizes the logic and process-flow behind the software. Detailed flowcharts and graphs are included for the primary processes in eDirectory, GroupWise and ZENworks for Desktops. In fact, LogicSource flowcharts are the number-one feature prized by customers. Scrupulously detailed and unique to LogicSource, these flowcharts are not available anywhere else on Novell's Web site.
By studying these charts, administrators can gain an in-depth, end-to-end understanding of common processes in Novell software. If a problem occurs, administrators will be familiar enough with the processes to know where to focus their attention and troubleshooting efforts.
The following flowchart excerpt is from LogicSource for eDirectory. It illustrates the first steps of the server synchronization process. The flowchart shown here actually contains a total of 76 steps, and each step is described in detail beneath the chart. Because of space limitations, this article doesn't include the entire chart and accompanying text.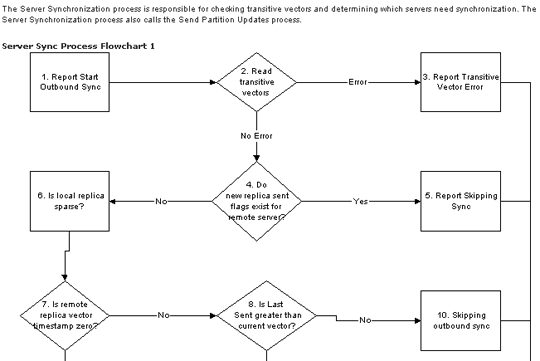 Figure 2—An excerpt from the Server Synchronization Process flowchart in LogicSource for eDirectory
In addition to explaining how a process works, the LogicSource Process sections also explain why processes exist and how they relate to other dependent processes. Understanding the relationships between processes greatly aids administrators in their troubleshooting efforts.
Troubleshooting
Many administrators rely on their LogicSource Troubleshooting sections when something goes wrong. These sections describe troubleshooting procedures and tools, common problems and fixes, error code explanations, questions to ask and much more.
The Troubleshooting section of LogicSource is a remarkable standalone resource, but is even more valuable when paired with the Understanding and Processes sections. Administrators who understand the software components and how they fit together in various processes will have a much easier time using the Troubleshooting section to address their issues. And to avoid having to use the Troubleshooting section often, administrators frequently use the design and optimization information that accompanies most LogicSource releases. This information is usually presented as useful hints, tables, procedures and actual code.
Minimize Support Costs and Efforts
By using LogicSource to understand and troubleshoot your Novell software, you can significantly reduce the amount of money you spend on support and the amount of time you spend looking for answers across the Web. Once a standalone product, LogicSource is now available through Novell Technical Subscriptions as part of the all-inclusive Novell Professional Resource Suite™ (NPRS) or through the Novell Product Toolkits™. (For more information, visit http://support.novell.com/subscriptions/subscription_products/nprs16.html and http://support.novell.com/subscriptions/subscription_products/product_toolkits17.html, respectively.)
With either of these subscriptions you receive a year of access to LogicSource. NPRS subscribers receive all available LogicSource offerings as well as a comprehensive set of Novell's other technical offerings: the latest Novell software, subscriber-exclusive and bonus utilities, patches and files, articles, documentation and many additional resources. Product Toolkit subscribers receive only the resources (including LogicSource) that correspond to their toolkit product. (For example, subscribers to the GroupWise Toolkit receive LogicSource for GroupWise and other GroupWise-related utilities and information.)
It's important to note that a yearly subscription to a Product Toolkit costs less than opening a support incident with Novell Support, and you can use LogicSource and the other resources in a Product Toolkit again and again. For Product Toolkit pricing, visit http://support.novell.com/subscriptions/buy_renew_upgrade/buy.html.
Access Up-To-Date Advanced Technical Information—Anytime, Anywhere
In addition to being the most complete product-specific resource for eDirectory, GroupWise or ZENworks for Desktops, LogicSource is extraordinarily accessible. Anyone with a Web browser can access all of their subscription's resources—including LogicSource—through the Subscriber Portal, and perform subscription-wide searches with a single query. The portal is updated frequently. For more information on the Subscriber Portal, visit http://support.novell.com/subscriptions/subscriber_resources/portal_features40.html.
Get the Answers You Need
To demonstrate how fast, thorough and easy it is to use LogicSource: during a recent Novell technical convention, a conference participant approached the Technical Subscriptions booth. He'd been struggling with some ZENworks questions and couldn't seem to find the answers he needed, despite searching everywhere on Novell's Support Web site. He performed a few queries and was able to find the answers to all three of his problems quickly in LogicSource for ZENworks for Desktops 4. The gentleman purchased an NPRS subscription on the spot. As it did for this customer, LogicSource has the fast, technical answers you need.
If you have questions about LogicSource that were not addressed in this article, contact Novell at subscriptions@novell.com or visit http://support.novell.com/subscriptions/.