Navigating the AppNotes Web Site Effectively
Articles and Tips: tip
Robert Rodriguez
Research Engineer
rjrodrig@novell.com
01 Oct 2003
In previous issues we have looked at the way the Novell website is structured. In this issue we will take a close look at the way the AppNotes website is structured and the best methods for finding articles from the AppNotes archives.
The AppNotes website is a bit more complex than the average Novell subsite because of data density. The AppNotes website contains articles dating back to 1990 (although 1990 - 1995 contains only selected articles).
Why keep all the old articles? After all, most web-based magazines only keep recent articles. Well, it has been our experience that our archives generate a large number of page views based on older products. Does anyone have a NetWare 4.x server? How about a NetWare 5.x? A number of you do and our archives act as a good source of information on those products. In fact, as of August 2003 we have about six articles dating back to 2000 and 2001 that are in the Top 50 for page views.
The AppNotes Navigation Menu
As mentioned in "Navigating Novell's Web Site Effectively" (http://support.novell.com/techcenter/tips/ant20030801.html), all Novell subsites have their own left column navigation (see Figure 1).
Figure 1: The AppNotes navigation menu.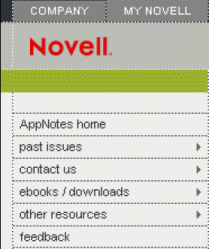 Any menu with a right pointing arrow opens a sub-menu when moused over. Below is a description of the links and what pages they open:
AppNotes Home
AppNotes home always goes to the cover page for the current issue.
Past Issues
The article archive link/page (see Figure 2) allows you to select a year of articles to view. From 1994 to 2000, Developer Notes were a separate publication and those articles are listed seperately. Section articles are included in these pages beginning in December 2001. In fact, starting in December 2001 the pages are basicly a web version of the table of contents for the magazine.

figure 2: The past issues menu.

The section archive link/page lists the sections in their four major groups: Net Management, Net Support, Code Break and Viewpoints. These groups then lead to pages where you can view every section article for that group in chronological order.

The how-to archive link/page contains a list of major articles that are designed to address topics of key strategic importance to Novell's customers, particularly the developer community. Articles are sorted by category, such as application development, web development and NetWare.

The cumulative index is a group of pages that are a keyword cross-reference of all AppNotes articles. This index is currently undergoing a major revision and at the time of this writing is out of date. However, it is still an excellent resource for searching articles prior to September 2002.

The search link/page is a custom search. This search engine deals only with AppNotes content. To search the entire Novell web site, use the Search link at the top of the page (in the top navigation).
Contact Us
The email notification link/page allows you to sign up to receive email notification on the latest issue of AppNotes. It's a great time saver. We'll let you know when new issues come out and provide you with all the links you need to get to the articles.

Figure 3: The contact us menu.

The contact us link/page provides information on how the AppNotes staff can be contacted. The page has mailing address, email address and phone numbers. There is also a permissions area where you can contact us regarding reprints

The feedback link/page allows customers to contact the AppNotes staff directly. There's no going through a webmaster with this link. Let us know if you are having problems with links, want to suggest a correction or just want to say hello.

The help link/page provides basic information about some of the more common problems we see (such as printing). If you are having a little trouble, try checking here first.

The help with Palm link/page provides information on how to view our articles using your Palm OS computing device. The AppNotes team started providing Palm binary files in December 2000.
We also started offering Win CE format documents in March 2002. These documents are a variation of Word format with the graphics removed in order to allow proper formatting and small document size.
eBooks and Downloads
The ebooks link/page displays all eBooks created for AppNotes. eBooks are PDF files that are equivelent to the entire magazine. The layout of the eBook is exactly the same as a printed copy of AppNotes. The AppNotes team has created eBooks on back issues to September 2001.

Figure 4: The ebooks/downloads menu.

Some AppNotes articles include sample files and supplemental documentation. The downloads link/page gives you access to all of these files in one page. The page starts with a legal notice before presenting you with a list of all our downloads.
Other Resources
The related links link/page contains URLs that the AppNotes staff thinks are useful to the AppNotes reader. If you have any suggestions, just use the feedback link and give us your suggestions.

Figure 5: The other resources menu.

The masthead link/page lists the AppNotes editorial staff.
* Originally published in Novell AppNotes
---
Disclaimer
The origin of this information may be internal or external to Novell. While Novell makes all reasonable efforts to verify this information, Novell does not make explicit or implied claims to its validity.