Using Your NDS Password as the Windows 95/98 Screen Saver Password
Articles and Tips: tip
Mark McKell
Editor
Novell Research
01 Nov 1999
With all of the passwords you are required to remember for your network, Internet sites, personal files, and others, it's sometimes easy to forget even the most basic one—your screen saver password. To give you one less password to remember, here are the steps to synchronize your NDS password with your Windows 95/98 screen saver password: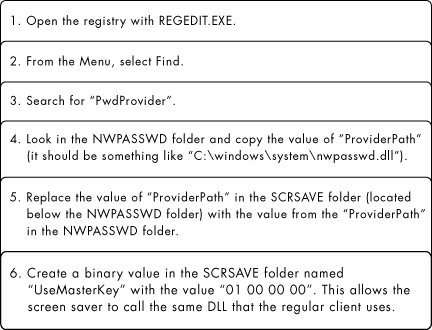 There you have it. Note that no password will be stored on the local disk. This also means that if you are not connected to the network, there will not be any password on the screen saver.
* Originally published in Novell AppNotes
---
Disclaimer
The origin of this information may be internal or external to Novell. While Novell makes all reasonable efforts to verify this information, Novell does not make explicit or implied claims to its validity.