Simplifying Web Downloads with a Download Manager
Articles and Tips: tip
01 Aug 1999
Like many software vendors, Novell makes many of its products available as free downloads. The direct link to Novell's download section is:
http://www.novell.com/download/
From this site, you can download software for the following Novell products:
NetWare

NDS

Novell Clients

BorderManager

GroupWise

ManageWise

Netscape Servers for NetWare
While this is certainly convenient for most customers, occasionally lost connections, service fluctuations, or other problems can interfere with the downloading process. If you're having problems downloading software, you can use a "download manager" to assist you. Download mangers are third-party utilities that automate the process of downloading. Their principle benefit is the resuming of interrupted downloads.
While Novell doesn't endorse or recommend any specific download manager, the table below list some third-party tools that Technical Support has briefly tested which seem to improve download reliability. The basic features are defined as follows:
Scheduling. You can start the download by obtaining the link, but schedule the actual download process to occur at a later time.

Restarts. If your connection breaks, the download can begin again.

Resumes. If you restart, this capability saves you from having to download everything that you previously downloaded prior to the connection loss.

Browser. This indicates which major browsers are supported.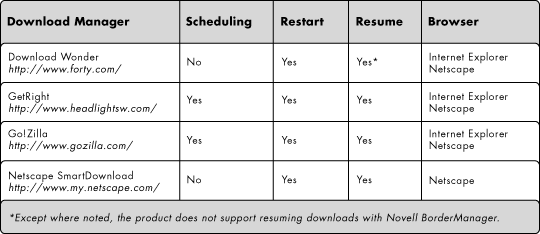 * Originally published in Novell AppNotes
---
Disclaimer
The origin of this information may be internal or external to Novell. While Novell makes all reasonable efforts to verify this information, Novell does not make explicit or implied claims to its validity.