Using ZENworks Policy Packages to Manage Windows NT Workstation User Accounts
Articles and Tips: tip
Adapted from the Novell Education
Integrating NetWare and Windows NT
course manual
01 Aug 1999
Managing Windows NT users can be a real pain. Because Windows NT Workstations require a local login, a user accessing the network through a Windows NT Workstation must have two separate accounts: one for the network, and one for the workstation. Keeping track of both the local account and the network account unnecessarily complicates the login process.
ZENworks eliminates this problem by allowing you to administer both NetWare user accounts and Windows NT Workstation user accounts from a single point through NDS. And best of all, you do not have to use NT domains.
ZENworks offers the following advantages in mixed NetWare-NT environments:
It simplifies management of roaming users who need to log in to multiple Windows NT Workstations.

It simplifies management of Windows NT Workstations that are shared by mulitple users.

It eliminates the need to configure user accounts on individual Windows NT Workstations.

It allows you to manage both network and desktop users accounts from NDS.
ZENworks provides seven separate policy package objects to choose from, depending on your needs and platform. Except for one policy package that applies only to containers, all policy packages are categorized as "user" or "workstation" packages. Within those categories, the packages are organized according to Windows platform.
Here are the types of policy package objects you can create in NDS and the NDS objects they can be associated with: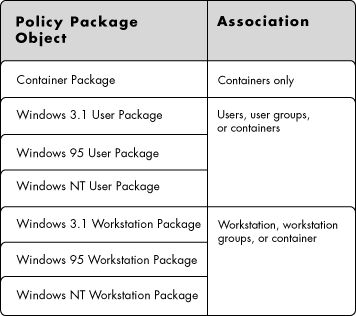 You can enable, disable, or modify any policy in the policy packages. This allows you to change the policies as your workstation management needs change.
* Originally published in Novell AppNotes
---
Disclaimer
The origin of this information may be internal or external to Novell. While Novell makes all reasonable efforts to verify this information, Novell does not make explicit or implied claims to its validity.