Resolving IRQ Conflicts on Windows Workstations
Articles and Tips: tip
Fred Ghiradelli
Associate Editor
01 May 1999
In a computer system, all hardware devices have an I/O address and most also have an IRQ. An IRQ is an interrupt request that generates a signal to the PC's CPU through an interrupt controller chip. This signal tells the CPU that an attached device has information that needs to be processed.
The interrupt controller chip was originally called the 8259 and held eight IRQs. As the need for more IRQs developed (and with the introduction of the Intel 80286 processor), another 8259 was added with an additional eight IRQs, giving the PC a total of 16 IRQs. This is the current configuration.
The table below lists the 16 IRQs found in Intel 80286 or later computer systems, along with their function and the devices most often associated with them.
Note: While this list is generally accurate, there may be some system-dependent differences in IRQ assignments, sharing, and functions.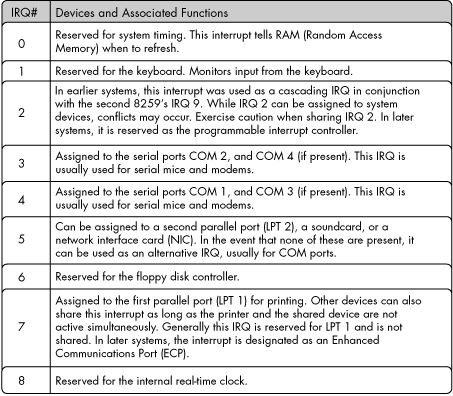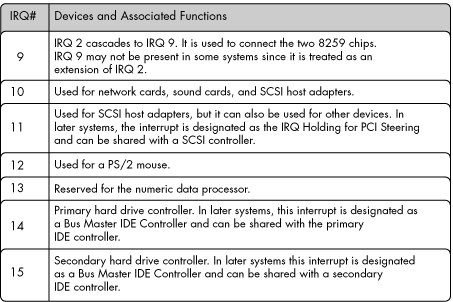 IRQ Sharing and Conflicts
It is a general rule that IRQs cannot be shared when multiple devices that are assigned to the same IRQ are active simultaneously, except under special circumstances. Symptoms of an IRQ conflict include one or the other device failing, intermittent problems, error messages, and system lockups.
The most common IRQ conflicts occur between a serial mouse and an internal modem assigned to the same COM port and interrupt. For example, if a serial mouse is configured for COM 2, by default it will use IRQ3. Many internal modems come already configured to use COM 2 IRQ 3. Since the mouse is an input device and is considered constantly active, the two cannot coexist on the same IRQ. A common solution to this problem is to move the serial mouse to COM 1 where it would be assigned IRQ 4. Another option would be to leave the modem on COM 2 but assign it to IRQ 5, if possible.
Plug and Play (PnP)
The plug-and-play specification is an industry standard that automates the process of installing new hardware into computers. Microsoft, Intel and a number of hardware manufacturers drafted the original specification. PnP uses a BIOS routine that checks to see if the hardware device you are installing is PnP compliant. If it is, PnP will attempt to auto-configure by automatically selecting an IRQ for the device along with an I/O address and DMA channel if necessary. Ideally, no user intervention is required.
Non-PnP devices are termed "legacy" devices. In theory, PnP is a step in the right direction. In reality, it is somewhat problematic. User intervention may be required, especially when legacy devices are present.
To take full advantage of Windows 95/98, PnP features require that both the host computer and peripheral devices be designed specifically for plug-and-play compatibility. Most peripheral manufacturers have committed to integrating plug-and-play compatibility into their products, but it may take a few years before this is fully realized.
Checking for IRQ Conflicts in Device Manager
The Device Manager in Windows 95/98 allows you to view your IRQs and other system settings. To access the Device Manager page, hold down the Alt key and double-click the My Computer icon to bring up the System Properties page. (You can also right-click the My Computer icon and select the Properties entry to go to the System Properties page.) Click the Device Manager tab and select the "View devices by type" radio button.
Now double-click the Computer Icon to bring up the Computer Properties screen with the View Resources tab selected (see Figure 1). By default, the Interrupt request (IRQ) radio button is selected. The View Resources tab window lists the 16 IRQs in your system, showing the devices or services associated with each IRQ. Certain IRQs may appear twice, indicating that the IRQ is shared (this is where you'll want to start looking for shared interrupt conflicts).
Figure 1: The View Resources window displays the devices using each IRQ.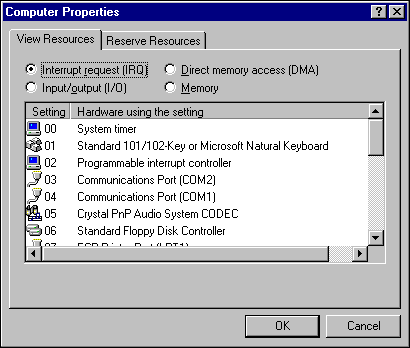 For additional troubleshooting, you may also want to view what devices are using the Input/Output (I/O) address ranges, Direct Memory Access (DMA) channels, and Memory address ranges.
If you click on Cancel in the Computer Properties screen, you will be returned to the System Properties window. Note here that the devices in your system are listed with a plus sign, indicating that the selection under each plus sign is in a collapsed view (see Figure 2).
Figure 2: The Device Manager page in the System Properties window.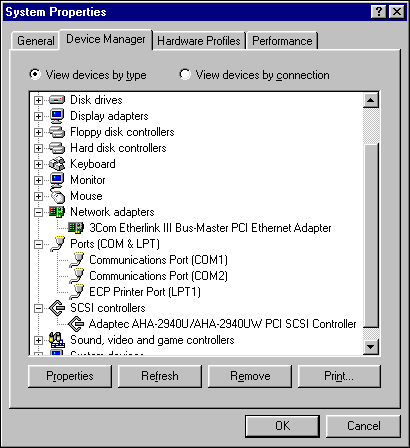 To examine the resources for a device to see if there are any conflicts, click on a plus sign to expand the selection and view the hardware items available for that selection. Double-click on an item under the selection. A Properties screen for that item will appear.
From the Properties screen, you will see several tabs. Each tab represents information about the particular device. Click on the Resources tab, which shows you IRQ and I/O information along with whether or not any conflicts exist (see Figure 3). Note: CD ROMs and certain system devices may not have a Resources tab. However, the General tab will tell you if the device is working properly.
Figure 3: Checking for Interrupt conflicts on COM 1.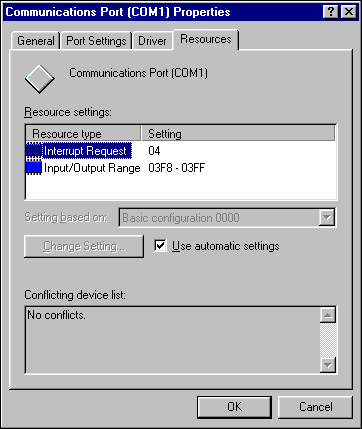 If a conflict does exist, use conflict manager to try and resolve the conflict. Start the Windows 95/98 conflict manager by doing the following:
Close all windows and return to the Desktop.

Click Start | Help and make sure Index is selected.

Type "conflict" in the "Type the first few letters of the word you're looking for" text box.

Click on Display.

Follow prompts in the Windows Help dialog box for Hardware Conflict Troubleshooter.
You can also print out a complete system summary of all devices on your Windows 95 workstation. At the Device Manager tab of the System Properties window, click the Print button at the bottom of the screen. You will see a Print dialog box that allows you to print out a System Summary report, a Selected Class or Device report, or an All Devices and System Summary report. These reports can be helpful in recording which devices are causing conflicts on a workstation.
In summary, remember the following:
IRQs 0, 1, 6, 8, and 13 are reserved.

IRQs 2 and 9 are treated as one. IRQ 9 may not be present in some systems.

IRQs 3 and 4 are standardized and are not shared.

IRQ 5 can usually be shared.

IRQ 7 is standardized but may be shared.

IRQs 14 and 15 are standardized and are only shared for internal system functions.

IRQs 2, 9, 10, and 11 are generalized and can be shared.

IRQ 12 cannot be shared if a PS/2 mouse is in the system.

You can receive IRQ conflicts from devices sharing interrupts.

You can receive conflicts from plug-and-play mismatches.

Use the Device Manager to isolate interrupt and memory conflicts on a workstation.
* Originally published in Novell AppNotes
---
Disclaimer
The origin of this information may be internal or external to Novell. While Novell makes all reasonable efforts to verify this information, Novell does not make explicit or implied claims to its validity.