Pentaho
Articles and Tips:
01 Feb 2006
Business Intelligence (BI) has been one of the hottest segments in enterprise software during the last five years. Estimated at more than US$11 billion by IDC, the BI market continues to grow and evolve from a "nice-to-have" technology to a mission-critical requirement in any competitive business environment. This market has grown based on a proven track record of customer value and ROI. Today, most organizations view BI as a low-risk investment that offers more value from existing information and systems already in place. The recent attention paid by large software companies such as Oracle, Microsoft and SAP validate the significant future opportunity of the BI market.
While BI is a mature market, it continues to evolve rapidly. Established BI vendors face numerous challenges in retaining market share over time. BI has become an expensive and complex technology, and in many cases, developed in a way that counters to prevailing IT trends. Organizations are looking for flexibility, open standards, better value for their IT dollar, and modular and serviceoriented architectures. Traditional BI vendors are delivering complex, monolithic suites that are expensive to acquire, integrate and deploy. BI is a market ripe for a disruptive technology and business-model driven change.
The Pentaho Business Intelligence Project
The Pentaho Business Intelligence Project is an ongoing effort by the open source community to provide organizations with best-in-class solutions for their enterprise BI needs. On December 20, 2005, Pentaho delivered its first open source release for general availability, delivering capabilities for reporting, analysis, dashboards and a BI platform. This is a positive disruptive event for the BI industry, representing the first comprehensive BI suite available via a commercial open source model.
Where does Pentaho Fit In?
Pentaho Corporation is the professional open source company that centrally facilitates and manages this process. Pentaho also provides comprehensive technical support, release management, quality assurance and commercial extensions to open source products.
The Pentaho Business Intelligence Platform
The Pentaho Business Intelligence Platform is an enterprise-class BI solution that improves the efficiency and effectiveness of an organization by deploying a comprehensive set of BI capabilities including reporting, analysis, dashboarding, data mining and workflow. By providing a comprehensive platform that spans multiple end user needs, the Pentaho BI Platform helps avoid departmental information stovepipes, and enables IT to address end user requirements without the time and expense of supporting multiple disparate tools, technologies and platforms. From an end user perspective, a common platform facilitates easier sharing of information, one version of the truth, and fact-based decision making.
Figure 2: The Pentaho BI Platform delivers end user capabilities on a common technology foundation, providing centralized security and integration, report scheduling and workflow on a scalable, standards-based architecture.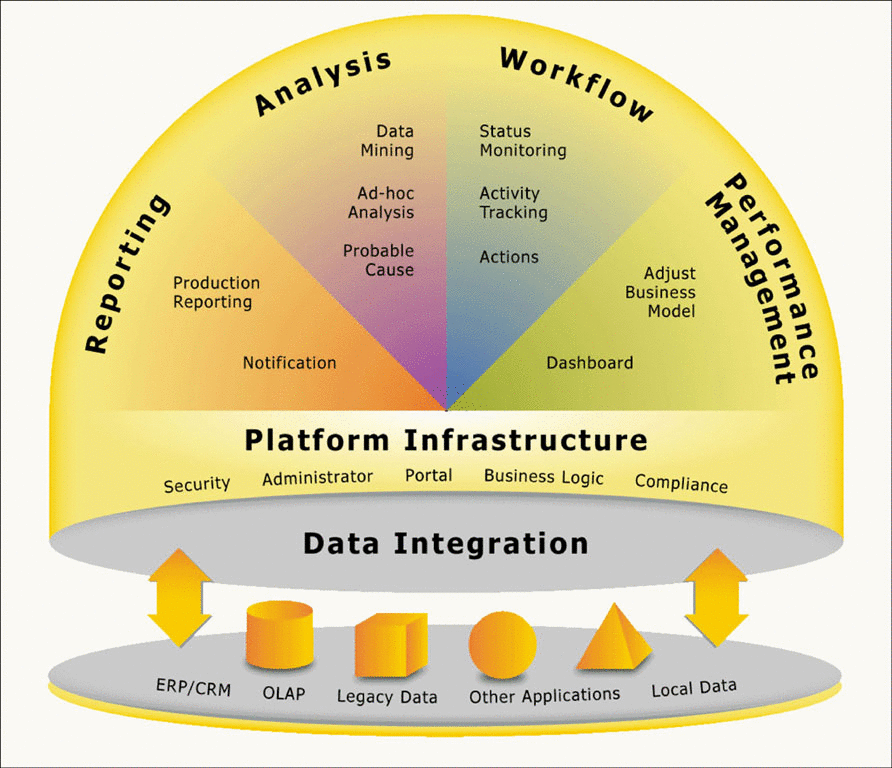 Finally, the Pentaho BI Platform uniquely integrates with and supports an organization's business processes. Standards-based workflow is at the heart of the Pentaho BI Platform, orchestrating processes within the BI environment, as well as linking to external business processes to ensure relevant BI content is delivered to support and improve operational business processes.
TECHNOLOGY HIGHLIGHTS
supports J2EE-compliant application servers for enterprise scalability

provides Web Servicesbased access to all components

provides XML definitions for all content to enable creation and modification by means other than the graphical user interfaces provided, for example, manually or programmatically editing the XML

uses a common repository providing server-based storage and management of the definitions of dashboards, reports, templates, queries and other content

delivers graphical administration

integrates design tools as part of the Pentaho Workbench, which are delivered inside Eclipse

includes security and compliance features such as role-based security, business rules and logging

supports Java single sign-on/JOSSO and LDAP to integrate with existing enterprise security.
Comprehensive Business Intelligence Capabilities
REPORTING Pentaho delivers reporting capabilities to support any reporting need, from operational reports and invoices to rich, graphical, analytical reports showing trends over time. "Bursting" support allows large numbers of reports to be securely and scalably delivered to thousands of users in a choice of formats, including HTML, Adobe PDF or Microsoft Excel.
ANALYSIS Pentaho also provides sophisticated, interactive analytical capabilities, allowing end users to interactively explore information, uncovering opportunities and exploring root causes. The system provides a "dimensional" view of the data so business users can analyze data by product line, geography, business unit, time period or other dimensions of analysis. Analysis from Pentaho provides high performance, even against very large data sets.
DASHBOARDS Dashboards provide immediate insight into an organization's Key Performance Indicators (KPIs), allowing employees at any level to share a common view of organizational performance. Dashboards help align employees to a common set of metrics, tailored to their roles and responsibilities, and can easily link to underlying reports and analysis for supporting details.
BI Platform The Pentaho BI Platform delivers end user capabilities on a common technology foundation, providing centralized security and integration, report scheduling and workflow on a scalable, standards-based architecture. The Pentaho BI Platform makes it easy for organizations to integrate actionable business intelligence with operational processes, ultimately improving their performance.
Experienced Team Founded by industry leaders: The core project team at Pentaho has a strong track record of creating highly successful BI products for leading commercial software vendors including Business Objects, Cognos, Hyperion, IBM, Oracle and SAS. Together, they are seeking to achieve positive, disruptive change in the BI space by making a class-leading BI platform free to everyone.
For more information
Web: pentaho.org
e-mail: communityconnection@pentaho.org
Phone: +1 407-812-OPEN (6736)
* Originally published in Novell Connection Magazine
---
Disclaimer
The origin of this information may be internal or external to Novell. While Novell makes all reasonable efforts to verify this information, Novell does not make explicit or implied claims to its validity.