MySQL Network
Articles and Tips:
01 Feb 2006
In a recent CIO Insight survey, a resounding 81 percent of respondents say they have deployed or are considering deploying an open source system or application. In addition, 72 percent report plans to expand their use of open source within the next 12 months. Cost reduction is the top reason for moving to open systems, but organizations still have many questions about implementing open source products for their business critical applications:
How do I get technical support?

Are open source products stable and mature?

What version of the product should I use?

Have security vulnerabilities been addressed?
MySQL Network: Save Time and Effort
MySQL Network answers these questions by providing a comprehensive set of enterprise-grade software, support and proactive services to ensure the highest levels of reliability, security and uptime. Once you try MySQL Network, you'll realize that it is the smart choice for lowcost, highly reliable, enterprise database-driven applications.
24x7 Production Support Available from Novell and MySQL
MySQL Network includes 24x7 technical support services that ensure your production database applications are always available. MySQL Network gives you the flexibility to choose the service level that matches your requirements through Silver, Gold and Platinum offerings. MySQL Network Platinum provides enterprise organizations:
24x7 telephone and Web access to the Novell and MySQL support teams

emergency-response times of less than 30 minutes

an unlimited number of support incidents

consultative support including performance tuning

proactive account management
By offering direct access to the MySQL support team, you can be assured that MySQL experts are available when you need them. The MySQL support team is composed of database experts who understand the issues and challenges you face because they've overcome the same challenges themselves. MySQL will find a fix to your problems fast.
Certified Software Improves Reliability and Uptime
The MySQL Pro Certified Server enables you to deliver high-performance and scalable business systems. It virtually eliminates the uncertainty of which version of MySQL to deploy, and it reduces the time-consuming testing process required to verify the most appropriate version. The MySQL Pro Certified Server has gone through rigorous testing using commercial and open source testing tools. MySQL certified software focuses on stability, reliability and security to meet the business needs of enterprise customers.
It is:
ready for enterprise deployment

proven to be stable, reliable and mature

tested using extensive test suites for Regression, Benchmark and Boundary conditions, including third-party test suites from Coverity and Klocwork

tested for known security vulnerabilities

distributed using Native Package Managers on more than 10 platforms.
Update Advisor
The MySQL Update Advisor keeps you informed of MySQL product updates to help you quickly determine which version to use. (See Figure 1.) As a MySQL Network customer you will automatically receive all MySQL maintenance, updates and major upgrades, so you can always run the most current version of MySQL. In addition, the Update Advisor notifies you of issues and security alerts before they impact your system. It is also customizable so you receive alerts based on platform, software used and more.
Figure 1: The Update Advisor helps you stay up to date with MySQL releases. Based on your profile, you get alerts when there's an update relevant to what you are using.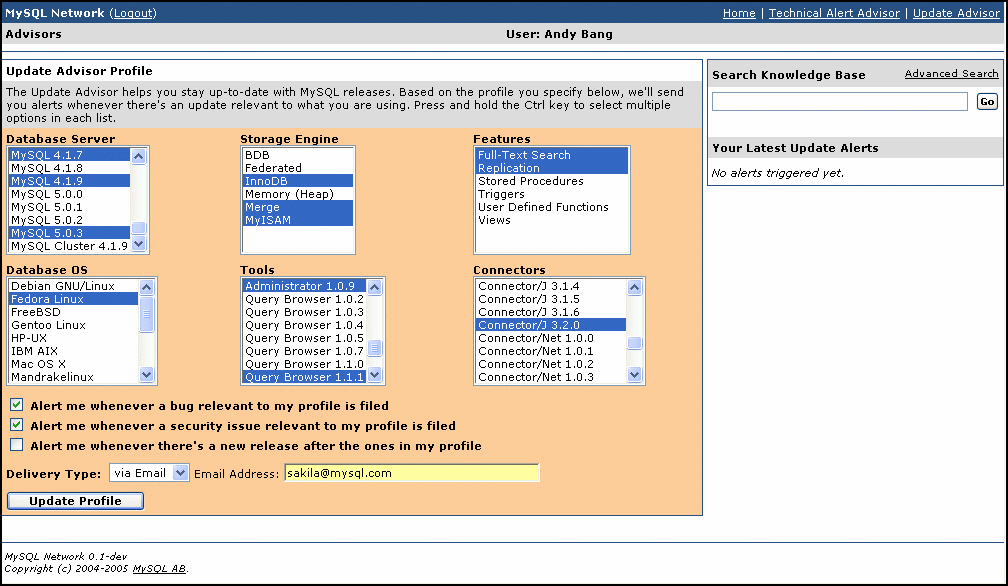 Technical Alert Advisor
The MySQL Technical Alert Advisor keeps you informed of security alerts or other issues that can impact your MySQL production servers. The Technical Alert Advisor helps you easily maintain a secure and reliable MySQL infrastructure. Alerts can be sent to you via e-mail, pager or SMS messages.
Comprehensive KnowledgeBase Provides Fast Answers
The MySQL KnowledgeBase provides a comprehensive library of hundreds of technical articles resolving difficult problems on popular database topics such as performance, replication and migration. (See Figure 2.) The KnowledgeBase is a centralized repository that eliminates time-consuming browsing and reading of often-unrelated information in mailing lists and newsgroups. It provides you:
fast, accurate answers when you need them most

a fully categorized, indexed and searchable repository of technical articles

hundreds of articles including information on MyISAM, JDBC, InnoDB, ODBC, Performance, Security, Replication, Migration and more

information on the latest features of MySQL 5.0, such as using stored procedures, triggers and views

best practices, problem resolutions and how-to articles written and reviewed by MySQL engineers

a fully integrated environment with MySQL production support.
Figure 2: The MySQL KnowledgeBase provides a comprehensive library of hundreds of technical articles resolving difficult problems on popular database topics. A centralized repository, it eliminates time-consuming browsing and reading often-unrelated information in mailing lists and newsgroups.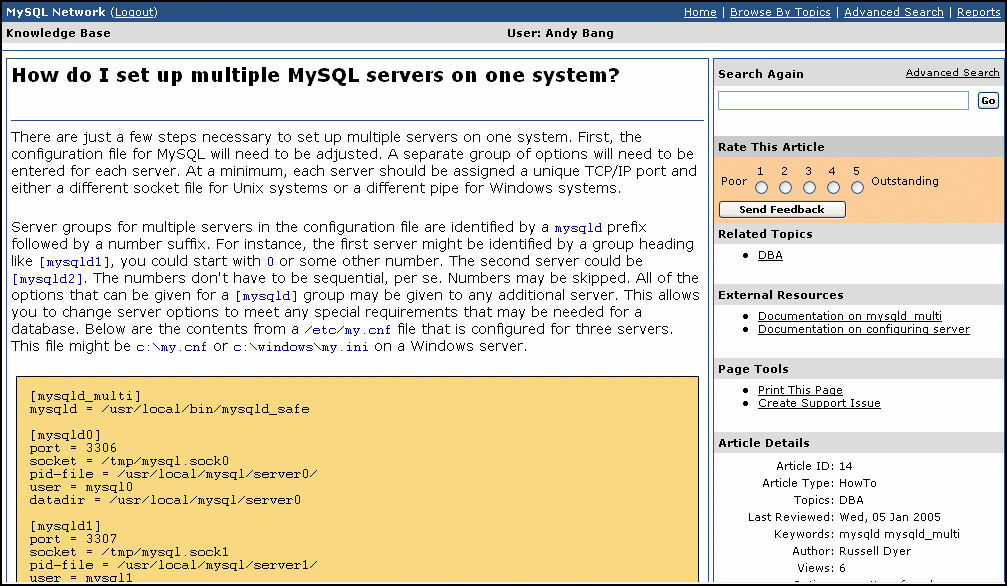 Learn More About MySQL Network and Get It Now From Novell!
Contact your Novell representative today to learn how you can run your applications with MySQL and modernize your business with open source! Call 1-800-529-3400 or visit here.
* Originally published in Novell Connection Magazine
---
Disclaimer
The origin of this information may be internal or external to Novell. While Novell makes all reasonable efforts to verify this information, Novell does not make explicit or implied claims to its validity.