To the Point
Articles and Tips: article
Derek Adams
BrainStorm, Inc.
01 Mar 2005
The teachers and staff at East Grand Rapids Public School System in Grand Rapids, Michigan, had a problem, but it wasn't with the students?it was with the network servers. Microsoft's Active Directory just wouldn't work across all the desktop operating systems they were using, and Jeff Crawford, the manager of networking and security for the school system, was hearing about it.
That's when Crawford, who has a background mostly in Windows and Linux, found out about Novell and eDirectory. He immediately switched to eDirectory and now says, "When eDirectory is driving the bus, most of my user problems don't exist. It just works."
When he switched to eDirectory he also switched to NetWare servers and loved the result. But, as NetWare became harder for him to administer and as Linux began growing in enterprise business popularity, he was one of the first in line to beta test the best of both NetWare and Linux in Novell Open Enterprise Server.
To present the change and other options to the school system officials, Crawford said he also researched other proprietary servers, but found them to be too expensive for a meager public school budget. "When it came down to it, it was a matter of both money and freedom of choice," he said. "If you compare the suite of applications that you receive with Open Enterprise Server you are getting incredible value for your dollar. With our Novell Academic Licensing and Open Enterprise Server we are able to own Open Enterprise Server as well as many of the Novell applications and plug-ins that we need. We can't even get enough Windows CALs to use Windows as a file server for the same price."
Now almost done with the beta testing, Crawford said that he has noticed a substantial change in how Open Enterprise Server manages memory and tightens collaboration. He is also excited for the prospects of the open source component. "I can use the help desk application I want for free, and that bottom line also helps me to convince my boss of the value of open source."
Early Development
Crawford and his superiors are not the only ones that are convinced of the bright future and value of Linux and open source. Since the launches of NetWare 6.0 and 6.5, which both had open source components, and then with the Novell acquisition of SUSE LINUX in January 2004, Novell product developers have been busy finding the best way to meld the next iteration of NetWare and other Novell technologies using open source and Linux.
"The feedback we received from our market research showed us that the industry was ready for open source, but needed the confidence that came with NetWare. Novell Open Enterprise Server became the culmination that gives our enterprise customers both the freedom of open source through Linux and the confidence and familiarity of NetWare," said Novell Product Manager Rick Fowler.
Fowler said product development for Open Enterprise Server began long before Novell acquired SUSE LINUX. He said that for at least a year before, Novell had been testing the market and finding that their big enterprise customers needed the freedom of an open source operating system to run many of their applications that didn't run on NetWare.
"For customers it was a choice between buying proprietary servers that would run proprietary software, but nothing else, or open source server systems that didn't come with the support or training proprietary products provided," he said. "Customers told us that they wanted to leverage their current infrastructure and incorporate Linux and open source into the mix, and allow the two systems to coexist when they need to."
This task, however, did not prove to be an easy one. Hugo Parra, the lead project manager for Novell Open Enterprise Server said that the work and man hours involved in development were significant compared to other projects. "We had at least 70 to 80 percent of our engineering teams working on all of the components for a couple of years," he said.
Parra said that although Open Enterprise Server combines some existing technologies, the combination required a lot of new development, as well. He said his team needed to find a way to give both NetWare and Linux a common management interface (iManager), to create a way to make installation simple and integrated, and to make NetWare support-ready for updates.
"People in the industry are still scratching their heads about how to combine proprietary and open source technologies. We have proven that they can coexist by developing Open Enterprise Server and integrating their separate technologies," said Parra.
The Complete Package
Now released to the public, Novell Open Enterprise Server will deliver much more than simple server operating systems. Besides getting the current NetWare kernel and updated services and all the SUSE LINUX Enterprise Server 9 services, you'll get common management and integration tools as well as a list of technologies not available in standard Linux or NetWare distributions. These technologies include services that provide for applications, filing and storage, high-availability, management, networking and productivity, and security.
Application Services
Novell Open Enterprise Server includes an extensive number of open source technologies. Many of these technologies, such as Apache, J2EE, Java, MySQL, PHP, Perl and Tomcat, run on both NetWare and SUSE LINUX. Through these technologies, you can avoid dependence on a single proprietary vendor, deliver more efficient services, respond quickly to your customers and explore new options for lowering costs.
In addition to these open source applications, SUSE LINUX Enterprise Server 9, included in Open Enterprise Server, allows you to develop your own software solutions through built-in network services and protocols, including CUPS, DNS, DHCP, IMAP, NTP, SLP, Postfix, PXE, Proxy, Samba, SNMP and SMTP. The Linux server also includes application and database services, such as Apache, JBoss, Tomcat, MySQL and PostgreSQL, and supports popular solutions from hundreds of independent software vendors.
Unlike other Linux distributions, SUSE LINUX Enterprise Server 9 also comes with Novell support services, including technical support, training, consulting and an extended partner network and corporate confidence that Novell brings to the table.
File and Storage Services
Because one of the most important parts of running an enterprise server is making data available and secure, along with the vast array of application services, Novell Open Enterprise Server provides tested and proven file and storage services.
Open Enterprise Server includes backup, snapshot, archive and versioning services to help you safeguard your essential data and help you comply with government- and industry-imposed regulations. Open Enterprise Server also ships with iFolder to help you make company files automatically follow users everywhere?online and offline?across multiple systems?and the Internet. Any changes users make to an iFolder file are automatically and intelligently updated to your company's iFolder server through its Internet connection. (See Figure 1.)
Figure 1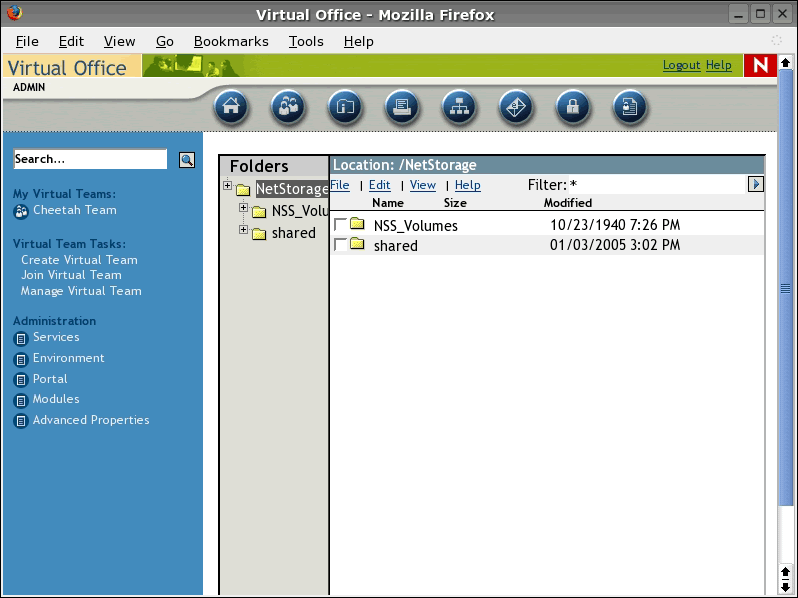 For backup and archiving as well as high-availability clustering, storage and provisioning, Open Enterprise Server includes a Novell alternative to a traditional SAN in its Internet Small Computer System Interface (iSCSI). iSCSI leverages your existing Ethernet infrastructure to create an easily manageable, affordable SAN. For another storage alternative, Novell Open Enterprise Server also includes NetStorage, a secure Internet-based storage bank that allows access to all files and folders stored on your Open Enterprise Server server. Because NetStorage authentication relies on eDirectory (which is also included with Open Enterprise Server) to provide secure access, this Internet-based access is as secure as accessing files from within the network. (See Figure 1.)
To deal with a more varied operating system environment like most enterprises now employ, Open Enterprise Server includes Novell Network Attached Storage Protocols. This server-based solution enables users on Windows, Macintosh and Linux operating systems to access storage on NetWare and Open Enterprise Server without having to install specific client software on each workstation.
Finally, as part of its file and storage services, Open Enterprise Server includes Novell Storage Services. Scalable to accommodate the needs of your growing business, Novell Storage Services is easy to maintain and protects files against corruption.
High-availability Services
Filing and storage systems don't do much without the technology to make those files highly accessible. Open Enterprise Server makes this part of network administration easy by providing several high-availability services.
To protect your business systems from downtime and disaster, Open Enterprise Server leverages and is compatible with the new Novell Business Continuity Clustering technology which is available separately. These automated configuration and management processes can save your business time, minimize the possibility of human error and lower the total cost of owning your network.
Open Enterprise Server also includes Novell Cluster Services 1.8 to help your manage all the resources on your existing Storage Area Network (SAN). In addition, when Novell Cluster Services are combined with a SAN solution, you can provide secure, uninterrupted access to your organization's critical data and applications.
Management Services
One of the most exciting parts of Novell Open Enterprise Server is the way it provides new technology to monitor and manage both the Linux and NetWare server operating systems with the same tools. These tools centralize management, assess the condition of servers, simplify migration and consolidation, discount the need for user intervention and schedule or automate routine tasks.
To help you simplify network-wide management tasks, ensure interoperability and curtail redundancy, Novell Open Enterprise Server includes the Common Information Model (CIM) to support server-health monitoring. This system allows you to stop spending countless hours monitoring your systems. To check server status with CIM, you need only use any Internet browser to get a quick glance or see detailed analyses for memory, operating systems, processes and threads, the network, and CPUs. (See Figure 2.)
Figure 2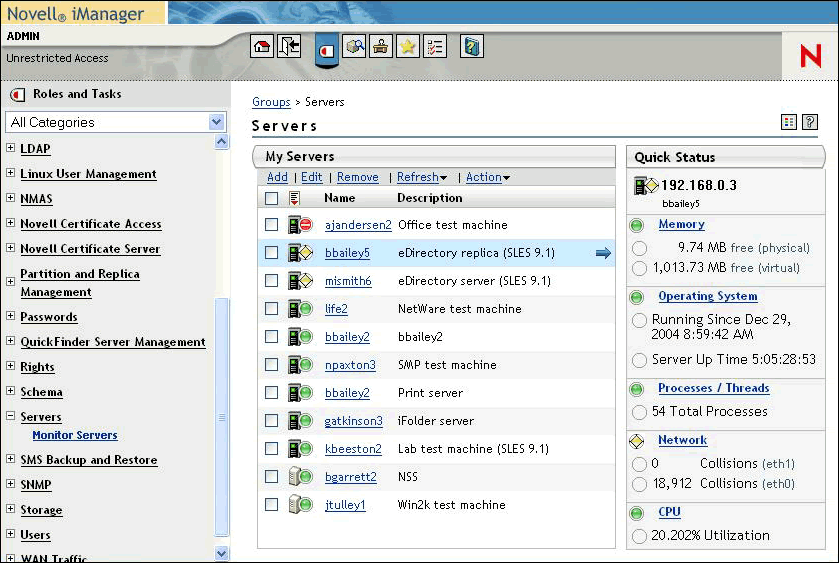 The new Novell iManager is the technology in Open Enterprise Server that lets you centrally view and manage network demands, whether using Linux or NetWare systems or both. iManager is a browser-based monitoring tool that centrally views and manages the demands of the network. Built on the foundation of its forerunner, ConsoleOne, iManager also provides a number of capabilities that help you get more done, and with more flexibility. (See Figure 2.)
To simplify and accelerate how you move data between servers, Novell Open Enterprise Server includes NetWare Migration Wizard 8.0. The Migration Wizard helps you relocate massive volumes or specific directories quickly and efficiently.
As a download that will be available after Open Enterprise Server ships, the Server Consolidation and Migration Utility will simplify and accelerate how you move data between servers. It will help you relocate, or migrate, massive volumes or specific directories quickly and efficiently. As the name implies, it will also help you copy data from existing source servers to a smaller number of destination servers, thus simplifying administration and IT costs. The utility is a slick file- and print-consolidation tool that will help you reorganize the network and therefore have fewer servers to track. (See Figure 3.)
Figure 3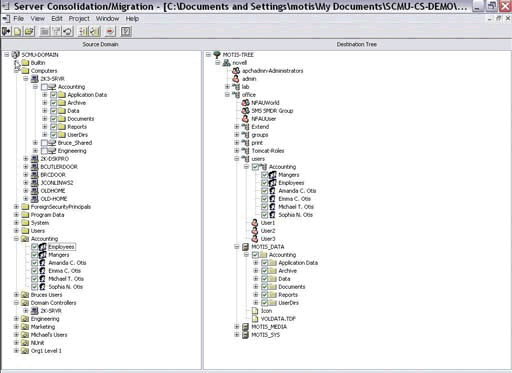 You'll be able to download this utility from www.download.Novell .com to replace both the Migration Wizard and the Server Consolidation Utility using the "Check for Updates" button from within the version of the utility that originally ships with Open Enterprise Server.
Networking and Productivity Services
Although it is mostly a server operating system alternative, Novell Open Enterprise Server also includes services that provide for basic but critical tasks: accessing, saving, printing, collaborating and more. With Open Enterprise Server, however, you can perform these tasks faster, easier and more reliably. Open Enterprise Server includes the following networking and productivity services.
Because smoothing the integration between all desktop operating systems is so important, Open Enterprise Server supports mixed desktop environments of Windows, Linux and Macintosh. With Novell Open Enterprise Server, users enjoy the full range of Novell services, such as Novell eDirectory, integrated messaging, single synchronized login, secure file access, automated printing and multiprotocol support.
Open Enterprise Server also includes Novell iPrint to provide global access to printers, customizable views of any print environment, flexible print deployment configurations and secure printing. It's the popular, secure print service that uses Internet technologies to allow you to send documents to printers anywhere in the network, local or remote. (See Figure 4.)
Figure 4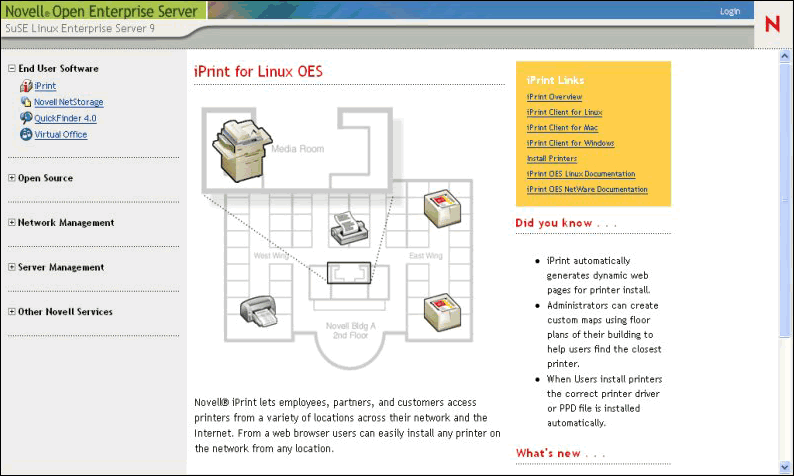 For indexing and organizing, as well as to give your Web site visitors quick, easy access to information, Open Enterprise Server comes with the site-specific search engine, QuickFinder. Unlike other search engines, QuickFinder also allows for hassle-free administration of searches and server access. (See Figure 5.)
Figure 5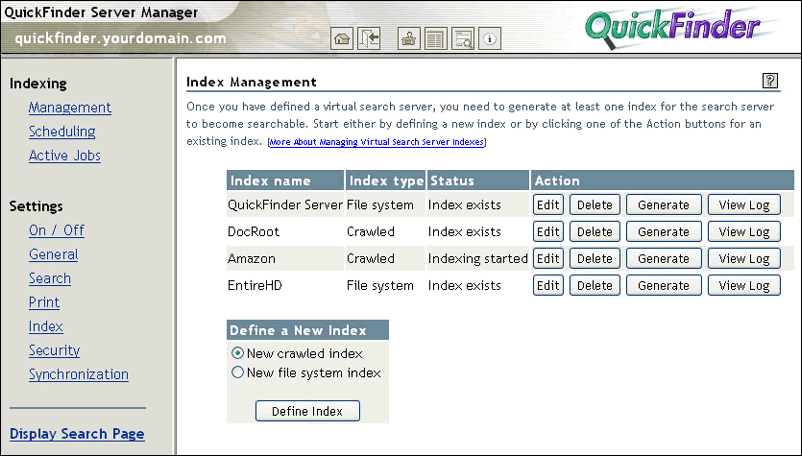 Finally, to help with office collaboration and keep teams focused and productive, Novell Open Enterprise Server comes with Virtual Office. With Virtual Office, users can access network files, automate print-driver installation, manage passwords without helpdesk assistance, and manage Virtual Teams without IT intervention. (See Figure 6.)
Figure 6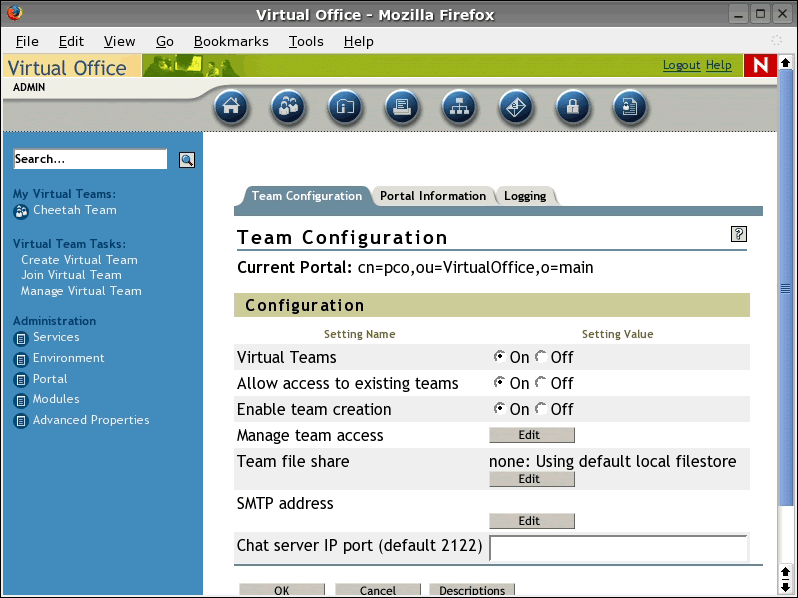 Security Services
Another one of the biggest draws to Open Enterprise Server is its secure server system. Although Linux in general is more secure than other proprietary servers, the Linux server component in Open Enterprise Server's (SUSE LINUX Enterprise Server 9) is on track to be the first to receive Common Criteria Evaluation Assurance Level (EAL) 4+ certification, the highest level of security and operations certification ever achieved in the Linux market. In addition to this server, Open Enterprise Server provides the following security services.
Open Enterprise Server would not be complete without including Novell's foundation for the world's largest identity management deployments, eDirectory. eDirectory is a high-end directory service that helps you manage identities and security access for employees, customers and partners. With Novell eDirectory, you have real-time control over users' access to network resources.
Open Enterprise Server also comes with Novell Modular Authentication Service, which allows you to support almost any kind of authentication technology, including smart cards, proximity cards, Kerberos, tokens, biometrics and digital certificates. With Modular Authentication Service, you don't have to rely on passwords alone.
And finally, to keep all systems secure, Open Enterprise Server comes with powerful identity synchronization capabilities through Novell Nsure Identity Manager 2 Bundle Edition. This powerful software keeps your business systems secure as new hires, customers, partnerships, mergers, job changes and terminations reshape user-access needs by automating changes to user access rights, passwords and profiles, and synchronize identities between Windows NT/2003, Active Directory, eDirectory and NDS.
Reactions
With all of the features included in Novell Open Enterprise Server, it's no wonder the buzz about the re-emergence of Novell into the enterprise server arena has been so positive. Crawford and the East Grand Rapids Public School System are not the only ones excited about Open Enterprise Server's possibilities.
In his article about the public beta launch of Novell Open Enterprise Server, Industry Analyst David Kearns compared the hype around Open Enterprise Server to that surrounding NetWare 5.0: "Open Enterprise Server has generated more discussion and publicity for Novell since the release of NetWare 5.0 a little more than six years ago. The promise of all the old familiar NetWare services, as well as a plethora of new ones sitting atop either a NetWare or a SUSE LINUX kernel (or both), has the potential to make networking exciting once again?and I mean that in a good way!" he said.
Gartner, another industry analyst group, has raved about Open Enterprise Server and given it its highest reviews.
From the feedback of the recent beta test, as well, it is obvious that industry reaction is good. Every beta tester surveyed said they would recommend Novell Open Enterprise Server to another company, and each said they planned to purchase or adopt Open Enterprise Server as their next server system.
Brad Startup, the senior support analyst for Johnson County Community College in Overland Park, Kansas, said he decided to test Novell Open Enterprise Server to be able to stay current with NetWare and get all the other features of Linux, including its security and cost-effectiveness. "Novell has the vision of the future?in-house development of enterprise software instead of the innovating, acquiring, and merging of other technologies. Support is better, products are more secure, and Novell offers more features over their competitors who try to throw products together and make them work."
The vision of the future for Novell Open Enterprise Server obviously includes open source and Linux, and half of the beta testers surveyed said the Linux component of Open Enterprise Server was the most attractive.
Al Hidalgo, the senior analyst of information technologies for the University of New Mexico Hospitals found it harder and harder to manage his Windows servers because of security problems. In his HIPPA-regulated environment, security is key, and he said with its Linux component, the security of Novell Open Enterprise Server is the most attractive feature. "Windows has too many security issues, and even with Active Directory is a management headache. We would like to move as much of our back end to Linux as possible," he said.
Company owner of LinuxInfinity, Svetlin Petrov, said that most of his current network services were running under NetWare and Windows, but now he believes Open Enterprise Server will give him the best from both the NetWare and Linux worlds. "Right now NetWare runs perfectly, but it lacks applications," he said. "It's amazing to see all of the NetWare services running under Linux and being managed in the same way as when running under NetWare."
Urs Iseli, the IC platform architect for Cablecom GmbH in Switzerland said that he likes Novell Open Enterprise Server because it gives him the freedom to choose. He said testing Open Enterprise Server helped convince him to not change the internal file and print services to another more expensive server. "There are lots of applications available that will never be on NetWare. By making the fundamental NetWare services available on the Linux platform, the value of those are added to the countless Linux applications," he said.
Jimmy Cartrette of Internet Technologies said he is excited about Linux in Open Enterprise Server because he can introduce Linux to his Novell clients. "We've been a Linux shop for a long time," he said, "but we have had trouble finding a good directory platform that wasn't Microsoft. We are excited about the Open Enterprise Server now that we can take our Linux experience to our Novell clients and provide a better experience over Microsoft products. We've been selling Linux and Novell products for years. Finally we are able to sell an excellent package combining the power of open source with the backing and experience of Novell."
Erno de Korte of Clarify in the Netherlands agrees with Cartrette in that Open Enterprise Server is the perfect package to make all of Novell solutions the mainstream. He thinks it is great that Novell offers both choice of kernel and choice of services.
"It is truly a great way to present the rich set of services that Novell is known for and has been offering for quite some time. These services are really appreciated by anyone currently using them," he said. "Open Enterprise Server is a big step forward. Linux shops will get access to a rich set of mature Novell services that have been the favorites of many Novell customers for years and Novell customers will get a very reliable new kernel that will be an excellent starting point for their next generation."
Sebastian Payne, who owns his own computer consulting company, sees the combination of open source and proprietary technology in Novell Open Enterprise Server as groundbreaking. "Open Enterprise Server will transform server computing. No longer are commercial and open source software limited. Thanks to the excellent Novell combination of SUSE LINUX Enterprise Server and NetWare, open source server computing has a long and happy future with us," he said.
The Future
With industry analysts, the stock market and beta users all buzzing about Novell Open Enterprise Server, the future of Novell is bright. With NetWare, Novell became the preeminent large enterprise server provider. Now with Open Enterprise Server, the next level of NetWare, Novell has positioned itself as the leader again.
"Novell is taking advantage of a different trend," said Novell's Fowler. "Our using Linux and proprietary tools has positioned Novell as the company that understands big business infrastructure. Novell Open Enterprise Server has made that position relevant again."
Not only has Novell created a new product for its existing customers, but it has expanded its customer base by launching Open Enterprise Server. Fowler said, "Novell Open Enterprise Server delivers to CIOs the confidence to be able to test the waters of open source and Linux. They can get their big toe wet without jumping all the way in."
BrainStorm, Inc. is a Novell-Authorized end-user training partner and has developed solutions to ensure that end users can fully utilize Novell tools. BrainStorm offers training services and materials (including its popular quickstart cards) for the Novell Linux Desktop, OpenOffice.org, GroupWise, Virtual Office and other desktop applications. Contact BrainStorm at 1-801-229-1337 or online at www.brainstorminc.com.
* Originally published in Novell Connection Magazine
---
Disclaimer
The origin of this information may be internal or external to Novell. While Novell makes all reasonable efforts to verify this information, Novell does not make explicit or implied claims to its validity.