Trend Talk - Guilty On All Counts
Articles and Tips: article
The Novell Strategic Marketing Group
01 Aug 2005
Talk to IT managers at any enterprise and they will tell you that Novell and Red Hat have the only two commercial Linux distributions on which they would consider running mission-critical applications. According to IDC, Novell and Red Hat combined have more than 80 percent of the Linux market share. But how do you choose between them?
Red Hat Enterprise Linux 4 (RHEL 4) is a family of Linux server and desktop operating systems. Delivered to market in early 2005, RHEL 4 adopts the 2.6 Linux kernel technology and its benefits: better performance, scalability and security. When purchasing RHEL 4, customers gain access to the Red Hat Network, a subscription-service bundle that keeps software up to date and provides access to Red Hat Technical support. The RHEL 4 product family includes the ES (enterprise server) and AS (advanced server) versions for advanced and mid-range servers. The company's desktop Linux offering is referred to as Red Hat Desktop.
Novell was the first to offer enterprises Linux servers and desktops based on the latest 2.6 Linux kernel. Shipping since August 2004, SUSE LINUX Enterprise Server 9 supports native 2.6 kernel features and is ideal for application hosting, high performance computing (HPC) and Web infrastructure workloads. Novell offers other products based on SUSE LINUX Enterprise Server, including Novell Linux Desktop 9, an enterprise-grade workstation operating system and application suite, and Novell Open Enterprise Server, which brings popular Novell file, print, directory clustering and identity-management solutions to Linux.
Novell SUSE LINUX Enterprise Server 9 and Red Hat's RHEL 4 Linux distributions are similar. They may include different software packages when they are distributed, or they may use different install procedures, or they may use different revs of libraries, but otherwise they are similar. From a technology point of view, IT managers can get what they want from either Linux operating system; however, there are a number of important differences and these differences involve things such as technical support, ISV application availability, systems management capabilities, indemnification, etc. Let's take a look at some of these differences that reach beyond the Linux kernel and technology.
Performance
The 2.6 Linux kernel affords both SUSE LINUX Enterprise Server 9 and RHEL 4 improved performance over the 2.4 kernel. But SUSE LINUX Enterprise Server 9 is most frequently the Linux operating system chosen by hardware vendors that are trying to set records in benchmarks such as TPC-C, TPC-H and SPeCweb99_SSL. For example, for the TPC-C benchmark, SUSE LINUX Enterprise Server 9 is the only Linux operating system in the top 10. This benchmark is typically dominated by proprietary RISC/UNIX systems.
In the benchmarks for TPC-H, SUSE LINUX Enterprise Server 9 on AMD64- and IBM OpenPower-based systems is ranked number one and two, respectively in terms of price/QphH (Query-per-Hour) for databases of size 100 GB through 1,000 GB. For the SPECweb99_SSL benchmarks submitted in the first quarter of 2005 with two processors, SUSE LINUX Enterprise Server 9 has the top five results, and it did it on hardware from AMD, Dell, HP and IBM. The SUSE LINUX Enterprise Server SPECweb99_SSL total (2800) is the highest total ever recorded for a two processor system for all operating systems.
ISV Application Availability
About three years ago, Red Hat made the decision to focus almost exclusively on the enterprise market. It understood that ISV application availability was extremely important to compete in the enterprise. As a result, Red Hat got the jump on SUSE LINUX in North America in developing relationships with Tier 1 and Tier 2 ISVs. Red Hat also focused on the ISVs with the largest shares in their market segments--quality versus quantity.
Once Novell acquired SUSE LINUX and the focus for SUSE LINUX rapidly gravitated toward the enterprise, Novell began an ambitious ISV partnership drive. Today, Novell and Red Hat are at near parity with more than 1,200 ISV applications running on SUSE LINUX Enterprise Server 9 and RHEL 3 (their older distribution), respectively. ISVs are just now certifying on RHEL 4. The two companies have relationships with about the same set of Tier 1 and Tier 2 ISVs.
Security
One of the largest advantages that Linux has over Windows operating systems is in the area of security. According to the Spring 2005 Evans Data survey of Linux Developers, 68 percent of the more than 400 respondents feel that Linux is much more secure than Windows, and 48 percent of the respondents ranked Linux as approximately equal to Solaris with respect to security. (See Figure 1.) Because security is so important to enterprises and for a clear advantage for Linux when compared with Microsoft Windows, both Novell and Red Hat have been working to further boost their security offerings.
Figure 1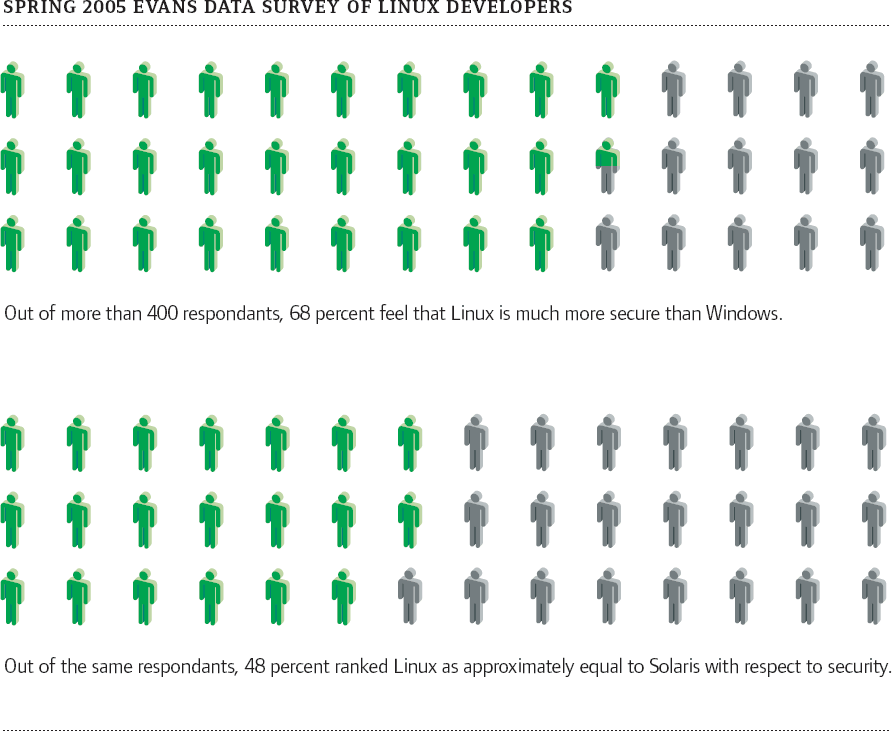 SUSE LINUX Enterprise Server 9 has been certified CAPP/EAL4+ (an internationally accepted standard called Controlled Access Protection Profile/Evaluation Assurance Level 4+), the highest security certification attained by commercial operating systems. No Red Hat versions have ever been certified at this level. Novell recently acquired Immunix, a company specializing in Linux security solutions.
Immunix protects both SUSE LINUX Enterprise Server 9 and applications from external or internal attacks, viruses and malicious applications. This permits businesses to protect key corporate data, reduce network administration costs and comply with government regulations. Immunix limits the spread of virus infection by creating a "containment shell" around an application preventing a compromised application from becoming a rogue process that can inflict more damage to a computer system.
Red Hat is promoting Security-enhanced Linux (SELinux) as its security entry. SELinux is available on both SUSE LINUX Enterprise Server 9 and RHEL 4. However, SELinux is a research prototype developed by the United States National Security Agency (NSA) to provide mandatory access control for Department of Defense (DoD) agencies and departments. In addition to being a prototype, SELinux is difficult to use and is aimed primarily at DoD organizations and not enterprise customers. RHEL 4 ships with SELinux turned on. Rumors are that the first thing that RHEL 4 customers ask Red Hat is how to turn SELinux off. On the other hand, Immunix is very easy to configure and use.
With Identity-Driven Computing solutions that protect against user misbehavior, and Immunix that protects against software misbehavior, Novell offers one of the highest, if not the highest, levels of enterprise security in the computing industry today.
Why Choose Novell for Linux?
Before Linux can become a viable choice for businesses, it must prove it can deliver the same levels of service, stability and support as other solutions-complete with an effective training and certification ecosystem, viable consulting options and proven enterpriseready services and applications.
Novell is bringing all of these critical elements to a Linux environment. For security, management and integration, Novell provides identity and resource management tools and Web services. With Novell Open Enterprise Server, Novell provides a robust, scalable and flexible infrastructure on which organizations can build their networks.
Novell leads the competition with unmatched technical support, training, consulting, indemnification and extended partner programs. With hundreds of software engineers, support technicians and consultants dedicated to Linux and open source, Novell demonstrates its total commitment to delivering a complete stack of Linux business solutions-and removing the barriers that may prevent businesses from adopting Linux more aggressively alongside their existing investments. With Novell, businesses can finally deploy Linux and open source with complete confidence.
* Originally published in Novell Connection Magazine
---
Disclaimer
The origin of this information may be internal or external to Novell. While Novell makes all reasonable efforts to verify this information, Novell does not make explicit or implied claims to its validity.