Try One On: Getting the Right Linux Fit
Articles and Tips: article
Bill Dunford
01 Feb 2005
SUSE Linux Enterprise Server 9 Is an Enterprise-grade Linux network server platform, ideal for data centers, application and web services, and other general server functions.
A serious automaker doesn't limit itself to a single model of vehicle. Instead, it offers a full lineup, from electric hybrids to industrial-strength trucks, so that customers can find the right mix of power, size, price and features to meet their needs. In fact, the array of choices can become bewildering. Still, no Mercedes driver begrudges the need to do a little research before choosing between the SLK350 and the SLK55 AMG roadster.
Novell, if you haven't noticed, is just as serious about Linux and open source software for the enterprise. It, too, offers a growing range of choices. In fact, Novell ships, or will soon ship, not one but three business-ready Linux operating system products (plus one for the retail market; see SUSE LINUX 9.2 Professional--Tomorrow's Innovations Today). We'll consider each one and help you sort through the similarities and differences so you can put the right software to work in your organization.
(Un)Common Strengths
First, let's examine what all three products have in common.
Backed by Novell --At a strategic level, these products share the oft-cited advantages of Linux in critical areas such as security, performance, total cost of ownership, reliability and choice. Beyond this, all three products are backed by Novell's entire extensive ecosystem, including technical support, training, consulting, indemnification and extended partner programs. Novell is demonstrating its commitment to deliver Linux business solutions that enterprises can adopt with confidence by deploying hundreds of software engineers, support technicians and consultants dedicated to Linux and open source (not to mention the experts at Novell's partner companies).
Common Code Base --At a technical level, all of Novell's Enterprise Linux products use a common code base across desktops, servers and mainframes. All of these products have undergone rigorous testing designed to provide enterprise-class reliability and quality. Novell's unique AutoBuild technology works to ensure that all these products are uniformly quality assured. This assurance makes it possible for IT managers to take advantage of the flexibility and cost savings that come from a common operating system, consistent management tools and the ability to install software updates across all Linux deployments. Thanks to this common base, all SUSE LINUX-based products benefit from bug fixes and performance enhancements regardless of platform. ISV and IT developers can also build applications for a variety of system architectures; move code between development, test and production environments; and support different hardware as the needs of the business change over time.
Management Tools --When it comes to installing, deploying, updating or securing Linux servers, blades, desktops or laptops, the unique Novell resource management solutions make it easy and cost-effective to manage these assets throughout the entire lifecycle. This starts with YaST (Yet another Setup Tool), a comprehensive installation, configuration and administration suite unique to SUSE LINUX. (See Figure 1.) YaST gives IT administrators a common foundation for managing not only the operating system components, but also the services that run on them--including DNS servers, Apache Web servers and even third-party applications. In addition, YaST is completely open. It supports the common information model (CIM) standard and is compatible with third-party management solutions such as Novell ZENworks Linux Management, HP OpenView, IBM Tivoli and CA Unicenter. Novell ZENworks Linux Management complements YaST by giving IT administrators the ability to centrally control how they deploy and update systems inside the firewall.
Figure 1: The YaST installer makes configuring the system and installing SUSE LINUX Enterprise Server 9 a simple, step-by-step process.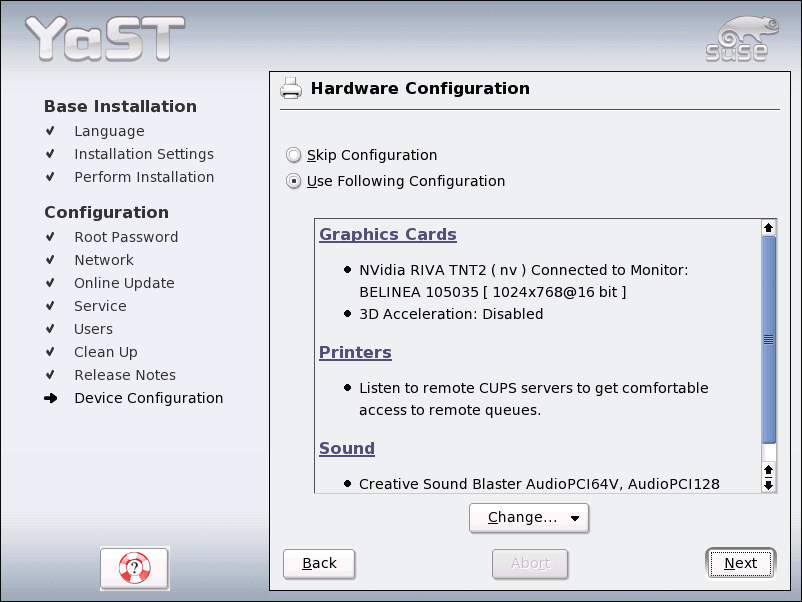 The Right Vehicle for Reaching the Right Destination
Now, let's take a look at the unique qualities of each Novell enterprise Linux product.
SUSE LINUX Enterprise Server 9 is an enterprise-grade Linux network server platform, ideal for data centers, application and Web services, and other general server functions. It's a scalable, high-performance foundation for secure enterprise computing. SUSE LINUX is the leading open application environment, known for reliable performance, a long track record, broad industry support and government-approved security. SUSE LINUX Enterprise Server 9 offers comprehensive functionality and supports a broad range of hardware platforms, including x86, AMD64, Intel EM64T, the Intel Itanium family, IBM POWER, IBM zSeries and IBM S/390, and a wide variety of leading software applications.
SUSE LINUX Enterprise Server 9 delivers the first enterprise-class Linux server OS built on the powerful new Linux 2.6 kernel. It is a completely scalable operating system that supports clustering for automatic fail-over, and provides hot-plug services for hardware changes without system disruption. It also features advanced I/O schedulers for quick application tuning.
SUSE LINUX Enterprise Server is all about security. In addition to a long list of security features--support for encrypted file systems, automated monitoring and intruder detection, rich user management authentication and access control, easy-to-use certificate authority and management, virtual private networking, integrated firewall and proxy services--SUSE LINUX Enterprise Server has already achieved, in version 8, the highest level of security and operations certification ever in the Linux market, the Common Criteria Evaluation Assurance Level (EAL) 3+, and SUSE LINUX Enterprise Server 9 is expected to achieve EAL 4 certification in early 2005.
With an array of unique management features, SUSE LINUX Enterprise Server 9 is the easiest Linux to deploy, configure and maintain across the enterprise. YaST enables easy installation and configuration of the operating system, network services, storage, clusters and even applications. AutoYaST enables "no touch" deployment of Linux across an infrastructure. Open application programming interfaces (APIs) and support for the Common Information Model (CIM) standard allow for integration with thirdparty management solutions. Class-based kernel resource management (CKRM) enables mainframe-like partitioning of large-scale servers. Directory-enabled configurations provide centralized management. Built-in support for Novell ZENworks Linux Management offers an optimal solution for keeping Linux servers and applications up to date and secure.
Novell Open Enterprise Server is an absolutely unique suite of network services for workgroups. When it ships in the first part of 2005, Open Enterprise Server will offer the very best of Novell's Enterprise Services, delivered in versions that can run on either the Linux or the NetWare kernel. (See Figure 2.) Open Enterprise Server includes the file, print, identity, collaboration, clustering and other services that Novell customers have come to rely on, such as eDirectory, iFolder, iPrint, iManager, Virtual Office and more. Plus, it includes the complete code set of SUSE LINUX Enterprise Server 9 for x86 systems. So with Open Enterprise Server, these advanced services can run on Linux or NetWare, or both.
Figure 2: Encompassing both the NetWare and SUSE LINUX platforms, Open Enterprise Server delivers some of the best technologies and services developed by the open source community, as well as fully developed proprietary services that routinely solve business problems for enterprise customers.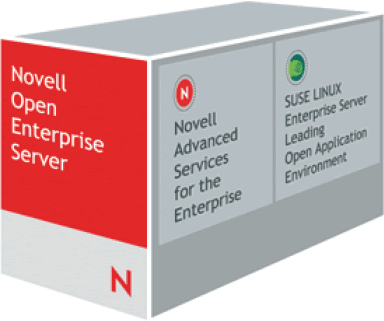 A toolbox fully stocked with leading open source components includes an integrated version of the Apache Web server, a commercially licensed version of MySQL and the Mono framework for .NET applications. Open Enterprise Server also includes support for Perl, PHP, Python, Java Server Pages and J2EE services.
Taken together, Novell Open Enterprise Server is a secure, highly available platform that provides proven networking, communication, collaboration and application services in an open, easy-to-deploy environment. Unlike other server platforms that force vendor lock-in or lack sufficient support for the enterprise-level customer, Open Enterprise Server combines the best open source technology with powerful, scalable services from Novell, the leader in enterprise networking.
This unique networking foundation allows NetWare and SUSE LINUX to coexist and interoperate within an organization. Moreover, common management, directory, and upgrade utilities enable you to manage both platforms with a single set of tools, which simplifies daily administration.
With Novell Open Enterprise Server, you won't have to rip out existing infrastructure. You can deploy any or all of the included technologies. Core components of Open Enterprise Server include:
All current NetWare services, the NetWare kernel and new enhancements

All SUSE LINUX Enterprise Server 9 services developed around the latest 2.6 Linux kernel (on the Intel-based x86 platform)

Novell Nterprise Linux Services 1.0 and new enhancements

Integrated common management tools to allow coexistence and management of platforms
Novell Open Enterprise Server also includes technologies beyond those available in standard Linux distributions. It combines productivity-enhancing tools (such as Virtual Office and iFolder); industry-leading security solutions (such as advanced-authentication support); high-availability clustering services; and other key features.
Novell Linux Desktop 9, Powered by SUSE LINUX is built on the same SUSE LINUX code base as the other products and provides a desktop platform to help businesses leverage Linux and open source software among end users.
Novell Linux Desktop 9 lets users get to work right away because it comes complete with a user-friendly desktop environment based on the popular GNOME graphic interface (and, yes, KDE is included, too). It includes all the basic tools business users need and comes with the Novell Edition of OpenOffice.org for word processing, spreadsheets, drawing and presentations. Novell Linux Desktop offers modern Web browsers such as Mozilla Firefox (See Figure 3), and also comes with Novell Evolution for e-mail, calendar and other workgroup functions. All of this results in cost savings because there is no need to purchase an operating system license--and then pay for expensive office applications on top as in the Windows world.
Figure 3: Novell Linux Desktop 9, powered by SUSE LINUX, lets users get to work right away with a friendly interface and a suite of basic business applications included at no extra charge. Pictured here is Mozilla Firefox, an easy-to-use Web browser with advanced features, such as tabbed browsing, popup blocking and selective image and cookie loading.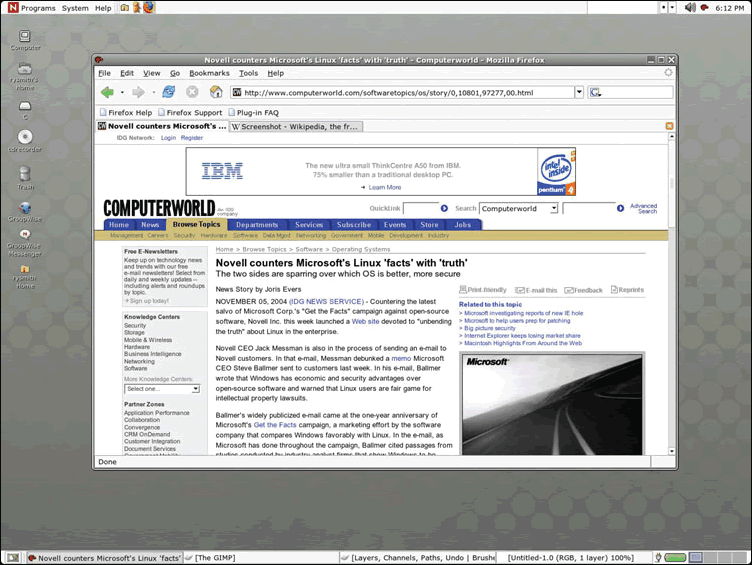 While Novell Linux Desktop is an excellent general-purpose desktop platform, beta testers have been successfully testing the software with their transaction workers, such as call-center operators and service counter personnel. Novell Linux Desktop is also particularly adept in other special-purpose roles such as information kiosks and stations for intermittent PC users. Novell Linux Desktop users can comfortably interoperate with Windows-based users, within or between organizations. Novell Linux Desktop has also attracted significant interest as a replacement for traditionally high-cost UNIX-based technical workstations.
While Novell Linux Desktop is an obvious win in the highly technical and non-technical spaces, the middle ground requires a more thorough evaluation of needs. Customers with a large number of specialized Windows-only applications (Microsoft Access, Microsoft Project, and custom Visual Basic applications, for example) will not be ideal candidates for Linux desktop migration.
However, Novell does not rule out general replacement of Windows and other proprietary operating systems with Novell Linux Desktop. Novell expects government and education customers will be active early adopters because many of these organizations want to avoid single-vendor lock-in of their desktop systems.
Choose Your Model and Be on Your Way
The business needs of your organization are unique. The mix of IT solutions you put in place--open and proprietary, Novell products and other products--will be tailored to particular problems you're solving. But one thing is clear: the expanding line of Linux services and software from Novell will provide you with more and better choices.
SUSE LINUX 9.2 Professional--Tomorrow's Innovations Today
Novell's enterprise-grade Linux products are built for business, they contain technologies that have been extensively reviewed and field tested; Novell delivers early versions of these technologies to the marketplace in its retail product, SUSE LINUX Professional 9.2, which delivers the latest open source innovations to Linux enthusiasts or technical users. It includes more than 1,000 popular applications to create and share documents, browse the Web, work with graphics and multimedia files, configure home networks, and develop applications--bringing them all together into a highly usable, consistent and well-documented platform. With support for Bluetooth and wireless LANs, SUSE LINUX Professional 9.2 also means better Linux mobility.
Released about twice a year, SUSE LINUX retail offerings are packed with the most popular, leading-edge Linux technology available. Version 9.2 comes with the latest functionality, including 2.6.8 Linux kernel enhancements, and the KDE 3.3 and GNOME 2.6 desktop environments. SUSE LINUX Professional 9.2 is the first product in the Linux market that conforms to the new LSB 2.0 Runtime Environment Product Standard of the Free Standards Group, demonstrating adherence to the community developed standard for Linux-based systems.
While this retail product does include comprehensive documentation and 90 days of installation support, it doesn't offer what Novell's enterprise Linux products do: maintenance, systems management, an extensive list of certified applications and hardware, and enterprise-level consulting, training and support options. What SUSE LINUX Professional 9.2 does offer is the very latest technology, a peek into the future of what's coming in the enterprise products once that technology is mature and proven in a business setting. It's perfect for individual developers, networks of under ten systems, and Linux lovers in general.
Support Options
When you go Linux with Novell, you don't have to go it alone. Here's a brief overview of some of the ways to take advantage of Novell support:
Installation support--Web-based basic installation support for both Linux retail and enterprise products is available.

Product support communities--Answers to your questions are close at hand in the Novell knowledgebases and discussion forums.

Annual support programs--Novell has a support package that fits your needs whether you run a small business or manage the operations for a large corporation, and Novell can customize the services and tools you choose for your mission-critical systems.

Premium service--With benefits such as call-center access, minimal response time, account management, support tools and training offerings, this tiered model of support offerings provides the highest level of customized service.

Linux small business support--This annual support program provides a high level of service for the small business running primarily on Linux products. Benefits include call center access, priority response and valuable support tools, with support specific to your Novell Linux products.

SUSE LINUX server support--This "per-server" support model provides unlimited electronic service requests for a specific server.

Novell Tech Select Service--This comprehensive subscription combines Novell's technical tools, evaluation software, expanded licensing, exclusive training materials and three technical support incidents.
A Comparison of Novell Enterprise Linux Products
Product

SUSE LINUX Enterprise Server 9 (SLES 9)

Novell Open Enterprise Server (OES)

Novell Linux Desktop 9 (NLD)

Summary

An enterprise-grade Linux network server platform, ideal for data centers, application and Web services, and other general server functions.

A suite of network services for workgroups. Includes NetWare core and SUSE LINUX Enterprise Server 9, with Novell business services that run on both.

A business-ready desktop productivity environment, ideal for engineering workstations, thin clients, and as a general office desktop.

Availability

Now

Early 2005

Now

Key Features

Wide range of hardware compatibility

Clustering

Hot-plugging

Rich user management and access control

Encryption

VPN

Integrated firewall and proxy

Automated intruder detection

SLES 9 server features

NetWare kernel and services

Business services such as iFolder, iPrint, Virtual Office and more

Full set of applications: OpenOffice.org, Mozilla Firefox, Novell Evolution and more

User-friendly GUI, with both GNOME and KDE

Key Benefits

Scalability

Security

Reliability

Manageability

Provides complete Novell environment running on Linux

No need to rip and replace

Logical upgrade path for NetWare networks

No vendor lock-in

No need to purchase OS or expensive apps

Availability

x86, AMD64, Intel EM64T, Intel Itanium, IBM POWER, IBM zSeries and IBM S/390

x86, AMD64, Intel EM64T

x86

Common Qualities

2.6 kernel and SUSE LINUX system core

Core open source packages

YaST and other management tools, ready to use with Novell ZENworks Linux Management

Variety of support options. (See Support Options.)

Backing of the full Novell ecosystem of training, consulting, support and partners
* Originally published in Novell Connection Magazine
---
Disclaimer
The origin of this information may be internal or external to Novell. While Novell makes all reasonable efforts to verify this information, Novell does not make explicit or implied claims to its validity.