Government Vertical Integration: Working for you
Articles and Tips: article
John Sherman
30 Sep 2004
Too many government operations are isolated. Too many processes are paperbound. As a result, citizens are required to do things they would rather not do-fill out forms, seek assistance at multiple government offices and stand in long lines. And as everyone knows, these activities do not bring out the best in people. The gap between the quality of services that is possible and the quality provided is large-in many cases a yawning abyss-and having to stretch euros, dollars, yen or yuan year after year has reduced the options for improvement.
It's not fair to government workers, either. Far too often, processes that could be automated are not. So instead of serving the public to the best of their abilities, government workers are frequently engaged in menial, tedious tasks that waste their time and squander their expertise.
And beyond the realm of simple inconvenience, government departments that the public depends on for their health and safety face constant challenges in their ability to communicate, coordinate and make quick decisions in the event of a crisis.
"Even if the citizen has access to various government services, we shouldn't saddle him with a large number of passwords. That one access point has to be achieved without having to adapt the back office. With Novell software, that has all been accomplished extremely well."
-Jeroen De Beer, Independent Consultant to the Hague Council
But there is good news: things are changing. Many government agencies are using their limited funds wisely by investing in information technology. IDC estimated that governments worldwide will increase IT spending by 7.3 percent in 2004. This trend is creating greater security at the local, regional and global levels. It takes care of matters online that previously required trips to government offices or citizens' homes. It also takes provides data sharing and collaboration on cross-jurisdictional issues while improving the efficiency (and reducing the costs) of core services.
If you're wondering where Novell fits in, the short answer is: at the most important points of your value chain. Novell has been a key technology provider to governments for nearly two decades. As part of ongoing global assessments of governments' IT needs, Novell has determined that integrated functionality across critical technologies, identity management and open source options can tremendously improve both the effectiveness and responsiveness of government operations. As a result, Novell government solutions leverage Novell's strengths in these areas. With its Novell Nsure secure identity management platform, Novell Nterprise and Novell exteNd product families and the recent integration of SUSE LINUX and Ximian into the Novell product line, Novell can now provide an unparalleled set of solutions that fit the needs of government customers precisely and cost-effectively.
Integrated Functionality
Novell government solutions provide comprehensive, integrated functionality that leverages a secure identity management platform and the option to deploy open source technologies. (See Figure 1.) All solution components work together to help governments address operational challenges, improve citizen service and enable more informed decision making. These components provide real value to government organizations at all levels and across the globe.
The Portal: Not Just Another Pretty Interface
One of the most difficult things government agencies have to deal with when it comes to online services is rising expectations. Rik Van Bruggen, director of solutions management for Novell in Europe, the Middle East and Africa, attributes these expectations to what he calls the "Amazon Citizens." "They've been spoiled by Amazon, eBay and other successful, service-oriented Web sites," he says. "Having everything at their fingertips all of the time, being able to track the status of all of their orders-Amazon Citizens know what's possible online and expect nothing less from their local governments."
Fortunately, the world's toughest customers can be served by government portals on a par with the most sophisticated private sector Web sites. Consider what The Hague Council was able to accomplish online:
When residents of The Hague receive their business or residential property valuation, they also receive a password and the Internet address for the help desk at the Municipal Taxes Service. The Hague Council Tax Office has created the site to permit residents to review their property valuations. Leveraging Novell technology and services expertise, this portal enables 450,000 potential users and residents to look up the basis of their valuation assessment, check whether the information held by the municipal authorities is correct, respond immediately if necessary and communicate with government tax specialists-all with a single password. Mobile tax appraisers can also get the information they need anywhere, anytime using tablet PCs.
With a Novell Nsure secure identity management solution, The Hague Council has created a central services user identity directory. The directory serves as a central storage point for identity information on all users-citizens, businesses and government employees-who need access to Council applications and data. All users are authenticated through the central directory, enabling them to securely access the applications and data they need, through the portal, based on their identity profile.
This is just one example of the many Novell portals deployed in government agencies today that are leveraging existing infrastructure investments and accommodating new applications- a Novell government solution that is adding value at all levels.
Putting Silos Back on the Farm Where They Belong
Something governments everywhere have in common is the need to consolidate and integrate their IT resources, and do so costeffectively. IDC shared this observation in a recent report. "As a whole, government agencies have operated fairly independently of each other," the IDC analyst noted. "However, the state and local landscape has shifted over the past few years, and it is becoming increasingly evident that agencies need to bridge the silos within their organizations. In fact, many initiatives, such as homeland security and eGovernment, are contingent upon such successful integration."
The problem is, there's a serious gap in many agencies today between the current state of infrastructure and IDC's notion of successful integration. Multiple departments are running on different sets of core data. Applications are added on an ad hoc basis without real integration. Legacy applications and data are increasingly isolated. A fully integrated infrastructure is still a glimmer in an IT manager's eye.
Figure 1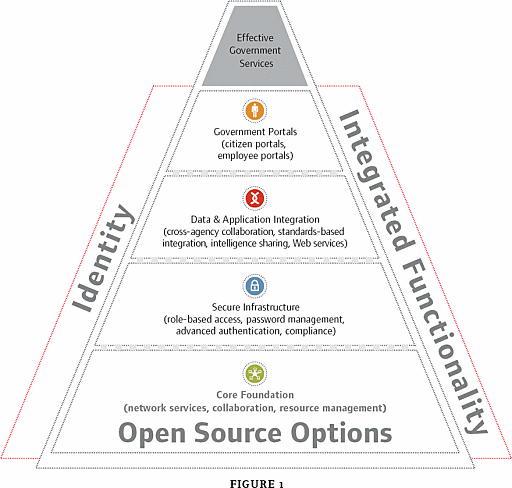 However, cost-effective integration solutions available today can enable government agencies to achieve a new level of administrative efficiency. That new efficiency can improve their ability to share information and respond to cross-jurisdictional issues in areas that range from national security to economic development. Traditional defense agencies and diplomatic corps can vastly improve communications (and responsiveness) internally and with the outside world. And, in the event of a disaster, police, fire and other first responders can standardize their incident management processes and coordinate their efforts like never before. Citizens benefit from single sign-on capabilities that let them access numerous departments of government conveniently-not to mention getting better service across the board. To top things off, all of this can be accomplished without compromising the security of people or information.
Novell helps government IT departments achieve successful integration with Novell exteNd and Novell Nsure. The former is part of a dynamic, services-oriented architecture that integrates data and applications across system, platform and even geographic boundaries. The latter provides the identity-driven access controls that allow the network to deliver the right data and applications to the right people. Novell's cross-platform approach helps municipal and regional authorities integrate heterogeneous networks and tighten security, while providing residents with better access to information, and better service overall.
So, just remember: silos are for livestock feed; they were never meant to house systems and information. Novell government solutions combine industry-leading technology and service expertise to help governments integrate systems, information and access successfully and securely.
The Integral, Ongoing Relationship Between Identity and Security
Today, security is a key, inextricable component in every strategic initiative government agencies undertake. It's like the milk in milk chocolate, or carbon in coal. Unfortunately, all too often, the quality of security leaves something to be desired. What is required is a secure IT infrastructure that aligns access to government assets (applications, information and physical facilities) with program needs and government policy. The infrastructure should also include the ability to track all access to resources through mechanisms such as auditing, time stamping and digital signatures. Identity profiles within a comprehensive identity management system provide the basis for an effective security system. Every time anyone accesses a file from a government agency, visits sensitive areas of a government Web site or asks for confidential information from a government worker or database, identity must be established and confirmed. The same goes for instances where one device contacts another, or one server requests a file from another. Who's out there? Are you really who you say you are? What do you want? These are the practical questions that must be answered automatically in a matter of milliseconds. But identity management isn't just for the sake of security anymore. Establishing identity is the basis for providing services. It is also the foundation for individual and group productivity, network access, compatibility of systems and devices and collaboration between people and agencies. What's more, because dynamic identity management is the basis for secure, personalized access by constituents, public trust in eGovernment services and higher adoption rates of those services are bound to follow.
A recent Gartner report notes that governments face many of the same challenges as the private sector because they lack sophisticated identity management capabilities. "Over time, however," the report states, "large-scale government implementations will drive identity and authentication standards and viability, and an identity and access management infrastructure that supports the required heterogeneity in ID, authentication and access management will be increasingly important."
A dynamic identity management system secures and automates the connections between data, applications and processes in the same way that identity management traditionally controls connections between people and resources. Identity management also protects citizen privacy through protocols and mechanisms that empower citizens to control how their identity information is shared among various government entities (known as identity federation), and "pseudonyms" or aliases that enable data integration for the purpose of statistical analysis, but provide only authorized agencies with access to personally identifiable information.
Novell Nsure secure identity management solutions work with Novell integration and portal technologies-as well as virtually any competitive solutions you may be using-to deliver secure, costeffective digital government services to a broad range of internal and external users. Numerous public agencies use proven Novell solutions to give employees, partners and citizens access to the precise combination of information and resources they need-often through a single user name and password.
Novell solutions create a single, comprehensive view of user identities across government departments and agencies. Novell technology includes comprehensive access-management solutions that authenticate users through a wide range of techniques. The solutions support use of passwords, smart cards, biometric identifiers and other authentication methods-all of which may be deployed according to a jurisdiction's security policies. These capabilities help agencies confidently respond to national security needs, as well as privacy regulations such as federal HIPAA mandates in the U.S.
Building on Bedrock: The Importance of a Strong Core Foundation
Okay, so governments need IT solutions that offer interoperability across platforms, integration across applications, free-flowing collaboration among departments, and secure resource access for citizens, suppliers and government workers. Easier said than done, right?
Actually, with a strong core foundation in place, you're well on your way. All of the above-mentioned attributes of efficient digital government operations reside in a core foundation that includes the operating system, core services such as file and print and enterprise services such as collaboration and resource management. In addition, the core foundation is highly scaleable and offers the choice to deploy open source technologies in ways that make strategic sense.
Because it serves as the base layer on which other eGovernment initiatives rest, the reliability, security and robustness of the core foundation is of the utmost importance.
The foundation should provide consistent and fully functional infrastructure services across the many disparate systems typically found in government organizations. These services should simplify the operation and management of these complex, heterogeneous environments.
In addition, the core foundation should enable governments to take advantage of the opportunities and benefits inherent in new technology arenas such as open source. It should offer choice and flexibility to eliminate vendor lock-in, foster collaboration, increase user control and customization, and support integration. The foundation must also be highly scalable to service a large number of users with fast performance, reliable operation and inherent security.
All of these capabilities are possible with the Novell Nterprise family of products. With these products, Novell delivers a core infrastructure without boundaries-an infrastructure where information systems of all types work together, efficiently and securely connecting people with the information they need to be as efficient and productive as possible.
The Pervasive Role of Identity in Addressing Government Needs
Identity management capabilities are essential aspects of every government solution described in this article. In the case of the portal solution deployed by The Hague Council, Novell identity management functionality identifies users and authorizes access to specific resources and information. This enables the portal to assemble and personalize the right combination of resources to meet each user's specific needs, and do it privately and securely- on the fly.
As for comprehensive application and data integration, Novell identity management capabilities secure and automate the connections among data, applications and processes in the same way that identity management traditionally controls connections between people and resources. The result is that "users" (like applications) can have secure, automated access to "resources" (like processes or data sets) from other systems, all based on the profiles established for them through identity management.
A secure infrastructure is also dependent on the creation of identity profiles within a comprehensive identity management system. Every time anyone accesses a file from a government agency, visits sensitive areas of a government Web site or asks for confidential information from a government worker or database, identity must be established and confirmed.
Lastly, comprehensive identity information is essential to enable the core foundation to provide services that simplify user and system management. User identity information is used by the foundation for such functions as delegating system management tasks based on user roles, and automatically distributing software updates to the appropriate workstations.
Identity management is the basis for providing services. It provides the framework for individual and group productivity, network access, compatibility of systems and devices, and collaboration between people and agencies. It is essential functionality.
Opening Doors With Open Source
You probably don't have to be convinced about the merits of open source computing. Digital independence. Tighter security. Incredible stability. Lower costs. They're all part of the package. Alan Kraft, vice president of North America Federal Sales at Novell, has seen a tremendous upsurge in open source interest among his government contacts. "Many U.S. Government agencies are making open source one of their top software initiatives. These organizations are looking for a vendor that can help them deploy these cost-saving solutions quickly-without disrupting current operations."
Novell is doing just this. In fact, the recent acquisition of SUSE LINUX has made Novell one of the most prominent open source product, service and support providers in the world.
Bergen knows the score. Norway's second largest city had been relying on proprietary UNIX and Microsoft Windows application platforms for its administrative and educational networks. A twophased migration will start with the replacement of 20 existing Oracle database servers running on HP-UX with SUSE LINUX Enterprise Server 8 running on HP Integrity Itanium 64-bit servers. The second phase will involve the consolidation of more than 100 Microsoft Windows application servers down to just 20 IBM Blade Servers running SUSE LINUX.
But if you've got critical systems tied to legacy platforms, as most government organizations do, rest assured that Novell's commitment to open standards gives you the flexibility to deploy Novell solutions on any platform. Novell has a long history of leadership in the open standards arena, having helped to define the LDAP directory service standard and security standards such as Liberty Alliance and SAML. In addition, Novell exteNd offers full support for standards such as J2EE, XML, XForms, JSR 168 and WSRP. The result of this standards leadership is that Novell secure identity management, integration, portal and core foundation technologies fit seamlessly into existing government IT infrastructures as well as open source environments.
Helping Government Better Serve the People
Securely making applications and information resources available to remote workers, suppliers and citizens-all from a single source, and all based on identity.
Boosting employee productivity, enhancing collaboration, and delivering services at a lower cost.
Disengaging from single-vendor platforms and policies and streamlining core operations.
Novell is playing a central role in making these things happen in governments across town and around the globe. Joe Forgione, Novell vice president of Solutions, knows why. "I think we have a very good handle on the nuance and language of government," he says. "And we have a lot to offer-the whole stack, to use an industry term. Along with our partners, we can supply everything governments need to deliver a particular application or service or solution, including all the software and services and knowledge. We really are keenly focused on government."
Novell's Commitment to Government Takes Many Forms
Organizing Around Government Needs
In most of life's pursuits, a team effort is better than individual heroics. Novell is taking that common sense to heart and driving organizational alignment with a cross-functional, global Government Solutions Team. This team benefits government customers by setting Novell's strategic direction, prioritizing investment decisions, planning marketing initiatives, ensuring operational consistency and harvesting best practices. One of the first initiatives undertaken by the Government Solutions Team was mobilizing government representatives from sales, marketing, upper management, alliance management, engineering, training-you name it-throughout the world into the Novell Government (or GO) Team. Through this team, three hundred Novell employees dedicated to and knowledgeable about government collaborate, share best practices and inform the corporate teams responsible for government solution development and support.
Product Certifications Make Consideration (and Requisition) Easy
The Novell International Cryptographic Infrastructure (NICI) is the common infrastructure for security services incorporated into Novell products. This infrastructure has achieved Federal Information Processing Standard FIPS 140-2 certification status, demonstrating that it meets U.S. Federal Government procurement requirements for the protection of sensitive data.
In addition, Novell Linux solutions offer the security assurance levels required by government organizations around the globe. Novell SUSE LINUX has achieved an industry-leading Common Criteria Evaluated Assurance Level 3+ (EAL 3+) certification with a Controlled Access Protection Profile (CAPP) and is currently working to achieve EAL 4+/CAPP certification in the near future. This certification provides assurance that Novell's security levels have been evaluated, verified and endorsed by a qualified third party. It is internationally recognized proof that Novell SUSE LINUX product features and support processes meet or exceed security requirements for commercial operating systems products. In addition, Novell provides global Linux technical support and ensures that deploying Linux remains a safe choice through its Novell Linux Indemnification Program.
Solutions Specifically for Government are on the Way
Government decision makers will soon be able to take advantage of solutions specifically designed for government. These initial offerings will address government challenges in the areas of meeting citizen self-service needs and facilitating open source migration. Each of these offerings will integrate elements of the four solution capabilities described in this article: government portals, data and application integration, secure infrastructure and core foundation. These solution offerings are currently being tested and tuned with the help of government customers. Watch for announcements at BrainShare EMEA and elsewhere.
In addition, Novell has become the first networking infrastructure vendor to reach an agreement with the U.S. General Services Administration to participate in the SmartBUY program for governmentwide software purchasing. As part of the agreement, Novell has created a series of SmartBUY software offerings and service levels, including specific product bundles for infrastructure, Linux servers and desktops, Web services, and soon, secure identity management. Similar bundles of Novell products, packaged and discounted for government organizations, are available in Europe and Australia. These bundles provide government customers with flexibility in deployment and pricing, as well as simplified contract negotiation and licensing processes.
The Importance of Partners
Although Novell's reach is global, the company can't do everything by itself. ISVs and channel partners play a key role by delivering Novell solutions to government or by taking Novell technologies and building their own services around them. Novell has a robust, global ecosystem including partners, training, services and support. Our strong relationships with partners around the world have resulted in successful government solution deployments at all levels. Many government organizations prefer to work through local integration partners, and Novell is actively working with its channel partners to meet the need.
* Originally published in Novell Connection Magazine
---
Disclaimer
The origin of this information may be internal or external to Novell. While Novell makes all reasonable efforts to verify this information, Novell does not make explicit or implied claims to its validity.