Building Blocks: Novell Open Desktop Initiative
Articles and Tips: article
Bill Dunford
30 Sep 2004
When describing the benefits of open source software, the movement's advocates sometimes talk about "free as in free beer" versus "free as in free speech." The idea is that while open source software is often available at no charge ("free beer") it's true value derives from the fact that its source code is open to all, so that it can be understood, modified and improved by the community ("free speech"). Open source offers another kind of freedom, too. Call it "free as in free to choose." It provides businesses with new options to solve their problems, and it creates alternatives to the expensive and limiting situation of being locked into a single vendor.
One Step at a Time
The Novell IT department was charged with leading the Novell desktop migration, which was dubbed the Open Desktop Initiative. Early on, CIO Debra Anderson and other leaders determined the initiative would take a phased approach, one that disrupted daily business operations as little as possible.
For Novell, the first phase was assessing the number of proprietary software licenses in use at the company, along with the amount of surplus hardware, and sharply reducing both. (For details, see the first article in this series, Building Blocks, in the July/Aug, 2004 issue.)
Adopting OpenOffice was a logical next step, for a number of reasons. First, OpenOffice runs on both Windows and Linux, so users can begin to use it even without a Linux desktop, and continue using it after they make the leap. Next, it works much like its closed-source counterpart, so users aren't immediately facing a steep learning curve. This is especially true in environments such as the Novell Linux Desktop, where the OpenOffice interface is tightly integrated with the rest of the environment. Further, it provides enough functionality that many business users can get to work without sacrificing the power they need to do their jobs.
Finally, the big one: OpenOffice offers the entire organization immediate savings. Now that's something everyone can understand. Even with the moderate costs associated with training and support for a new application, Novell calculated it could achieve seven-figure savings just by cutting back on its MS Office licenses as it also streamlined its Windows contracts. Adopting OpenOffice for Windows, with an eye to eventually going all the way with Linux, made that possible. (See Figure 1.)
Figure 1: The OpenOffice.org productivity suite includes software for presentations, word processing, spreadsheets, drawing and database access, on multiple platforms, in multiple languages?without the need to ever pay a license upgrade fee again.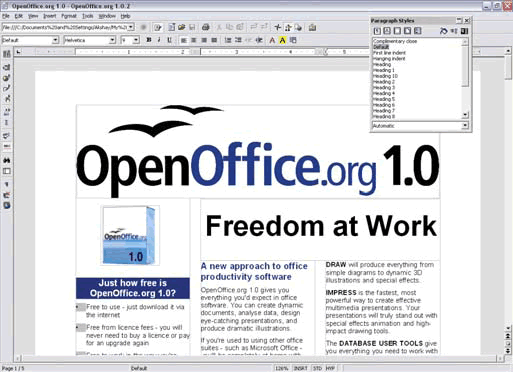 "We knew that as a leader in the open source space, Novell had a strategic imperative to move toward an open desktop," explained Debra Anderson, "but we also knew it would be to our practical advantage, and that made it much easier to advance the vision within the company."
With this strategy in mind, Novell announced in March of 2004 that it would move at least 90 percent of its 6,000 employees worldwide to OpenOffice, and do it by the end of July.
Tell Them Why; Show Them How
While the Novell Open Desktop Initiative team was projectmanaged by IT, it included representatives of other groups worldwide, from training to marketing. From the beginning, they planned to approach employees from several directions at once. Employees needed to know the truth--some work would be required in learning new software, and there would no doubt be some inconveniences along the way, such as converting documents. But they also needed to know that there was help available. So the Open Desktop team worked to make sure that employees understood the business imperatives of the initiative (the Why), while at the same time reassuring them they could get all the tools, training and help they needed (the How).
Regular, repeated communication, from several sources, was critical. An executive steering committee met regularly to ensure cross-departmental coordination. Managers throughout the company received updates on the project's progress. Top executives sent multiple all-staff e-mail messages during the course of the campaign, and raised the issue repeatedly in employee meetings.
To help employees keep up to date and find the tools they needed, the project team created an Open Desktop Initiative headquarters site on the company intranet called the "OpenZone." In the Zone, Novell employees could find everything they needed to make the leap to OpenOffice, from downloads to installation guides to training resources. (See Figure 2.)
Figure 2: For the second phase of Novell's Open Desktop Initiative, the company's OpenZone intranet site was updated with OpenOffice software downloads, help links, training resources and official templates in OpenOffice format.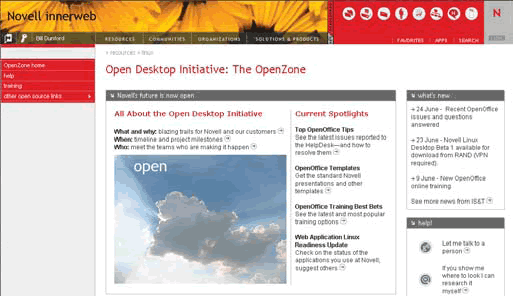 However, this kind of company-wide communication was only air cover. Much of the real work was done on a local level, face-toface. Not only did regional executives set their own target dates and send their own communications, they agreed to designate an individual from their department, an Open Desktop advocate, who would be responsible to help push the process along in their area. An advocate's duties included holding local meetings to explain the migration process, answering employee questions and gently prodding those who fell behind.
The Open Desktop team stayed in frequent contact with the advocates, meeting weekly, arranging special training sessions for them and sending them step-by-step instructions for helping people through the transition. Just as important, the advocates passed information both ways, reporting up about their departments' progress and what challenges employees encountered.
Help Is On The Way
Planners at Novell worked to head off those challenges by providing a range of resources, all available on the OpenZone site. To begin, they made it easy to download the latest version of the software with links that walked employees, in 1-2-3 fashion, through the steps of getting the installer, reading the instructions and doing the installation. On average, the process took less than 15 minutes.
When it came to training, the team discovered a surprising abundance of external resources for OpenOffice, ranging from books to computer-based training to one-page quick guides to instructorled courses. (For more information, see Open Book.)
They also recruited subject matter experts from around the company who agreed to be available to handle questions about specialized areas, such as how to convert macros from Office to OpenOffice format. To supplement the generic external training sources, these experts recorded brief webcasts with screenshots and voiceovers that served as quick-start guides aimed at Novell employees.
Everyone who took calls and electronic requests at the Novell 24/7 internal help desk received instruction in the OpenOffice suite. Help desk technicians learned to handle most issues on their own, but could always turn to the subject matter experts in a pinch. As with all help requests, OpenOffice issues were logged and tracked. Each week, the top issues, along with their resolutions, were posted for all to see in the OpenZone.
On that page, employees had five different ways to get help. The first option read, "Let me talk to a person," and this linked to the page that listed the different ways to connect in real time to the help desk (e.g., phone, IM). The next option read, "If you show me where to look I can research it myself," and linked to a page of internal and external FAQs and other aids. The next read, "I'll send you my question-Send me back an answer," and offered an e-mail form that was routed to the help desk. The next said, "I found a bug or I have a feature request," and linked to another Web form that also sent the information to the help desk. The final option read, "I have a problem document-Let me attach it and send it to you," which opened an e-mail to which users could attach the file and send it to the help desk. The net result was that employees felt like they had several options to get help in the style that best suited them, while all requests were routed through a central point, the help desk. That meant better issue tracking and response coordination.
Moving to an OpenOffice Culture
The company took several steps to help employees adopt the new software as a routine part of doing business at Novell. The first was to formalize a document format policy. Employees were told the general rule is: if you're sending a document to someone inside Novell, use the native OpenOffice formats only (which carry extensions of .sxi, .sxw or .sxc). If your reader is someone outside the company, use the .pdf format if they only need to view the document. If they need to edit the file, take advantage of OpenOffice's ability to save in other formats, such as an MS Office format, if they weren't using OpenOffice.
When it came to existing documents, the policy stated that employees did not necessarily have to convert everything to OpenOffice retroactively. But the Open Desktop team also made it clear there were some cases when it was a good idea to do so. For example, any kind of template used to create new documents is a prime candidate for conversion, as is any document that team members are still actively using or editing. Reviewing these documents brought with it the side benefit of a chance to clear out unneeded files.
As part of this transition, the company applied a little peer pressure, too. Top executives and regional managers alike made sure any documents they sent department wide or company wide were formatted exclusively in OpenOffice, and they set dates after which they would no longer personally accept any internal documents in non-OpenOffice formats.
Another strategy for infusing Novell culture with the new way of doing business was to target core communicators: the administrative assistants. The Open Desktop team arranged for inperson training sessions for the assistants at its largest offices. They also assigned top IT personnel to work one-on-one with the executives and their assistants, offering to install the software and follow that up with a personal 30-minute tutorial.
Using OpenOffice.org has opened doors for Novell along its path to an open desktop environment, and it has further ingrained open source culture within the company.
Taken together, these techniques worked. By the end of June, a month before the final deadline, employee survey research revealed that more than 90 percent of employees had installed the software, and 87 percent were actually using it for routine work at least on a weekly basis. When July 31 arrived, the numbers were closer to 100 percent.
Lessons Learned
One of the early demands employees made was for official Novell templates in the native OpenOffice formats for presentations and business papers, so those were prominently displayed for download in the OpenZone site.
OpenOffice offers a key benefit in its ability to read and write MS Office files. Often, converting a file takes no more effort than choosing "Save as..." However, while each new version of the software improves this capability, it's still not perfect. This is especially true of spreadsheet macros.
An important lesson Novell learned is that the conversion process goes much more smoothly if you follow one rule: don't convert the same document back and forth between formats several times. Going from OpenOffice to MS Office once usually happens without incident, but going back and forth several times can result in the need to clean it up a bit.
In Novell's experience, more complex documents, such as spreadsheets with macros, may require skilled resources for conversion. OpenOffice does have sophisticated features like pivot tables and macros; however, just like with Excel, power users will need training. During conversion, it's a good practice to focus on reproducing functionality rather than exactly matching the look and feel of the original.
An unusual issue Novell encountered resulted from the way OpenOffice interacted with Internet Explorer (IE) in certain situations. When IE users tried to view documents posted securely on the company intranet via SSL, the users would sometimes see an error message.
How Novell dealt with this particular problem reveals something about the nature of open source. After consulting with members of the OpenOffice community, the Novell IT team determined the problem was a very unusual one stemming from the way encryption was deployed on the intranet. Software engineers at the company took a look at the code, and were quickly able to alter the OpenOffice software itself, rather than wait for an upgrade or a patch. This small improvement, along with others Novell made based on its experience with using the program across the company, will now be submitted back into the main code base--and all OpenOffice users will benefit.
Even more can be done along these lines if companies want to go further and customize their applications. Open source code means easier access under the hood, making it faster and more costefficient to build just the right solution for a particular organization.
Approaching Desktop Freedom
Using OpenOffice.org has opened doors for Novell along its path to an open desktop environment, and it has further ingrained open source culture within the company.
Information Support Services Director Don Morrison said, "OpenOffice has been an effective way to introduce people to this change, starting them out with a relatively gentle learning curve, and providing them with an opportunity to be successful in their work, in a new environment. That's a pretty powerful tool for us."
This work paved the way for the final, most challenging--and most rewarding--phase of the Open Desktop Initiative: migrating to a Linux desktop. We'll find out in detail what happened in the next and final part of this series, and examine how Novell turned each aspect of open source (free beer, free speech, and free choice) to its advantage. red N
Open Book: OpenOffice.org Training Resources
Because OpenOffice works much like MS Office, many users report they get the hang of it after just a few hours of use. There are some differences, though, and a handful of pitfalls you can avoid if you know what to expect. OpenOffice also sports some features that go beyond what MS Office can do, and a little training can help ensure that your workforce is taking full advantage. Here are just a few of the places to look.
www.openoffice.org The official Web site offers documentation, tutorials, FAQs, user forums and other free resources that come right from the source.
User Web Sites In the true spirit of open source, the community has created several unofficial sites with free quick-start guides and tutorials, including www.openofficesupport.com and www.tutorialsforopenoffice.org.
Figure 3: In the true spirit of open source, the OpenOffice.org Web site not only offers software downloads, but help and training resources as well, many provided at no charge by members of the user and developer community.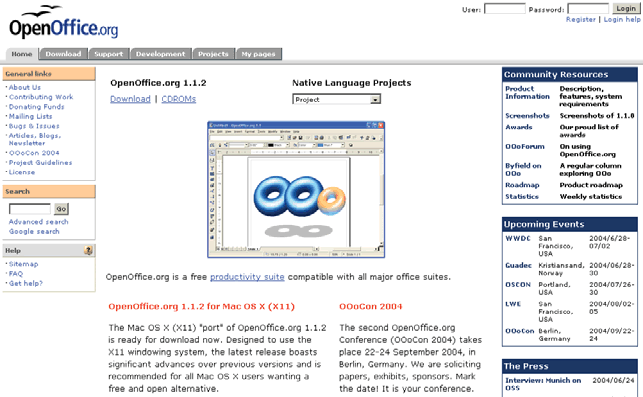 Led Training BrainStorm, Inc. is one of the leading training companies that now provide in-person and computer-based OpenOffice education products.
Books OpenOffice.org for Dummies by Gurdy Leete, Ellen Finkelstein and Mary Leete is a beginner's look, with a CD that includes the software. OOoSwitch: 501 Things You Want to Know About Switching to OpenOffice.org from Microsoft Office by Tamar E. Granor emphasizes the transition from Microsoft Office. OpenOffice.org Resource Kit by Solveig Haugland and Floyd Jones is a comprehensive guide to OpenOffice.org that also includes a CD with the program.
Toolkit: Open Source Applications for the Business Desktop
One myth about the open source desktop that grows thinner every day is the idea that there are no business applications. In truth, a number of highly-capable tools can provide cost-effective alternatives to single-vendor lock-in. Many run on Windows and other platforms, not just Linux. The following list includes some of the most popular, but each of these represents just one of several options that are now available in each category.
Office Productivity Suite: OpenOffice.org--OpenOffice is a free suite of full-function office applications, including a word processor, spreadsheets, presentations, a drawing tool and a database access tool. It can open and save MS Office file formats, as well as export Acrobat (.pdf) and Flash (.swf) files. It runs on Windows, Linux, Mac OS X, FreeBSD and Solaris. (For more information on OpenOffice.org, visit www.openoffice.org).
E-mail and Calendar: Novell Evolution and Novell GroupWise- Evolution are the world's most popular personal and workgroup information management solution for Linux systems. The software seamlessly integrates e-mail, calendaring, contact management and task lists in one easy-to-use application. With the additional installation of Evolution Connector for Microsoft Exchange, Novell Evolution functions as a Microsoft Exchange 2000 or 2003 client, with access to scheduling, e-mail, public folders and global address book features. For its part, Novell GroupWise 6.5, now available for Linux, is a premier communication and collaboration tool. It provides an effective and innovative approach to collaboration services--an approach that delivers security, control and mobility, while reducing the cost of managing and maintaining essential communication and collaboration services. (For more information on Novell Evolution and Novell GroupWise, visit www.novell.com/products/evolution/ and www.novell.com/products/groupwise/
Web Browser: Mozilla--This free download is a fast, modern alternative for Web browsing, IRC chat and more. Built with privacy and security in mind, it stops pop-up ads and junk mail, and allows you to open multiple Web pages in the same window with tabbed browsing. (For more information on Mozilla, visit www.mozilla.org.)
Multimedia: RealPlayer--The RealPlayer 10 for Linux can handle streaming and downloaded QuickTime, Windows Media, MPEG, Ogg Vorbis and just about every other format for audio and video files. It can also play DVDs and store-bought or home-made CD-ROMs. (For more information on RealPlayer, visit www.realnetworks.com.)
Image Editing: The GIMP--The GNU Image Manipulation Program is software for such tasks as image authoring, image composition and photo retouching. It works much like Adobe Photoshop, and it does so on many operating systems, in many languages, at no charge to the user. (For more information on GIMP, visit www.gimp.org.)
Web Authoring: BlueFish--Bluefish is a powerful editor for experienced Web designers and programmers. Bluefish supports many programming and markup languages, such as HTML, JavaScript and others, but it focuses on editing dynamic and interactive Web sites. (For more information on Bluefish, visit http://bluefish.openoffice.nl/index.html.)
* Originally published in Novell Connection Magazine
---
Disclaimer
The origin of this information may be internal or external to Novell. While Novell makes all reasonable efforts to verify this information, Novell does not make explicit or implied claims to its validity.