All In One: Novell Small Business Suite 6.5
Articles and Tips: article
Linda Kennard
30 Sep 2004
A part from discrepancies in workforce size, small businesses with as many as 100 employees and large businesses with at least 500 are alike in many respects. The similarities between these little and typically local firms and their big and usually global brothers boil down to business. Business is business, whatever its size. Owners of mom-and-pop outfits and executives of Fortune 500 companies both seek to peddle and improve their wares and to create brand new ones, all with the same end in mind: whether staffed by two workers or run by thousands, businesses exist to make money.
To back their money-making endeavors, many small businesses and most (if not all) large businesses look for affordable, reliable and secure network software that is easy to use and maintain. To small businesses that need a communications network, these issues (affordability, reliability, security and ease-of-use) are arguably more important than they are to large businesses. After all, small businesses cinch their budget belts considerably tighter than their large counterparts, squeezing the life out of any desire to go wild purchasing network software.
In fact, small businesses in the U.S. plan to invest only $3,000 to $35,000 this year on technology in general. In contrast, even medium-sized businesses (those with 100 to 500 employees) plan to spend nearly three times that amount. (See Purchasing Decisions: A Defining Study of Small and Mid-Sized Business Decision Making at www.networkcitybiz.com/files/Purchasing Dynamics NYC Presentation Version.pdf.)
Belt-tightened budgets also explain why small businesses seldom have an in-house IT specialist. This means that when it comes to learning the networking ropes--what to do if you forget your password, for example--pint-sized business staffs are on their own. Furthermore, without an IT specialist on hand to quiet network hiccups, small business owners are left to do so themselves or to wait for hired help. Hence, hiccups, such as downtime and data loss, detract owners' attention from the business at hand and take a toll on the productivity of precious few employees.
With or without these distractions, keeping a small business afloat isn't easy. In fact, recent statistics reveal that for nearly every small-firm fledgling there is a small-business fatality. According to the U.S. Small Business Administration, an estimated 572,900 new small businesses opened in 2003. That number is disturbingly close to the number of small businesses that closed in the same year: an estimated 554,800. (For more information, see http://app1.sba.gov/faqs/faqindex.cfm?areaID=24.)
Small business, it seems, is risky business indeed. So how can one small business avoid joining the ranks of the half million others likely to go belly up this year?
The Smell of Suite Success
Naturally, no one can offer a single, simple answer to this question. In fact, Small Business Trends tracker David Patterson says no one can give you a real answer at all. "About the best [anyone] will be able to do is give you statistics," says Patterson. While this might be true, people are always willing to hazard guesses. In this case, the myriad of possible guesses are as varied as the types of small businesses out there blooming in the shade cast by multinational enterprises.
That said, you can safely assume at least this much: owners who want their small business to not only survive but also thrive should focus on their business--not on the technology that is supposed to facilitate that business. You can also assume, as smallbusiness owners apparently do, that the technology running behind the scenes should not be just any technology: it should be the latest and greatest. City Business Journals Network found that 61 percent of 658 small-business owners surveyed in 2003 believe that using the latest technology helps advance business. (For more information, see Purchasing Decisions.)
Fortunately, for the estimated 6.9 million small businesses operating today within the United States alone (see Purchasing Decisions), industry-leading network technology is readily available in the form of Novell Small Business Suite 6.5.
Released in February 2004, Novell Small Business Suite 6.5 is a collection of full-featured versions of several of Novell's awardwinning networking, collaboration, management and security products, including NetWare 6.5, GroupWise 6.51, ZENworks for Desktops 4.02 and BorderManager 3.8. (For more information about what these products are and what they do, see Sweets in the Suite.) In addition, the suite features several third-party products, such as FatPipe Network's FatPipe Internet 1.2 and the renowned open source Web and application servers, Apache 2.0.45 and Tomcat 4.1.27.
Perhaps more important than details about individual products and what they do for the suite, are details about the entire suite and what it does for you. Novell Small Business Suite 6.5 meets your criteria for network software: it's affordable, easyto- use, reliable and secure software that simply does its job-- leaving you to do yours.
Small Bucks for the Box
If you're not questioning the use of the word "affordable," you should be because "affordable" is clearly a subjective term. (It's also an abused term thrown about loosely in association with virtually every product in this industry.) So how affordable is Novell Small Business Suite 6.5? You decide.
The "affordability" claim references at least these few points about Novell Small Business Suite 6.5:
It is available for less than $500, and the Starter Pack is available for free (installation cost aside).

It can scale to support double the number of users that earlier versions support.

It includes more stuff.
Cost
You purchase Novell Small Business Suite 6.5 in packs of five-user licenses. The first pack you purchase includes licenses that allow for as many as five servers on your network. Thereafter, each five-user license costs the same as the first five-user license pack: U.S. $475.
If your business is new and you have five or fewer computer users, then even $475 might be more than you want to spend. So don't. Instead, check with a Novell reseller, who can get you started with the Novell Small Business Starter Pack for free--almost. The Starter Pack itself will cost you nothing; you pay only for the installation and hardware. (For more information, see www.novell.com/products/smallbiz/nsbs_starterpack/.)
The Starter Pack includes everything that the full-fledged suite includes and comes in packs for either three or five users. Each pack allows for as many as two servers on your network. The important difference between the Starter Pack and the regular suite is that your buck (or lack thereof) stops at three or five users: if you want to grow beyond that number, you can purchase an Expansion Pack (U.S. $950), which unlocks this user limit and adds an additional five user licenses. (For more information, see www.novell.com/products/smallbiz/nsbs_expansionpack/pricing.html.)
Scalability
The exciting news about this version of Novell Small Business Suite is how many of these five-user license packs you can purchase before you outgrow your small business suite. Prior to version 6.5, the Novell Small Business Suite enabled you to continue adding licenses for up to 50 users. With the 6.5 suite, Novell ups the ante from 50 to 100 user licenses.
Why? To "provide a solution that is truly for small business," says Novell product manager Troy Wilde. Wilde explains that analysts at research firms such as IDC and Gartner now define small businesses as firms with 100 or fewer employees. You should check out the scalability of some of the other network software you might be considering. You'll find that the Novell suite alone scales to 100 users. The others apparently consider small business to be smaller than analysts typically define: you'll have to kiss them goodbye between 50 and 75 users.
The other good news about the 6.5 suite is its licensing model. Novell Small Business Suite 6.5 uses a User Access License model, rather than variations on the concurrent user access licensing model used with previous versions. While the names of these licensing models might not clue you in, this change works in your favor.
With the Concurrent User Access model in version 6.0, the number of licenses you purchase represents the maximum number of concurrent users on a network server, which might or might not equal the number of employees you have. If one user logs in to a server from four different workstations, this user consumes four licenses. The licenses are released to other users when this user logs out. In versions of the suite earlier than 6.0, printers and other similar network resources also consume user licenses.
The User Access License model makes things a little easier. For one thing, printers and other network resources don't consume user licenses. For another thing, the number of licenses you purchase should simply equal the number of employees you have. The number of licenses you purchase represents the number of users that can access the network, period. Hence, one user can access the network at any time from as many workstations as she wants at a cost of only one license. Perhaps most important, this model is identical to the NetWare 6.5 model, which means that if you outgrow the 100-user cap, you can transition without a licensing hitch to NetWare 6.5.
More Goods for Greater Productivity
The heart and soul of Novell Small Business Suite 6.5, NetWare 6.5 also supports the affordability claim by helping to pack more stuff into this suite than earlier versions. (For more information, see Sweets in the Suite.) For example, NetWare 6.5 includes Virtual Office, an out-of-the-box portal that is usable immediately after installing Novell Small Business Suite 6.5, depending on your installation selections. (For more information, see Little Effort, Little Time: The Big Easy Install.)
Virtual Office includes several ready-to-go gadgets that enable users to access most of what they need to do their jobs from anywhere with a Web browser and an Internet connection. To open the door to their productivity tools, users simply type in your Virtual Office URL, which is typically something like www.yourcompanyname.com. (See Figure 1.) From the Virtual Office home page, users can access their files (via Novell iFolder), corporate white pages (via Novell eGuide), your printers (via Novell iPrint) and their e-mail (via GroupWise WebAccess).
Virtual Office also includes self-help features that help you to help employees help themselves. For example, using the Password Self-Service feature, users can change their own eDirectory passwords (that is, the password they use to access your network). When you're running a big business, password problems are a hassle for help desks, accounting for roughly 30 percent of all calls. When you're running a small business, password problems are a hassle for you because you don't have a help desk. Offloading the task of managing passwords squarely onto employees' shoulders enables you to focus on your job and encourages employees to get back to theirs.
Figure 1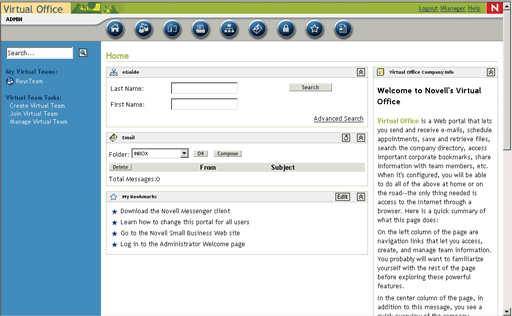 Like Password Self-Service, iFolder encourages employees to get to work, enabling them to do so from virtually anywhere and potentially increasing their productivity. Equally (or more) important, iFolder offers you the assurance of always-available data. iFolder stores users' files on the hard disk drives of their Windows workstations (laptops or desktops) and also on an iFolder server, which users can access (with proper credentials) from the Web. When users access iFolder from home or some other remote location, the changes they make to their files will be stored on the iFolder server. The next time these users access their files from a system running the iFolder client, iFolder automatically synchronizes the changes they last made with the files on the current system.
What this means to small business is easy file protection. Even under dire circumstances, such as a laptop theft or hard disk failure, users' data--which, in many cases, is the lifeblood of your business--is always current, available and safe with iFolder. Furthermore, users don't have to do anything fancy to protect their data. They simply open and save their files in the folder structure designated in iFolder, and iFolder takes care of the rest.
Little Effort, Little Time: The Big Easy Install
Of course, before users can enjoy the suite's easy-to-use products, you have to get it up and running. Novell Small Business Suite 6.5 includes two new pattern deployment options and several new wizards that simplify this task.
To get started, you insert the Novell Small Business Suite 6.5 CD and follow the on-screen prompts. Among other things, the prompts ask you to select a language, accept the licensing agreement and choose either the default or manual installation.
Assuming you choose the default installation, the installation program automatically detects drives and creates an 8 GB sys: volume, where it copies Novell Small Business Suite 6.5 and NetWare 6.5 system files. When the file copy is complete, the Choose a Pattern page displays. From this screen, you choose to install a customized, basic or pre-migration NetWare server. You also choose to install one of seventeen preconfigured servers, two of which are unique to Novell Small Business Suite 6.5:
Novell Small Business Collaboration Server with Virtual Office (recommended)

Novell Small Business Collaboration Server
If you want a complete collaboration solution, select the Novell Small Business Collaboration Server with Virtual Office. As you probably can guess from the name, by selecting this option, you install--with the click of your mouse--all of the components required to set up and manage a Novell Small Business server plus all of the components for GroupWise and Virtual Office. Selecting the Novell Small Business Collaboration Server option installs the same components without the Virtual Office bits.
Manage Your Tree From Wherever You Are
If you select one of these two preconfigured server patterns, then after installation you can use the Small Business Setup Role in Novell iManager to complete network setup. (See Figure 2.)
iManager is a Web-based management console that simplifies access to and management of your eDirectory tree. With a browser and a wired or wireless Internet connection and the necessary rights, you can perform any management task using iManager that you can perform using ConsoleOne (with the exception of reporting). To list only a few examples, you can use iManager to do the following:
Create, delete and modify dynamic and static groups

Create, copy, move, rename, delete and modify eDirectory objects

Create new user accounts, clear lockouts and reset passwords

Modify trustees, inherited rights filters and trustees's rights to other objects

Launch NetWare Remote Manager (NRM, pronounced "Norm") to manage server resources
You also can run several of the traditional eDirectory utilities, including DSREPAIR and DSMERGE. You can even complete a few management tasks using a handheld device (with an Internet connection). (For more information about iManager, see "Keeping eDirectory Management Simple," Novell Connection, July 2002.)
Configuration Wizardry
The Small Business Setup Role in iManager enables you to complete the setup of key network services in significantly less time than it would otherwise take. Under the Small Business Setup Role, you click to launch any of five configuration wizards, named according to the task they help you complete:
Set up Internet Connectivity This wizard helps you configure the external network interface to telephone dial-up, Digital Subscriber Line (DSL), cable modem and Integrated Service Digital Network (ISDN) connections to the Internet.

Set up DNS This wizard simplifies setup of the Domain Name System (DNS), a distributed database system that provides hostname-to-IP resource mapping (usually mapping hostnames to their IP addresses).

Set up DHCP This wizard simplifies setup of the Dynamic Host Configuration Protocol (DHCP), which automates the assignment of IP addresses on your network.

Set up GroupWise and Messenger This wizard installs the GroupWise Messenger 6.5 instant messaging program, assuming that you click the box indicating that you want it to do so. As its name suggests, this wizard also automates much of the GroupWise setup, assuming that you install a new GroupWise system on a single server. (See Figure 3.)

For example, you can choose to allow the wizard to automatically create GroupWise users and groups based on existing eDirectory accounts. In addition to speeding account creation, this option offers users the convenience of using the same password to access both the network (via eDirectory) and their GroupWise inbox.

Manage Printers This wizard enables you to add, modify, delete and install printers or create a custom map of printer locations.
By using the wizards (after selecting a preconfigured server option), you seriously slash the amount of time and effort required to get your network services up and running. For example, Wilde estimates that by selecting a preconfigured small business server option and using the iManager GroupWise wizard, you transform an hour-long chore into a 15-minute task.
Figure 2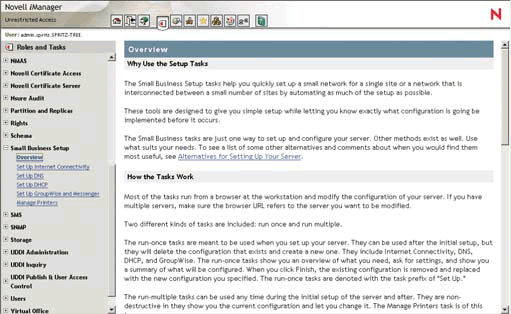 High Availability and Maximum Security
In addition to the affordability and ease-of-use issues that concern you when it comes to shopping for network software, you also turn a keen eye to areas of security and reliability. You're not alone: businesses of all sizes rank reliability and security near or at the top of their network software selection criteria.
Novell Small Business Suite 6.5 earns the right to flaunt reliability and security adjectives for several reasons. One reason is that the suite includes Novell Cluster Services 1.7 and Novell BorderManager 3.8. These two products are designed specifically to ensure high availability of network resources and to secure access into and out of your network, respectively. (For more information, see Sweets in the Suite.)
Novell also earns the right to tout Novell Small Business Suite 6.5 as reliable and secure because of the suite's core products: NetWare 6.5 and GroupWise 6.5 have long-established reputations for being reliable and secure. (For more information, see the Novell Small Business Suite 6.5 white paper. You can view this paper at www.novell.com/collateral/4621394/4621394.pdf.)
In the April/May 2004 issue of Law Office Computing, attorney Jonathan Franklin and IT director Mark A. Akins allude to NetWare's reputation in their review of NetWare 6.5. They launch their review by stating that Novell "continues to produce one of the best server products out there," and adding that "NetWare is not only robust, but, more importantly [sic], it's stable." (You can view this article at www.becker-poliakoff.com/publications/article_archive/pdf/akins_netware_review.pdf.) Their final verdict is that "firms that understand security, reliability and stability will want to look at [NetWare 6.5]."
In terms of NetWare 6.5 security, you needn't look further than the CERT Coordination Center (CERT/CC), a major reporting center for Internet security problems. In the 16 years that CERT/CC has been issuing advisories, it has issued only one NetWare-specific advisory. (Just as a point of comparison, in 2003 alone, CERT/CC issued 12 advisories--out of a total of 28--to Microsoft products.) (For more information, see www.cert.org/advisories.)
Like NetWare 6.5, GroupWise 6.5 lays claim to reliability. However, its real claim to fame is its inherent security. For example, GroupWise is less vulnerable than its competitors to virus attacks, a point indirectly (and unintentionally) supported by Sophos, a leading provider of anti-spam and anti-virus software.
Figure 3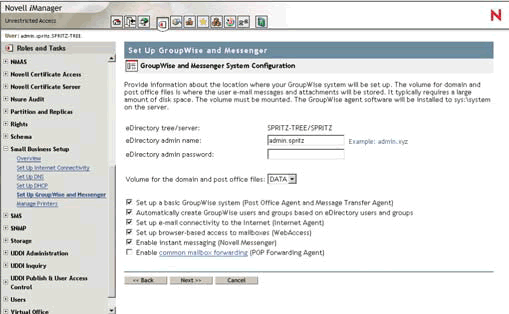 At the end of each month and year, Sophos publishes a list of the top ten viruses. In 2003, the list included the infamous Sobig- F, Blaster-A and Nachi-A viruses, which together with the seven other viruses on the list caused billions of dollars worth of damage. Check out the 2003 list (or any of the lists published thus far this year). When you see the 2003 list, click the links to the explanations of each virus, and you'll find that the viruses were spread through Microsoft Outlook and Microsoft Exchange. (Go to www.sophos.com/virusinfo/topten/200312summary.html, for example.)
Businesses running GroupWise throughout their enterprise were protected from these viruses, which is not a small matter, particularly to small businesses. Viruses can disable operating systems, leaving some or all of your already limited number of systems unusable. When systems are unusable, your business stalls, and you might lose sales. Even viruses that produce only irritating results (like a clicking noise every time you press a key) have to be dealt with eventually. With GroupWise, you are spared the hassle and cost of dealing with viruses.
Be Nice to the Little Guys
You've read the support for claims about the affordability, ease-ofuse, reliability and security of Novell Small Business Suite 6.5. That leaves at least one area thus far untapped that you probably still want to hear about: support for line-of-business applications.
Novell Small Business Suite 6.5 supports many LOB applications that are essential for the day-to-day operation of small businesses worldwide. Novell Small Business Suite 6.5 supports industry-leading applications in the law industry, leading database vendor software and all of the applications that build to these databases, and software for verticals ranging from manufacturing to mortgage banking. To view a list of supported applications, go to the Novell partner solutions site at www.novell.com/coolsolutions/smallbiz/partner_solutions.html.
Also, in March, Novell introduced the Novell Small Business Suite 6.5 Application Partner Portal. With a valid Novell Small Business Suite 6.5 or Expansion Pack product serial number, you can advance through the portal, through which Novell partners offer exclusive discounts on their products. (For example, at the time this article was written, Grouplink was offering its GroupWisesupported ContactWise CRM product at a 10 percent discount, and Virus Buster was offering its Network Security Bundle more than 20 percent off.) Other partners, including ACCPAC, Beginfinite, NovaSTOR, Omni and Tobit, were also offering exclusive deals to Novell Small Business Suite 6.5 customers.
These partners and Novell itself have the same goal in mind: to serve the small business constituency. This point did not escape the notice of Small Business Television Network (SBTV) reporter Jorge Riopedre when he interviewed Wilde at this year's Small Business Administration (SBA) Expo in Orlando, Florida. At the close of the televised interview, Riopedre concluded that it "sounds like Novell is trying to be very friendly to small businesses." "Absolutely," Wilde confirmed.
Sweets in the Suite
Novell Small Business Suite 6.5 includes several software tools that together offer secure network storage and access, advanced collaboration, remote workstation management and a variety of Internet capabilities.
NetWare 6.5 Support Pack 1 (SP1) NetWare 6.5 SP1 is a network foundation with lots of frills. (For information about some of the frills, see the list below of products included with NetWare 6.5 SP1.)
Landing the top slot for network operating systems in the 2004 CRN Channel Champions Survey, NetWare 6.5 enables secure and unfailing access to your network and information resources, including network and server directories, files, printers, e-mail and application servers and databases. Furthermore, NetWare 6.5 enables users to access these and other resources not only from any network workstation, which you would expect, but also from any laptop or desktop equipped with a Web browser and an Internet connection. Whether users access network resources from home, a hotel, or a client's or partner's locale, NetWare 6.5 tools secure the communications exchange. (For more information about NetWare 6.5, see www.novell.com/products/netware/.) For articles on NetWare 6.5 see http://www.novell.com/connectionmagazine/ netwarepillars.htm.)
NetWare 6.5 SP1 includes the following products:
* Originally published in Novell Connection Magazine
---
Disclaimer
The origin of this information may be internal or external to Novell. While Novell makes all reasonable efforts to verify this information, Novell does not make explicit or implied claims to its validity.