Thinking Ahead: Proactive IT help desks
Articles and Tips: article
Larry Russon
30 Sep 2004
Proactive IT Help Desk Management: Using ZENworks Within an ITIL Process Framework
A proactive it help desk is a must in today's economic and regulatory environment. IT-dependent organizations must focus on establishing better control over servicing the customers of the IT department. In addition, cost reductions are a necessity in today's economy. And, internal support groups are a frequent cost reduction target. Help desks and desktop support teams need to ensure that their services are clearly defined and aligned with the business requirements.
With the cost of responding to a help desk request averaging $38 US or more per call, it's imperative that help desk management constantly strives to maximize productivity to improve service levels and lower costs. Most private and public organizations are under real pressures to increase productivity in order to gain a competitive edge.
Whenever employee output is impeded by a failure in IT, the help desk is usually the single point of contact for end-users who need assistance, regardless of whether the employee is sitting at an office desk, on the road or telecommuting. Without this single point of contact an organization would face major losses in time spent looking for ways to fix issues and get help generating substantial financial risks.
Even though most IT dependent organizations have help desk centers, the strategic advantage of the help desk is not well understood by senior management. They often see the help desk budget as a black hole without any real benefit to the organization because it does not generate revenue. As a result, help desk managers, like everyone else supporting the technology-enabling initiatives of the enterprise, continually face the challenge of accomplishing more with fewer resources.
Those in the role of IT user support over the past few years have seen a profound organizational shift to reduce costs and improve the efficiency of the help desk. Since the end of the 90's, the traditional help desk role has been shifting from an almost isolated, reactive technical support function into the center of a new, integrated IT services management group. This shift is due in part to software vendors supplying mature desktop and help desk management software, and also industry-wide initiatives to standardize "best practices" for better managing the processes and work flows required to streamline help desk center activities. One of these industry standards initiatives is the IT Infrastructure Library, commonly known as ITIL.
The ITIL is essentially a library of documents used to aid in the implementation of a framework for IT service management. This customizable framework defines how service management is applied within an organization.
Other competing/complimentary standards are filtering up through the IT standards ranks to address similar needs, but ITIL is quickly gaining acceptance as the worldwide defacto standard for best practices in the provisioning of IT services.
The focus of this article is to demonstrate the benefits of utilizing the ITIL framework to integrate ZENworks functionality into your help desk or IT service desk, providing the following benefits to your organization:
Improved customer satisfaction through expedited incident resolution

Automated provisioning of software assets from a policy-driven framework

Increased efficiency for help desk agents through remote management tools and complete asset control

Enhanced focus and a proactive approach to service provisioning

Better managed IT infrastructure and policy-based device configuration

Improved usage of IT support resources and increased productivity of business personnel

More meaningful management information to support decisions
By utilizing ZENworks not only for simplifying the life cycle management of IT assets, but also as a powerful component in your IT service desk strategy, your organization will reap the benefits of greatly improved processes and control.
Organizational Change
Most IT departments have recognized the tactical importance of the help desk role in an IT-dependent organization. Although, the help desk is considered very important and requires a skilled work staff, it is still a labor-intensive function and therefore costly to maintain. So IT managers have had to address the help desk function in new ways. Traditional help desk management roles are being divided to better address the responsibilities within the IT services management group. IT organizations have divided into two separate roles: one considers the future of computing in the organization and the other looks after the present. These are commonly known as development and IT services, respectively.
Process-driven Change
The help desk function, in most IT departments, has become the most process-driven part of the IT department. Policies are put in place for each help desk function to increase the efficiency and productivity of the help desk employee. Most help desk requests follow a common work flow toward the final resolution. The majority of new help desk tools, such as those from Remedy and Touchpaper Software, focus on providing "best practice" methodology and procedures for maintaining IT systems.
In the past, the help desk was typically a loose group of technicians, running around solving issues as they developed. But in today's highly competitive marketplace, companies are relying on refined processes for IT service delivery and well-defined work flows for help desk support. All with the end goal of improving efficiency and business-oriented processes.
Playing the Catch-up Game
Traditionally, the help desk support center stood alone typically as a reactive function with a relatively focused set of responsibilities: solve all reported problems as soon as possible after they are reported. Basically, it's a fire-fighting operation.
In addition, traditional help desk staffing practices generally did not take into account that many help desks were not staffed to cope with the capacity of calls outside of day-to-day problems, such as virus or worm attacks. The help desk is often in a position of playing catch-up, building its skills just in time, going from one problem to the next and never being able to provide adequate IT services to all employees that need it. This creates a financial risk for IT organizations as budget planning and potential service downtime is not controlled.
The need to manage this risk is becoming a key contributing factor in the way IT services have changed help desk functions to be more focused on procedural and work-flow-based operations. In addition many IT service departments have begun negotiating service level contracts with departments consuming IT services and charging for services rendered. Also, financial pressures of getting better management of IT assets to reduce costs and justify expenditures is driving many IT organizations to broaden their focus by looking at managing the life cycle of user computing from end to end instead of just reacting to daily changes.
For an IT services department to function well, the help desk support center needs to integrate well with other elements in the IT service's portfolio. The portfolio of services may include supplying the computer and guaranteeing the availability and capacity of the network to which it is attached. They may also have specified the computer configuration in the first place, designed the operational standards with which the hardware and software must comply, and ensured the user was adequately trained to use the system. Ideally, the IT services department does not see these as a loose collection of services, but as part of an integrated process.
Benefits of ITIL
The Information Technology Infrastructure Library has already considered what may be the main processes of IT services and how these link together. Organizations are looking at the ITIL process framework as a method to better address IT management. Five main areas of IT "best practice" processes are addressed by ITIL for help desk service support:
Incident Management

Problem Management

Change Management

Configuration Management

Release Management (See Figure 1)
Figure 1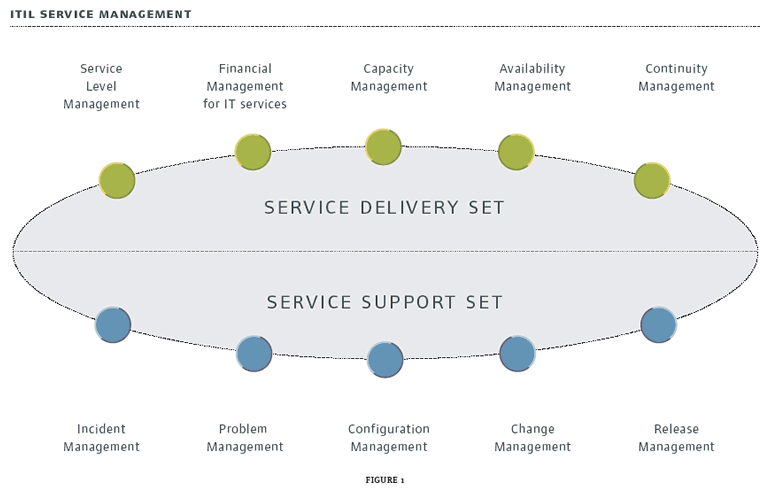 The idea of a centralized inventory database of hardware and software assets is represented in a configuration management process. Change management then covers how an item of technology may be considered and approved for procurement or creation and then deployed.
The deployment is, of course, a change in itself: one of absence to presence of a product, software program or service. Service management looks after the support of the asset and its user. Under ITIL service management the parameters of preset service levels may also function as IT staff productivity targets. ITIL goes further with its problem management process, by looking at how repeated incidents may point to a deeper problem. When rectified, can make a significant improvement to the usability of the computer systems.
The benefits of integrating asset management software with help desk software are centered on increasing agent productivity.
Integrating ZENworks Into Help Desk Processes
The amount of time saved on incident handling depends on having the right set of tools in place to support the help desk process. Integrating ZENworks into your help desk processes and workflow provide features such as remote diagnostics, remote control, asset management, application distribution and system recovery each streamlining the problem resolution process for agents.
Remote Desktop Management
ZENworks 6.5 includes remote management giving help desk agents the ability to remote control and/or view a desktop on the network and perform remote diagnostics, remote program execution and file transfers. Help desk agents can use ZENworks remote management tools on desktops and even over the Internet through NAT-and double-NAT-routed networks. Users can also make remote control requests to get support from a help desk agent.
Inventory & Asset Management
The benefits of integrating asset management software with help desk software are centered on increasing agent productivity. Reduced incident handling time is the most obvious benefit, since agents have all of the information about the employee's desktop hardware, software and peripherals available throughout incident resolution.
ZENworks hardware and software inventory management data that is integrated with Help Desk software streamlines agent flows. This offers benefits such as reduced incident handling and resolution time. It also provides additional flexibility to the help desk for proactive end user support. Adding ZENworks inventory can improve the accuracy and relevancy of IT asset data for many IT service processes involving change and configuration management. Any software or configuration changes on the desktop are automatically updated to the inventory database.
Having complete asset information available driving each help desk incident allows granular reporting on root-cause analysis and failure rates for different assets and asset types. This is useful to help desk management for process analysis and refinement. For instance, the ZENworks 6.5 hardware scanning agent even collects data about the system chassis. This can help you identify systems that are getting out of date or might be incompatible with future upgrades.
In addition to hardware scanning, ZENworks 6.5 has numerous enhancements in the software scanning agent which allows it to identify more types of software and collect additional data. For instance, the new agent checks for commercial and custom-defined suites. Custom-defined suites allow you to define a specific set of files that make up an application that can be scanned on the systems.
A primary benefit of integrating asset tracking with help desk software is increased agent productivity, not only for level-one agents, but also for technicians gathering information by preparing for desk-side visits. Other benefits include incident-handling time and increased first-call resolution because agents have all of the information about the employee's desktop hardware, software and peripherals available through the whole incident-management process.
Service Support Set
Service Support is an operational methodology for supporting the delivery process of IT services. Service support contains six process models that enable IT services to be delivered effectively. The five models; Configuration Management, Incident Management, Problem Management, Change Management, Release Management, (See Figure 1) and Service Desk, (See Figure 2) provide standards for managing dayto- day operations for IT customers. ZENworks enhances the ITIL models by automating many of the day-to-day tasks required for supporting and maintaining the IT customer's desktops, servers and handheld devices.
Figure 2

ITIL Process Framework Benefits
ITIL introduces a process framework for better managing IT focused on delivering high quality and guaranteed IT servces to the IT customer. The benefits of utilizing the process framework are:
Makes quality improvements measurable

Makes IT Service Management processes manageable

Provides a consistent method of running IT

Provides a standardized terminology

Improves internal and inter-departmental communications

Increases customer satisfaction by meeting the right expectations.
System Recovery
For more information about Novell ZENworks integration www.novell.com/products/zenworks/
Integrating the ZENworks imaging feature, image restoration, allows help desk agents to completely restore a desktop to the desired machine state. This can be a last resort for incident resolution, but can be useful when a machine's operating system is beyond functional repair. Included with ZENworks imaging is automated application distribution. Using it, a workstation can be restored in a very short time to a productive state.
A Greater Understanding
The IT help desk is similar to a production line, providing a complex range of service products for a wide, varied and demanding customer base. For it to work properly, the help desk must have processes that are understood by all members of staff. There are too many variables to leave things to the old ways of relying on the goodwill and enthusiasm of the staff, which characterized the help desk in its earlier, less mature days. The risks are too great of a handover not taking place and job ownership being lost, or of insufficient value being added at some stage of the production line. All such delays impede the delivery of IT into the business, thus putting profits and corporate goals in jeopardy.
For the processes to work, they have to be applied in a prudent manner. ITIL is a straight forward process framework that can help you establish methodologies to better align IT services and service support responsibilities. The ZENworks policy-based approach for managing the full lifecycle of your IT assets along with the workflow nature of Help Desk management software can comprise the hub of a more efficient and productive ITIL-compliant IT Service Desk.
* Originally published in Novell Connection Magazine
---
Disclaimer
The origin of this information may be internal or external to Novell. While Novell makes all reasonable efforts to verify this information, Novell does not make explicit or implied claims to its validity.