Mind Reading: The BrainShare Network-Powered by SUSE LINUX
Articles and Tips: article
Linda Kennard
01 Jul 2004
When Novell chairman and CEO Jack Messman talks, people listen--at least people with their fingers on the pulse of the IT industry. People like the 6,000 customers, partners, press and industry analysts who attended BrainShare 2004 felt the beat. And these people were listening on Monday, March 22, when Messman took the stage to present the opening keynote address for the 20th annual BrainShare. What did Messman say to launch this industry-leading technical conference?
"The right people are connected to the right information at the right time, so they can make the right decisions," Messman explained. He talked about Linux, claiming that "2004 will be the year that Linux goes main stream on the enterprise server." He discussed the Novell Linux strategy and the promises that Novell has kept that are related to that strategy, including the anticipated end-of-year release of Novell Open Enterprise Server. That's one year ahead of schedule, Messman noted.
Before he said any of this, however, Messman drew attention to something else--something that underscored the theme of his keynote and of the conference itself. If you were there and you remember Messman's second slide--the one about the 1,400 gallons of coffee and 5,000 gallons of beer--forget about it. That's not the slide I'm talking about. I'm talking about the first slide: Messman started his speech with a map of and more than a few words about the BrainShare Network. Why was the BrainShare Network worth mentioning?
For nearly as long as there has been BrainShare, there has been a BrainShare Network. The BrainShare Network has always been cool--and this year's network was no exception.
As in previous years, BrainShare 2004 attendees could use one of hundreds of BrainShare Network workstations or their own wireless-equipped laptop to connect to the BrainShare Network. Once connected, Messman explained, attendees could read BrainShare news, check and schedule BrainShare sessions, respond to BrainShare surveys, and exchange e-mail with BrainShare participants (or anyone else in the world). Messman also noted the network's tens of thousands of feet of cable and fiber, hundreds of switches and routers, and dozens of servers. Interesting, but not unlike BrainShare Networks set up in the past.
"You'll notice something different this year," said Messman, getting to the heart of the BrainShare Network 2004 noteworthy distinction. "Those workstations are all running Linux!" In fact, so were the BrainShare Network servers. BrainShare 2004, as its network highlighted, was all about Linux--right down to the keynote presentations, created and displayed using OpenOffice. In addition, all of the Breakout Sessions were created in OpenOffice and displayed in OpenOffice on Linux desktops.
Powered by Linux, Built by Partners
Powered by Linux, the BrainShare Network 2004 was built through the combined efforts and donations of several Novell partners, including IBM, HP, Unlimited Technologies, WingateWeb and Enterasys. (For information about HP and IBM, see The Linux Bandwagon. For more information about WingateWeb, see Monkey on the Front. For information about Enterasys, see Network Access--With or Without the Wires.)
Unlimited Technologies sets up physical networks and provides networking solutions for trade shows all over the world, including shows such as COMDEX, NetWorld+Interop, the World Economic Forum and, of course, BrainShare. (For more information, see www.unlimitedtech.net.)
To aid in the labor-intensive work of quickly setting up the vast BrainShare Network in just a few days, Novell employs Unlimited Technologies. Many of their personnel have been helping Novell set up BrainShare Networks for nearly ten years. This year, like years past, Unlimited Technologies set up the physical BrainShare Network and provided the network's messaging solution.
Chameleon on the Back
The Unlimited Technologies team built the onsite backend of this year's BrainShare Network. To do so, team members set up several HP Compaq ProLiant DL380 G3 servers, each equipped with 4 GB RAM, two 3.2 Ghz Xeon processors, and five 72 GB 15,000 RPM hard drives.
With few exceptions, the servers ran Novell SUSE LINUX Enterprise Server 8.2. (For information about the exceptions, see GroupWise for Linux.) With a reputation for being efficient and stable, SUSE LINUX Enterprise Server 8.2 was a sound choice for the show. SUSE LINUX Enterprise Server 8.2 is deployable on a broad range of systems, from 32- and 64-bit x86 systems, to PowerPC-based systems, to IBM mainframes. (For more information about SUSE LINUX Enterprise Server 8.2 (SLES), visit www.suse.com/us/business/products/server/sles/index.html.)
For conference attendees, Unlimited Technologies team members also plugged in about 225 workstations, a mix of HP Compaq desktops and IBM ThinkPad laptops. (For information about HP and IBM support for Novell and Linux, see The Linux Bandwagon.) These end-user workstations were scattered in various locations throughout the venue, including the mezzanine and lunchroom, as well as the developer areas. (See Figure 1.)
To connect these and other BrainShare Network workstations to the onsite servers, Unlimited Technologies laid out a lot of cable--more than 60,000 feet of Category 6 and 5e cable and nearly one mile of fiber optic cable. Workstations attached to the servers over 100 Mbit/s links to about 90 edge switches, which had gigabit uplinks to approximately 19 core switches. (Unlimited Technologies used a combination of switches and routers from D-Link Systems and Nortel Networks. For more information, see www.dlink.com and www.nortelnetworks.com, respectively.)
Figure 1: The BrainShare Network was built using 25 servers, 60,000 feet of cable and more than 200 switches and routers. Attendees could access the BrainShare Network using any of the 225 workstations scattered throughout the venue or using their own wireless-ready laptops by way of 40 wireless access points.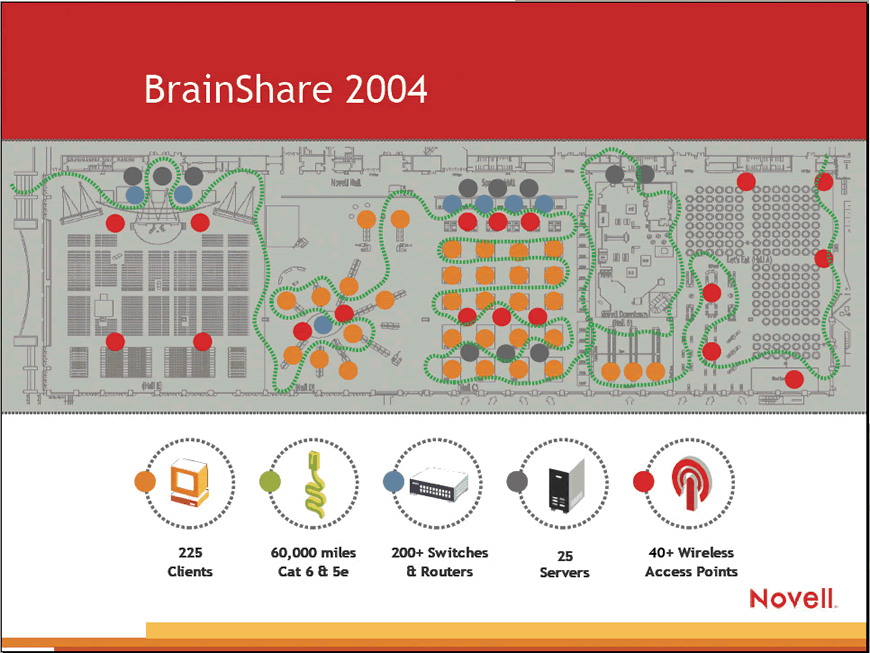 GroupWise for Linux
The messaging solution for BrainShare 2004--and for every BrainShare past--was built on Novell GroupWise, the collaboration system Unlimited Technologies recommends to all of its clients. Unlimited Technologies' senior partner Connie Straw built the GroupWise system for this year's conference.
Straw set up a dual system this year: one system ran GroupWise 6.5 on top of its traditional NetWare platform (in this case, NetWare 6.5); the other system ran a beta of Novell GroupWise 6.5 for Linux on top of SUSE LINUX Enterprise Server 8.2.
Available in open beta since February and released in April, GroupWise 6.5 for Linux, runs on both SUSE LINUX and Red Hat Linux. On either Linux platform, GroupWise 6.5 for Linux provides the full functionality of its NetWare-based counterpart.
So why did Straw run GroupWise 6.5 on NetWare as well? Straw says that she ran GroupWise 6.5 on NetWare for "her own peace of mind." GroupWise running on NetWare is "tried and true," she explains. "We needed more time to thoroughly test the Linux system on such a large scale to guarantee a good experience for attendees." The conference provided the testing grounds necessary, and Straw was apparently pleased with the results: at BrainShare Europe in September, Straw says, "we will be running a complete Linux system."
Unlimited Technologies personnel automated the task of generating GroupWise accounts for all of the BrainShare attendees. To do so, they used a custom-built utility that imported registration data from the three WingateWeb Conference 3.5 databases into the Novell eDirectory 8.7.3 tree that the GroupWise cluster referenced for user information. (A key component of Novell Nterprise, Nsure and exteNd solutions, eDirectory is Novell's award-winning, high-end directory that enables businesses to manage identities and security access for employees, customers and partners. For more information, see www.novell.com/products/edirectory.)
Every day of the conference, BrainShare Network administrators sent in the neighborhood of ten messages to each of the 6,000 BrainShare attendees. Most of the messages were in HyperText Markup Language (HTML) format and several included graphics. "The system handled all [of these] messages without even breathing hard," says Straw.
GroupWise 6.5 (for both Linux and NetWare) features GroupWise WebAccess, which Straw configured for the conference. GroupWise WebAccess freed attendees from having to use BrainShare workstations to access their BrainShare e-mail accounts. Instead, with GroupWise WebAccess on the backend, attendees could access their BrainShare e-mail account using any desktop or laptop with a browser and an Internet connection.
Network Access--With or Without the Wires
BrainShare attendees with wireless-ready laptops also had the option to connect to the BrainShare Network by way of the wireless LAN (WLAN) powered by approximately 40 Enterasys RoamAbout wireless access points. (For more information about Enterasys RoamAbout wireless technology, see www.enterasys.com/roamabout.)
For the sixth year, Enterasys Networks provided the BrainShare WLAN, which enabled attendees to access the BrainShare Network from anywhere within the 365,000 square foot Salt Palace. According to Straw, this year's WLAN bore the brunt of 4,000 users.
For the WLAN, Unlimited Technologies built a couple of caching appliances using a beta of Novell Volera Excelerator XL, the Linux version of the traditionally NetWare-based caching appliance. (For more information about Novell Volera Excelerator, see www.novell.com/products/volera/quicklook_exceleratorxl.html.) Unlimited Technologies also ran a "pretty powerful firewall" on a SPARC system "because wireless people like to hack," Straw says.
The BrainShare Network also offered both wired and wireless users Internet access via an XO Communications 45 Mbit/s feed into the Salt Palace. (See Figure 2.) The XO Internet connection made it possible for attendees to browse the Web and to send email messages to and receive them from anyone in the world. (For more information about XO, see www.xo.com.)
Figure 2: The BrainShare Network 2004 was powered by Linux. Servers ran Novell SUSE LINUX Enterprise Server 8.2. Workstations ran SUSE LINUX 8.2 Professional, Novell Ximian Desktop 2 (XD2) and Novell Evolution. Evolution served as the messaging client to the Novell GroupWise 6.5 for Linux cluster on the network's backend.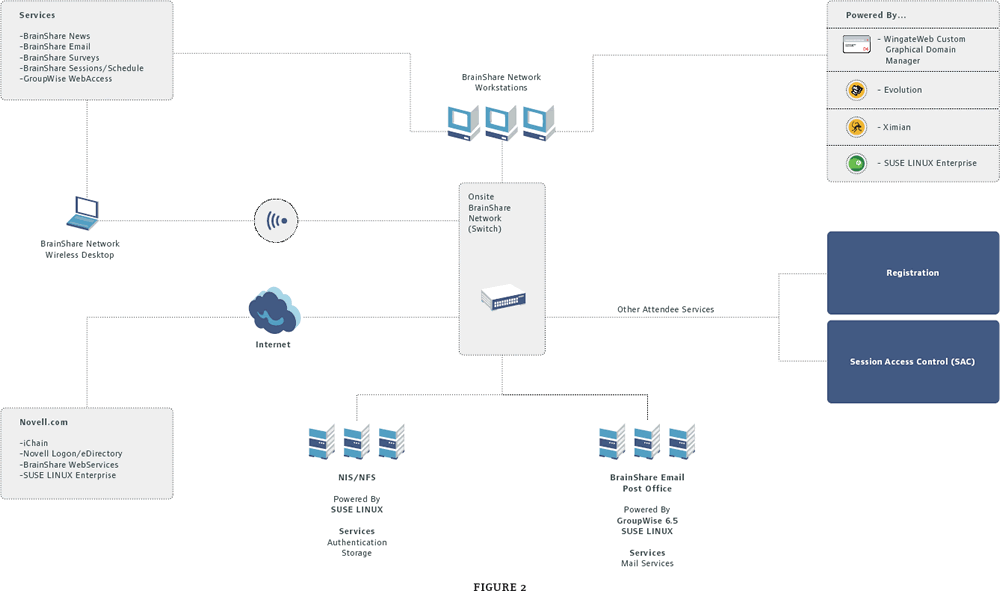 Monkey on the Front
The Internet feed to the show also provided an electronic route from the Salt Palace to Web servers at Novell Provo offices, which hosted WingateWeb Conference 3.5 software.
WingateWeb specializes in software solutions for managing enterprise-level corporate conferences and events. Touted by WingateWeb as the most powerful event management software available today, Conference 3.5 facilitated online registration for BrainShare 2004 and was the source of several BrainShare Network services. (Check out the demo of Conference 3.5 on the WingateWeb site at www.wingateweb.com.)
To deliver these services, WingateWeb personnel loaded the BrainShare Network workstations with SUSE LINUX 8.2 Professional. With a few exceptions, WingateWeb then installed and configured the basic version of Novell Ximian Desktop 2 (XD2) on top of this SUSE LINUX foundation. (You can download this version of XD2 free of charge from www.ximian.com/download.) A Linux desktop environment based on GNU Network Object Model Environment (GNOME), XD2 features a familiar interface. (See Figure 3.) If you check out Figure 3, you'll see that WingateWeb set up the desktops with Novell-red wallpaper, accenting the lower right with the Novell, SUSE LINUX and Ximian icons, which linked to the respective Web sites.
WingateWeb also created shortcuts to My Computer and Trash (areas on the computer to which this Windows-based generation has come to expect access). More important, they created shortcuts to BrainShare Network services, including BrainShare e-mail and BrainShare Session Scheduler.
Figure 3: On the BrainShare Network workstations, WingateWeb loaded Novell Ximian Desktop 2 (XD2). WingateWeb configured the XD2 familiar interface to display Novell-red wallpaper accented with Ximian, Novell and SUSE LINUX hyperlinked icons as well as shortcuts to various BrainShare services.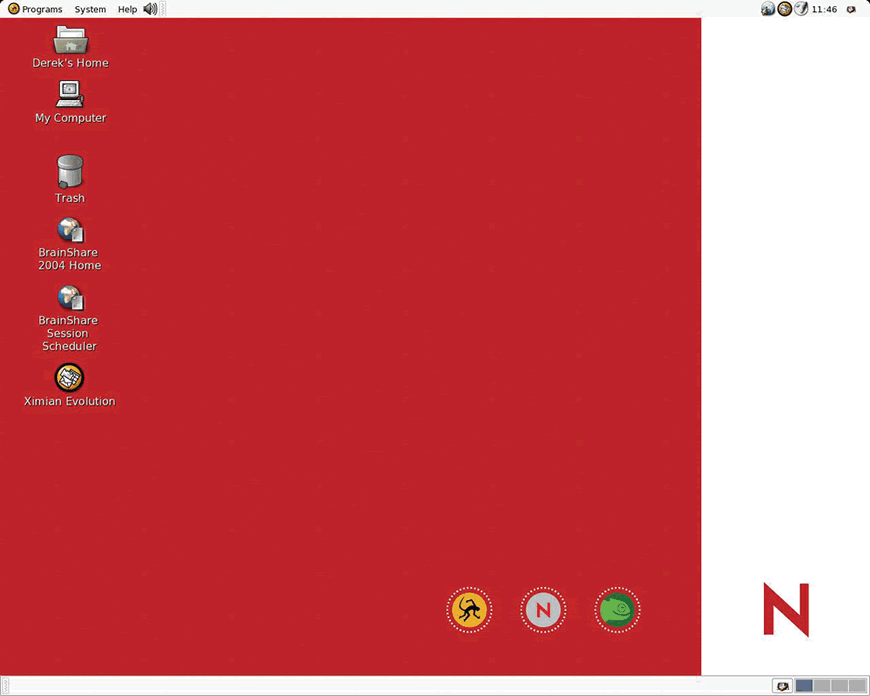 Figure 4: BrainShare attendees who accessed their BrainShare e-mail account from the BrainShare Network workstations used Novell Evolution for the job. Novell Evolution, included with Novell Ximian Desktop 2 (XD2), offers everything you would expect from a groupware program.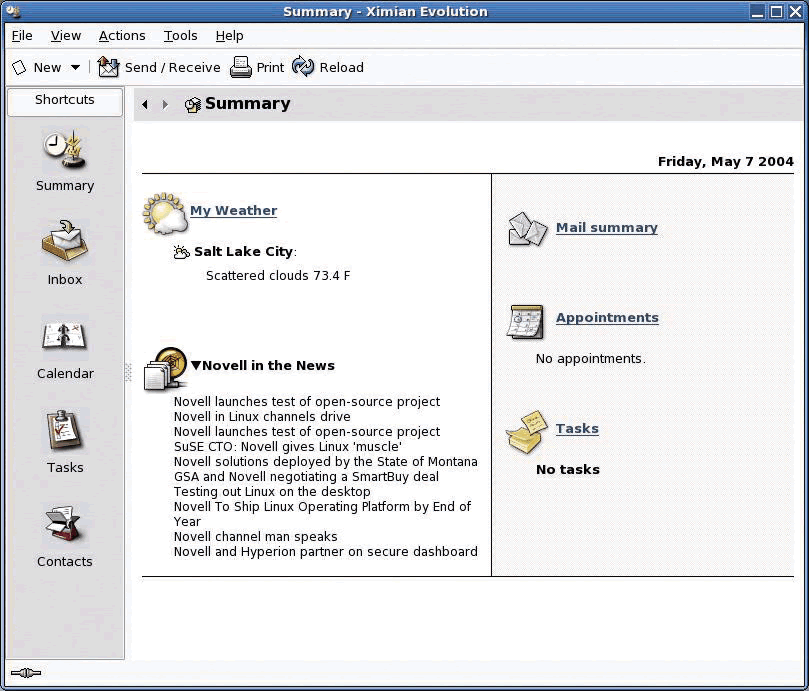 The Evolution Revolution
BrainShare attendees who accessed their BrainShare e-mail accounts from the BrainShare Network workstations used Novell Evolution 1.4 for the job. (For more information, see www.novell.com/products/evolution.) Evolution is a well-known personal and workgroup information management solution for Linux and Unix systems.
Evolution, the mail client included with XD2, offers you everything you've come to expect from a groupware program. (See Figure 4.) With Evolution, you can retrieve, store and organize your e-mail, juggle one or more calendars, schedule appointments, manage your address book information and maintain a task list. Calendar and contact information can be synchronized with handheld devices and shared over a network.
Like other groupware programs, Evolution also enables you to receive news from the Web-based newsgroups to which you subscribe. For example, at BrainShare 2004, WingateWeb configured Evolution to display links to Novell and BrainShare news.
Evolution can retrieve mail from several types of servers, including (but not limited to) POP and IMAP servers, Unix spools or directories and Maildir-formatted mail directories. This means, you can use Evolution with all of the traditional groupware servers, including GroupWise, Microsoft Exchange and Lotus Notes servers.
Novell also offers Evolution Connectors, such as the Evolution Connector for Microsoft Exchange, which exposes the full functionality of their respective servers. (In April, Novell made public the source code for Evolution Connector for Microsoft Exchange. Novell now offers the connector, which once cost $69 per computer, as a free download at www.novell.com/products/connector/download.html.)
The Evolution Connector for GroupWise, which is due to be released this fall, was not available at the time of BrainShare 2004. WingateWeb configured access to the GroupWise servers using IMAP.
WingateWeb also used an Evolution connector for Lightweight Directory Access Protocol (LDAP). The LDAP connector made it possible for WingateWeb to point the Evolution clients to the eDirectory 8.7.3 tree that the GroupWise cluster referenced for BrainShare e-mail addresses. Consequently, when attendees opened the address book in Evolution, they found it loaded with BrainShare e-mail addresses for every BrainShare attendee. With the help of this address book, BrainShare attendees were able to exchange e-mail messages with their BrainShare colleagues.
So Many Sessions, So Little Time
BrainShare 2004 featured 350 breakout sessions--of which attendees could make it to as many as 21, as long as they planned their time effectively. WingateWeb offered the BrainShare Session Scheduler to help them do just that.
After browsing through the list of available breakout sessions, attendees could add the names of the breakout sessions they wanted to attend to their interests list. The Session Scheduler then generated a schedule that offered the best fit for attending all of the sessions in an attendee's interests list. (For information about how attendees who signed up for sessions were guaranteed a place to sit in those sessions, see A Chair for Every Seat.)
XD2 Xtras
WingateWeb also enabled attendees who used the BrainShare Network workstations to open and use two other applications included in the XD2 tightly-integrated application suite:
Galeon 1.3.7

OpenOffice.org, Ximian Edition
A Web browser for GNOME desktops, Galeon is fully standards-compliant and features a light interface, which probably contributes to its reputation for being fast. (For more information and screen shots, see http://galeon.sourceforge.net.)
Galeon launched automatically when BrainShare attendees clicked the BrainShare 2004 Home shortcut on workstation desktops. From the BrainShare 2004 Web site, to which Galeon opened by default, attendees could access various services, including BrainShare surveys. (For more information about BrainShare surveys, see Survey Says!.)
In addition to Galeon, BrainShare attendees could open and use OpenOffice.org. An open source application (developed by an open source project of the same name), OpenOffice.org is a multi-platform office productivity suite. Because OpenOffice.org is compatible with all major file formats, including MS Office spreadsheet, word-processing and presentation file formats, you can open files created in MS Office in OpenOffice.org. Similarly, you can open OpenOffice.org files in MS Office. (See Figure 5.) (For more information, see www.ximian.com/products/desktop/features.html and www.openoffice.org.)
BrainShare attendees who chose to do so could download BrainShare presentations, which were created using OpenOffice.org, or create OpenOffice.org files from scratch. If they wanted to test the compatibility of the application suite, they could have attached the files they downloaded or created to e-mail messages they sent to their home e-mail accounts. (I take OpenOffice.org compatibility for granted because I experience it on a regular basis: I use MS Office 2000, and Novell Connection editors use OpenOffice.org.)
BrainShare attendees were able to store the files they created or the presentations they downloaded in their own Home directories. WingateWeb created a Home directory for each BrainShare attendee, who could easily open his or her Home directory using the shortcut on the BrainShare Network workstation desktop.
Who Are You and What Do You Like?
When an attendee logged out of the BrainShare Network, the BrainShare Network remembered the preferences that this attendee had set on the workstation. Hence, when the same attendee logged into the network from a different workstation in a new location, the network restored the preferences the attendee had set on the last workstation.
This personalized BrainShare experience was made possible in part by attendees' badges. WingateWeb issued each attendee a badge for the conference. Each badge had a magnetic strip with credentials that WingateWeb associated with the attendee to whom the badge was issued. To each BrainShare Network workstation, WingateWeb attached a Magtek magnetic reader.
Figure 5: From the BrainShare Network workstations, BrainShare attendees could open and use OpenOffice.org, an open source, multiplatform, office productivity suite that is fully compatible with MS Office file formats. From the BrainShare workstations, attendees also could download BrainShare presentations, all of which were created using OpenOffice.org.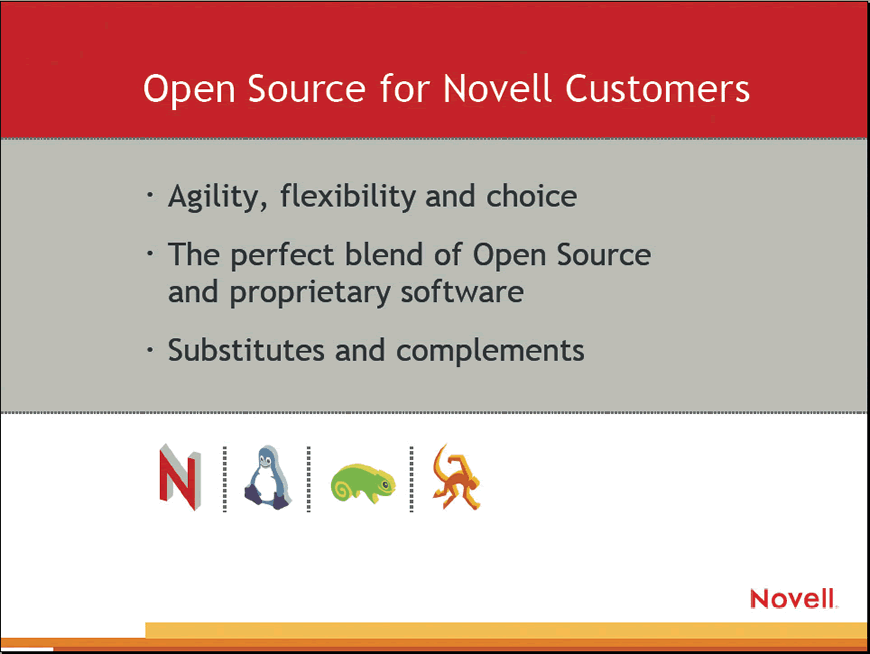 The badge and Magtek readers negated the need for attendees to enter a username or password when logging into the BrainShare Network from one of the workstations throughout the venue. Instead, attendees logged into the BrainShare Network from the network's workstations by simply swiping their badge through the attached Magtek reader. (For more information about Magtek readers, see www.magtek.com/products/card_reading/card_reading.asp.)
The badge information was then routed by WingateWeb's custom graphical domain manager (GDM) to a cluster of servers running Network Information Service (NIS), against which attendees were authenticated. Commonly referred to as YP (for Yellow Pages), NIS is a database service that enables you to maintain information in a single, central location while allowing this information to be accessible throughout the network. For example, NIS is used to enable network-wide access to user and group identity information in the /etc/passwd and /etc/group files.
NIS works with Network File Service (NFS) to make networks transparent to users. NFS was developed to enable users to mount a disk partition on a remote machine as if it were on the machine's local hard drive.
In the case of BrainShare 2004, NIS and NFS made the desktop environment consistent for each attendee--from one login and one machine to the next. After attendees were authenticated against NIS, a script ran that would do an NFS mount of their Home directories, where Linux stores users' application settings as configuration files. Hence, every time an attendee made a change to the preferences in an application (such as Evolution or OpenOffice.org), these changes were stored in the Home directory (and thus, on the NFS server).
When attendees swiped their badges to log into the network from a new location, SUSE LINUX authenticated them against the NIS server. Attendees' were then connected to their Home directory on the NFS server. The result was that regardless of the workstation an attendee was using, the desktop experience started off precisely the same as the attendee last left it. The experience, in other words, was such that "each generic computer [that attendees] logged in to was their own personal computer," WingateWeb Chief Technology Officer (CTO) Tom Karren explains.
This level of personalization was "brand new functionality this year," Karren adds. When pressed, Karren concedes that while similar functionality could have been achieved in the Windows environments of BrainShares past, "it was just rather easy with Linux."
What Could Be Better?
As the first--but certainly not last--BrainShare Network to be powered by Linux, I had to ask: how did the performance of this year's network compare with networks past? Personnel from both Unlimited Technologies and WingateWeb were careful to point out that they had no empirical evidence to support their claims but both were impressed. "I don't have any exact metrics," says Karren, "but my impression was that the performance was better with Linux than it was with Windows."
The BrainShare Network goes a long way toward proving the validity of Linux, as does every step Novell takes in its Linux strategy, as Messman noted during his opening keynote. At the end of Messman's keynote, further supporting this point, Linux creator Linus Torvalds joined Messman and Novell vice chairman Chris Stone on stage for an openpanel question-and-answer session.
During this discussion, Messman posed a question to Torvalds that no one had expected: "This isn't a prepared question," Messman started, "but if you had to do it over, what would you have done differently?" He was speaking, of course, about Torvalds' creation (and continued maintenance) of the Linux kernel.
"I don't know," Torvalds answered. "What could I have done better?"
Unlike Linux, which can be born only once, the BrainShare Network continues--year after year--to be born again and again. What will Novell do differently when it creates the network anew for the 21st annual BrainShare? While you or I might answer Torvalds' style ("What could it do better?") two things are certain: the BrainShare Network 2005, like its 2004 predecessor, will be powered by Linux--and it will be better than ever.
The Linux Bandwagon
For BrainShare 2004, Novell partners HP and IBM provided server and workstation hardware, on which the partners support Novell SUSE LINUX. In fact, both partners are big Novell and Linux fans, as their recent histories attest.
HP was the first to market with Linux-based servers and last year's global leader in terms of both revenue and unit shipments of x86 and Itanium Linux servers.
In a BrainShare 2004 press release, HP announced plans to certify and support Novell SUSE LINUX on select Compaq client systems, just as it already does on its Compaq ProLiant and Integrity servers. In fact, according to this release, Novell SUSE LINUX is slated to be HP's standard Linux distribution across its business desktop and laptop PCs. (For more information, see www.hp.com/hpinfo/newsroom/press/2004/040324c.html.)
IBM has also shown support for Linux on several fronts. For example, IBM offers its business partners the Double-Your-Discount incentive program. On this program, partners keep 60 percent of their earned margins when they sell IBM software that runs on Linux.
IBM shows support for Linux in house as well. By the time BrainShare 2004 rolled around, IBM had ported 15,000 (of its 300,000+ employees) to the Linux desktop. IBM plans to have 40,000 employees on Linux by the end of the year.
In addition, IBM certifies several of its products for use with various versions of Novell SUSE LINUX as well as Red Hat and Turbolinux. (For more information, see www-307.ibm.com/pc/support/site.wss/MIGR-48NT8D.html.)
A Chair for Every Seat
To ensure that attendees who signed up for any given session would get a seat in that session, WingateWeb provided an access control system. The access control system included 45 laptops set up outside of the session rooms in the Salt Palace and the neighboring Marriott Hotel. (Unlimited Technologies established an 802.11g point-to-point wireless link between the convention center and the hotel. This link carried the BrainShare Network--at up to 54 Mbit/s--to the session rooms in the Marriott.)
Before entering a session, attendees scanned the bar code on the front of their badges using the scanner from Metrologic that WingateWeb attached to each of the access control workstations. (For more information, see www.metrologic.com.)
When an attendee scanned her badge, the system displayed the attendee's name, the name and number of the session she was attempting to enter and either a red or green light. The green light indicated either that the attendee had signed up for the session (in which case, she was free to enter) or that there were sufficient seats remaining for her to enter (even if she had not yet signed up). The system returned a red light if the attendee had not signed up and all seats were taken.
Survey Says!
BrainShare attendees were encouraged to offer their feedback on various aspects of the event by completing BrainShare surveys. Accessible from the BrainShare Web site (www.novell.com/brainshare), BrainShare surveys were focused on gathering attendees' opinions about the conference, specific breakout sessions and various Novell products or services. The conference and product surveys were available to all BrainShare attendees. Surveys about specific breakout sessions were made available only to the attendees who made it to those sessions.
* Originally published in Novell Connection Magazine
---
Disclaimer
The origin of this information may be internal or external to Novell. While Novell makes all reasonable efforts to verify this information, Novell does not make explicit or implied claims to its validity.