Up the Grade: Announcing ZENworks 6.5
Articles and Tips: article
Brad Dayley
Ron Tanner
01 May 2004
Novell will release zenworks 6.5 this summer. In this release Novell will provide the most reliable, tested and validated release: a complete ZENworks system that allows you to manage your enterprise devices.
Novell ZENworks, the technology foundation for the Novell Resource Management solution, is a complete IT management solution that helps you manage the entire lifecycle of desktops, laptops, servers and handheld devices. With ZENworks, you get a complete, end-to-end directory-enabled network management solution that automates IT management processes through your network. The latest version of ZENworks offers a full-featured set of integrated tools that gives you an intelligent way to manage all the resources of your diverse systems with a single solution--decreasing administrative burdens and increasing enterprise-wide business efficiency. What's more, ZENworks does not require a NetWare server or the Novell client so you have control over the operating system in your environment.
With Novell ZENworks, you get an easy, automated way to manage all of your diverse systems and changing work environments--across multiple server platforms and multiple operating system environments and versions. You save time through efficient, centralized management and your users gain simple and seamless access to the resources they need from wherever they are, even across the Internet. Research shows companies that deploy Novell ZENworks can eliminate 36 percent of employee downtime.
Let's briefly look at some of the many new features that have been added to ZENworks 6.5.
Easier Install
Right off the bat you can see an improved installation process. It doesn't matter which CD-ROM you put into your machine; ZENworks will give you a wizard installation along with access to any necessary documentation. The installation screens are cleaner and simpler, and the wizard is more helpful.
At installation, version 6.5 now includes the option to enter a licensing code that will unlock any portion or the entire product. When you first install ZENworks 6.5 you get a free 90-day evaluation license that allows all components to fully function. When you complete your buying decision, you only need to enter the proper license to unlock your purchased components.
Even Broader Platform Support
ZENworks 6.5 dramatically increases the number of supported systems. ZENworks 6.5 now includes support for: NetWare 6.5, Windows 2003 Server, Red Hat Enterprise Server, Red Hat Advanced Server 2.1, Red Hat Enterprise Linux ES 3, Red Hat Enterprise Linux AS 3, SUSE LINUX Standard Server 8, SUSE LINUX Standard Server 9 (to be released later this summer), SUSE LINUX Enterprise Server 8, and SUSE LINUX Enterprise Server 9 (also due out this summer).
Desktop Management
The desktop application management feature has consistently been one of the most widely recognized and exercised tools from its inception. So it is no surprise that Novell has once again ramped up its latest release of ZENworks with new desktop application management features to help further reduce the cost and pain of deploying desktop applications in the corporate environment.
System Requirements
The first hurdle you have to deal with when deploying applications to workstations throughout the network is to verify that the workstation meets the minimum system requirements to install the software. In ZENworks 6.5, Novell has added an AND/OR logic feature to the system requirements check. This new feature gives you an enormous boost in reducing the number of application objects needed for your network.
For example, an application that can run on Windows 98 or Windows XP but not on Windows 2000 no longer needs two separate application objects. Instead, you simply create one application object and add the system requirements of Windows 98 or Windows XP. (See Figure 1.)
Figure 1: Using the AND/OR logic feature, simply create one application object and add multiple system requirements to it.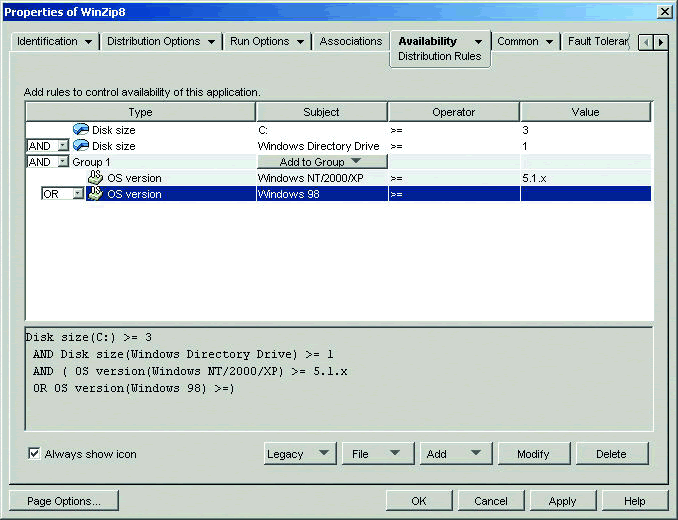 Process Termination
Another hurdle you have had to deal with when deploying applications to workstations on the network are deployment failures due to incompatible processes currently running on the desktop. These processes inhibit the application deployment from completing while they are active. Novell has added the ability to terminate processes as a pre-distribution task. This feature lets you define processes that must be terminated so the application deployment can complete.
A great example of when this could be used is deploying a utility to wipe a virus from a workstation. Many viruses run in memory as processes and the process will re-infect the system even if the file that hosted the virus is cleaned. You can force the virus process to be terminated prior to deploying a virus cleaning utility to the workstation eliminating the risk that files would be re-infected.
Uninstall Scripts
Once an application has been deployed by ZENworks to a workstation, you may have needed to uninstall the application using the ZENworks uninstall option. Now you can run pre-uninstall and post-uninstall scripts to perform tasks on the workstation that the normal application uninstall may not be capable of performing.
For example, if the application uninstall removes directories that have data files created by the application that you want to keep, the pre-uninstall script can create a directory and copy or move the necessary files to it. Conversely, if an application uninstall does not remove data files created by the application that should be removed with the application, the post-uninstall script could take care of removing the unnecessary files.
ZENworks 6.5 lets you define whatever script engine fits your needs. Therefore, the uninstall scripts can be written in Visual Basic, Perl, DOS batch files, etc., giving you the necessary dynamics to perform extremely complex tasks.
Language Variables
Many businesses are moving more toward global corporate enterprises to support the needs of their growing global markets. Technology has kept up with this transition and most software is available in multiple languages. With this transition to globalization comes the need to install the same application in multiple languages based on geographical location.
Administrators have used ZENworks to distribute applications to users of multiple languages by either creating multiple application objects, one for each language, or by implementing a user prompt for language during the application install. ZENworks 6.5 introduces a new feature which lets you easily deploy the same application object in multiple languages for different users. The use of language variables which detect the language of the operating system on the client workstation enable you to deploy the appropriate language version of the application.
Workstation Associated MSI Apps
A major feature of ZENworks is its ability to distribute MSI-based applications to desktops throughout the network. Novell has bolstered that feature in ZENworks 6.5 by adding the ability to associate the MSI application to a workstation object enabling you to take advantage of the dynamics of workstation objects in distributing your MSI applications.
Enhanced Citrix Metaframe Support
With ZENworks 6.5, the system now fully interacts with Citrix MetaFrame, allowing all of the features and capabilities of Citrix MetaFrame to be effective when ZENworks is used. This allows you to take advantage of Citrix MetaFrame's load balancing, Secure Access Manager, etc.
Remote Desktop Management
Remote management of ZENworks includes the ability to remote control and/or view a desktop on the network. You can perform remote diagnostics, remote executes and file transfers. With ZENworks 6.5, Novell has included several enhancements including: Request a Remote Control, Scale to Fit, Block Mouse Movements and Force 256-Color Palette.
Request a Remote Control session allows the remote desktop user to request a remote control session of the administrator. When the request comes into the administrator, a dialog box prompts to see if the request can be honored and then it asks the administrator to provide password credentials or directory-based security. Then the remote control session is started, with the administrator controlling the session to the remote machine.
Scale to Fit allows you, during the remote control session, to have the system automatically scale the remote control session to fit the remote control window on your desktop.
Block Mouse Movements, when set in the Control Panel of the remote control session, will block mouse movements from being displayed on the remote or local screens. You can still select items on the desktop but the mouse movement to the selected item is not displayed.
Lastly, you can force the display to a 256-color palette to aid in the performance of remote control over slow links. Set this option on the Control Panel within the Remote Control console.
No-Touch Agent Deployment Wizard
In addition to installing the agent through a browser, standard installation, policy or login script, you can deploy the agents to all of the desktops in your environment through an Active Directory Domain environment wizard. The wizard attaches to each of the desktops in the domain and, using an administrative credential that you provide, installs the agent directly onto the desktop.
Once these agents have been applied to the desktops, they are fully manageable via ZENworks 6.5.
Installshield Adminstudio
ZENworks 6.5 includes a version of InstallShield's powerful AdminStudio tool as an alternate to Snapshot to capture installations of applications. AdminStudio ZENworks Edition captures all changes during an installation, performs appropriate scans and then generates an MSI file to deliver that application. (See Figure 2).
Figure 2: AdminStudio ZENworks Edition captures all changes during an installation, performs appropriate scans and then generates an MSI file to deliver that application.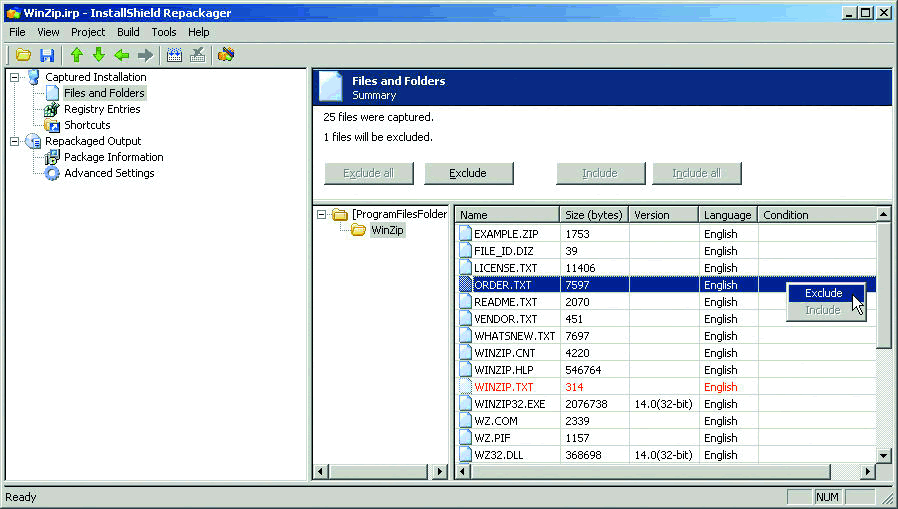 AdminStudio ZENworks Edition can discover and create MST files from any MSI application. With MST files, you can customize and pre-configure the installation of any MSI application to minimize end-user interaction with the application at installation time--keeping your environment consistent and standard. (See Figure 3).
Figure 3: With MST files, you can customize and pre-configure the installation of any MSI application to minimize end-user interaction with the application at installation time?keeping your environment consistent and standard.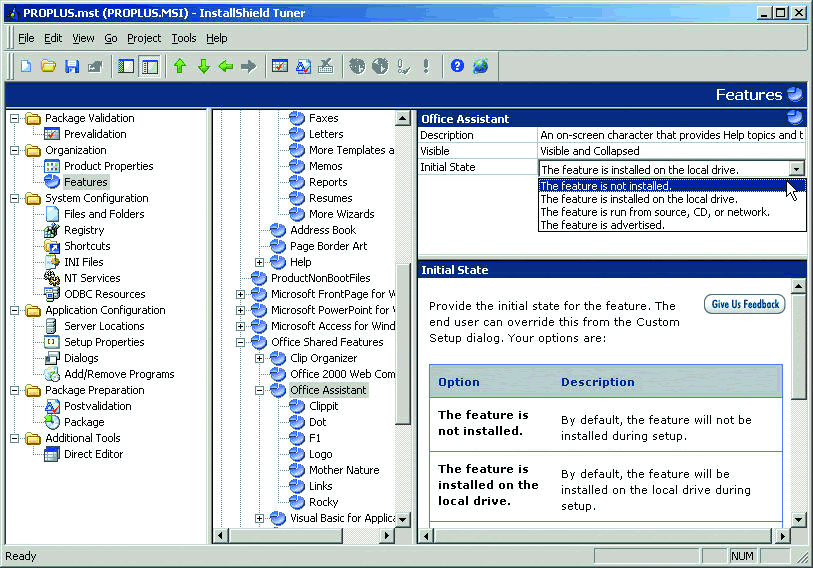 The Deployment Wizard with AdminStudio ZENworks Edition also creates Desktop Applications or Server Distributions in your tree allowing you to easily deploy your new MSIs and MST systems to your ZENworks-managed systems. InstallShield even includes a conversion tool so you can convert your AOT/AXT files to MSI.
You can also upgrade your ZENworks 6.5 AdminStudio ZENworks Edition delivery to AdminStudio Professional with complete MSI development capabilities.
Inventory
The workstation inventory feature of ZENworks has revolutionized the way that many businesses track, monitor and plan the hardware and software needs for network users. With the number of software versions and patches available and the inventory feature of ZENworks, it's more important now than ever for you to track what software is really installed on each system throughout your network. ZENworks 6.5 adds new inventory features and enhances existing ones to help you keep up with hardware and software changes on your desktops and servers.
This release introduces a new custom inventory query viewer that allows you to customize your view of the inventory database to meet your specific needs. This new viewer allows you to more easily track and manage the software and hardware components on your workstations and servers. It also allows you to export the custom inventory data to formats that can be used in preparing presentations or reports used when planning future growth as well as identifying deficient areas in software and hardware. (See Figure 4.)
Figure 4: The new custom inventory query viewer allows you to customize your view of the inventory database.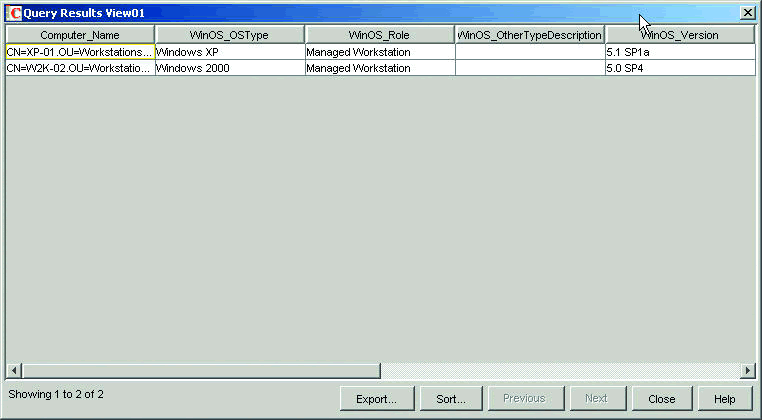 An IDC study of a dozen companies that had deployed ZENworks found that, on average, these companies achieved the following results:
42 percent increase in IT staff efficiency
45 percent increase in IT management staff productivity
$1,263 per person in annual user productivity savings
1,012 percent three-year ROI
Quantifying the Business Benefits of Consolidated IT Resource Management
IDC Whitepaper Sponsored by Novell, Inc.
October 2003.
Because there is no need for multiple types of inventory databases, ZENworks 6.5 implements a single database for all inventories that is much simpler to implement and maintain. This single database concept makes it easier for you to implement inventory on your networks allowing you to quickly begin tracking and managing your resources.
ZENworks 6.5 also bolsters the hardware scanning agent that is installed on the workstations and servers to collect more data than ever before. For instance, the scanning agent now collects data about the system chassis to allow you to collect information about the base framework. This can help you identify systems that are getting out of date or might be incompatible with future upgrades.
The new hardware scanning agent also gathers information about monitors on the network, allowing you to track which users need larger or newer monitors.
In addition to hardware scanning, ZENworks 6.5 has numerous enhancements in the software scanning agent, allowing it to identify more types of software and collect additional data. For instance, the new agent checks for commercial and custom-defined suites. Custom-defined suites allow you to define a specific set of files that make up an application that can be scanned on the systems.
You can now also scan the Add/Remove Programs list on the Windows registry to look for applications. The agent also reads the MSI database and detects applications that were installed by the MSI installer.
Lastly, ZENworks 6.5 has also added specific checks for the most common applications including: Microsoft Internet Explorer, Windows Media Player, antivirus software, Microsoft security patches and the Novell client.
Server Management
The server management feature of ZENworks has become an invaluable tool to network administers needing to manage and monitor the status of large numbers of servers. Keeping this in mind, Novell added some additional features to ZENworks 6.5 server management to decrease the cost IT departments incur in managing and monitoring network servers.
Linux Support
Novell's position in the Linux market makes it no surprise that a major push was made to add Linux to the list of servers supported by ZENworks 6.5. New agents included in ZENworks 6.5 help you manage and monitor the Linux servers in your network the same way you maintain your NetWare and Windows servers.
The new Linux agents allow ZENworks to trap events and gather trend statistics from the Linux servers allowing you to quickly determine current status as well as any problems occurring on your networks. The new agents also allow you to compile reports that help determine problem areas or growth needs concerning your Linux servers.
ZENworks 6.5 dramatically increases the number of Linux-supported systems.
WMI-Supported Events
In addition to supporting Linux, Novell bolstered the support of Windows servers in ZENworks 6.5. The management and monitoring engine and interface of ZENworks 6.5 supports the capturing and handling of WMI events. In addition, the captured WMI events are displayed with other network events to increase your ability to catch and manage critical events that are occurring on the network.
General Purpose View Builder
To help you quickly understand the data that is provided by thirdparty MIBs, you can now create views based on any new thirdparty MIB that is compiled into the system. From these views you can create powerful graphical presentations of the data so you can make sense of the information.
Tear-off Views for Segments and Alarms
In addition to the custom views available in ZENworks 6.5, the new Tear-Off feature lets you create a separate window in ConsoleOne with the current view by simply "tearing off" that view. That window stays open allowing you to open up additional views to monitor other information.
For example, if you want to monitor two separate segments on the network, you can open up one segment view and use the tearoff feature to keep that one open while you open up the second segment view. So you can now monitor two or more segments simultaneously from the same management interface. (See Figure 5.)
Figure 5: Using the "tear off" feature, you can now monitor two or more segments simultaneously from the same management interface.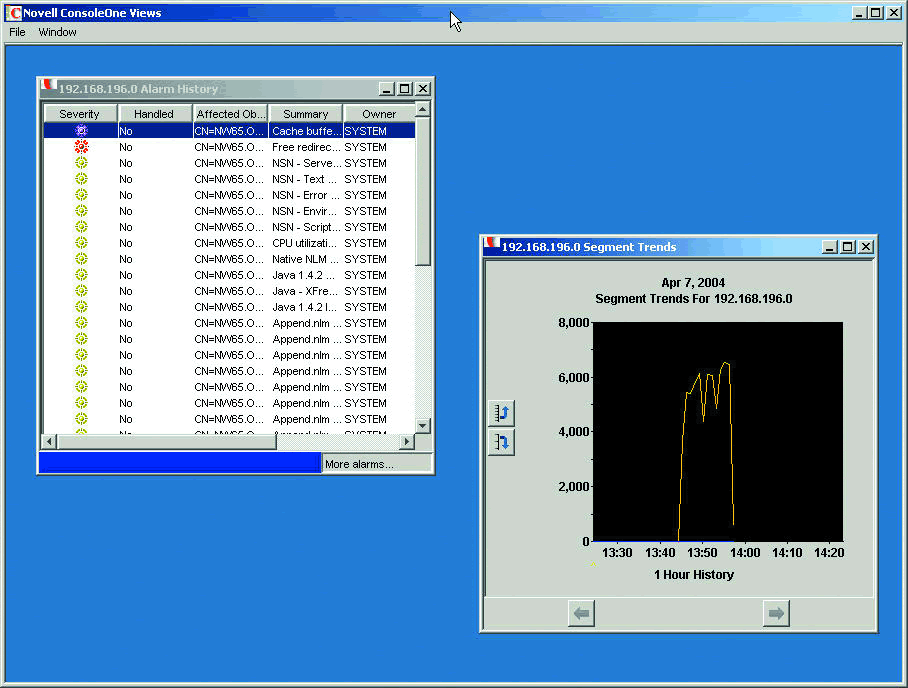 Custom Maps
Another addition to the server management views in ZENworks 6.5 is the ability for you to create custom Atlas views based on the individual needs of the network. You can create and name the custom Atlas, add containers and then populate them with nodes that you then manage from the custom Atlas.
For example, if you have a separate Linux Services group managing the Linux servers on a network, then you can create a specific Atlas for that group. You could then populate the Atlas with the Linux servers. The Linux Services group could then use the new Atlas to manage and monitor the Linux servers for which it is responsible without having the other servers appear in its view.
eDirectory Management
ZENworks 6.5 has taken the comprehensive eDirectory MIBs and created views within the system for you to see the health, alarms and state of your eDirectory system.
Native MSI Distributions
ZENworks 6.5 introduces a new distribution type for your content and application delivery to servers: the MSI distribution type. Now you can deliver MSI applications natively and have them installed on any of your managed Windows servers.
Prohibit File Policy
An additional policy has been added to ZENworks Server Management that allows you to specify the type of files that are restricted from being placed on your servers. The enforcer agent on the server does not allow anyone to place restricted files, such as .MP3 files, on your servers. No more monitoring and manually removing the non-business files that clutter up your servers and consume valuable resources on your network.
Distribution Enhancements
Several enhancements have been added to the Distribution Services that are included with ZENworks Server Management:
You can clean up distribution files when a distribution is removed from the system.

You can automatically launch pre- and post-distribution scripts when a distribution is delivered and extracted on a server.

You have more granular control over the files and directories that file distributions synchronize. You can now select portions of subdirectories and files rather than just a directory.

You can reassign distributions to another distributor.

You can send and extract individual distributions immediately. When something critical must be sent immediately, you can now check that the distribution should be sent and extracted immediately--thereby ignoring your standard schedules.
Handheld Management
ZENworks Handheld Management allows you to manage mobile PDA devices on your network, ensuring that the sensitive corporate data is secure and safe. With ZENworks Handheld Management you can create policies that remove sensitive data and applications from a handheld device if the current user does not enter the password or synchronize for a specified amount of time. Therefore, should a PDA, with corporate information get into the wrong hands, it will be wiped clean. ZENworks Handheld Management supports Palm, WinCE, PocketPC and RIM Blackberry devices.
With ZENworks 6.5, Handheld Management includes the following additional features:
Access Points and Synchronization Integration

Management of Handheld Device by User

HTTP/SSL Support

Automatic Resend of Corporate Applications and Policies following a hard reset
Access Points and Synchronization Integration
ZENworks Handheld Management provides a new Access Point component which replaces the functionality that was included in the Proxy Agent. The Proxy Agent had to be installed on every computer that had a PDA. The Proxy Agent is no longer needed. The Access Point is a set of software components that is installed on any server in the network. A large organization may have many Access Points. Individual PDA devices, through IP connections or desktops with synchronization software installed, communicate to their assigned Access Point and receive applications and policies for the specific handheld device. Additionally, any inventory information is passed to these Access Points which then forward it to the ZENworks Handheld Management server.
Management of Handheld Device by User
ZENworks Handheld Management now lets you associate a handheld policy to a user and have that applied to all of the PDA devices of that user. When user-based management is enabled, then users will be prompted on their handheld device for their credentials and then ZENworks Handheld Management will authenticate to the configured LDAP directory to validate the security credentials and log into the directory. Policies and applications that are associated with the authenticated user are then brought down and applied to their PDA.
HTTP/SSL Support
Once enabled, all communication between the handheld device and the ZENworks Management Server will be transmitted over HTTP connections. Additionally, should SSL be configured, all the transmissions are encrypted and authenticated over secure SSL connections.
Automatic Resend of Corporate Applications
In previous versions of ZENworks Handheld Management, if a PDA device were hard reset, then when the device reconnected, ZENworks would resend the policies, but did not resend any applications that had been associated with the device. Now the applications are also resent.
Patch Management
One of the key additions to ZENworks 6.5 is ZENworks Patch Management, powered by PatchLink Corporation. ZENworks Patch Management allows you to set up an enterprise server which, when connected to PatchLink's subscription service, will securely deliver and install patches required for your network. (For more information on this functionality, see Patch Management.)
Data Management
ZENworks Data Management includes Novell iFolder, which allows encrypted and compressed synchronization of data files to a centralized Web server for replication out to other desktops or for backup for an OS migration or hardware upgrade. ZENworks 6.5 continues to provide Data Management and includes Novell iFolder 2.1 with support for the Windows 2003 server.
Novell iFolder performs transparent and intelligent file updates to the Web server, encrypting and protecting the files via passphrase identification. Additionally, iFolder allows the users to access their files from any system in the world with a browser.
Red Carpet Enterprise
Red Carpet Enterprise 2.02 is included with the ZENworks 6.5 suite. This award-winning Linux product from Novell provides the ability to manage the Linux systems in your environment, including servers and desktops.
Red Carpet includes a Novell service that provides to your Red Carpet Enterprise server patches and deliveries of distributions that you can then provide to your servers and desktops. Red Carpet uses fully Web-enabled management to provide you with what you need to keep your Linux systems secure and up to date. (See Figure 6.)
Figure 6: Red Carpet Enterprise uses a fully Web-enabled management interface to provide you with what you need to keep your Linux systems secure and up to date.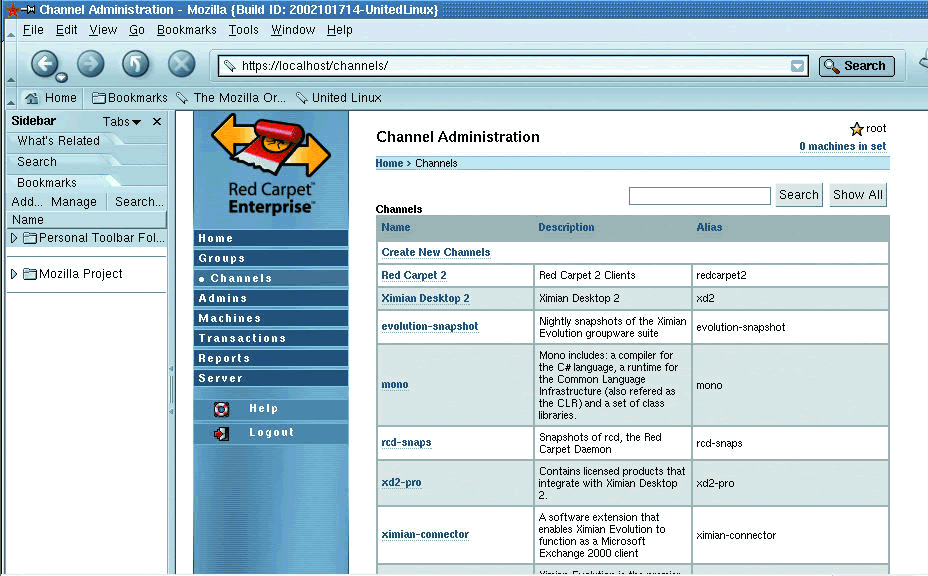 Red Carpet Enterprise includes its industry-leading dependency resolution algorithms that find all dependent rpms that any delivery may require. Then, as a system is being updated, the dependent rpms that a system does not already have are also applied, making deliveries successful.
Conclusion
In this era of intense cost cutting, reducing IT infrastructure costs has become a business imperative. As organizations approach this mandate, however, they must consider the long-term impact of these reductions on both quality of service and the agility to respond to future business needs. ZENworks 6.5 can help you and your organization achieve short-term cost-cutting goals while positioning the organization for long-term success.
With this innovative solution, your organization can:
efficiently support the IT environment,

extend IT services, and

transform resource and service delivery.
As a result, you can enjoy the advantages of a proactive, high-performance business environment that balances business needs against resource costs. In the long term, this translates into a tremendous competitive advantage and helps assure your organization's future success.
Novell ZENworks 6.5 delivers the next generation of desktop, handheld and server management and capable features. With ZENworks 6.5, you'll be more effective in managing your enterprise environments.
* Originally published in Novell Connection Magazine
---
Disclaimer
The origin of this information may be internal or external to Novell. While Novell makes all reasonable efforts to verify this information, Novell does not make explicit or implied claims to its validity.