You Can Have It In A Box: Introducing SUSE LINUX
Articles and Tips: article
Guy Smith
01 Mar 2004
There have been three unstoppable technology shifts in the enterprise IT world in as many decades: 1-the PC 2-UNIX 3-Linux
[THE PC] Once IBM popularized the term "PC" (for personal computer) and led the standardization toward PC-DOS, the value of end user desktop productivity became clear. Microsoft operating systems became the de facto standard for desktops, and that standardization drove mass adoption.
[UNIX] The 1980's shift from proprietary operating systems to variations of UNIX had the same effect on corporate servers as Microsoft had on the desktop. Though imperfect due to its many variants, UNIX helped database and application vendors support more customers, which in turn drove mass adoption of these tools that accelerated business.
[LINUX] Linux is doing for the corporate server what Microsoft achieved for the desktop-one universal OS for every server from every manufacturer. Just as you can run Windows XP on machines from HP, IBM and Dell, you can also run SUSE LINUX on machines from these companies as well as Siemens, Fujitsu, Sun and many others.
The universal nature of Linux is a driving factor in its enterprise adoption. In fact, according to a November 2002 CIO.com survey, 53 percent of all CIOs plan on Linux being their predominate OS by 2007. Like Windows and UNIX before it, the drive to Linux is unstoppable. Novell understands this tectonic shift in IT demand, and has dedicated itself to Linux.
SUSE LINUX and Novell
The acquisition of SUSE LINUX brought Novell fully into the Linux arena and overnight made Novell the only billion-dollar software company with a Linux distribution. The combination of Novell resources, first-class technology and its enterprise relationships, along with the innovative technology and brand recognition of SUSE LINUX in the Linux community, has placed Novell in a leading role for enterprises everywhere.
SUSE LINUX is the oldest commercial Linux company in the world. For more than 11 years, SUSE LINUX has innovated Linux development, management, marketing and customer satisfaction.
Foremost, SUSE LINUX is the "enterprise Linux" company. From the beginning, SUSE LINUX has focused squarely on what matters to IT in corporations and government agencies. This focus-which is so similar to that of Novell-has created a solid base of extremely satisfied customers using SUSE LINUX products on machines ranging from road-warrior laptops, to fault-tolerant mainframes and massively parallel supercomputers.
It's no wonder Novell bought SUSE LINUX. The shared mindsets on enterprise computing and customer satisfaction made the pairing of Novell and SUSE LINUX a natural fit as Novell moved into its Linux market leadership role. The benefits of this union for Novell customers are many, including:
Best-of-breed Linux OS to support Novell products into the future

Many hardware platform options for Novell Linux customers (SUSE LINUX currently runs on many architectures, from 32-bit laptops to 64-bit mainframes, and everything in between)

Deep synergy between existing product lines

Strong commitment to enterprises and to exceeding the demand for tools, applications and support
A Brief Linux History Lesson
Some readers may not be as familiar with Linux as others, so here's a little historical background:
Linux is a UNIX-like operating system that Linus Torvalds created. In 1992, Linus was working on the MINIX operating system, and investigating POSIX standards for UNIX. In words that failed to foreshadow his own invention, Linus wrote in a newsgroup message:
Hello, everybody out there using minix. I'm doing an
(free) operating system (just a hobby, won't be big
and professional like gnu) for 386(486) AT clones. I'd
like any feedback on things people like/dislike in
minix, as my OS resembles it somewhat. It is NOT
portable (uses 386 task switching etc), and it
probably never will support anything other than AT-
hard disks, as that's all I have :-(.
What employees can see and do on innerweb depends on their identity, which is quantified by title, department, location and personal preferences, such as color scheme preferences.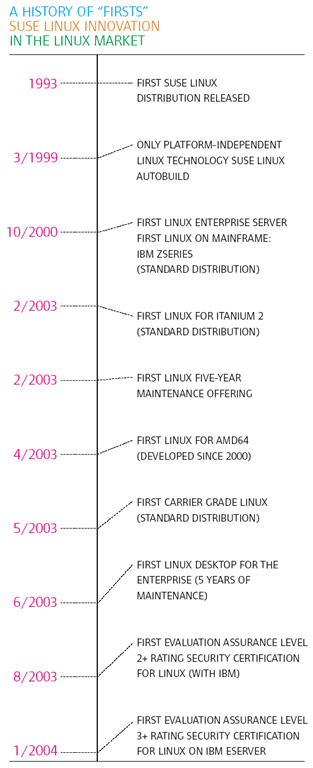 In less than a decade from this humble beginning, and through the work of the open source communities, Linux bloomed into an enterprise-grade operating system spanning every popular IT hardware platform from all major vendors. Forces as large and diverse as Hewlett Packard, IBM and Sun have all embraced Linux as it pushes proprietary UNIX offerings to the sidelines.
Linux itself is just the operating system kernel, and it handles machine-primitive functions including task scheduling, memory management, I/O and other actions called upon by utilities and applications. By itself, the Linux kernel does not create a usable operating system. The rest of what is commonly referred to as "Linux" comes from other sources.
Linux "distributions" (often called 'distros') include a Linux kernel as well as many utilities and applications from the open source community. This community includes an Internet-based collection of individuals working on various software packages that work with the Linux kernel as well as other operating systems. In fact, most of the open source tools work equally well on Linux, AIX, Solaris, HP-UX and even Windows.
The oldest and most used of these open source packages come from the GNU (GNU is a recursive acronym for "GNU's Not Unix," and is pronounced "guh-noo"). The GNU Project was launched in 1984 to develop a complete Unix-like tool set for multiple operating systems, and the Project shared Linus' preference for POSIX compliance. The GNU tools, as well as many other open source projects, create what you directly control in Linux. Building your own Linux operating system from all these different parts is possible, but hardly practical for individuals or even large IT organizations. To download each required package, confirm version dependencies, compile, and then load and test it, would be difficult for dozens of engineers.
When Linux distributions took hold as a concept, several companies formed to meet the growing demand for Linux. SUSE LINUX was the first, and it has been delivering commercial Linux distributions since 1993-less than two years after Linus first announced his project. Many of these companies have since faded into oblivion. SUSE LINUX survived because it has continuously met the growing demands for an enterprise Linux. For example, SUSE LINUX Enterprise Server has more than 700 fully tested and integrated packages.
"Novell announced yesterday that it had agreed to buy SUSE LINUX . . . In a deal that shows mainstream software companies are increasingly betting on the Linux operating system." Steve Lohr The New York Times, November 5, 2003
In the earliest days, Linux was available only on IBM PCs and compatible systems. SUSE LINUX participated in early porting of the Linux kernel and the GNU tool chain to other platforms. Indeed, SUSE LINUX was instrumental in supporting 64-bit platforms early on to meet the demands of enterprises needing the extra horsepower provided by wide-bit processors. While most Linux distributors focused solely on supporting basic infrastructure needs on Lintel (Linux/Intel) machines, SUSE LINUX supported mission-critical applications on mainframe, IBM p- and I-Series, as well as new commodity 64-bit architectures like the AMD Opteron and the Intel Itanium...and those core Lintel boxes as well.
S
ecure
U
niversal
S
calable and
E
nterprise ready OS
A Secure, Universal, Scalable and Enterprise-ready OS
Because SUSE LINUX wanted to support all enterprise platforms, and deliver enterprise-grade stability and scalability, SUSE LINUX had to innovate itself first.
SUSE LINUX had a vision of a universal OS: one operating system on whatever platform the enterprise needed (or as an IBM staffer recently said in a presentation, "SUSE here, SUSE there, SUSE everywhere"). Never before in the history of computing had this been possible, despite being what IT had wanted all along. The customer benefits of a universal OS are huge:
Innerweb's most popular tool, Novell eGuide enables Novell employees to search for contact and organizational information about other employees, including their photo, title, instant messaging ID, phone, cell, department and manager. By clicking the Organizational Chart tab, employees also can view where the searched-for employee sits on the company ladder.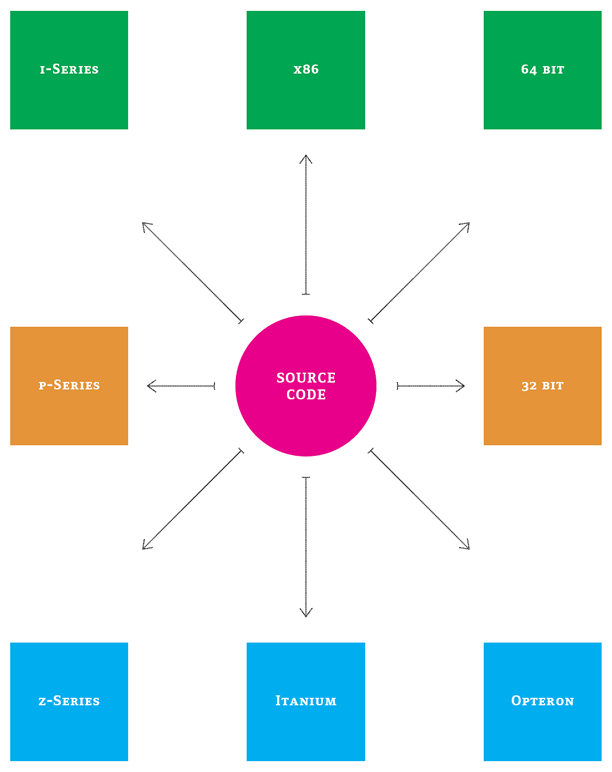 Perfect interoperability: All systems work the same way and work together perfectly (no variations prevents incompatibilities.)

Platform selection: IT can now select the best platform for their application without making tradeoffs or encountering porting issues. This applies to vendor tools as well as in-house application portability.

Streamlining operations: All software, as well as all IT processes and procedures remain the same regardless of the platform.

Skill set consolidation: CIOs want fewer technologies and for their staffs to be smarter about those fewer technologies. A universal OS is the starting point.

Business agility: Streamlined operations, perfect interoperability and a smarter IT staff all help IT serve business needs quickly and effectively.
How to Build a Universal OS
SUSE LINUX blazed many Linux trails. Two of the paths SUSE LINUX blazed that created a truly universal OS were the single source method and the AutoBuild tool suite.
Since 1998, SUSE LINUX has created all its products from a single set of source code, including the SUSE LINUX Enterprise Server technology, the desktop and the Openexchange groupware product, as well as SUSE LINUX Personal and Professional editions. By using a single source code base, SUSE LINUX products achieved perfect interoperability. Every component within any SUSE LINUX product family is identical in functionality, adherence to protocols and standards, and usability.
Since 1998, SUSE LINUX has created all their products from a single set of source code...By using a single source code base, SUSE LINUX products achieved perfect interoperability. Every component within any SUSE LINUX product family is identical in functionality, adherence to protocols and standards, and usability.
But even a single source code base was not enough. When building a universal OS for as many different platforms as SUSE LINUX supported, the company wanted no variation in the building of these distributions. This was important not only to customers, but also to third-party vendors who depend on interoperability as well. To complement single source distro building, SUSE LINUX created a tool suite called AutoBuild.
AutoBuild creates all SUSE LINUX products, automatically building, testing and certifying interoperability for each product and platform. To SUSE LINUX, it does not matter if the target platform is from IBM, Intel or AMD. It does not matter if it is 32- or 64-bit. Each version is created identically, tested uniformly and tested against other versions for interoperability.
Question What is "open source"?
Answer Open source is software without commercial restrictions. Software created as open source is provided freely, and carries licensing restrictions that force users to continue to make the source code freely available. The most common licensing scheme for open source is call GPL, for the GNU Public License.
Open source has many advantages, not the least of which is you get the source code when you buy SUSE LINUX products from Novell. Being open source, you know that the products are perpetually available to the open source community for enhancement.
Because these licenses allow the software to be freely copied in most cases, many people have incorrectly assumed that distributions, such as SUSE LINUX, can be freely copied as well. This is not the case. As one Linux maven said, "Free as in speech, not free as in beer."
The testing components are important not only for the quality of the product, but also for Independent Software Vendor (ISV) interoperability. Many of the more than 600 test cases in AutoBuild are for products from Oracle, IBM and other partners. This assures that any new distribution or patch from SUSE LINUX will not affect these third party products. Indeed, SUSE LINUX engineers work side-by-side with strategic partners in the test design process.
A purposeful side effect of the SUSE LINUX approach to building products is the extension of reliability. SUSE LINUX must meet the needs of mainframe customers. SUSE LINUX has more than 90 percent of the worldwide mainframe Linux market, a market that does not tolerate downtime. SUSE LINUX distributions are designed to meet the 99.999 percent up-time requirements of mainframe users, and thus, that level of stability and security is built into all other products. One customer visiting the SUSE LINUX booth at LinuxWorld showed his laptop running SUSE LINUX Desktop and said, "I carry my mainframe with me."
The SUSE LINUX Enterprise product family
SUSE LINUX produces Linux products for all parts of an enterprise, from end user productivity and groupware, to infrastructure servers and mission-critical application servers. The products fall under three groups: servers, groupware and desktops.
SUSE LINUX Server Family
Global 2000 customers throughout their enterprises deploy SUSE LINUX servers. One of the world's top automobile makers recently disclosed that they have selected SUSE LINUX servers as their universal OS for worldwide operations. All SUSE LINUX products have a five-year product support cycle, providing enterprises with the technology longevity they need to plan their growth.
SUSE LINUX provides two core server products: Enterprise Server and Standard Server. SUSE LINUX Standard Server is designed for use by small to mid-size businesses, or for basic infrastructure needs. SUSE LINUX Enterprise Server is for use in larger organizations, high-end platforms, clustered and high-availability environments, and mission-critical applications. (See The Two Core SUSE LINUX Server Products.)
The basic differences between the Standard and Enterprise Server editions rest on processor architecture and high-end features. SUSE LINUX Standard Server supports 32-bit architectures (Intel and AMD) and does not have the clustering and high-availability features that are included in SUSE LINUX Enterprise Server. Otherwise, the products are identical, aside from price.
SUSE LINUX servers enjoy the greatest ease of administration of any Linux distribution because of the YaST family of administration tools. "YaST" stands for "Yet another Setup Tool," a name that betrays its engineering and systems administration origin. This family of tools consists of the following:
YaST A graphical administration tool for configuring SUSE LINUX servers. YaST handles networking, security, logical volume management, peripherals, users, backup and recovery, disc management, booting, hardware auto detection and more.

autoYaST Automates server and desktop administration, including automatic provisioning, distributed configuration and patch management and more.

YaST Online Update (You) Automatically identifies, downloads and installs patches from the SUSE LINUX Web site. YOU assures that the right patches are received, verifies their dependencies and restarts critical services.

Standard Server Web Admin In SUSE LINUX Standard Server, many day-to-day administration functions are available through a Web browser, including user management, security, network services and more.
Since SUSE LINUX Enterprise Server has been a favored Linux distribution for large systems, it has some impressive scalability metrics. Leading partners like IBM, SGI and Oracle have used SUSE LINUX to drive new levels of scaling. This is critical to strategic IT planning as applications tend to grow over time. Having systems that scale appropriately assures that an organization will not be forced into redesigning its applications in the future to meet growth demands.
One last feature of SUSE LINUX Enterprise Server is very important for almost all IT organizations, but especially for government agencies. Everyone is concerned about security, and grows more so with each worm and virus that hits the Internet. Linux is noticeably absent in news reports concerning these electronic plagues.
Linux is inherently more secure than many other platforms for a number of reasons. Open source, particularly Linux, is typically reviewed by many more engineers than proprietary code. This "many eyes" process detects defects before products are built. And the open source community has a rough-and-rowdy peer review process that assures that problems get fixed immediately. SUSE LINUX expands on this already secure technology with a dedicated security engineering team tasked with nothing but finding and patching vulnerabilities, and making these fixes available.
Long-standing SUSE LINUX management practices and procedures helped it achieve Common Criteria certification in less than six months. Common Criteria is the "gold standard" for secure IT products, and is the standard employed by 18 industrial nations, including the United States. SUSE LINUX Enterprise Server currently has an Evaluation Assurance Level (EAL) rating of 3+.
SUSE LINUX Openexchange Server
SUSE LINUX Openexchange Server is a 100 percent open source-based groupware product specifically designed for small- to mid-size businesses. SUSE LINUX Openexchange Server combines not only basic groupware functionality such as e-mail, shared address books and calendars, but includes team-building tools for project, document and knowledge management.
Novell iPrint, another core innerweb technology, enables employees to find and print to any printer in any of the Novell offices worldwide (including the Sydney office, shown here) without having to leave their desks.
Figure 1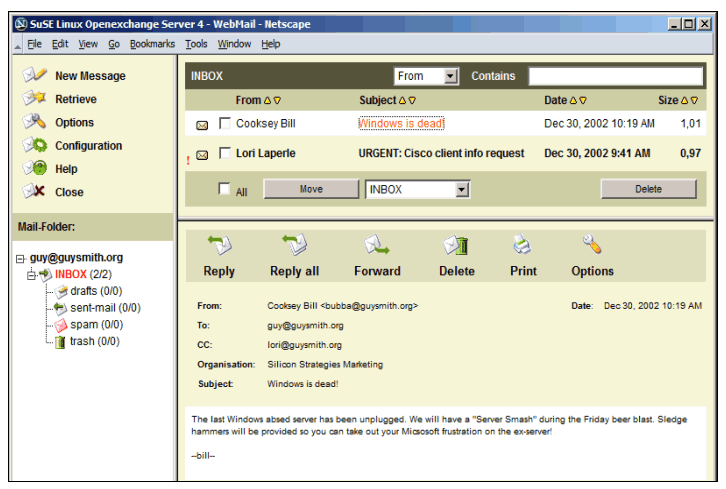 SUSE LINUX Openexchange Server shows the power of Linux and open source in solving real-world business problems. Based on SUSE LINUX Enterprise Server, SUSE LINUX Openexchange Server uses common open source modules to create a total groupware experience. Some SUSE LINUX Openexchange Server components from the open source community include:
Postfix The e-mail server
OpenLDAP User identification and access rights management
Spache The web server
PostgreSQL DBMs The core database
Webdav/XML Programmatic access
There is much more, but this short list shows why open source and Linux are driving into IT worldwide. Solutions based on SUSE LINUX Enterprise Server components allow IT to rapidly solve problems and do so with confidence in the stability and forward support for these modules.
Autobuild creates all SUSE LINUX products, automatically building, testing and certifying interoperability for each product and platform. To SUSE LINUX, it does not matter if the target platform is from IBM, Intel or AMD. It does not matter if it is 32- or 64-bit. Each distribution is created identically, tested uniformly and tested against one another for interoperability.
SUSE LINUX Openexchange Server was designed to allow all functions-end user or administrative-to be performed through a Web interface. This makes corporate groupware universally accessible as well as extremely easy to use. Figure 1 shows the Secure Sockets Layer (SSL) Web e-mail interface in SUSE LINUX Openexchange Server (though client software, such as Microsoft Outlook and Novell Evolution, are fully supported). The ease of use reduces end user training needs and streamlines administrative activities.
The latest version of SUSE LINUX Openexchange Server also incorporates trial versions of products that are integrated into the Openexchange framework. Instant Messaging (IM) services are now supported, including a free Java client so you can safely roll out IM to your entire organization. A problem in IT today is that some companies have allowed use of public IM services, such as Yahoo, MSN and AOL. This creates a security problem since corporate information is escaping through the firewall. Openexchange IM allows organizations to close that security hole.
SUSE LINUX Openexchange Server now also includes support for faxes and Short Message Service (SMS). This allows end users to employ the Web interface and their SUSE LINUX Openexchange Server address books to send faxes and SMS messages to designated recipients.
SUSE LINUX Desktop
Several companies and government agencies have decided to use SUSE LINUX Desktop throughout their organizations. Debeka Insurance is rolling out SUSE LINUX Desktop to more than 4,000 PCs, replacing Microsoft Windows in the process. The city of Munich Germany is standardizing on SUSE LINUX Desktop for its 14,000 desktops.
Linux will dominate it in the very near future. All industry analyst and CIO surveys indicate that Linux and open source are central to strategic it planning. The decision Novell made to be the leader in Linux technologies puts the company at the forefront of all IT planning.
These and other organizations are confidently switching to a Linux desktop for a number of reasons. SUSE LINUX spent time with CIOs, CTOs and administrators, who are looking over end users' shoulders to determine the requirements for an enterprise Linux desktop alternative. The basic requirements were:
That it runs-and preferably includes-basic office information work applications (word processing, spreadsheet, illustrations and presentations)

That end users be able to easily exchange information with people using Microsoft Office

That it be easy to use, and that Windows users be able to adapt to it with little training

That it be more stable and secure from viruses than Microsoft products

That it work in their existing file and print network infrastructure

That it be easy to administer
SUSE LINUX Desktop met all of these requirements, and added a few features to boot. Aside from the Linux operating system (which, as you recall, is built from the SUSE LINUX mainframe-grade single source and AutoBuild system), SUSE LINUX Desktop includes StarOffice, built by Sun Microsystems. These office applications read and write Microsoft Office application files, which allows end users to easily share data with people inside and outside of their organization.
SUSE LINUX went two steps further in application level support. Document formatting is highly dependent on font support, so SUSE LINUX included fonts from AGFA Monotype. These fonts mimic Microsoft Windows fonts, and assure that "what you saw is what they get." For example, a user receiving a Microsoft Word document from outside their company can open it in StarOffice, and it will display and print correctly.
To date, there are more than 300 reports available...Which reports they see depends on their identity. IS&T managers can view helpdesk statistics in real time.
Figure 2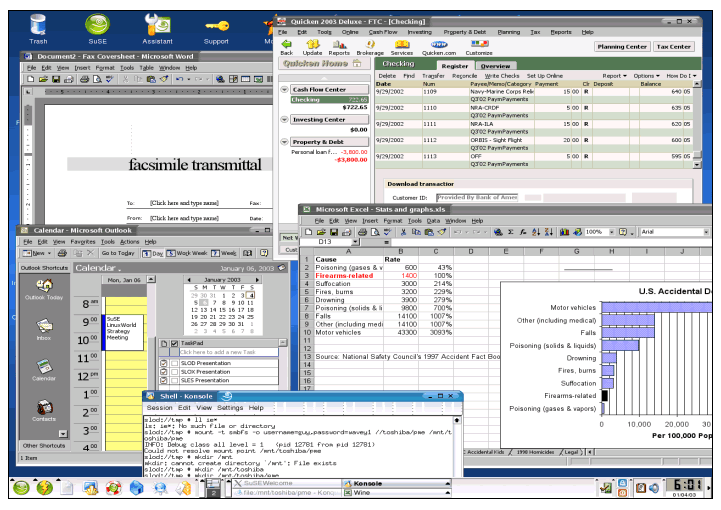 Some organizations still require Microsoft applications. Starting in 1993, the open source community launched the WINE project to create a Windows API emulation layer. This has long been a standard part of SUSE LINUX distributions, and SUSE LINUX Desktop added Crossover Office from Codeweavers. This allows users to easily install and manage Microsoft applications on Linux. The combination is so reliable that I routinely give presentations using Microsoft PowerPoint on my SUSE LINUX Desktop-enabled laptop as a realtime demonstration.
SUSE LINUX Desktop also includes desktop sharing. Using the core Virtual Network Computing (VNC) technology, SUSE LINUX allows end-users to share their desktops with other people. This has benefits for collaboration and for IT support. In a collaborative mode, people can simultaneously edit documents and share knowledge. IT staffs and help desk departments can use SUSE LINUX Desktop sharing to perform remote diagnostics, reconfigurations and even give end users mini-tutorials or hands-on help.
The ease of use of SUSE LINUX Desktop was achieved through a number of means. SUSE LINUX evaluated how people used PCs running Windows, and made the SUSE LINUX Desktop experience similar to that. Most desktop components (launch button, clock, task bar, shortcuts, etc.) are in familiar places, as are widgets for windows sizing and control. Anyone familiar with a Microsoft Windows desktop will quickly command a SUSE LINUX desktop.
SUSE LINUX plugs into either or both of UNIX/Linux or Microsoft network infrastructures. SUSE LINUX Desktop users can share files using either SAMBA (an open source project that lets Linux users access Microsoft "shares") or NFS. SUSE LINUX Desktop also employs "CUPS," to let users print to UNIX/Linux printers, Microsoft printers or networked printers. "CUPS" stands for "Common UNIX Printing Service" and is a portable, cross-platform printing solution for all UNIX-based environments. It is based on the Internet Printing Protocol and provides complete printing services to most PostScript and raster printers. SUSE LINUX made this technology invisible to the end user, giving them the ability to browse their network environment, and to explore and connect to networked resources.
The Novell/Linux Future
Linux will dominate IT in the very near future. All industry analyst and CIO surveys indicate that Linux and open source are central to strategic IT planning. The decision Novell made to be the leader in Linux technologies puts the company at the forefront of all IT planning.
For existing Novell customers, this means a wealth of new opportunities and capabilities. As Novell products migrate to SUSE LINUX and other vendor platforms, Novell users will enjoy nearly endless upward scalability and mainframe-grade stability. In addition, they'll enjoy the solution horizons provided by not only the rich vendor ecosystems that already surround SUSE LINUX, but also the wealth of applications provided by the open source community.
The future for Novell customers could not be brighter.
SUSE LINUX Scalability Metrics and Features
64 Processors in a Symmetric Multiprocessing Platform (SMP)

512 GB of main memory

Storage

2,000 Physical disc drives

1,024 Network Attached Storage (NAS) file systems

Scalability features

Asynchronous I/O

Multi-path I/O

Next generation POSIX Threads (NGPT)

Cluster heartbeats, fail-over and IP address acquisition

Cluster load balancing
The Two Core SUSE LINUX Server Products
| | | |
| --- | --- | --- |
| | Standard version | Enterprise version |
| 32-Bit processors | 2 | 64 |
| 64-Bit support | No | Yes |
| Max memory | 4GB | 64/512GB |
| High-availability features | No | Yes |
| Clustering features | No | Yes |
| IBM I-, P-, Z-Series | No | Yes |
Where to Find More Information
| | |
| --- | --- |
| Open Source | |
| Linux kernel | |
| GNU software | |
| SUSE LINUX products | |
| SUSE LINUX Enterprise Server | |
| SUSE LINUX Standard Server | |
| SUSE LINUX Openexchange Server | |
| SUSE LINUX Desktop | |
| SUSE LINUX Professional and Personal editions | |
| Novell and Linux | |
| Other Linux Information | |
| Linux news | |
| Linux IT Manager information | |
| Linux in general | |
SUSE LINUX Enterprise Server packages (an abbreviated list)
Web Server
Apache Web server and extension modules

PHP and PHP Extensions

Tomcat
File and Print
Windows (Samba 2.2.4)

Mac (netatalk)

UNIX (CUPS printing system with LPR symlinks, NFS server)
Name Server and Internet/Intranet Connection Server
DNS (bind)

WINS (Samba)

DHCP server and client

Windows Primary Domain
Controller (PDC)
Mail and News Server
Proxy Server
SQL Database Server
PostgreSQL

MySQL

appropriate standards-based extensions for heterogeneous OS access support (OBDC, JBDC)
Authentication Server
OpenLDAP

Kerberos 5

PAM modules

NIS server
File Systems
ReiserFS

ext2, ext3

XFS

JFS

FAT
Time Server
Volume Manager
LVM

+ Acrobat Reader

+ Mozilla 1.0

+ OpenLDAP 2.1
* Originally published in Novell Connection Magazine
---
Disclaimer
The origin of this information may be internal or external to Novell. While Novell makes all reasonable efforts to verify this information, Novell does not make explicit or implied claims to its validity.