Suite Desktop: Novell Ximian Desktop 2.0 combines several components to solve your Linux desktop dilemma
Articles and Tips: article
BrainStorm.inc
01 Jan 2004
With the Novell purchase of Ximian and the announced plans regarding SUSE, there is no question that Novell is making a strong push into the Linux market. At a 2003 NetWare/GroupWise Advisor's Summit meeting, 100 percent of attendees stated that they were running Linux systems in their organizations. However, few of these groups utilize Linux as their corporate desktop solution. While there may be many reasons for this, Ximian looks to be the solution that allows you to standardize your corporate desktops on Linux. To see how, let's first look at what Ximian is and then we'll discuss the product offering and how it can fit into your enterprise solution.
What is Ximian?
Ximian was founded in 1997 by Nat Friedman and Miguel de Icaza and coincided with the creation of the GNOME (generally pronounced "guh-nome") project, one of the two dominant graphical shells for Linux. The development of GNOME went much further than simply creating a GUI for Linux-an entire framework, called Bonobo, was developed that simplified the development of rich client applications for GNOME. The Bonobo framework includes support for menus, toolbars, printing, object linking and embedding, and service activation. Ximian used this framework to develop Evolution, a powerful groupware application. Ximian has continued involvement and support of several open source projects in addition to developing more solutions such as Ximian Desktop 2 and Red Carpet.
Linux Desktop Adoption
With all of the hype and discussion on the adoption of Linux, it is gaining some momentum to become widely adopted as a corporate desktop solution. Although the overall desktop market share gain is progressing slowly, the number of Linux desktop installations continues to grow. There are several reasons for the corporate resistance of adopting Linux, all of which the Ximian solutions directly address.
End user training is a big issue with Linux. Linux is generally, albeit mistakenly, viewed as an OS by geeks, for geeks. The fundamental principle of choice of the open source community convolutes the need for a simplistic, standardized user interface.

Interoperability with Microsoft Office remains an issue. Despite the desire of many of us to embrace the open source community, the reality of doing business internally and externally requires interoperability with alternative software solutions.

Linux has proven itself as a solid server platform. However, quality management tools for software maintenance and deployment in the enterprise are not as prevalent for Linux as they are for other operating systems.

The perceived lack of application software and the cost to port applications to Linux continues to be a concern.
Ximian Desktop 2 (XD2)
Ximian combined the Evolution client, the GNOME 2.2 shell, the Ximian Edition of OpenOffice.org (a full-featured office productivity suite), a software update tool called Red Carpet and several other key accessory components to create Ximian Desktop 2. The idea with Ximian Desktop 2 is to provide end users with a complete desktop alternative. The product creates an entirely new graphical experience for users compared with other Linux solutions. The clean new look includes a new logon screen, a clean and intuitive desktop and a facelift for OpenOffice.org.
Figure 1

As mentioned previously, one of the biggest obstacles in rolling out a Linux desktop is end user training. Both GNOME and KDE desktops can be confusing for novice users. Nat Friedman explains the Ximian strategy for Ximian Desktop 2 is not to mimic Windows by placing a Start button in the lower-left corner. That just fosters user expectations that their new computing experience will be just like Windows. "What you're doing is lying to the user," Friedman said. "What you want to say from the outset is, 'This is a different desktop experience, but it's going to be easy.'" Ximian Desktop 2 minimizes any initial end user trepidation of change and the expense associated with end user training by providing a very clean and standardized desktop. (See Figure 2.)
Figure 2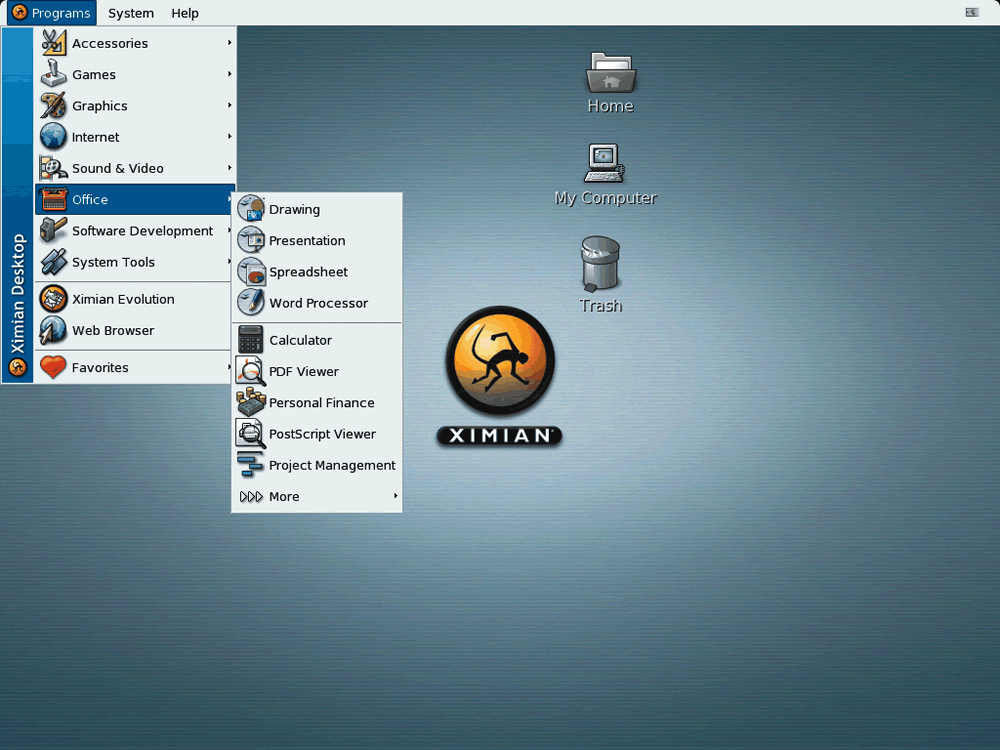 Installation of the solution is also simple. Just follow a few on-screen instructions after taking the following steps to start the installation:
Open a terminal window.

Use the su command to become superuser (root).

Type the following command: wget -q -O - http://go.ximian.com |sh
Note a couple of points regarding installation: First, you must be running GNOME or KDE to install the solution; Ximian Desktop 2 uses a graphical interface for installation. Second, the localhost must have access to the X Windows subsystem. Don't panic if you get an error message regarding this immediately after running the wget command. Just follow the on-screen instructions to properly configure your system and then it will go smoothly. Third, Ximian currently only supports Red Hat and SUSE Linux. (See www.ximian.com for the latest information.) With the intended Novell acquisition of SUSE, that distribution will obviously be a safe choice.
Ximian Edition of OpenOffice.org
Ximian has taken the popular OpenOffice.org office productivity suite and improved it in a few key areas. The first noticeable difference in the Ximian Edition of OpenOffice.org is the facelift. Ximian has included 800 new icons that enhance the OpenOffice.org interface. This will be a welcome change for first-time users migrating to Ximian Desktop 2. Ximian also recognizes that little things make a big difference when dealing with first impressions and this improved look helps ease end users' concerns of utilizing the new software.
Ximian made the default file formats compatible with Microsoft Office. This is certainly key if you plan to slowly migrate users and allow for backward compatibility with old documents. The interoperability with MS Office works very well.
Ximian Desktop 2 also includes fonts which make the transition from MS Office seamless. These fonts make MS Office documents look like they were intended when opening them in OpenOffice.org. This also holds true when passing documents back to MS Office. The included fonts also make Web browsing appear more like the MS experience.
The Ximian Edition of OpenOffice.org includes the standard office productivity applications-word processing, spreadsheet, presentations, drawing and database utility software. The software has evolved at a very rapid pace. With the end user experience being so similar to Microsoft Office, Ximian Desktop 2 makes training and productivity considerations a wash when deciding on your organization's solution. Although the MS Office "round-trip" interoperability may not be perfect sometimes, the cost savings that are realized by rolling out a free office suite far out weigh that issue.
Evolution
Ximian set out to create an Outlook look-alike for Linux. Evolution is a full-featured application that contains all of the core features you expect in an e-mail package. The user interface is very similar to that of Outlook which makes it very easy for migrating users to quickly get up to speed. Evolution supports POP3, IMAP, SMTP and authenticated SMTP protocols. It runs as a standalone application and also in a broad range of corporate messaging environments. Evolution also has some innovative new ideas such as virtual folders, or vFolders as they are called. With vFolders, you can organize large amounts of e-mail by predefining mail searches that are associated with folders. The search results create customized views.
Figure 3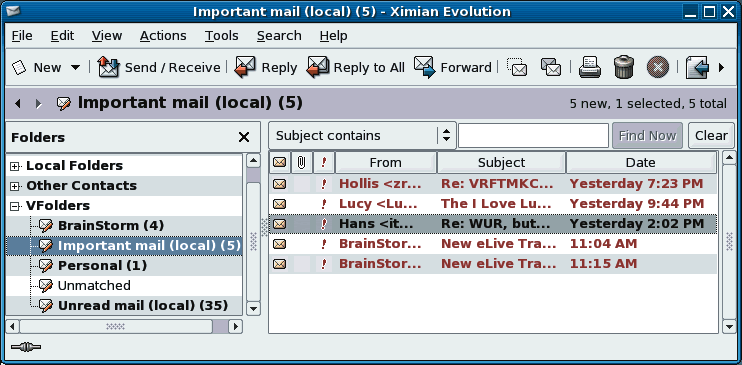 The really exciting feature of Evolution is its support for Microsoft Exchange 2000 and 2003 and the announced support for Novell GroupWise. The Exchange support is handled by Ximian Connector. This client software integrates seamlessly by communicating with built-in WebDAV, which means no additional servers, software or configuration are required. The Connector product is not free, but is considerably cheaper than licensing other proprietary e-mail packages. The support for Exchange also provides great flexibility during migration.
If you run Novell GroupWise in your organization, you'll now have several options available. In addition to developing a GroupWise client for Linux due to release the first half of 2004, Novell has announced an Evolution Connector that will enable Evolution to function as a GroupWise client. When including GroupWise WebAccess, you'll then have three viable options for Linux deployment, of which you can standardize or run a hybrid solution.
Red Carpet for the Desktop
Red Carpet is a software update manager that is installed with Ximian Desktop 2. Utilizing a familiar channel paradigm, users subscribe to channels applicable for their situation. The automatic dependency and conflict resolution make Red Carpet an essential ingredient in deploying a low maintenance Linux environment.
In addition to update support for Ximian Desktop 2, Red Carpet supports many distributions of Linux and a variety of independent software vendors. You can install and run Red Carpet independently of Ximian Desktop 2, which makes it a very usable tool whether you standardize on the Ximian desktop or not.
Odds and Ends
Ximian Desktop 2 includes several smaller applications that ease the rollout and increase usability. It includes Adobe Acrobat Reader, Real Audio Real Player, Macromedia Flash Player 6 and Java 2 Run-time environment. It also installs two standards in the Linux arena: GAIM for instant messaging and GIMP (GNU Image Manipulation Program) for graphics editing. You can also seamlessly browse your Windows networks using the included Samba software and you also have simplified printing functionality by utilizing the Common UNIX Printing System (CUPS). These products and technologies help your end users productively operate in a Linux environment.
Ximian-Beyond the Desktop: Red Carpet Enterprise
By addressing the needs of a simple, standardized GUI and MS Office interoperability, Ximian Desktop 2 clears the many obstacles previously preventing organizations from adopting Linux as a desktop solution. However, the need for a viable software management tool is essential for every organization. Red Carpet Enterprise is a high-quality Ximian software-management solution that provides you with centralized control over Linux software configurations across your entire enterprise. This softwaremanagement tool has been a key missing piece in the Linux deployment puzzle. With Red Carpet Enterprise, you can deploy and manage your Linux installations without increasing your IT support budgets. It actually runs internally on your network, minimizing security issues and bandwidth constraints. You can also create and customize your own update channels to which the Red Carpet Client can connect. You can organize computers into groups to deploy and update software en masse. You have total control of the interface through an intuitive Web-based administration console or by using the command line interface. All updates can be pushed automatically, initiated manually or scheduled for unattended installation. Red Carpet Enterprise also includes detailed reporting, providing you with complete download and activity reports.
Figure 4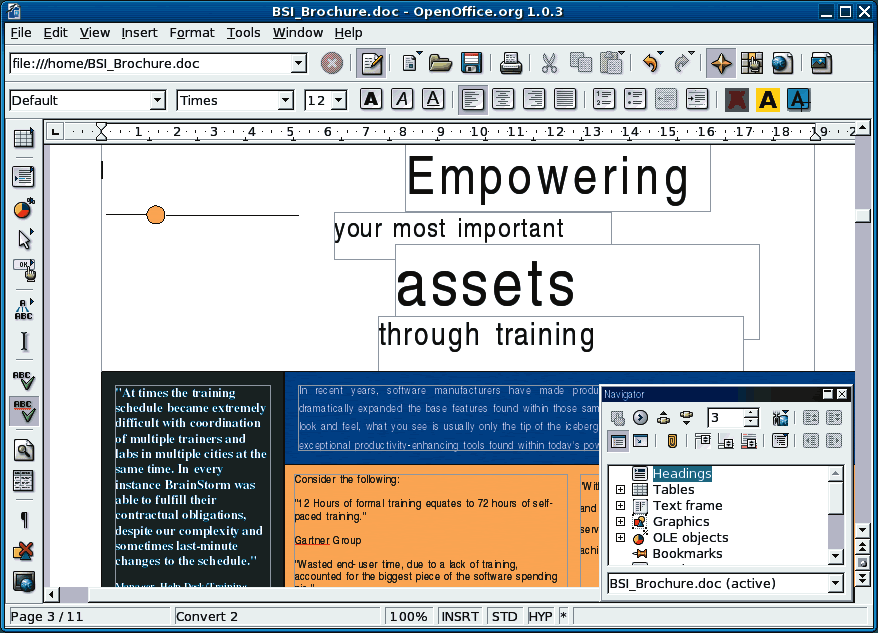 A key feature of Red Carpet Enterprise is the support for multiple distributions and configurations of Linux. Regardless of the distribution you are running on your servers or your desktops, it will automatically detect which updates are needed and only push the required files to each machine. (For more information, see Red Carpet Enterprise Feature List.)
The Mono Project
The Mono Project could easily become the greatest contribution of Ximian to the Linux desktop. First, let's take a look at what the Mono Project is and then you'll see how it will help you overcome the perceived lack of available software running on Linux.
The Mono Project's Web site (www.go-mono.com) defines itself in the following way:
The Mono Project is a community initiative to develop an open source, Linux-based version of the Microsoft .NET development platform. Incorporating key .NET-compliant components, including a C# compiler, a Common Language Runtime just-intime (JIT) compiler and a full suite of class libraries, the Mono Project will enable developers to create .NET applications and run them on Windows or any Mono-supported platform, including Linux and Unix. Besides greatly improving the efficiency of development in the open source world, the Mono Project will allow the creation of operating-system-independent programs.
Figure 5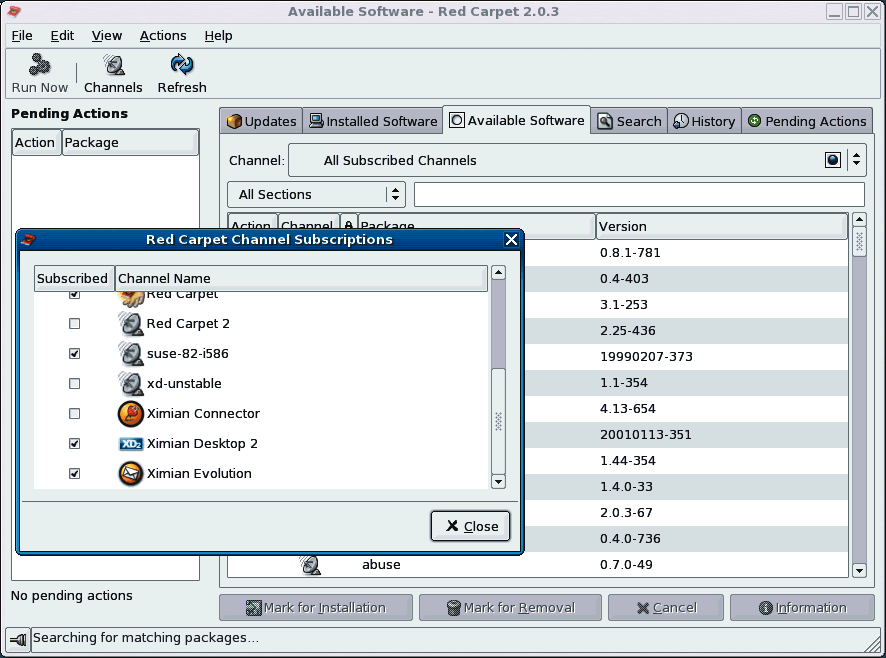 The critical part to understand about .Net is that all of Microsoft's .Net development tools and languages produce Microsoft intermediate language (MSIL) when projects are compiled. This is where the Common Language Runtime (CLR) just-in-time (JIT) compiler comes in. You can take your applications developed in a Windows environment and run them on Linux, using the Mono JIT compiler. The caveat is that Mono has to support the class libraries that you are utilizing. A detailed status and roadmap of Mono's support for .Net can be found at http://go-mono.com. Support for many .Net libraries is already completed including support for ASP.Net.
Mono can help your organization in two ways. First, you can begin to use third-party applications developed on and for the .Net framework. This can be on both server and desktop applications. Second, you can leverage your current internal resources that have experience with Microsoft Visual Studio products such as Visual Basic, C#, and ASP.Net. This saves on development time and expensive retraining of current staff.
(For a transcribed interview with Miguel de Icaza regarding the Mono project, visit http://msdn.microsoft.com/library/default.asp?url=/library/enus/ dndotnet/html/deicazainterview.asp.
Where to Now?
Ximian is making all the right moves by providing solutions that make Linux a truly viable option for corporate-wide use. When combined with the well-publicized efforts of Novell in making their products available on the Linux platform, the onceupon-a-time dream of running Linux across the board is quickly becoming a reality. To date, Linux solutions have always been about creating more puzzle pieces, leaving you to assemble the puzzle with no idea what the final picture might look like. But Novell has started with the completed Linux picture and is now filling it in with proven and established puzzle pieces. Ximian and Ximian Desktop 2 are substantial parts of that picture and will undoubtedly entice more and more organizations in the near future to standardize their desktops on Linux. (For more information about Novell and Linux, visit www.novell.com/linux.)
Red Carpet Enterprise Feature List
Intuitive, Centralized Web-based Administration: Quickly configure software standards, define profiles, manage updates, and view hardware and software information through the easy-to-use web-based administration console.
Powerful Command Line Interface: The command line interface provides a scriptable interface to Red Carpet Enterprise Server functions for fast access and flexibility in setting up channels and groups.
Multiple Administrator Support: Create multiple classes of administrators to simplify the management of groups of managed systems or channels of software.
Access Control Lists: Customizable ACLs set channel and group viewing and editing privileges for multiple administrators.
Centralized Standards Management: Create groups of workstations and servers. Then control access to software based on group profiles.
Automatic Updating: Initiate scheduled or on-demand software installations and updates on servers and workstations.
Pre/Post-install Scripts: Define scripts to stop application processes before a software update, and/or restart application processes or even reboot the system after the update is complete.
Rollback: Revert to a previously installed software configuration or configuration state on a specific date.
Package Locking: Specify packages that should be excluded from automatic installations to increase control of software standards on targeted systems.
Built-in Logging and Reports: View transactions on managed systems and create custom reports.
Enterprise Scalability
Package Pre-positioning: Selectively deploy, but not install, packages in a network.
Red Carpet Cache: Route around network bottle necks and save bandwidth by deploying caching servers on your remote points on a WAN.
Flexible Database Support: Use Oracle 9i or PostgreSQL, locally or remotely, as the database for Red Carpet Enterprise Server.
Robust Security
Figure 6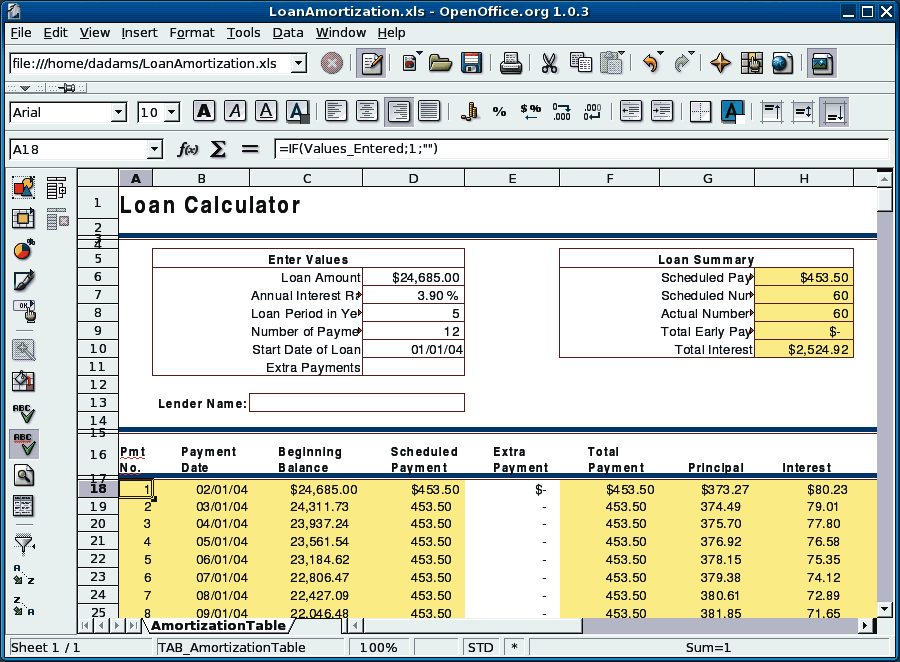 Behind-the-Firewall Deployment: Install and run Red Carpet Enterprise on a local server entirely within your corporate firewall for maximum security. Update systems securely across internal firewalls.
Secure Package Transfer: SSL encryption protects the security of all sessions, ensuring the safety of administrator and user information.
Package Verification: Built-in MD5 checksum and GPG cryptographic verification of digitally signed packages ensures you always get software from a trusted source.
Intuitive Channels Design
Figure 7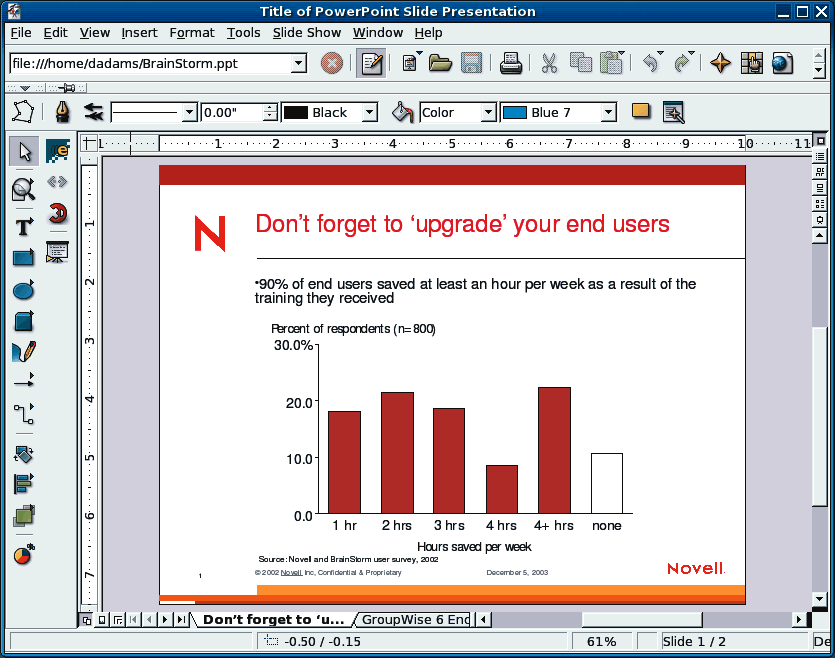 Channels: Red Carpet intuitively organizes and presents available software into logical channels. Define customized channels of applications, tools and designated platforms that include both internally developed or customized packages, or externally developed packages.
Package Sets: Logically link applications or packages into package sets to better control software standards and versions across channels.
Package Information: Get detailed information about each new package, including version number, dates, usage and dependencies.
Automatic Process Management
Dependency and Conflict Resolution: Red Carpet automatically checks and optionally alerts you to package dependencies and conflicts between applications on your system before completing the installation.
Intelligent Conflict Resolution: Red Carpet ensures your system integrity by installing, updating or removing packages to solve identified dependencies.
Disk Space Analysis: Minimizes installation issues by analyzing disk space requirements prior to updating.
New Software Alerts: Red Carpet Enterprise Server alerts administrators when new software is downloaded and available from Ximian, Red Hat Network, or SUSE YaST Online Update.
Automatic OS Detection: Red Carpet detects the Linux distribution and only presents new packages and updates that are appropriate for that workstation.
Integrated Software Updates
Updates from SUSE and Red Hat: Directly integrated with SUSE and Red Hat. Get operating system package updates directly from their respective vendor update services.
Leading Linux Distributions: Get current releases, updates and security patches for Linux distributions from Red Hat, Mandrake, SUSE and other leading Linux OS publishers.
Ximian Point Releases and Snapshots: Access point releases and daily snapshots of Ximian products through special pre-release channels.
Kernel Upgrades: Intelligently update Linux kernels.
Brainstorm, inc is the Novell authorized end-user training partner and has spent countless hours developing tools and services to ensure your end users are fully utilizing the Novell tools you have implemented within your organization including GroupWise, NetWare Virtual Office, and Ximian Desktop 2. for more information, contact Brainstorm at 801.229.1337 or visit them at www.brainstorminc.com.
* Originally published in Novell Connection Magazine
---
Disclaimer
The origin of this information may be internal or external to Novell. While Novell makes all reasonable efforts to verify this information, Novell does not make explicit or implied claims to its validity.