Free to Move: Virtual Office in NetWare 6.5 lets you take your office anywhere, anytime
Articles and Tips: article
Peter Clegg
01 Jan 2004
"Freedom-get movin', Never gonna stop 'till everybody's groovin'"* For those of us who have always had to be in the office to get any work done, we're movin'-and the Virtual Office in Novell NetWare 6.5 is making it happen. Suddenly, our offices just got a whole lot bigger. Now we can easily work from home, a partner's office, a hotel room or (with the rapid spread of WiFi) maybe even from that lounge chair by the pool. And, we're not just working solo. Novell Virtual Office puts us together with our teammates and associates using collaboration and resource sharing no matter where in the world we (or they) may be located. It's a freedom that once experienced, we're never going to "lose it."
NetWare 6.5 is packed with new features and capabilities. Most noticeable-and useful to those who like to work around-is Novell Virtual Office. Virtual Office includes Virtual Teams which provide the ability to collaborate among multiple users with shared folders, Internet chat, a team calendar, team favorites and team discussions. Also included is Web mail, password management, company news, a personalized Web space along with iFolder, iPrint and eGuide. iFolder enables access to synchronized files from any location using a standard browser. iPrint enables secure printing to any printer over the Internet and eGuide provides a fast and efficient utility for end-user access to LDAP and eDirectory content such as employee lists, addresses, organization charts and more.
We'll discuss each of these features in detail and show you how they work. But first, we want to keep you, the system administrator, from freaking out. In most cases, providing mobility and collaboration services produces a management migraine-but not with Novell Virtual Office. The pattern deployment install and the generous use of self-service in design makes Virtual Office an easy "install and forget" service. Virtual Office lets users set up and manage many of their own networking, information sharing and data backup processes. It also lets users create project teams, organize projects and collaborate with team members in real time from any location. Virtual Office optimizes the concept of self-administration for users, which significantly reduces support calls.
Novell Virtual Office Administration
While Novell Virtual Office is packed with features for end users, there are some extremely nice perks for administrators. First and foremost, repetitive group configuration and collaboration tasks don't need to be done by you, the administrator. Team members easily handle all administration through intuitive Web interfaces while administrators merely need to install and one-time configure the services.
The administrator has two simple tasks-installation and setup. That's literally about it. The installation is simple and follows the same pattern as any other NetWare install procedure. At the install "Choose a Pattern" page, just select the "Novell Virtual Office" option which automatically installs all necessary components, configures proper parameters and copies all required files. Then just specify the IP address and DNS name. (See Automatic Installation and Configuration for a list of default NetWare components installed with the pattern deployment of Virtual Office.)
Administrators can manipulate all aspects of Novell Virtual Office using the Web-based management tool for NetWare, Novell iManager.
Figure 1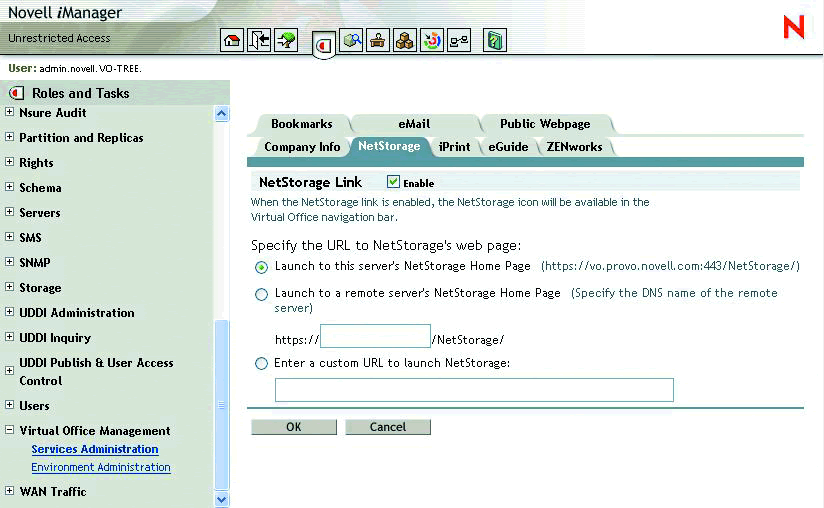 Once installed, Virtual Office can be administered through a standard browser if default parameters need to be configured. Administrator configuration options include:
Portal Containers: Determine the context from which team users can log in.

Team Configuration: Determine if the default location for file sharing is adequate or lets the administrator specify another location for team file resources.

E-mail notification: Set up or modify the SMTP address to ensure that team users receive team messages.

Virtual Team Creation: Determine which users have rights to create teams. (The default allows everyone to create teams but you can grant or deny team creation rights to specific users.)
Administrators configure these services and components in Virtual Office; other configuration options are accessed through Novell iManager, the Web-based management interface for NetWare. They include:
Enable Team Creation: Allow/disallow the creation of teams.

Manage Team Access: Determine who has rights to set up virtual teams using the same permission concepts as eDirectory.

Move Data Store: Change or move the location of the Virtual Office data store by specifying a directory.

SMTP Address: Specify the address of the SMTP server used for team communication.

Chat Port: Specify the chat server IP Port.

E-mail Server Selection: Virtual Office can use a variety of e-mail services including Exchange, GroupWise, Lotus Notes, NetMail or IMAP/POP servers. Just select the e-mail server type and provide the correct DNS name or IP address for the server.
You Can Do All That With Virtual Office?
With Virtual Office, all individual resources are easily accessible, self service and follow users to any location around the globe.
Figure 2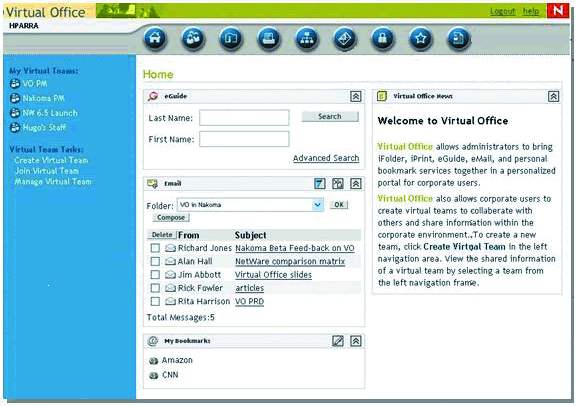 With installation complete, it's time to see what Virtual Office enables you and your compadres to accomplish. For starters, everything is conveniently combined in a single dashboard view with linked access to every resource you could possibly need. Files, printers, eGuide, bookmarks, e-mail, applications and more are all available with one click from the main page. In addition, different window panes contain the latest team-related content with messages, news and updates. From the main window, you can also create and manage teams, providing secure and controlled access to team content.
As a member of a virtual team, you can participate in online discussions and exchange messages or schedule calendar events and appointments and share this information with team members. Virtual Team chat capabilities allow you to communicate with others through instant messaging with the ability to save or print conversations.
Virtual Team file access gives you the ability to browse or create file directories, upload and post files, share files with other team members or remove files. You can share bookmarks or links to Web information that will be valuable or common to the interests of the team. And of course, you can search for names, addresses and phone numbers in eGuide, print across the Web with iPrint and have your own iFolder.
As a team member, you can be kept abreast of any new team activity-even if you're doing something else-through Virtual Team alerts. Virtual Team event notifications e-mail all team members whenever a new event is posted, a file is uploaded, the team owner posts a new message, or a new message is posted for a discussion group of which you are part. You can determine which type of alerts you wish to receive.
Novell Virtual Office also includes NetStorage. NetStorage provides simple Internet-based access to file storage giving you secure file access from any Internet location with nothing to download or install on the local workstation. Users can access files and folders on a Novell network using either a browser or Microsoft Web Folders.
Now that your virtual office is set up, it's time for its users to manage their own virtual office and team resources. Self-service is key and team members have generous flexibility in determining what is available to others. Following is a list of things that you can create or control using the Web-based management interface.
Virtual Team alerts keep members aware of any changes to team events or resources.
Figure 3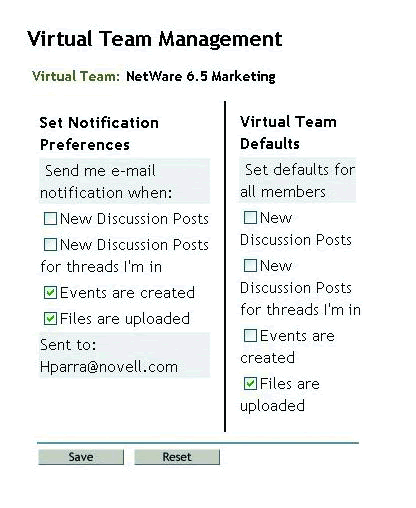 Bookmarks: Ever had to reinstall your browser software and end up losing all of those Web page bookmarks that you so meticulously gathered over time? Well, with Virtual Office, you can store your personal bookmarks or bookmarks that are pertinent to the team in a place where they are always accessible-and always backed up (because as an administrator, you always back up the network). Just click on the "View and Manage my Bookmarks" option and add, delete or edit bookmarks in your URL list. Bookmarks are available from any Web location and viewable by other team members if desired.
Change Passwords: Part of the beauty of eDirectory-enabled portals is that you can have one login profile (userID and password) which gets you into everything you have rights to from files and Web pages to applications and directories. With Virtual Office self-service capabilities, users can change passwords and modify information in his or her eGuide profile without the need to bother you, the administrator. It's all done online through their browser.
Public Web Pages: No longer does it require an HTML editor and knowledge of FTP to create your own Web page! Virtual office provides one button creation of personal Web pages that display information, bookmarks, and files for other users. You can post documents that might be useful to other users, share your bookmarks, and even include graphics, images, links and calendar events. Creation of the Web page is simple and allows you to display or hide any of the options available through a configuration wizard.
Virtual Teams: A virtual team in reality is a location where content of all types (files, events, images, links, etc.) are made available to a select group of users. Any user can create a new team and invite others to participate. Any user can also become a member of any other team, if invited to do so by the team leader. When you create a virtual team, you become both the owner and a member. Owners can grant other members ownership rights and in the process have teams with multiple owners (if this is advantageous). Owners can add and remove members and perform other team configuration options such as determine file locations and communication methods.
To create a virtual team, simply click on the "Create Virtual Team" option and enter the team name and description. Defaults initially determine locations, visibility and access but as team owner, you can change these options if needed. If you are not a member of an existing team and want to join, you can request membership from the team owner who has the authority to grant or deny membership. Team owners can also show all team members, add other team owners, block users from a team, edit team properties (determine which features such as discussion, chat, calendar, etc., are available to the team), set notification preferences, and of course, delete a virtual team when its purpose is past.
Team owners can manage Virtual Office variables using Novell iManager. iManager provides comprehensive and secure access to all types of network services on NetWare. Using iManager, owners can specify or modify company information, eGuide configuration options, e-mail configuration options, iPrint variables and NetStorage configuration.
Scenario: Virtual Teams
All resources that are relevant to a team's activities and objectives are available through Virtual Office.
Figure 4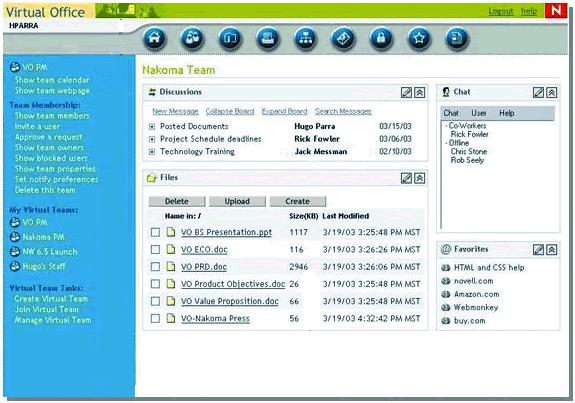 Two of your users are working on material delivery and man power schedules for a project in process overseas. Three other colleagues are at remote sites. All of them need immediate access to the same files and need to correspond frequently. Virtual Office helps them successfully manage the project without having to involve you as the network administrator. Initially, the project lead can create a virtual team so all team members can do the following regardless of their location:
Chat in real time

Use Novell NetStorage for immediate access to stored files

Use file sharing to upload or retrieve files

Create a Web page to post messages and other important information for all team members

Create bookmarks for immediate access to Web resources
Virtual Office Services
In addition to Virtual Teams, Virtual Office includes several powerful Novell services that simplify networked mobility and make it very easy to work from any location while collaborating with teammates. These include Novell iFolder, iPrint, eGuide, ZENworks and NetStorage.
Novell iFolder: Novell iFolder is like having a big hard drive in the sky. You can work from any workstation and still have access to the latest version of your files. iFolder's unique capability is that there can be multiple clients or workstations which are continuously synchronized, rather than one single workstationto-server relationship. In effect, iFolder allows you to go from workstation to workstation (office to home to laptop), without ever having to copy, e-mail or transfer files, and always have access to the latest version. With iFolder, your work environment can revolve around you instead of a particular location or workstation. Data transparently travels with you wherever in the world you need to be, and simultaneously resides in your iFolder account on the server.
Team owners can specify member privileges for sharing and managing files.
Figure 5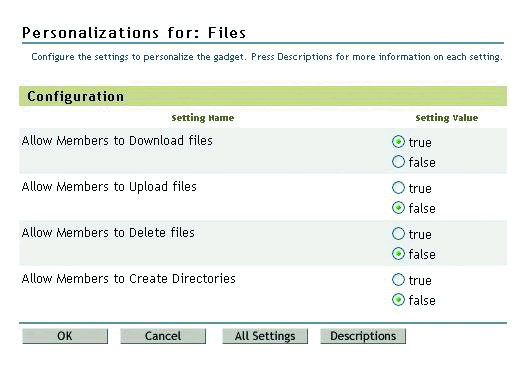 Novell iFolder synchronization technology is also unique in that only delta changes are passed between the server and the clients. In other words, only the changes made to a file "cross the wire." For example, suppose you have a three megabyte file on your work computer. You just made a very minor change to the file from your home computer. Instead of automatically syncing the entire file to your iFolder on the server over your home dialup connection, only the minor change is sent back to the iFolder server. When you go into work the next day and log in to your computer, iFolder automatically updates that minor change to your file on your work desk computer. This greatly reduces bandwidth requirements and ensures that updates are timely. Novell iFolder also includes a conflict bin that flags files in situations where multiple copies have been modified before a synchronization connection is made.
iFolder also ships with Novell NetDrive, a client software package that you can install on Windows workstations. NetDrive allows you to map a network drive, using the iFolder protocol, to an iFolder server without the Novell Client or the iFolder client. The advantage of NetDrive is that it allows you to be logged in to multiple iFolder accounts from the same workstation at the same time.
Scenario: iFolder
Here's an example of how iFolder helps support a virtual office environment. A sales account manager works in the office two days a week where her desktop machine queries the latest CRM information and stores it in her local iFolder. The local iFolder contents are automatically synchronized with the iFolder server. On the road, the account manager uses her notebook as she is making sales calls. The first time she connects to the Internet, the files from the iFolder server are synchronized and updated in the iFolder directory on her notebook. There is no need to transfer the files via disk or e-mail them to herself. If by chance, her notebook is inaccessible, stolen or damaged, she would be able to see the files from a client's computer over the Internet using a standard browser.
Novell NetStorage: NetStorage provides simple browser-based access to file storage on a Novell network and gives you access to files in your home directory, iFolder and other mapped drives. You have secure file access from any Internet location with nothing to download or install on the user workstation. You can also access file properties and have the option of restoring recent versions or managing rights to files and folders. NetStorage lets you securely copy, move, rename, delete, read and write files between any Internet-enabled machine and a NetWare server. In addition, NetStorage lets you access archived copies of files.
NetStorage also supports Web-based access to files and folders on a NetWare server using Microsoft Web Folders (Microsoft's implementation of WebDAV). With NetStorage installed on one NetWare 6.5 server, you can potentially have access to any NetWare 5 or later server anywhere on a geographically dispersed network. For mobile or remote users who need file access but don't need those files to reside on a local client, NetStorage provides an easy solution.
Novell iFolder provides access to current versions of files from multiple workstations.
Figure 6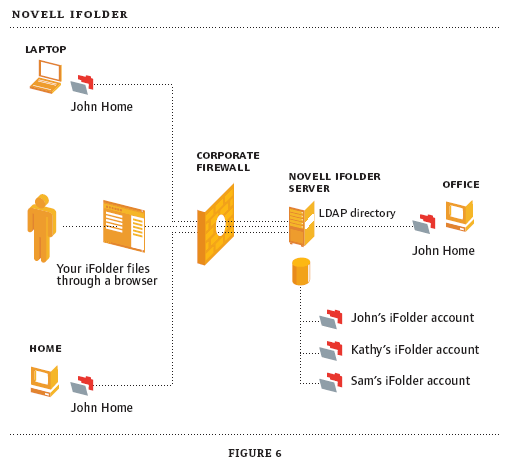 Novell iPrint: iPrint adds printing to the virtual office environment. iPrint lets users access printers from a variety of remote locations using existing Internet connections. Whether you're located in an office building, telecommuting from home or attending a sales meeting in another country, iPrint ensures that you can print documents quickly, easily and reliably.
Using a Web browser, view the Web page that graphically displays the available printers on an area map of the building or campus. Click on a specific printer to install the iPrint client (if not installed previously), and download the print driver which creates a printer in your Printer folder. Now you can send documents to that printer from any application on the desktop. Using iPrint, mobile users no longer need to contact a busy network administrator (a.k.a. you) to find out a printer's name and context and obtain the required print driver.
Companies can reduce communication costs by reducing the need to fax documents between offices and use existing Internet connections to print documents to remote printers. Novell iPrint is based on the Internet Printing Protocol (IPP) standard and Novell Distributed Print Services (NDPS) technology.
Using a Web browser, view the area map of the building or campus to which you want to print. Click on a specific printer to install the iPrint client (if not installed previously), and download the print driver which creates a printer in your Printer folder. Now you can send documents to that printer from any application on the desktop.
Figure 7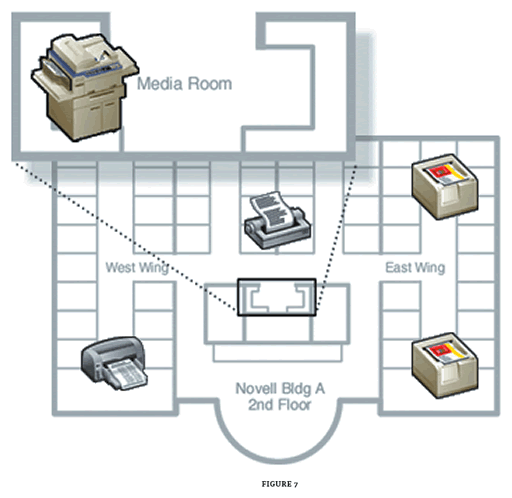 Scenario: iPrint
iPrint is productively flexible. With iPrint, that print cable that used to go from your desktop to a printer now virtually extends to any printer connected to the Internet. If you're in Hong Kong at a branch office and need to print from your laptop, you simply view the iPrint building map from your browser. Clicking on the printer located just outside your conference room automatically downloads and installs the drivers and allows you to print to that printer as if it were local to your machine. If you get back to your home office and decide you need to print a copy of your presentation for your Hong Kong associate, the printer still shows up as one of your available printers in the Printers Folder. You select it as if it were local and print your presentation to the other side of the globe.
ZENworks: Novell Virtual Office can also be linked to a ZENworks server which enables directory management of workstation resources. Links from a team's Virtual Office interface can deliver desktop applications, provide access to terminal servers and connect to any type of Web application. In effect, Virtual Office provides application management access for applications of all types. Software can be distributed and installed automatically for team members giving them direct and exclusive access to applications that may be team or project specific.
Novell eGuide: Novell eDirectory contains a mother lode of information about a company. eGuide is a Web-based interface that allows you to not only search for names, addresses and contact information in eDirectory but any LDAP-based directory. To search eGuide, select one of three search filters, enter the text for which you want to search, and click Search. Three search filters (in the form of drop-down lists) are available including Category, Attribute and Search Constraint. You can select what attribute (such as Last Name or Department) and search constraints (such as Starts With, Contains, Equals, etc.) for quick and easy location of contact information.
Since eDirectory contains context information (e.g., bosses and subordinates and to which groups users belong), eGuide can automatically generate organizational charts to help determine reporting structures and relationships. The org chart structure is controlled by the "Manager" and "IsManager" attributes in eDirectory. The "distinguished name" in a user's Manager attribute indicates to whom that user reports. A "True" value in the IsManager attribute indicates that the user is a manager and activates the "Reports To" link which allows you to traverse upward in the org chart from manager to manager. eGuide enables only authenticated searching which utilizes access control lists in eDirectory to determine if a user can access particular attribute information. Users will not be able to see certain attribute information such as home phone numbers if not authorized. By default, only a user's full name (created by combining the FirstName, MI and SN attributes) and title (if available) is displayed in the org chart.
With eGuide, you can search multiple LDAP directories at once which is very convenient if your company partners with others that use LDAP directories or if a company recently has been acquired. LDAP directories are common frameworks for email, instant messaging and real-time collaboration tools, such as Microsoft NetMeeting or AOL Instant Messenger, making eGuide a quick access mechanism for each of these communication tools.
iFolder The Arizona Department of Administration (ADOA) provides business services (management, personnel, financial, information technology, building maintenance and security) to over 100 other state agencies, boards and commissions. The Arizona Department of Administration first needed to bring together more than 900 state employees into one network infrastructure. The department utilized Novell NetWare, a robust, scalable solution that successfully unified its various operating systems. Once it consolidated the network, the ADOA was able to successfully deploy Novell iFolder which is bundled with NetWare 6.5. With iFolder, users now have secure access to files from home via any Web browser. What's more, iFolder enhances system efficiency by only updating file changes. If a user makes a minor change to a file, only the change goes over the wire, making the most of low-bandwidth phone lines. In addition, users can now work in disconnect mode while file updates and changes automatically synchronize the next time they connect, freeing up phone lines and greatly improving file collaboration.
Novell Virtual Office-It's Freedom
With Novell Virtual Office, you (and your teammates) are now free to move about the planet. NetWare 6.5 includes all of the components and tools users need to not only be productive from anywhere but also to collaborate with associates and online partners from anywhere. It's true freedom. No longer does a corporate employee, contractor or small business owner need to be at a desk or in an office to be working. Places of work include home offices, airports, client offices, job sites, hotels and even in transit on planes or in commuter vehicles. Users get fast and easy access to resources including files, applications and printers as well as confidence that access is secure and resources are protected.
And, this level of collaboration has a very low cost. Virtual Office features are included with NetWare 6.5 at no additional charge. Administration and management costs are low and hardware expenses can be kept to a minimum. Users are easily able to share and interact with other users or associates with quick access to common resources. Team members are able to rapidly find services, information and the people with whom they need to communicate so they can be productive. End users and teams are able to interact and contribute to the corporate knowledge base with ease. Employees can conduct meetings on the fly, connect with key team members at any time, and keep business moving without having to be at a specific location. It's real freedom and...we're movin!
Automatic Installation and Configuration
The NetWare Virtual Office pattern deployment option automatically installs and configures the following components:
Apache 2 Admin Server

Apache 2 Web Server

ConsoleOne 1.3.4

eDirectory 8.7

eMBox

Java Virtual Machine (JVM)

LDAP Service

NDS iMonitor Services

NetWare Remote Manager

NetWare Storage Management Services (SMS)

NetWare Web Search

Novell Certificate Server 2.4.0

Novell Distributed Print Services (NDPS)

Novell eGuide

Novell iFolder 2.1

Novell iManager 2.0

Novell International Cryptographic Infrastructure (NICI)

Novell Licensing Services

Novell Modular Authentication Service (NMAS)

Novell NetStorage

Novell Script for NetWare (for PHP and PERL support)

Pervasive SQL 2000i

Secure Authentication Services (SAS)

Tomcat 4 Servlet Container

Virtual Office

WANCON

W0 (Security Domain Key)
At-A-Glance Novell Virtual Office
Component

Description

Virtual

Teams Virtual Teams is a Web-based team collaboration application with the following features:

File Sharing: post and share documents, data and information for Web-based access by all team members

Chat: send instant messages between any or all team members

New: highlight the latest news via a main page pane with news, updates and information from across the company

Discussions: create or contribute to discussion threads

Calendar: view team related events and activities

E-mail: send e-mail to team members individually or collectively; show a snapshot view of your mailbox with access to mail and calendar information from all major mail servers (i.e., Exchange, GroupWise, NetMail, Lotus Notes, POP/IMAP)

Bookmarks: share Web links and bookmarks with other team members or have personal bookmarks that follow you anywhere you go

Personal Web Pages: automatically generate a personalized Web site for sharing files, links and other content

Alerts: automatically generate e-mail alerts upon changing team content such as new events created, files uploaded, new discussion posts, new messages sent, etc.

eGuide

eGuide provides quick and easy access to company contact information. It is a fast and comprehensive search for names or directory attribute data. You can search one or many LDAP-compliant directories including eDirectory.

iPrint

iPrint lets mobile users access printers from a variety of remote locations using existing Internet connections. Printers are located and selected via Web-accessible maps; print drivers are automatically downloaded and installed; Internet printers are mapped for access just like local printers. iPrint provides a standard print protocol for all platforms (Windows, Macintosh, Linux, UNIX, etc.)

iFolder

iFolder provides continuous access to personal files from any location at any time. iFolder synchronizes files across multiple workstations with a secure central server. Files are updated automatically keeping all versions current whenever a connection is made. Files follow users-online, offline, all the time. NetDrive (included with iFolder) allows a user to map a network drive, using the iFolder protocol, to an iFolder server without the Novell Client or the iFolder client.

NetStorage

NetStorage provides simple Internet browser-based access to file storage on a Novell network. Users have secure file access from any Internet location with nothing to download or install on the user workstation. Through a browser interface, users can also access file properties and have the options of restoring recent versions and managing rights to files and folders.

ZENworks

ZENworks adds application support to Virtual Office by providing access to desktop, terminal server and Web applications. Linking to a ZENworks server enables workstation management, software distribution, inventorying and troubleshooting. Virtual Teams can all have access to the same software and services with a single operation.

Other

NetWare Web Search enables users to search all accessible content on the Virtual Office server. Novell iManager is the common Novell Web-based management interface used to administer Virtual Office.
* Originally published in Novell Connection Magazine
---
Disclaimer
The origin of this information may be internal or external to Novell. While Novell makes all reasonable efforts to verify this information, Novell does not make explicit or implied claims to its validity.