Novell NetWare 6.5 Overview
Articles and Tips: article
James E. Gaskin
01 Apr 2003
NetWare 6.5 provides three core sets of high-value services: business continuity for IT administrators, virtual office tools for the end-user and Web services for IT developers.
Like spring training for your favorite baseball team, the anticipation for a product upgrade provides boundless hope. Baseball fans dream of home runs and a winning season ending with a pennant. NetWare fans dream of ways to save money, save administration time and provide more services. NetWare 6.5 can't help my Texas Rangers win a pennant, but it will satisfy executives, IT managers, end-users and IT developers.
For IT administrators
Award-winning NetWare--rock-solid, reliable, economic network services
IT managers and network administrators know and trust NetWare based on years of reliable service from their existing Novell installations. NetWare 6.5 builds upon two decades of constant performance and reliability improvements.
Many companies, perhaps frightened by the scare tactics used by some software companies, want to dip cautiously into the open source pool. As a firm foundation, NetWare 6.5 supports open source applications and development tools while relying on a set of networking services. In a word, the issue is choice--you and your organization determine the appropriate mix of technologies, and Novell provides you with the best platform and framework to reliably run your enterprise.
Business continuity
Network downtime causes you real pain, not to mention the thousands or even millions of dollars your business loses for every hour down. Every network administrator needs a plan to fall back on when that happens. Business must go on as usual. The high-level business continuity solutions included in NetWare 6.5 dispel that potential pain.
NetWare 6.5 includes updated administration tools, new server consolidation services, improved branch office support, advanced clustering for high-availability of network resources, major improvements in storage management and stronger directory services.
Improved administrative tools, including increased remote support
Network management needs evolve, and the push for greater administration flexibility means that tools must evolve too. NetWare 6.5 continues that evolution with an improved browser-based management utility, iManager.
NetWare 6.5 provides three core sets of high-value services: business continuity for IT administrators, virtual office tools for the end-user and Web services for IT developers.
Moving toward the complete management portal, iManager now supports the following:
Storage resources

Server diagnostics

Printers

Intrusion detection

Outages

Branch office connections
This new unified remote management utility supports a variety of browser platforms all the way down to popular PDA models. Remote management becomes a reality rather than an item on your wish list. (See Figure 3) Functions from Web Access, ConsoleOne, NetWare Administrator and even some Cworthy interface tools are migrating to iManager.
Server Consolidation Utility 2.0
Things change, and those things often include network components. Customers upgrade their server hardware, operating systems and data on a regular basis. Making those moves easily, painlessly and safely falls into the hands of the NetWare 6.5 Server Consolidation Utility version 2.0.
Developed from more than two years of customer research, including surveys from more than 4,000 NetWare administrators, the biggest advantage of the new Server Consolidation Utility 2.0 can be summed up in one word: nondestructive. Migrations can be implemented, checked, revised and redone with absolute confidence that your data remains safe and secure.
Both resource migration and resource consolidation fall under the Server Consolidation Utility 2.0 banner. Even though they are technically two different processes, migration and consolidation share many functional techniques to achieve their goals. Many projects combine a mixture of resource reallocation, migration and consolidation, making this utility a primary tool for administrators.
Server Consolidation Utility 2.0 is like "ncopy on steroids." files are copied from server to server, not from server to client to server. eDirectory information copied includes:
stream data

attributes

inheritance filters

ownership

trustees

size restrictions
Anything you can back up from a server, the server consolidation utility 2.0 can copy. Origination servers include:
NetWare 4.10

NetWare 4.11 (SP9) / NetWare 4.2

NetWare 5.0 / NetWare 5.1

NetWare 6.0

Windows NT

Novell Nterprise Branch Office appliance
Destination servers include:
NetWare 5.1 / NetWare 6.0

NetWare 6.5
Reasons for server consolidation vary from network to network, but common themes emerge. Changing a network requires moving and combining files, data and other network resources. Every inherited network becomes a candidate for consolidation, whether the IT manager moves into an existing network, or merges a new network into a once-orderly and well-planned installation.
As networks change in response to different organizational needs, particularly in the new world of Web services, IT managers find themselves with more hardware and software configurations than they can comfortably manage. When a new tool appears, such as the Server Consolidation Utility 2.0, smart managers take advantage of them.
Storage services generate network changes as administrators struggle to keep up with exploding storage needs. Storage Area Network (SAN) options, once too pricey for all but the largest companies, have dropped into the affordable range, especially when controlled by NetWare. The flip side of more storage? As you acquire more storage, you also need to rearrange it, which means you'll soon be consolidating again.
Experienced NetWare administrators remember NCOPY, a command line utility able to duplicate files within the storage confines of one server while retaining NetWare file attributes lost when using DOS or Windows file utilities. NCOPY bypassed the client in the copy process, using an internal directory-to-directory copy method within the server.
Originating file systems include traditional volumes and Novell Storage Services (NSS). File destinations include traditional, NSS and cluster volumes.
You can consolidate printing resources, as well as move Novell Distributed Printing Services (NDPS) and any Printer Server Manager (PSM). Using the graphical interface, drag a printer agent and drop it on a new printer manager. When dropped, all the printer agent information moves rather than just being copied. You can also move multiple printers at one time. Any outstanding print jobs remain stranded, as you might expect.
On the hardware side, NetWare 6.5 includes new capabilities for blade server support. The Migration Wizard has been updated and provides better hardware swapping features.
Migrations can be implemented, checked, revised and redone with absolute confidence that your data remains safe and secure.
Software requirements for server consolidation include a wide range of patterned deployments available out of the box. Currently, the NetWare 6.5 Server Consolidation Utility 2.0 includes 15 pattern deployment options for installing specialized configuration "templates" without administrator intervention. Some of the 15 templates include a "standard" NetWare Server optimized for file service, iFolder Server, Apache Server, MySQL Server, LDAP Identity Server, Network Attached Storage Server, iSCSI Block Storage Server, SilverStream Application Server, J2EE Web Services Server and iPrint Server. The custom installation option remains, because even 100 templates would miss the special requirements for some server operations. However, clicking a pattern deployment option saves you time and provides an excellent configuration for the specific server's role in your network.
To make server upgrades more economical, NetWare 6.5 includes Remote Upgrade which utilizes the network connection between two sites for all upgrade and migration functions. This allows managers to centrally upgrade geographically dispersed servers without having to physically touch each server. A single location can provide consolidation and upgrade services for all other locations, and accomplish these tasks in the same time frame as if you took a redeye to the remote network.
Did you notice the list of supported originating servers in the earlier list? Did you notice Windows NT on that list? Microsoft, forced by customers to extend NT support longer than originally promised, continues to try and push customers off NT. Server Consolidation Utility 2.0 provides an easy growth path from NT for customers with a mix of NetWare and Windows servers.
One concern in large network consolidation projects comes when managing multiple trees. Working around that problem in the past required intensive effort by the administrator and plenty of luck to maintain a stable directory. This upgrade allows tree-to-tree consolidations and migrations.
Moving and consolidating ownership attributes often caused surprises in the past. Files in a moved volume, owned by a user not created in the new system, lost ownership attributes. Server Consolidation Utility 2.0 checks for orphaned users, and prompts you to create the user in the new context or assign those rights to another user.
Requirements for Server Consolidation Utility 2.0 include a common protocol (either IP or IPX) on the originating and destination servers, and a Windows NT/2000/XP workstation running Novell Client32. Transfer speeds depend on the LAN connections, but averages are 2GBs per hour on a 10Mbps LAN, between 8GBs and 10GBs per hour on a 100Mpbs LAN, and between 25GBs and 30GBs per hour on a 1GB LAN.
The joke about a "fear of commitment" came true at customer sites all over the world when forced to pass the point of no return with earlier migration and consolidation software. Server Consolidation Utility 2.0 does not have a point of no return, because all modifications are nondestructive. Every step in a project, even the last step, can be rolled back. When you are satisfied with your consolidation, you accept the new network architecture.
Network change is a constant, and has been a constant headache in the past. Server Consolidation Utility 2.0 provides business continuity and simplifies the lives of network administrators. When you know every change can be tweaked and tried again and again, migration and consolidation projects become just another item cleared off your task list.
Novell Nterprise Branch Office
Novell Nterprise Branch Office, which ships with NetWare 6.5, is a soft appliance designed for corporations that have satellite offices with users who require the same level of service that exists at the corporate office. That is, they need to authenticate securely to network services, access files, print and have data protection in the event of a mishap. Nterprise Branch Office significantly simplifies the complex task of maintaining network services at geographically distributed offices.
Novell Nterprise Branch Office simplifies the task of maintaining network services in branch offices.
An Nterprise Branch Office installation consists of two parts: the branch office server, and one or more servers at the corporate site (central office servers) to support authentication and backup. Granted, Nterprise Branch Office servers can be run in standalone mode in the branch office, but this configuration doesn't have the advantages of having a central office server at the corporate site, including fault tolerance, disaster recovery and simplified directory management.
Nterprise Branch Office includes powerful authentication for secure communication between the Nterprise Branch Office appliance and the central office server(s). This authentication provides a consistent level of security throughout the entire enterprise network. In addition, Nterprise Branch Office allows backups to be done at the central office, relieving the worries of doing a daily backup at the branch office. Nterprise Branch Office also utilizes automatic user-access provisioning to provide instant access to file and print services regardless of an employee's location. Local services, cached at the branch, provide users high performance while reducing WAN traffic loads. (For more information on Novell Nterprise Branch Office, see Novell Connection online at www.novell.com/connectionmagazine/2003/02/tech_talk_1.html.)
Improved cluster support
NetWare 6 included free cluster support for two servers straight out of the box. Optional licenses took the cluster up to 32 servers, including automatic fail-over and resource migration to keep network resources available even when a server had to be stopped for hardware maintenance.
Novell Cluster Services 1.7, which is included in NetWare 6.5, builds upon the clustering support in NetWare 6, and adds more nodes straight out of the box. For companies truly prepared for disasters, NetWare 6.5 can be used to build business continuance clustering solutions that fail-over an entire site to other remote sites. The other clusters may be located down the street, across town or on a different continent.
When a site fail-over occurs, the remote clusters will pick up network resource support within seconds. You decide how many network resources migrate when one location fails, just as you do with current cluster products. A continually failing server can now be quarantined to reduce impact on other services. For many users, clusters mean Storage Area Networks. NetWare 6.5 cluster storage improvements include shared readonly volumes. New backup tools and functionality improvements are discussed later in this article.
The benefits of clustering also extend to critical Web services middleware. The J2EE platform has prompted a significant amount of standardization in Web services middleware, giving Java programmers standard APIs for common system services. These services rely on Java Messaging Services to exchange messages through a common provider; losing that common provider derails multiple middleware support structures and causes application failure. NetWare 6.5 provides cluster support for the jBroker Message Queue, providing fault tolerance for middleware as well as the applications relying on that middleware.
Huge Strides In Storage Management
The name today may be "storage services," but NetWare servers have always delivered files quickly, reliably, and securely. Today's explosion in storage and the different types of media only increase the need for an operating system well-versed in file service.
NetWare 6 delivered a mature NSS version 3.0 able to completely replace traditional volumes in almost every case. The speed and reliability of the journaling file system at the heart of NSS transformed large volume mounting times from many minutes to just a few seconds. Volume capacity, whether measured in size or number of files, jumped into the terabyte range.
Storage Resource Management capabilities are now included in NetWare 6.5. Exposed in iManager and Remote Manager interfaces, these capabilities allow administrators to track storage growth patterns by user or file type. They can even make graphs of storage usage by either tracking method.
iSCSI Support
Internet Small Computer System Interface (iSCSI) infuses the time-proven SCSI storage interface with IP for cost advantages and location flexibility. Using the networking standard, IP, for linking data storage units saves a considerable amount of money. Rather than running your SAN over expensive Fibre Channel switches and connections, your standard Ethernet IP network (or a special subnetwork in local installations) can carry storage traffic.
iSCSI takes commands for storage access and encapsulates them into IP packets. If the traffic goes over a public network, encryption can be used for security. At the receiving end, the packet is decrypted if necessary and the storage commands extracted from the IP packets. iSCSI provides the ability to locate storage devices anywhere, from nearby or in another country. The other option for distance storage communications is Fibre Channel over IP, which requires Fibre Channel switches and controllers, all of which cost considerably more than Ethernet equipment.
Novell calls iSCSI "SANs for the masses" because of the cost savings over Fibre Channel. A NetWare 6.5 cluster solution using iSCSI makes fault-tolerant shared disk storage a reality even for small networks with limited budgets.
NetWare 5.1, NetWare 6 and NetWare 6.5 can all consume and share iSCSI storage. In addition, NetWare 6.5 can be configured as an iSCSI disk server. With disk subsystems attached (either direct, or SAN attached), it can serve that storage to an iSCSI SAN. Security and SAN iSCSI LUN management are all integrated with LDAP, so it is as simple as assigning servers as trustees of LUNs in order to achieve the equivalent of LUN masking in the SAN world.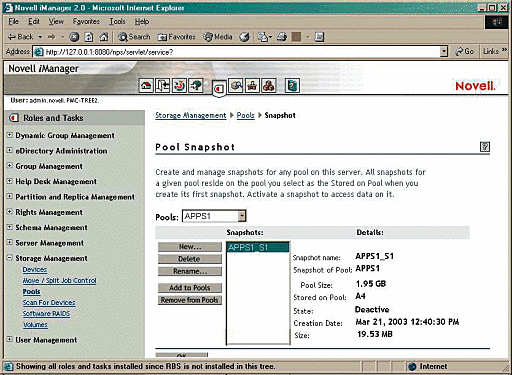 Snapshot
Experienced network administrators know that every additional storage volume means additional backup headaches. Physically moving the data from servers to backup media (usually tape) often takes more time than you have between when the network users go home and when they come back again. Add in the problem of supporting a distributed network with users scattered across multiple time zones and open files continually block your backup software. Even if your software skips open files, that just means critical data in active databases never get archived properly.
You can choose among multiple file versions made during multiple snapshots to recover multiple generations of that file.
Version 6.5 has improved the Modified File List to solve that open-file problem. To handle open files, we must go below the file system, to the storage block system, where Novell has added Snapshot at the disk block level.
Check out these new Snapshot features:
Backup anytime

Verify that your backup hasn't failed

Find and restore files using Snapshot files rather than tape backups

Make pool-level snapshots

Keep up to 500 active snaps of your data

Mount any snap as its own storage pool

Freeze and thaw interfaces for applications (such as databases and e-mail) to ensure data consistency in the snapshot

Use the freeze and thaw software hooks available for thirdparty developers, both software applications developers and for hardware-based snapshot solution providers
The drastic drop in price for hard disk storage makes Snapshot hard disk backups as inexpensive as tapes and much more convenient. Afternoons spent searching through backup tape index listings for an accidentally deleted file give way to a quick volume search and restoration. In fact, you can choose among multiple file versions made during multiple snapshots to recover multiple generations of that file. Snapshot makes such recovery not only possible, but easy. And now users can restore their own files too...
Automatic File Versioning
How many times has a user called upon IS&T to find and restore data from a backup that was accidentally deleted or modified? Usually only once, because it typically takes IS&T much longer than the user is willing to wait. Not any longer. With Automatic File Versioning, the Modified File List feature of NetWare 6 has been significantly enhanced to enable file-level snapshots of the network file system. These file-level snapshots are routinely taken and are available to the end-users to view. Previous versions can be selected and restored without having to call IS&T. Because this feature is file-based (as opposed to Snapshot which is block-based), you can set policies such as which directories and file types are to be archived, and how often. The archive can even be located off-site if desired. Through a Web interface (NetStorage-part of Virtual Office described below), users can find and restore past versions on their own. Users can even browse and restore a file version from several weeks previous, or one that another user last edited.
NAS (Network Attached Storage)
Novell Native File Access Pack brought native file access for Windows clients, Macintosh clients, Unix/Linux clients and Web clients. Building on that capability available in NetWare 5.1, and built into NetWare 6, Novell has added improvements in NetWare 6.5.
NetWare 6.5 has the native protocols built into the NSS file system. Check out these features:
Greater than 4GB file size support for all protocols

Full true inter-protocol locking support

Full international character support

Improved performance and scalability to rival that of NetWare clients

Support of a common authentication password with NetWare clients

Support for password restrictions and expirations

Support for Windows native Login command scripts

Full Mac OS X support (AFP v3.1)

Addition of NetWare Access Control mode for Unix/Linux (NFS)
With these features and the enterprise Novell eDirectory tied in for file services management, NetWare 6.5 offers a truly powerful NAS solution for application servers and client workstations alike.
World's Most Advanced Directory Services With eDirectory
The advantages of an object-oriented directory service became clear when NetWare 4.0 shipped with Novell Directory Services (NDS). Renamed eDirectory and now up to version 8.7, directory services remains a key differentiator between Novell systems and those following in the directory race.
After more than a decade of development, eDirectory now supports a variety of services and applications never before possible. End-users no more see eDirectory than they see the pillars supporting their office building or the roadbed under the highway. They just enjoy the diverse benefits of such eDirectory-enabled services as zero-day provisioning, single sign-on, login support from any location on the network, and with NetWare 6.5, new Web services leveraging the identity services hosted by eDirectory.
Appropriately, eDirectory advancements in NetWare 6.5 hide beneath the new services and applications they support. As described in the end-user information section below, new Virtual Office services, and especially eGuide, rely heavily on the advanced support of eDirectory 8.7.
DirXML Starter Pack
In spite of efforts by monopolistic companies, company networks include hardware and software from multiple vendors. The DirXML Starter Pack integration capabilities in NetWare 6.5 leverage the value of mixed environments by supporting authentication services, identity management across eDirectory, Active Directory and Windows NT server systems environments. Out of the box, DirXML Starter Pack can support simple password synchronization across your network and automates the process of creating, managing and deleting user accounts and passwords among eDirectory, Active Directory and Windows NT. DirXML, one of the key components of Novell Nsure, improves security while providing the foundation for your complete enterprise secure identity management solution.*
* (For more information, watch for the feature article on the DirXML Starter Pack in the next issue of Novell Connection.)
For end-users
Virtual Office
A decade spent creating a productive network environment has not been wasted. Today, users must communicate, collaborate and coordinate with others constantly. With eDirectory for authentication and presence, and 20 years of communications and collaboration experience with GroupWise, NetWare 6.5 now steps forward with Virtual Office, Virtual Teams and Novell eGuide.
The Virtual Office name describes the computing experience which follows the user everywhere. Whether the user sits at a desk in the office, uses a laptop on the road or rents a kiosk at the airport, data and services await. Users see a single point of contact for all NetWare 6.5 value that goes far beyond an employee portal.
NetWare 6.5 moves real-time collaboration through instant messaging, data sharing and common resources beyond traditional networking onto the Internet. The Novell vision provides a consolidated view of all the end-user value from NetWare 6.5 in the Virtual Office solution family.
Teams can immediately get organized and start working with NetWare 6.5. Following the example of Web Access and assorted gadgets in NetWare 6, the team can combine the resources they need into their Web workspace without calling the network administrator. The first release of Virtual Office does all document sharing and collaboration using thin clients to access the Web site, allowing team members to work from anywhere with network access.
Virtual Teams
When a task force comes together, the early members do all the early research and lay the groundwork. As members join the group, getting new members up to speed takes time and drops team productivity.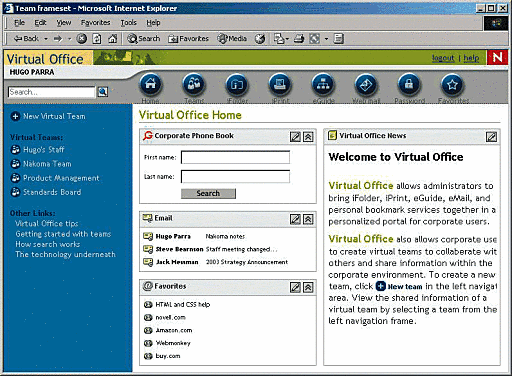 NetWare 6.5 now steps forward with virtual office, virtual teams and Novell eGuide.
Virtual Teams accelerates new member integration by providing complete team resources via shared documents, archived chat sessions and links to other sites. Third-party applications, such as project management software, can fit into the team portal framework. Other tools may use an employee portal or a collaboration tool for meetings, but Virtual Teams brings it all together by mixing shared data stores, identity and presence management via eDirectory and the ability for the team members to manage their own eDirectory information.
Instant Messaging, Chat, News, Threaded Discussions
"Can we talk?" With Virtual Teams, you'll talk, communicate, chat and discuss from the minute you join the team. Yes, but different people prefer different communication models. Web-based Instant Messaging allows connections via thin clients from anywhere on the network. While chat sessions work for quick discussions, long-lived discussions belong in the shared document folders or inside a discussion list. Threaded discussions, such as those in news groups, provide structure and easy information archiving for later review.
Shared Resources And Applications
Teams need other applications beyond communications tools. Virtual Team supports third-party applications such as calendaring and project management. GroupWise 6.5 fits neatly and easily into the Virtual Team resources list, as does the new Novell NetMail POP3 e-mail server. Links to internal or external information sources are shared between all team members.
Novell eGuide
Sometimes teams are so large or spread out that just finding other team members becomes a project in itself. NetWare 6.5 ships with Novell eGuide 2.1 to solve this problem.
A Web application that enables you to search for names, addresses, fax numbers and e-mail addresses stored in eDirectory, eGuide also searches LDAP-compliant directories. Once you locate your team members, you can direct eGuide's search engine out toward the Internet.
eGuide also provides self-service updates for eDirectory. Users can manage their own personal directory information without the help of a network administrator. Organizational charts, separate from eDirectory contexts for Virtual Team members, save users time. Group chat and e-mail messages can be sent via the eGuide application as well.
Novell iFolder 2.1
The debut of iFolder with NetWare 6 caught many people by surprise. Praise rained down from every quarter for iFolder 1.0 because people loved the concept and execution. This is one of the best examples of Novell giving direct NetWare interaction to many new users.
iFolder addresses three major features for users: backup, synchronization and access. End-users can configure the iFolder client software to automatically back up and synchronize files between the client and the iFolder server. End-users can access these server-based files from any computer with Web access using a standard Web browser giving them the flexibility to work from home, the office or on the road.
One of the patterned deployments mentioned earlier includes a specialized iFolder server. Cluster services and pooled storage can be used to support more iFolder clients. By pooling multiple iFolder servers together and sharing a single file system, iFolder will scale to support any number of users.
Improved management tools for iFolder include the ability to manage usage of iFolder storage more effectively. More granular user information provides detailed information on iFolder client activity and better report options.
Increased flexibility in Version 2.1 allows users to connect iFolder to any local folder, not just the "My Documents" folder. File synchronization does little good if you can't guarantee file security. iFolder Version 2.1 now speeds up encryption performance.
Using the full iFolder client allows automatic synchronization between your local machines and the iFolder server, but many times you need access to a file when you're away from your iFolder client machine, such as during a customer site visit. With iFolder 2.1, you can use any standard Web browser to connect, authenticate, upload, download, access or delete your files on the iFolder server.
iFolder 2.1 also adds a new twist. NetWare 6.5 iFolder installations now provide access to iFolder files through a PDA Web browser. So, if you browse the Web on a PDA and can reach your network, you can reach your iFolder files.
For developers
People who know their history know that NetWare has always been a great application server. In the late 1980s, NetWare customers had their choice of several thousand applications written in Business Basic and Cobol. Developers ported these applications to NetWare to take advantage of the fairly new and growing PC client population. Consider that as the first golden age of NetWare application services.
The second golden age for developers interested in NetWare is right now. In the 1980s, NetWare attracted developers from the mini-computer world. NetWare 6.5 now calls to developers in the open source world.
Why NetWare? After all, shouldn't open source applications run only on open source operating systems?
NetWare offers the most reliable, secure and supported Intel platform that welcomes open source developers. Open source applications running on NetWare use the same open source support components Novell developers use to provide many NetWare services. For instance, Apache Tomcat, an open source servlet/JSP container based on Sun's reference platform of the servlet/Java Server Pages implementation, is included with NetWare 6.5.
Developers interested in leading edge, open source solutions should visit: http://developer.novell.com/ndk/leadedge.htm#le182 for the Novell Developer Kit. The software available includes the NetWare AMP Developer Suite:
Apache 2.0.4.3

MySQL 4.0.3

PHP 4.2.3

Perl 5.8
Novell offers developers a progression of services not easily found in the open source world. NetWare 6.5 starts with one of the best Intel server implementations available, then adds clustered Web caches, clustered Web servers, clustered J2EE servers and clustered databases.
Open Standard Application Support
With Netware 6.5, developers now have a high-performing, enterprise-class J2EE 1.3-certified Application Server. The J2EE platform provides a strong application deployment foundation through features like clustering, load balancing and fail-over capabilities to ensure your applications are scalable and reliable. The exteNd Application Server also includes an industry-leading messaging layer through high-performing engines for CORBA, Java Messaging Service, Transaction Management and Web Services. With performance as a key, the exteNd Application Server is tuned to enable high-volume and mission-critical applications. Servers can be clustered for scalability and configured to eliminate single points of failure. Automatic server restarts and fail-over of HTTP sessions eliminate the risk of losing important data. In short, developers now have scalability, reliability, performance and availability for enterprise applications.
Besides bundling a J2EE Application Server, Netware 6.5 also includes the Apache Web Server, MySQL, PHP and Perl. Thousands of programs have been written for Linux, Apache Web Server, MySQL, PHP and Perl over the past few years following open source guidelines. These applications will now run on NetWare 6 and NetWare 6.5.
Web Services
One of the current buzzwords today is "Web services." In typical hype fashion, each vendor defines Web services to fit its solution line rather than any industry standard.
NetWare 6.5 supports Web services in reality, not hype. For the sake of this article, let's define Web services as a set of loosely coupled software components which collaborate with each other over multiple networks. The major Web services components are:
SOAP (Simple Object Access Protocol)

UDDI (Universal Discovery and Description Initiative)

XML (eXtensible Markup Language)

WSDL (Web Services Description Language)
Notice the list only includes components accepted by the developer world after being ratified by the leading standards bodies.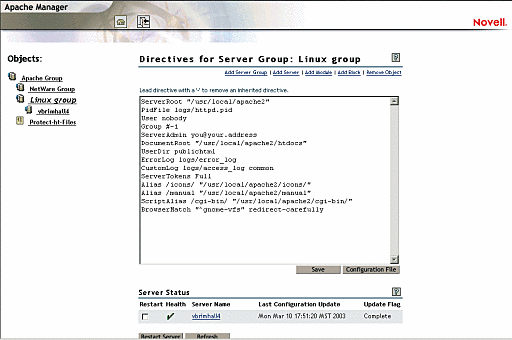 Novell exteNd (J2EE Appserver)
With the bundling of the Novell exteNd Application Server into NetWare 6.5, Novell provides a great opportunity for the implementation of Web services. Novell exteNd's high-performing Web services engine is JAX-RPC 1.0-compliant for building, running and invoking Web services. With performance 2-3 times faster than other popular engines, it has a small footprint and generates interoperable services. Novell exteNd not only has extensive developer tools, but also has feature-rich administration tools.
When running Apache on NetWare 6.5, Apache can take advantage of the new Singlewriter/Multiplereader shared-disk file system.
The Integration and Portal Server which ships with the full version of Novell exteNd, make it easy to build Web services to integrate into legacy systems and deliver information to interactive applications or portals. These servers are based on J2EE and run on not only Novell exteNd Application Server but on BEA WebLogic and IBM WebSphere servers. (For more information on Novell exteNd, see The Stuff Geek Dreams Are Made Of.)
Organizations can now save money by running their J2EE applications on the free, bundled Novell exteNd Application Server and by leveraging existing resources.
MySQL Version 4.0.12
There are more than four million licensed MySQL installations. Applications running on any of these four million servers can also run on NetWare 6.5.
NetWare 6.5 is the only platform to offer a commercial license of MySQL, avoiding issues with GPL for independent software vendors and developers. Going one step further, Novell provides technical support for MySQL when running on NetWare 6.5. This information should be interesting to the developers and customers using any of the more than four million MySQL licenses out in the market today.
Apache Web Server Version 2.0.45
Research firms all say the same thing about Apache: it's the most-used Web server today. Placing Apache 2.0.45 on NetWare 6.5 servers will hang out the shingle for developers, saying that NetWare is an application platform worth investigating.
Combining new NetWare 6.5 features with Apache makes for another advantage. When running Apache on NetWare 6.5, Apache can take advantage of the new singlewriter/multiple-reader shared-disk file system. This means that multiple Apache servers can share the same docroot directory and even the same EJB class files. Change the content in that one directory, and all servers will update the next time they read that directory.
Summary
NetWare 6.5 is not "traditional" NetWare, underpinning your network and hiding beneath users' view. NetWare 6.5 is in-your-face NetWare, leveraging eDirectory and open source tools to provide a connected, shared and secured end-user experience.
While IT administrators have always been the focus of NetWare's improvements, NetWare 6.5 defines two new customer groups receiving attention: end-users and IT developers. Each group has special requirements; Novell addresses each group with specific solutions.
IT administrators demand reliability to keep their businesses running. NetWare supports business continuity with a rock-solid foundation and adds new storage management, server clustering, branch office support and resource consolidation. IT developers demand open source options for building applications to serve their business. NetWare 6.5 bundles the largest package of open source development tools, applications servers and open source applications on the market today.
Finally, remember that a network supports users, not computers. End-users will continue to reap the benefits of NetWare's infrastructure while seeing new network services linking them to each other and their network resources regardless of location. Wherever they go, they can rely on NetWare 6.5.
* Originally published in Novell Connection Magazine
---
Disclaimer
The origin of this information may be internal or external to Novell. While Novell makes all reasonable efforts to verify this information, Novell does not make explicit or implied claims to its validity.