Novell NetWare Server Consolidation Utility: Moving Data the Easy Way
Articles and Tips: article
Debi Pearson
01 Aug 2002
Have you ever thought wistfully about throwing out your company's existing network and creating a new one--without the legacy problems you have inherited? One of those niggling problems may be the file structure that your predecessor set up years ago but no longer fits the needs of your company. In fact, if your company is like others we work with, the organization changes so frequently that the current file structure hasn't met your company's needs for years.
Of course, you can easily move files around, but you cannot easily move the associated directory rights with those files. Instead, you have to determine the directory rights for directories and files, move them to their new location, and then set up the necessary eDirectory rights again. With your busy schedule, maintaining the old file structure is probably the best--maybe even the only--option.
With the Novell NetWare Server Consolidation utility, you can move volumes and directories from one NetWare server to another, with their eDirectory rights intact. This utility, which will be available for free download this month, enables you to simply drag-and-drop volumes and directories from one NetWare server to another.
Specifically, the NetWare Server Consolidation utility supports NetWare 6.x, 5.x, and 4.x servers and both the traditional NetWare file system and the Novell Storage Services (NSS) file system. As a result, you can move files from a NetWare 4.x server that uses the traditional file system to a NetWare 6 server that uses NSS. This utility also supports both compressed and uncompressed file formats, allowing you to easily move data between compressed and uncompressed volumes.
As the name suggests, you can use the NetWare Server Consolidation utility to consolidate servers on your network. However, you can also use this utility simply to move directories and volumes from one server to another.
In addition to copying volumes and directories, the NetWare Server Consolidation utility enables you to move a printer agent from one print manager on a server to another print manager on another server. You no longer have to delete the print agent from the source server and recreate it on the destination server.
GET READY, SET, GO
When you launch the NetWare Server Consolidation utility, you are prompted to link to the online set of tasks. Accepting this prompt takes you to online documentation, which is posted on Novell's support web site. From here, you can set up a copy job.
The process is simple: You model and then commit. To create the model, you select the eDirectory tree in which you want to copy files. (See Figure 1.) Two windows appear; both show the eDirectory tree you have selected.
Figure 1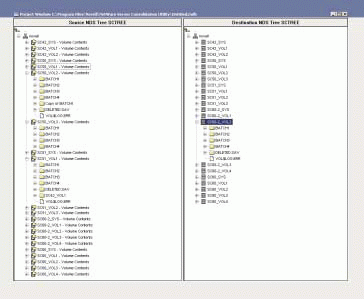 You then browse to find the volumes or directories you want to move. Next, you locate the volume or directory in which you want to copy the data you are moving, or you create a new folder in which to place the data on the destination server. Then you simply drag-and-drop the volumes or directories to their new location. When you have finished modeling, you can either save the project and copy the files at a later date, or you can select the Commit option from the project menu or button bar and begin the copy process now.
COPY TO COPY
After you commit to copy the volumes or directories, the NetWare Server Consolidation utility begins the actual copy process. How quickly the volumes or directories are copied, of course, depends on your company's network environment. In internal tests, Novell has copied 25 GB of data in approximately 1 1/2 hours.
Because the NetWare Server Consolidation utility copies volumes and directories (rather than migrating them), the original volumes and directories still exist on the source server. As Derek Dobson, product manager of Cross-Platform services, says, "The utility is nondestructive, which is so important. If customers want to copy files to a new location and something unforeseen interrupts the copy process, they still have all their source data intact."
After the volumes and directories are copied, users can access them just as they did before. You don't need to worry about resetting eDirectory attributes such as permissions to files, ownership to files, and user space restrictions, and namespace information, including Macintosh file information. The NetWare Server Consolidation utility maintains those attributes for you.
MOVING PRINTER AGENTS
If you want to move printer agents, you follow the same simple steps. This utility makes it easy to move printer agents in the directory tree because you no longer have to delete and recreate them. One caution, however: After you move a printer agent, the printer agent on the source server no longer exists.
AND THERE WAS MUCH REJOICING
If you can't wait to get your hands on the NetWare Server Consolidation utility, you are not alone. In fact, Novell began to develop this utility after Dobson and Bruce Cutler, lead software engineer at Novell, visited a customer who desperately needed to consolidate data on a new server. Knowing that many customers were upgrading to NetWare 6, Dobson and Cutler knew that such a utility would greatly ease the upgrade process.
However, even Dobson and Cutler were unprepared for the response the utility received at Novell BrainShare in Salt Lake City last March. After watching a demonstration of how the utility worked, attendees were ready to take the utility home. When they found out the utility would not ship until September, they lobbied for an earlier release.
According to Dobson, many network administrators who are interested in the utility work for universities, and during the summer, these administrators have to restructure the file structure on their servers to meet the needs of the university staff that fall. This restructuring often involves moving large chunks of data. In fact, one beta customer recently told Novell that he is using the utility to move 1 TB of data.
Novell listened to the pleas of BrainShare attendees and moved up the release by one month: Novell plans to release the utility in August.
THE FUTURE'S SO BRIGHT . . .
BrainShare attendees also gave Novell suggestions for future versions of the NetWare Server Consolidation utility. First, they asked Novell to include a scheduler, so they can schedule copy jobs to run at any time in the background. Second, attendees want to be able to copy volumes and directories between servers in different eDirectory trees. (The first release enables you to copy volumes and directories between servers in the same eDirectory tree.)
Dobson says this wish list will be addressed by the next version of the NetWare Server Consolidation utility, which will be released in conjunction with the next version of NetWare (code-named Nakoma). Look for more information in the October issue of Novell Connection.
To download the NetWare Server Consolidation utility for free, visit http://download.novell.com/. For more information, visit www.novell.com/netware6.
* Originally published in Novell Connection Magazine
---
Disclaimer
The origin of this information may be internal or external to Novell. While Novell makes all reasonable efforts to verify this information, Novell does not make explicit or implied claims to its validity.