ZENworks Synergy: One Interface, One Delivery Mechanism
Articles and Tips: article
Brad Anderson
01 Mar 2002
Like most IT organizations, your IT organization is probably being asked to do more with fewer resources. For example, one of the dilemmas IT organizations face is delivering a consistent, complete, and personalized view of the data, applications, and services users require. IT organizations are faced with the challenge of delivering this digital content to an ever-increasingly mobile workforce across multiple architectures and devices.
In fact, most IT organizations provide applications to users through three paradigms: traditional client-server, or locally installed applications (also called "fat" applications); thin-client applications; and web applications. Each paradigm has a different architecture with different tools and interfaces for both network administrators and users.
Complicating matters more, the term users no longer refers to just employees. IT organizations are now struggling to deliver digital content to employees, partners, and customers.
This article examines these and other problems IT organizations are struggling with and provides a solution: Novell ZENworks Synergy.
WHAT'S HISTORY GOT TO DO WITH IT?
A quick review of the PC phenomenon helps explain the current state of the computer industry and may even provide clues for how the future will evolve. As you know, 20 years ago, the computer industry consisted of dumb terminals that had absolutely zero processing power. Then IBM introduced the PC with all its glory and power, and the PC revolution took place: The world changed overnight from the architecture of centralized processing to an architecture of distributed processing.
However, along with the increased flexibility and power of the PC came additional costs and overhead. Although the PC gave users almost unlimited power, it also introduced significant costs and management challenges. For example, leading analysts estimate the total cost of ownership over a PC's lifetime is U.S. $7,800. As you may expect, laptops have a much higher total cost of ownership, which are estimated at U.S. $10,700.
The Pendulum Is Swinging Again
As the Internet revolutionizes the way users work, centralized processing is once again becoming relevant. Today's web applications can leverage both the client and the server, depending on which is more practical. For example, with web applications, the server performs the majority of the processing, and the workstation browser processes, formats, and displays what the user sees.
Another significant change is that the typical user is more mobile than ever. One day a user may be working in the office, the next day the user may be working from home, the next day the user may be visiting a customer, and finally, the user may be working on a laptop--completely disconnected from the network. Mobile users have one request: "Give me a consistent working environment independent of where I am or the device I am using."
As mentioned earlier, IT organizations also have a much larger customer base than they used to have. Users now include partners and customers who require access to data and applications.
I Dream of Jeannie
Every organization has a long list of applications, which were architected for use in the fat-client model. On the other hand, every organization is beginning to deploy web-enabled applications. Herein lies the challenge: How do organizations make the move from the traditional fat-client architecture to the new web architecture?
Most IT professionals would like to blink their eyes like Barbara Eden in the syndicated "I Dream of Jeannie" television program and instantly migrate all their data and applications to the new architecture. As you know only too well, migrating is not that simple; it includes many challenges.
For example, many organizations have invested millions of dollars in the fat-client architecture, and moving to the new web architecture is an expensive and time-consuming transition--not to mention the fact that some applications will require the fat-client architecture far into the future. Perhaps the most expensive aspect of moving to the new architecture is the retraining required for users.
Many IT organizations are turning to thin-client servers (Windows Terminal Server and Citrix MetaFrame) to make this transition. These thin-client servers enable IT organizations to deliver fat-client applications through a web interface in the centralized processing architecture. Although thin-client servers help organizations solve some of the problems they are facing in moving the delivery of services to the web, these thin-client servers also introduce new challenges.
Too Many Desktops To Manage
When IT organizations introduce thin-client servers, they face the added challenge of managing another desktop. These IT organizations have to manage the delivery of data and applications across thin-client servers as well as across desktops, laptops, and web servers.
If the IT environment weren't complicated enough, users are also acquiring handheld devices. IT organizations are now faced with the challenge of managing yet another device. (See the related article.)
The last thing any IT organization wants to do is deploy separate solutions to manage each of these computing environments. Without a solution like ZENworks Synergy, that is exactly what the IT organization is forced to do.
For example, most IT organizations have a desktop management team that uses some kind of solution to manage the life cycle of desktops and laptops. This team manages everything about these PCs, including the following:
Operating system

Local user accounts

Applications

Rights and privileges through lockdown policies

Hardware and software inventory
Typically, a separate team is responsible for managing and deploying services across thin-client servers. This team has its own utilities, solutions, and methods for managing the thin-client process.
Still another team manages the web servers that are hosting the web applications. This team also has its own set of solutions and interfaces for managing the delivery of services.
These three separate teams have essentially the same charter--the efficient delivery of data and applications to a user community. Although these teams share the same charter, they use different solutions and different interfaces to manage and deliver their services.
To make matters more complicated, these three teams usually have little to no interaction. In other words, these teams do not "do lunch." As a result, companies have to purchase, configure, and maintain separate solutions to manage the delivery of data and applications to users.
Managing these solutions is just half of the problem. Think of the dilemma the users face: Users have to learn and remember to go to different places to access the services they need. Because users have to authenticate multiple times, they also have to remember multiple usernames and passwords. Users also see a different interface and working environment, depending on the client access device they are using.
The Rings of Availability
Accessing data and applications is especially complicated for mobile users. Laptops, thin-client servers, and other technologies have made mobile users more productive, but these technologies have also increased complexity--requiring more training for users. For example, every user has a default working environment. For most users, this environment is running on their desktop or laptop in the office (behind the firewall with a fat pipe to the network).
When a user needs to work from home, however, working gets more complicated. The user is working on a laptop at home outside the firewall and, in most cases, with a dial-up link to the Internet. The user must understand that since the working environment is different, he or she must work differently.
In most cases, the user launches a Virtual Private Network (VPN) to get "virtually" behind the firewall. Unfortunately, the performance may be unbearably slow. Often, the user must also know to launch the application through a thin-client server.
What other differences does the user encounter in his or her working environment if that user is working on a home PC rather than a corporate PC? How does the user's working environment change when the user is at a customer site, behind the customer's firewall but outside the user's corporate firewall? What happens when the user is 100 percent disconnected from the network?
Figure 1 describes users' changing environment. As the working environment changes, users must understand that they are now in a different ring of availability and must adjust their work process accordingly.
Figure 1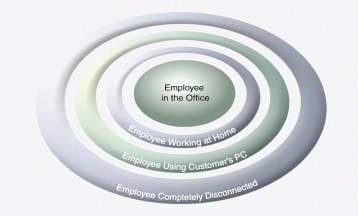 Of course, this situation is the exact opposite of what users want. Remember that users have a simple request: "Give me the same working environment anytime, anyplace, anywhere, and from any device."
Information Overload
Information overload is perhaps the biggest challenge companies face as they interact with their employees, partners, and customers. Too many companies overwhelm these users with large amounts of data that they don't need and don't care about.
The same can be said about applications: If users do not need an application to accomplish their work, that application should not even be presented to them. Not surprisingly, companies are concerned about delivering users the correct data and applications for both ease-of-use and security reasons.
Who Is Using What?
In addition to managing an increasingly complex environment, IT organizations are trying to reduce costs, especially in the current economy. For example, many IT organizations are trying to save money by tracking the services that are being used and the users who are accessing those services. IT organizations can then send reports to business-line managers or even bill departments for the use of specific services.
Without an accurate tracking system, IT organizations cannot demonstrate where the IT budget is being spent. If you are a service provider, accurately tracking the services that customers are using is a life-or-death situation.
Can you accurately answer the following questions?
How much does supporting and maintaining desktops and laptops cost your IT organization?

How does your IT organization bill business units, departments, or customers for use of IT services?

How many licenses of the software you use must be purchased each year?
If you do not know the answers to these questions and others like them, you are not alone. Most IT organizations do not have this type of information and make no attempt to bill internal departments for IT services.
THE SOLUTION
To help companies solve these and other similar problems, Novell will soon release ZENworks Synergy, which combines the features and capabilities of ZENworks for Desktops, Novell ZENworks OnDemand Services, and Novell Portal Services. This solution provides the following capabilities:
Enables you to install and launch applications across the three computing architectures--fat-client, thin-client, and web--from a single interface.

Provides usage tracking for applications and other digital assets and automatically provides business unit managers, individuals, or customers with an accurate accounting of the services used in a given period and the corresponding cost.

Presents users with a personalized view of all the data and applications they require to complete their work.

Enables you to manage the entire life cycle of desktops, laptops, and thin-client servers. (Management of handheld devices will be released in 2002. See the related article.)
ZENworks Synergy delivers on Novell's stated goal of enabling the world to work by removing the barriers between intranets, extranets, the Internet, and between wired and wireless networks. This solution gives each user--whether that user is an employee, partner, or customer--a single, personalized view of everything that a user requires to complete his or her work and to interact with your company. One simple interface provides everything the user requires, independent of platform or application.
Where's the Synergy?
Why is this solution called ZENworks Synergy? Dictionary.com (http://www.dictionary.com/) gives two definitions for synergy:
"1. The interaction of two or more agents or forces so that their combined effect is greater than the sum of their individual effects.
"2. Cooperative interaction among groups, especially among the acquired subsidiaries or merged parts of a corporation, that creates an enhanced combined effect."
The combination of ZENworks for Desktops, ZENworks OnDemand Services, and Novell Portal Services creates a solution whose combined value is far greater than the sum of the individual products. This solution is unique because you and your company's users have a single solution for managing and accessing applications across the fat-client, thin-client, and web architectures.
ZENworks Synergy also enables the three organizations that manage these architectures to interact with each other and to leverage a common infrastructure. We are not suggesting that the three teams will merge into one, but ZENworks Synergy will enable the teams to work together and to present a single, unified interface to all user communities.
Although the products included in ZENworks Synergy work in concert, knowing what each product does helps you understand how the complete solution works. The next few sections give a brief summary of ZENworks for Desktops, ZENworks OnDemand Services, and Novell Portal Services.
ZENworks for Desktops
The leading desktop management solution on the market today, ZENworks for Desktops (www.novell.com/products/zenworks/desktops) enables you to manage the life cycle of Windows workstations, thereby drastically reducing the cost of owning these workstations. (To see the industry awards that ZENworks for Desktops has received, visit www.novell.com/products/zenworks/awards.html.) For example, ZENworks for Desktops distributes applications to workstations so that you don't have to visit each workstation to install or update applications. In addition, ZENworks for Desktops allows you to manage workstations and deliver applications to users through policies.
International Data Corporation (IDC) has quantified the benefits customers have received from deploying ZENworks for Desktops as follows:
2039 percent return on investment over three years

Payback period of less than three months

47.3 percent less time supporting and managing desktops

Average savings over a three-year period have a net present value of U.S. $44,965 per 100 users
To read the complete report, visit www.novell.com/products/zenworks/idcwp.pdf.
ZENworks OnDemand Services
ZENworks OnDemand Services (www.novell.com/products/ondemand) is a flexible, web-based provisioning solution for enterprises and service providers. ZENworks OnDemand leverages and integrates thin-client servers with Novell eDirectory to deliver applications and other digital content to employees, partners, and customers.
Through a standard web browser, users can purchase, lease, or freely access any applications or content you choose to offer. Because ZENworks OnDemand closely tracks and monitors the digital content users consume, you can generate detailed and accurate reports for billing or other purposes. ZENworks OnDemand also enables you to implement a workflow approval process (which is called ApprovalFlow) to approve the use of the digital assets. ZENworks OnDemand contains many of the gadgets and integration code necessary to implement ZENworks Synergy. (For more information, see "Novell OnDemand Services Simplifies the Delivery of eProvisions," Novell Connection, Oct. 2001, pp. 27-37.)
Novell Portal Services
Novell Portal Services (www.novell.com/products/portal) delivers a simple, personalized view of all the data employees, partners, and customers need without overwhelming them with data they do not need. This data is delivered within the business context so these users immediately understand how the information relates to them and how it can be used most effectively. Users access these data through a standard browser. (For more information, see "Novell Portal Solutions: Give Users What They Want, Where They Want It," Novell Connection, Feb. 2002, pp. 19-31.)
Bringing the Components Together
As mentioned earlier, ZENworks Synergy is more than a bundle of three products. For example, the Novell development teams have worked together to build these products on common technology. ZENworks for Desktops and ZENworks OnDemand Services are built on the same eDirectory schema, objects, and ConsoleOne snap-in modules. ZENworks OnDemand and Novell Portal Services have the same presentation layer, or user interface.
ZENworks Synergy also includes additional integration components--the ZENworks Synergy gadgets and the ZENworks Synergy support components. The ZENworks Synergy gadgets are a set of portal gadgets that expose ZENworks for Desktops and ZENworks OnDemand functionality in Novell Portal Services.
Gadgets are integrated with the portal and retrieve personalized data at regular intervals. (Other vendors use terms such as web parts, portlets, and channel to describe this functionality.) The data is retrieved in eXtensible Markup Language (XML) or HTML format. When the retrieved data is changed, the user interface is dynamically updated to reflect the changes.
This functionality is the main difference between a portal and an intranet: Portals expose dynamic and personalized content based on who the user is. Intranets, on the other hand, display the same content for all users.
Gadgets are designed with specific tasks in mind. For example, suppose you wanted to create a portal that displayed the following data: a personalized stock ticker, the temperature, a personalized set of corporate applications, and corporate news. To create this portal, you would integrate four gadgets into the portal--one gadget for each task. Each gadget would read the XML or HTML data at a specified interval and refresh itself, always displaying the most updated data.
The following ZENworks Synergy gadgets expose ZENworks for Desktops and ZENworks OnDemand capabilities:
Workflow. This gadget enables users to request access to digital assets. The requests are sent to the appropriate budget holders for approval.

Reporting. This gadget enables users, managers, or network administrators to view a report that lists the digital assets they consumed in a specific period of time. The report shows when the initial access was granted and the corresponding costs.

Applications. This gadget displays the personalized set of fat-client, thin-client, and web applications the authenticated user is authorized to access. These applications are delivered by ZENworks for Desktops and ZENworks OnDemand.
ZENworks Synergy support components are a set of gadgets and resources that Novell customers commonly request. These support components are integrated into the three products:
Portal Images and Resources. This design kit includes a set of predefined wizards, icons, and themes, enabling you to quickly design a custom portal.

Novell iPrint Resources. This gadget includes code, instructions, and style sheets for implementing Novell iPrint in the portal. (Novell iPrint enables users to print documents over the Internet. For more information, visit www.novell.com/products/netware/printing.)
The support components enable you to quickly create a functional portal that is customized for your company's users. Novell also provides both an Install and Configuration Guide and a Deployment Guide. The Deployment Guide provides a high-level overview of the installation and configuration process and highlights other products that can be used with ZENworks Synergy.
A Simple, Consistent Working Environment
By integrating ZENworks for Desktops, ZENworks OnDemand Services, and Novell Portal Services, ZENworks Synergy can deliver users a simple, consistent interface, independent of their access device. Because the components that make up the ZENworks Synergy solution are based on Internet standards such as HTTP, XML, and Lightweight Directory Access Protocol (LDAP), users can also have the same working environment independent of location.
Because ZENworks Synergy is flexible, you can chose the delivery interface. Figure 2 shows the Windows desktop as the interface. This particular user has access to Adobe Acrobat, Novell eGuide, WinZIP, and Microsoft Word. Acrobat and WinZIP are fat-client applications that are actually installed on the desktop, Word is a thin-client application that is launched from a thin-client server, and Novell eGuide is a web application.
Figure 2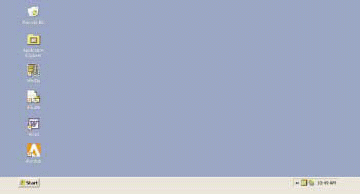 However, the user does not know that these applications are delivered through different architectures. The user simply clicks each application icon, and ZENworks Synergy does the rest.
Figure 3, on the other hand, shows the web-browser interface. This user has access to multiple applications such as Word, PowerPoint, Excel, and Novell eGuide. Again, these applications are a combination of fat-client, thin-client, and web applications. The user simply clicks an icon, and ZENworks Synergy launches the application (independent of the architecture used to deliver to the application). The bottom line is you have a common set of policies to deliver services across fat-client, thin-client, and web architectures, and you can choose the best interface for users.
Figure 3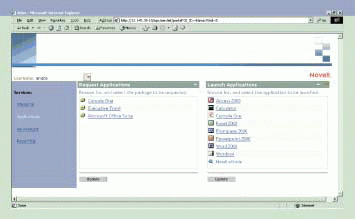 Because ZENworks Synergy is based on Novell eDirectory, it is policy-driven. As a result, you can build business logic and intelligence into the infrastructure. This intelligence then dynamically adjusts to the user's needs and environment without any manual intervention.
For example, ZENworks Synergy can make decisions on how to deliver any given application based on criteria such as the characteristics of the workstation the user is using (such as RAM, disk space, and processor). You can also configure ZENworks Synergy to launch the application in a thin-client mode if it detects that the user is accessing services from a PC that is not owned by your company. You can also configure ZENworks Synergy to launch applications from a thin-client server if it detects that the user has less than 128 kbps for bandwidth.
Track the Resources in Use
The ZENworks OnDemand component of ZENworks Synergy contains a sophisticated tracking service, called DirCommerce, which tracks the resources in use. DirCommerce is a 100-percent Java engine, which runs on NetWare 6 or Windows 2000 servers. DirCommerce has two components: a usage server and a maintenance server.
The usage server monitors and controls access to digital assets that are managed by ZENworks OnDemand. (These digital assets include any digital content or service, such as applications, data files, audio files, video files, and disk space.) When a user requests access to a digital asset, the usage server creates a Purchase object in the directory. This Purchase object represents the transaction and records the user, date, time, cost, and the digital asset being accessed. You can assign costs to digital assets in a variety of ways:
Unlimited. A one-time charge is assigned, and the user has unlimited use.

Monthly. A monthly charge is assigned, and the user has unlimited use.

One-time Use. A charge is applied, and the user is authorized to access the digital asset one time.

By-the-Minute. A per-minute charge is assigned to the asset. Access to the service is denied or terminated after the period ends.
For usage tracking through ZENworks OnDemand, users must access the digital asset through the web browser, with one exception: Applications delivered through the combination of ZENworks for Desktops and ZENworks OnDemand can be accessed from the desktop.
When a user authenticates to eDirectory, Novell Portal Services (with the associated gadgets) builds the user a personalized page. The ZENworks OnDemand gadget identifies the ZENworks OnDemand E-Commerce Package objects in eDirectory that the user has read rights to and displays the corresponding icons.
When a user clicks an icon, the usage server checks to see if the user has been granted access to the digital asset. If the user has previously accessed the asset, the usage server validates that access is still valid by checking the Purchase object in eDirectory. If the user has never accessed the service or if access is no longer valid (has expired), the user is notified of the new charge and prompted to approve it.
You can customize the approval dialog box that is displayed for users. You can also skip the approval dialog box.
After users approve the new charge, the Purchase object is created in eDirectory. You can then run reports against eDirectory to identify the number of times that services have been accessed.
You can also run reports to identify all of the services a particular user has accessed in a given time period and the associated costs. You can then have this information sent to the user, the manager, or anyone else.
Armed with the information and reports generated from the ZENworks OnDemand usage server, you can accurately bill customers or internal departments. These reports can also give an accurate accounting of software usage so you can ensure license compliance.
Incidentally, you can synchronize the data stored in the Purchase objects with data in other systems such as an Oracle database. To synchronize data, you use Novell DirXML, a bidirectional synchronization solution. For example, most organizations use databases such as an Oracle database for internal and external billing. DirXML can synchronize the purchase data from eDirectory into the Oracle, enabling organizations to use their existing billing solutions.
ApprovalFlow
The ApprovalFlow capabilities provided by ZENworks OnDemand enable users to request access to digital assets and have the appropriate party approve this access. Approval may be required for reasons of costs or confidentiality.
ApprovalFlow leverages the eDirectory Role container object. You use this object to identify managers and a list of the individuals for whom these managers have approval responsibilities. When a user requests access to a digital asset that requires approval, ZENworks OnDemand reads the Role object to identify the individual with approval authority and creates an approval request. Approval is granted or denied via a secure, personalized web page.
When a request is pending, you can configure ApprovalFlow to notify the individual with approval authority via e-mail. ApprovalFlow reads the e-mail address from the eDirectory Role object and generates an e-mail message, which is sent via MAPI interfaces. The budget holder is then able to access a secure web page to approve or deny access. (See Figure 4.)
Figure 4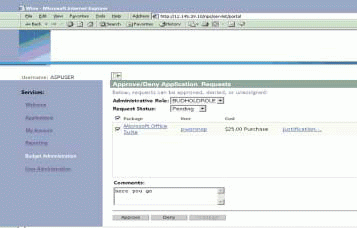 You can also configure ApprovalFlow to send the request to a backup approver if the request is not approved or denied within a specified period of time. Users can see the status of the approval process from their own personalized page. After approval is granted, ZENworks OnDemand grants the user rights to the digital asset, and the user has access privileges.
Using ApprovalFlow has many benefits. For example, your IT organization does not have to burn cycles getting approval and then granting access to digital assets. Your IT organization no longer has to verify that an individual is cleared to access an asset--either due to security or budget reasons. Finally, budget holders now have a simple solution for managing spending in their organizations.
INTEGRATING OTHER PRODUCTS
You may want to use other Novell products and solutions in conjunction with ZENworks Synergy. For example, the following products provide specific capabilities that augment ZENworks Synergy:
Novell i-Chain. Novell i-Chain provides an easy-to-use security solution for controlling access to web pages from the Internet. i-Chain also offers single-sign-on to web-enabled applications.

i-Chain provides forward authentication to protected web and application servers as well as acceleration of applications and content. This forward authentication passes on the initial authentication information and credential to other web servers and applications, thus allowing the user to log in one single time.

Novell DirXML. Novell DirXML allows you to synchronize information from dissimilar systems. DirXML is a vital component in synchronizing billing and reporting systems with the usage information generated by ZENworks OnDemand.

ZENworks for Servers. ZENworks for Servers enables you to manage the configuration, monitor the health, and deploy software updates to networked servers. ZENworks for Servers 2.0 supports NetWare, Windows NT, and Windows 2000. ZENworks for Server 3.0 supports NetWare, Windows NT, Windows 2000, Windows XP, Linux, and Solaris. (See the related story.)

Novell iFolder. Novell iFolder provides access to personal data anytime and from any location. iFolder synchronizes personal data from a desktop or laptop to a centralized server, which can then be replicated to other devices. iFolder also allows users to access this personal data from any location, using nothing more than a web browser. Integrating iFolder with ZENworks Synergy gives users a single view of personalized applications, data, and services and constant access to their personal data.

Novell iPrint. One of the biggest challenges all IT organizations face is enabling users--especially roaming users--to print. Novell iPrint has an easy-to-use interface that allows users to select a printer by looking at a map of their current working environment (such as a campus, building, or floor). After the printer is selected, iPrint automatically installs the appropriate printer driver, and the user can print. Because iPrint is built on the Internet standard Internet Print Protocol (IPP), these printing services are provided across the Internet, without requiring a VPN.

Novell eGuide. Novell eGuide is a web application that enables users to search for names, addresses, fax numbers, and e-mail addresses from multiple data sources. eGuide can read information from multiple LDAP sources and coalesce the data into one view. eGuide also provides full search capabilities.
CONCLUSION
ZENworks Synergy focuses on simplifying the management and access of digital assets in a complex and heterogeneous world--a world where information overload is the norm. ZENworks Synergy enables you to leverage a single management tool to intelligently deliver applications across fat-client, thin-client, and web architectures. Everything your company's employees, partners, and customers need to access is made available in one place and is personalized to their unique role, location, and preferences. ZENworks Synergy identifies each user and the user's working environment (such as device, bandwidth, and location) and intelligently delivers a consistent workplace customized to the user and optimized for the working environment.
ZENworks Synergy enables your IT organization to significantly reduce costs without compromising service. ZENworks Synergy eliminates redundancies between content and application management groups--streamlining management and access to digital assets.
ZENworks Synergy will be available early spring 2002 and will have a suggested retail price of U.S. $159 per user, which is a 20 percent discount off the price of purchasing the products individually. Novell is also offering upgrade paths for customers who already own one of the ZENworks Synergy components.
In addition, Novell plans to release the next version of ZENworks Synergy in the summer. This next release of ZENworks Synergy will incorporate all of the new features available in the next release of ZENworks for Desktops.
Brad Anderson is the business unit manager for the ZENworks product line. Anderson was the first product manager for ZENworks for Desktops and has worked for Novell for more than 10 years.
* Originally published in Novell Connection Magazine
---
Disclaimer
The origin of this information may be internal or external to Novell. While Novell makes all reasonable efforts to verify this information, Novell does not make explicit or implied claims to its validity.