E-Commerce: Turning the World into a Virtual Nation of Businesses
Articles and Tips:
Cheryl Walton
01 Mar 1999
Like the baby New Year, electronic commerce(e-commerce) seems to have been born in a top hat. E-commerce is the practice of conducting business over the Internet, and although this practice is only a few years old, both the U.S. government and the private sector are hailing e-commerce as the economic promise of the future. "Information technology has opened up new opportunities for global commerce," declares an April 1998 U.S. Department of Commerce report titled "The Emerging Digital Economy." This same report goes on to predict that e-commerce may account for more than U.S. $300 billion annually by 2002. (To read the Department of Commerce report, visit http://www.ecommerce.gov and click "The Emerging Digital Economy.")
The private sector agrees with the U.S. government's prediction that e-commerce will have a bright future. For example, eMarketer, an Internet technology (IT) research and reporting firm, estimates that the dollar figure for e-commerce will rise from approximately U.S. $18 billion in 1998 to U.S. $294 billion in 2002. (For information about how to obtain eMarketer reports, visit http://emarketer.com/eservices/welcome.html.) According to Frank Gens, senior vice president of Internet Research at International Data Corp., e-commerce will generate as much as U.S. $900 billion in sales between 1999 and 2002. (See "IDC Predictions '99: The 'Real' Internet Emerges." To read this report, visit http://www.idc.com and click Executive Insights.)
Given the optimistic forecast for the future of e-commerce, an increasing number of existing companies and entrepreneurs are putting their businesses online. In an October 12, 1998 report, Zona Research, an Internet research and reporting firm, predicts that 57 percent of the companies now doing business in the United States and abroad will have e-commerce systems online by the end of 1999. (You can read the Zona Research report by visiting http://www.zonaresearch.com. Click Press; then select Zona News Releases.)
Because the Internet is embryonic compared to traditional methods of doing business, the legal environment in which e-commerce will ultimately operate is relatively undefined. For example, the U.S. government's 1998 antitrust suit against Microsoft Corp. gave rise to legal discussions about whether or not e-mail messages were admissible as evidence in U.S. courts. (The courts decided to admit e-mail messages as evidence.) Since many online businesses send customer receipts for purchases via e-mail, the result of these discussions could have greatly impacted the method of transferring information from companies to their customers.
Before you make plans to implement an e-commerce system for your company, you should answer the following questions:
What kinds of online businesses are succeeding today, and what factors help ensure the success of these companies?

How might future government regulations affect your company's ability to do business over the Internet?

How do you go about setting up shop on the Internet, and how much does it cost?
THE WWW.NATION OF SHOPKEEPERS
If there had been a World-Wide Web in Napoleon's day, Napoleon might have declared the Internet a cyber "nation of shopkeepers." For example, if you click on "shopping" in Netscape's portal, more than 20 categories of goods and services appear for you to choose from. The "shops" listed under these categories represent some of the most widely known merchants, but constitute a mere fraction of the web sites that offer online goods and services. In fact, just as popular merchants such as Gap and Godiva pay top dollar for premium space in real upscale malls, these same merchants are often in the virtual high-rent district, which is found under "shopping" on your web browser's portal.
The larger number of physical shops in lower-rent strip malls and still lower-rent street stalls also have their Internet counterparts. "The Emerging Digital Economy" reports that "the sheer number of stores that can be 'visited' online far exceeds even the most densely populated retail areas in the country." ("The Emerging Digital Economy," Chapter 6.)
Despite the large numbers of online businesses, these merchants represent only a fraction of the number of online businesses possible. As the potential number of customers grows, more merchants are putting their goods and services online. According to one eMarketer report, every 1.67 seconds one new user--that is, one new potential customer--joins the legions of Internet users. In other words, potential customers are swelling the Internet at a rate of 52,000 new users per day.
As the number of online businesses and customers has grown, so has the range of goods and services you can buy and sell electronically: You can now purchase everything from hip-hop clothing for kids (http://www.platform.net) to computer training from Oxford University (http://www.conted.ox.ac.uk/courses/dlcert/details.html).
"The Emerging Digital Economy" lists the following as some of the most profitable online businesses:
Of course, not all companies doing business over the Internet are doing so to make a profit, at least not directly. In fact, "The Emerging Digital Economy" confirms that business-to-business e-commerce accounts for the bulk of business currently transacted over the Internet. ("The Emerging Digital Economy," Chapter 3.) Business-to-business e-commerce includes both online transactions and project collaboration between businesses. (For more information about e-commerce between businesses, see "E-Commerce: It's Not Just for Shopkeepers.")
WHY THE CUSTOMER SHOPS HERE
Nevertheless, business-to-consumer e-commerce for profit is on the rise. As the number of merchants selling products and services over the Internet grows, so does the number of companies that are designed to help other companies implement e-commerce systems. Advisor Media (http://www.advisor.com) and Alex Johnson Consulting (http://www.ajconsulting.com) are among the hundreds of consulting companies that provide Internet-based businesses with everything they need to establish an e-commerce system to fit their needs--from helping to design web sites to providing e-business courses.
These consulting companies help companies decide what they should do to ensure a successful online business. What determines the success or failure of an online business? Often success or failure is determined by the same factors that contribute to the success or failure of any other business:
Price

Selection

Advertising

Customer convenience

Customer satisfaction

The total cost of doing business
Although consumers who buy goods online are arguably more informed and affluent than consumers who don't shop online, these online customers basically want what all consumers want. (See "The Emerging Digital Economy, " Chapter 6.)
For example, according to private-sector studies and U.S. government research alike, cost savings and convenience are e-consumers' number one concern. In fact, according to both "The Emerging Digital Economy" and a joint study by two market research firms (Jupiter Communications and NFO Interactive), price is the most commonly reported reason that consumers either do or do not buy over the Internet. Thus, successful online businesses keep their prices low--at least as low as prices offered through any other channel of business.
As is the case with any sales endeavor, customer satisfaction is also important to an online company's success. Satisfied customers are more likely to return to a company's web site, and favorable word-of-mouth recommendations from these satisfied customers can entice other potential customers to visit that company's web site as well. In fact, according to "The World Wide Internet Opinion Survey" by @d:tech, an Internet marketing firm, and Talk City, which houses Internet chat rooms, as many as 32 percent of the Internet's potential customers visit commercial web sites based on word-of-mouth recommendations. Favorable recommendations can reduce a company's need to purchase expensive online advertising.
Just as is the case with companies in the physical world, successful companies in the virtual world must advertise. One way successful online companies introduce themselves to potential customers is by registering with popular search engines, such as Yahoo and Alta Vista. Like a virtual counterpart to your telephone company's Yellow Pages, search engines present customers with information about the online businesses that offer the goods and services they are seeking.
Another way many successful online businesses introduce themselves to potential customers is by offering reciprocal links to sites selling goods and services that complement the goods and services the companies are selling. For example, an online travel agency may arrange reciprocal links with an online car rental service.
Advertising techniques such as registering with search engines and offering reciprocal links are no-cost or low-cost ways that companies can connect with potential customers. Keeping costs low is the hallmark of successful online businesses. Because the cost of doing business is a factor in any company's success or failure, companies that already have a computerized infrastructure in place (such as IT companies, airlines, travel agencies, and financial institutions) can put their goods and services online more cheaply than companies that do not have an electronic infrastructure in place. For example, when online customers book their own flights and purchase airline tickets, these customers are using the same computerized reservation system that airline employees have been using for years.
SECURITY
While most of the factors that affect e-commerce have nearly identical counterparts in physical commerce, one factor is unique to Internet transactions: security. Although security isn't the primary reason customers and companies decline to transact business over the Internet, both the U.S. government and private-sector studies cite security as one of the most important reasons customers and companies do not make purchases online. Customers worry that personal information will be available to anyone with the electronic sophistication to intercept that information. Companies worry about the confidentiality of mission-critical information that travels across the Internet.
Savvy companies are going the extra mile to keep confidential customer information secure and to let potential customers know about these precautions. For example, Novell secures customer information by storing it in Novell Directory Services (NDS), which keeps the information in an encrypted form. In addition, Novell uses BorderManager's Virtual Private Network (VPN) to keep this information secure while it is in transit.
ENTER THE U.S. GOVERNMENT
The private sector isn't alone in its effort to make the Internet a more secure means by which people can conduct business. The U.S. government is also trying to allay concerns about the insecurities inherent in transmitting valuable and confidential information over the Internet.
For example, the U.S. government is endorsing treaties designed to protect intellectual property (such as copyrighted material, patents, and trademarks) that crosses international borders via the Internet. With the support of the United States and other countries, the World Intellectual Property Organization (WIPO) has approved two new treaties that address a few of the private sector's concerns about transmitting intellectual property over the Internet: the "Copyright Treaty" and the "Performances and Phonograms Treaty." As their names imply, these two treaties protect copyrighted materials, such as books and articles, as well as performances, such as movies and music.
In addition to protecting copyrighted material, the U.S. government is attempting to create a legal environment in which e-commerce can thrive worldwide. In "A Framework for Global Electronic Commerce," a presidential paper that was issued on July 1, 1997, the White House reaffirms the U.S. government's commitment to ensuring a "predictable, minimalist, consistent, and simple" legal environment for e-commerce. (You can view "A Framework for Global Electronic Commerce" at http://www.doc.gov/ecommerce.) This legal environment would protect intellectual property (including trademarks), security, and privacy, and would also restrict taxes and tariffs on business transacted over the Internet.
However, the U.S. government can do little to influence the rules and regulations that other governments impose on e-commerce. For example, "A Framework for Global Electronic Commerce" concedes that the flow of information over the Internet, including business transactions, is already being impeded by a European Union (EU) directive that "prohibits the transfer of citizens' personal data to countries that it has determined do not extend adequate privacy protection." It is unlikely that the EU directive will be annulled soon.
In addition, it would be surprising if countries such as China and Libya embraced technologies that guaranteed privacy and security to companies conducting e-commerce under these countries' jurisdictions. After all, no such guarantee exists for companies transacting any other type of business under their jurisdictions.
The way e-commerce develops globally will be largely beyond the U.S. government's control. However, the U.S. government is doing what it can to protect what it views as a fragile and embryonic forum for exchanging information and conducting business.
For example, President Bill Clinton signed the Internet Tax Freedom Act into law on October 21, 1998. The intention of this law is to prevent local and state governments from imposing taxes on e-commerce that these governments would not be allowed to impose on other kinds of business transactions, such as transactions conducted through the mail or via telephone. During the three years this law will be in effect (until October 21, 2001), the U.S. government is charged with finding ways to prevent state and local governments from levying multiple and discriminatory taxes on e-commerce.
The bill also requires the executive branch of the government to "demand" that international governments do not impose taxes and tariffs on e-commerce. Of course, such demands can have only a limited effect on the policies that govern e-commerce outside the United States. However, governmental support for free-market e-commerce within the United States should foster a sense of security and encourage the growth of Internet-enabled business in the United States.
TAKING IT TO THE E-COMMERCE SUPERHIGHWAY
Before you implement an e-commerce system for your company, whether that system is for conducting business-to-business or business-to-consumer transactions (or both), you should consider a few things. For example, you should ask yourself the following questions:
Will the e-commerce system you are considering meet the current and future needs of your company?

Does the e-commerce system you are considering integrate easily with your current network infrastructure?
Whether you should purchase a relatively simple, inexpensive e-commerce solution or a more sophisticated, expensive solution depends on the anticipated future needs of your company. For example, if your company currently manufactures a single electronic device that is sold to a small number of hobbyists, and if your company plans to maintain this business for the foreseeable future, you can safely implement a minimal e-commerce system. A minimal system may consist of inexpensive e-commerce software that runs on your Internet Service Provider's (ISP's) web server and a credit-card swipe modem for customer purchases.
On the other hand, if your company is planning to produce two additional products that are currently in the design stage, a minimal e-commerce system will not meet your company's future needs. For example, in five years your company may decide to add business-to-business capabilities, such as Electronic Data Interchange (EDI) transactions between your company and the company that supplies the raw materials for your company's products. In this scenario, you need to implement a more sophisticated e-commerce system, one that will probably require you to rebuild the database that your company's minimal e-commerce system accessed, among other things. Rebuilding databases and redesigning online stores are time-consuming and expensive propositions.
To put it simply, your company must find a solution that will be cost-effective now and in the long run. To find this solution, you should have a clear picture of the e-commerce system that will meet your company's needs, now and in the future.
Chris Staszak is the chief technical officer (CTO) of Evergreen Internet, Inc., and the designer of ECential, the e-commerce software application Novell has chosen for its e-commerce system. Staszak puts planning for the future at the top of his "should-do list" for companies that are planning to conduct business over the Internet. As far as e-commerce applications go, Staszak says, it is "easier to scale back than it is to build more on a small foundation."
For example, when Novell began looking for e-commerce software, the company began by looking for an application that would meet the company's current and future needs: Novell began by looking for a business-to-business and business-to-consumer e-commerce system that not only ran on NetWare 5 but also made use of NetWare features, such as NDS, as part of its e-commerce system. ECential met all of those needs. Novell's implementation of ECential not only accommodates business-to-business transactions with current fulfillment houses, suppliers, and channel partners but will also accommodate transactions based on future agreements with future partners.
As you plan an e-commerce system for your company, you should also consider what kind of network your company already has in place. In the interest of time and money, you will want to choose an e-commerce system that will work with your company's current network, including your company's network protocol, network servers, and database management applications. Adding an e-commerce system that will not work with your company's current network would be both difficult and costly.
TWO SOLUTIONS TO STARTING AN ONLINE BUSINESS
After you have determined what kind of capabilities your company's e-commerce system should have and how this system should interact with your company's current network, it's time to go shopping for an e-commerce solution. In general, you have two choices when selecting an e-commerce solution:
E-commerce hosting services

E-commerce software
Regardless of which option you choose, the size and complexity of your company will probably determine the amount of money needed to implement the right e-commerce system. Small companies can start an online business for as little as U.S. $50, whereas medium companies are likely to pay thousands of dollars for e-commerce systems that meet their needs. Large, complex companies typically need e-commerce systems that cost U.S. $100,000 or more.
E-Commerce Hosting Services
E-commerce hosting services are a relatively inexpensive, simple way for companies to start selling products and services online. If your company does not have its own web server or is lacking the resources to develop an e-commerce site, choosing an e-commerce hosting service may be a good option.
E-commerce hosting services, such as Yahoo Store (http://store.yahoo.com/vw) and iCat Commerce Online (http://www.icatcorp.com/products), can help you develop an e-commerce web site. The hosting service provider will then run your e-commerce system on its own web server. Using a web browser, such as Netscape Navigator or Internet Explorer, you can connect to an e-commerce hosting service and develop an e-commerce site in a few minutes simply by answering a few questions. Yahoo Store charges a minimum of U.S. $100 per month for the use of its site-building tools and for hosting the site you build, depending on the number of items your company is selling. iCat Commerce Online charges U.S. $50 per month for similar services.
Although Yahoo Store and iCat Commerce Online are two of the best-known hosting services, AT&T, IBM, MCI, and GTE also provide hosting services for large, complex companies. Many hosting services for large companies base monthly charges on the number of transactions those companies conduct. For example, AT&T charges U.S. $395 for basic service that includes the first 500 transactions.
E-Commerce Software
For companies that want to take advantage of their present network infrastructure, e-commerce software might be a better option. E-commerce software provides the tools you need to develop and run an e-commerce web site for your company. If you are building an e-commerce site for a large company, you should consider sophisticated e-commerce software such as Evergreen's ECential (http://www.cybermart.com/egsite/ECential.html) or Now! Internet Tools' CheckOut! (http://checkout.giaco.com). Both ECential and CheckOut! run on NetWare 5. Starting prices range between U.S. $399 (for CheckOut!) and U.S. $19,995 (for ECential).
Unlike ECential and CheckOut!, most e-commerce software does not currently support NetWare. However, as Staszak points out, the good news is that NetWare 5 is a very good platform on which to build custom e-commerce software. In fact, Staszak says, open standards-based features such as pure IP support, Java Virtual Machine (JVM), Oracle8 for NetWare, Netscape's FastTrack Server, Common Object Request Broker Architecture (CORBA), and NDS make NetWare 5 the "most enabled operating system on the market today" for building e-commerce software. (Oracle8 for NetWare is an Internet-enabled database and CORBA is an Internet protocol that allows distributed objects such as executable files to communicate with one another.) In other words, your NetWare 5 server simplifies the task of creating customized e-commerce software by supplying many of the pieces that are necessary to build such an application.
If you don't have the time or resources to develop an e-commerce web site on your own, you also have the option of getting help. E-commerce consulting firms, such as Proxicom, Inc., and many e-commerce software vendors, including Evergreen and Now! Internet Tools, will help you develop an e-commerce web site. To find more e-commerce consulting companies, you can launch a web search for "e-commerce consulting." Depending on the search engine you use, your search will probably produce about 400 companies to choose from.
TOOLS FOR DO-IT-YOURSELFERS
Although each software vendor offers a slightly different assortment of tools for building an online business, most vendors have the following tools in common:
Templates for creating web pages

A shopping cart

A method for accepting online payments

A method for providing secure transactions

Snap-in modules for business-to-business transactions

A system management tool
E-commerce software provides tools to help you create your company's storefront and the catalog that provides customers with descriptions and pictures of your company's products or services. The web pages that constitute the storefront and catalog are generally composed of executable files that are written in HTML or eXtensible Markup Language (XML). Many software vendors provide templates that enable you to create a storefront and a catalog without knowing either of these languages. However, if you want to customize your web pages, someone at your company will probably have to know HTML or XML.
In addition, your e-commerce software will provide you with a shopping cart. The shopping cart is generally a Java applet that allows your customers to order online.
This Java applet is usually linked to the catalog pages that contain pictures and descriptions of the items and services your company has for sale. You typically configure the shopping cart to display purchasing options that are relevant to the information contained on these catalog pages.
For example, if one of your company's catalog pages includes a particular sweater available in men's small, medium, and large sizes, you would configure the shopping cart to accept orders for that particular sweater in these sizes.
In addition to providing customers with a means of ordering from your company's e-store, the shopping cart provides customers with information about the total dollar amount of their purchase, including any taxes and shipping charges that might apply to the orders they make. Most shopping carts enable you to include product descriptions in multiple languages. Most shopping carts also enable you to configure prices, taxes, and shipping charges in multiple currencies, such as the U.S. dollar and the Euro. (The Euro is the currency European Union countries such as France and Germany use to conduct noncash monetary transactions, including e-commerce transactions.)
E-commerce software enables your company to accept online payments, either through a snap-in module that creates a direct link to a credit card authorization service or via a fax transmission or e-mail message that contains the customer's order and credit card information. If customer orders are forwarded to your company via e-mail or fax, you will need to configure your shopping cart to send the e-mail or fax to the e-mail address or the fax number you specify. (For a more detailed discussion of how to configure your e-commerce system, see "How to Build an E-Business.")
To alleviate customer and business concerns about security, most e-commerce software enables secure transactions through Secure Sockets Layer (SSL). SSL is an Internet security protocol that uses the Rivest Shamir Adleman (RSA) public/private key encryption method to secure information as it travels over the Internet. When a customer orders from your SSL-protected online store via a web browser, the e-commerce software notifies the customer's browser when the transaction is secure. In turn, the browser notifies the customer of the secure connection by displaying either an unbroken key or an unbroken padlock in the lower left- or right-hand corner of the status bar, depending on the customer's browser. (However, because these key and padlock icons are small and your customers may not know what they mean, you should design web pages that prominently display written information that tells your customers their transactions are secure.)
Sophisticated e-commerce software usually contains a snap-in module that allows your company to conduct business-to-business transactions via EDI. Among other things, your e-commerce system may use an EDI snap-in module to notify your company's fulfillment house of a customer's purchase. The fulfillment house also receives information that allows it to package the item and ship it to the customer.
Most e-commerce software also includes a tool that allows you to manage your company's e-commerce system, usually via a GUI. For example, a typical management tool would allow you to add items to your company's catalog or to change pricing information. (See Figure 1.)
Figure 1: The administrative tool provided with ECential's e-commerce software allows you to easily add, edit, and delete products from your company's online catalog.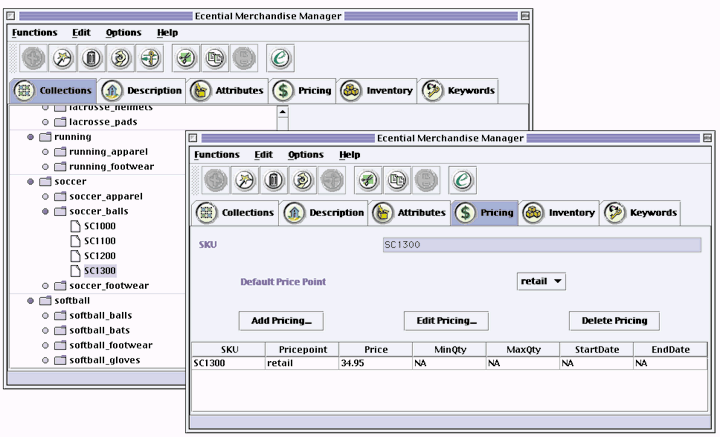 CONCLUSION
To some extent, the Internet has already revolutionized the way the world does business. Does this mean you should take your business online? The answer depends on your company's particular business. However, it is a fairly safe bet that even if business-to-business or business-to-consumer e-commerce won't improve your company now, putting at least one aspect of your business online in the future will be as practical, and as necessary, as having a telephone.
Cheryl Walton works for Niche Associates in Sandy, Utah.
How to Build an E-Business
What steps will you need to take to establish an e-commerce system? Your e-commerce software manual will outline the specific steps you will need to take to put your company online. The following discussion will give you a general idea of what setting up an e-commerce system will entail.
First, you will need to install a text editor on the computer you use to access the NetWare 5 server. You should install the text editor recommended by your e-commerce software manual. For example, you can install an HTML or eXtensible Markup Language (XML) text editor.
You should then follow your software manual's instructions to install the e-commerce software on the NetWare 5 server. The instructions in your software manual will also guide you through the steps you must take to configure the following components of your e-commerce system:
Shopping cart

Language and currency

Shipping costs

Storefront and catalog pages

Order checkout and confirmation pages

Data paths

Database
CONFIGURING A SHOPPING CART
To configure a shopping cart, you must specify parameters such as the shopping cart's dimensions and background image (if any). (A shopping cart is an applet that allows your customers to order online.) You will need to specify the data that you want the shopping cart to display for each item purchased. Among other things, this data might include item descriptions and options such as size and color.
CHOOSING LANGUAGES AND CURRENCIES
With most e-commerce software, you can choose from a list of languages in which the shopping cart text can be displayed. You will probably be able to accept more than one kind of currency. For example, you may be able to choose payment in U.S. dollars or the Euro. (The Euro is the currency that European Union countries such as Germany and France use for noncash transactions, such as e-commerce transactions.)
ESTABLISHING SHIPPING COSTS
You should be able to choose how you would like your e-commerce system to calculate shipping costs. For example, you may be able to choose one of the following options: calculate shipping costs based on the weight of the product, on the total price of the customer's purchase, or on the price of each individual item the customer purchased.
DESIGNING STOREFRONT AND CATALOG PAGES
Most e-commerce software includes instructions to build your online storefront and catalog pages. Your storefront should welcome people to your store, contain your company logo, have a professional appearance, and be organized so potential customers and business partners can easily navigate your company's site.
CREATING ORDER CHECKOUT AND CONFIRMATION PAGES
You will also need to configure the order checkout and confirmation pages for your company's e-commerce site. The checkout page is the page that a customer will see when he or she "checks out" of the shopping cart. This page should contain all of the items the customer has ordered, the quantities of the items ordered, the prices of the items, and the total price (including applicable taxes and shipping charges).
This page should also display a confirmation button, which the customer can click to confirm that he or she agrees with the order and wants to place it. Clicking to confirm the order will take the customer to the order confirmation page. In many cases, you can edit the order confirmation page to include statements such as "Please review your order carefully. You can remove an item from your order list by changing the quantity ordered to zero."
CONFIGURING DATA PATHS
Your e-commerce software will capture the order information from the shopping cart. You will need to configure the path or paths this captured information should take to enable the e-commerce system to fill the customer's order. For example, you may want some or all of the information contained in customer orders to be sent to the following places:
Your e-mail account so that you are notified of the order

The customer's e-mail account to notify the customer that your company has received the order

Your company's fulfillment house

Your inventory database so that the products just purchased can be subtracted from the total number of products in stock
BUILDING A DATABASE
You must also build the database that the shopping cart will access to obtain the information it displays to the customer. The format of this database will depend on the database server you are using. This database should contain all the information that applies to the products or services you sell. For example, the database may contain product numbers, sizes, colors, prices, descriptions, and shipping information.
Finally, you must follow your software manual's instructions for linking the database to the shopping cart and for linking the shopping cart to the catalog pages. Your software manual will also guide you through the process of uploading web pages to the NetWare 5 web server. This process is usually accomplished through FTP.
CONCLUSION
Of course, once your company's e-commerce system is up and running, you can't just let it run itself. Like any business, an online business requires constant attention. You must update your company's site to reflect changes in products and prices. You will also need to change configuration parameters when you add a new item or feature to the e-commerce site, such as implementing a direct order system to your suppliers. Even though your work may never be done, managing an online business is generally easier, less time consuming, and less costly than more traditional methods of conducting business.
* Originally published in Novell Connection Magazine
---
Disclaimer
The origin of this information may be internal or external to Novell. While Novell makes all reasonable efforts to verify this information, Novell does not make explicit or implied claims to its validity.