intraNetWare for SAA 3: Making the Mainframe Connection With intraNetWare for SAA 3
Articles and Tips:
James E. Gaskin
01 Sep 1998
Why did Novell release intraNetWare for SAA 3? Isn't the mainframe dead?
Although people have been predicting the death of the mainframe for years, the mainframe is not only surviving but thriving: Faced with extinction, the mainframe has mutated, becoming a data-mining mother lode, an electronic commerce hub, and sometimes even a World-Wide Web server. (Instead of dying, this old dog has learned some new tricks, as our illustration shows!)
In fact, more than three-quarters of all corporate data still reside on mainframes. According to IBM, 470 of the Fortune 500 companies use Customer Information Control System (CICS), the transaction-processing monitor software for mainframes that allows programmers to develop display screens without writing special functions for each type of terminal. Industry analysts do not dispute IBM's numbers or its control of the mainframe market.
Because the mainframe continues to thrive, more users today than ever before need to connect to the mainframe, enabling new users to access corporate data. Many companies are using Systems Network Architecture (SNA) gateways such as intraNetWare for SAA 3 to make this connection.
Companies are also using SNA gateways to connect users to an AS/400 server. International Data Corp. (IDC) Research estimates that 50 percent of SNA gateways sold are to companies that have AS/400 servers.
Furthermore, SNA gateway sales worldwide are increasing. For example, industry analysts estimate that 74,500 SNA gateways will be sold in the United States in 2000 and 82,800 SNA gateways will be sold in 2001. There are several reasons for this increase in SNA gateway sales:
Companies need an SNA gateway that supports web-to-host connectivity and TCP/IP. Because companies are using mainframe data to provide content on the Internet, web-to-host gateways are making a tremendous impact on the SNA gateway market. IDC says flatly that this product line "is the most significant product introduction in host access since PC emulators began to replace the fixed-function terminal. This product will expand the use of mainframe data within corporate intranets and to the consumer through the Internet."

Companies are replacing older SNA gateways that have limited functionality. Early SNA gateways are relatively simple devices: a semi-intelligent gateway platform replaced an IBM 3174 cluster controller or physical unit (PU). These SNA gateways provide a maximum of 32 sessions, the number allowed by the cluster controller. Many of these older SNA gateways are DOS-based and outdated. In addition, these gateways are not year-2000 ready and do not support TCP/IP.
SNA gateways should offer a number of capabilities: For example, SNA gateways should take advantage of today's servers, which support thousands of concurrent connections. SNA gateways should provide advanced management capabilities (something early gateways can't provide). SNA gateways should also be year-2000 ready and support TCP/IP. And finally, SNA gateways should be flexible because increased programming requirements for all levels of IBM's Systems Application Architecture (SAA) demand this flexibility.
More users need access to mainframe data. If users don't have mainframe access, they must rely on others--usually service organizations--to provide the mainframe data these users need to do their job. Companies can increase efficiency by giving these users direct access to mainframe data.

SNA gateways should support today's desktop operating systems, including Windows 95, Windows 98, and Windows NT. Although many reports place Windows 3.1 on half of corporate desktops today, the trend to upgrade these desktops is accelerating. These upgrades are fueled by lower-priced hardware and the lack of new software for Windows 3.1. In the mainframe world, companies are also upgrading workstations to take advantage of 32-bit emulators that support Novell Directory Services (NDS).
Novell's intraNetWare for SAA 3 offers a solution for all of these problems--and it's year-2000 ready. intraNetWare for SAA 3 runs on intraNetWare or NetWare 4.11 and connects network clients of all types to IBM mainframe and AS/400 hosts. In addition, intraNetWare for SAA 3 offers the following features:
Manageability through integration with (NDS) and enterprise management systems

Fault tolerance and load balancing between SNA gateways

Web-to-host connectivity

Support for additional clients

Support for a variety of network protocols

Optional e-mail gateways
CRITICAL MANAGEMENT CAPABILITIES
Are you surprised that half of all corporate PCs still run Windows 3.1? Although companies have several reasons for not upgrading their workstations, the most important reason may be the near impossibility of physically reaching, updating, and reconfiguring thousands of workstations. (Novell's Zero Effort Networks [Z.E.N.works] provides a way to update and reconfigure workstations--a topic for another article.)
If you cannot configure and manage a product--including an SNA gateway--from a remote location, your company probably cannot afford to install that product. The deal-killer is not the product's initial cost but the cost of managing the product and supporting users who access the product.
intraNetWare for SAA 3 is the only directory-enabled SNA gateway available today: Through NDS, intraNetWare for SAA 3 provides improved security, centralized management, and simplified management of gateway resources such as logical unit (LU) pool and host connections. As a result, upgrading to intraNetWare for SAA 3 is more cost-effective than maintaining your company's current SNA gateway, which is not directory enabled.
A combination of NDS and snap-in modules for Novell's NetWare Administrator (NWADMIN) utility allows you to manage intraNetWare for SAA 3 and control access to its resources:
Access Control. You can control users' access to the intraNetWare for SAA 3 gateway through NDS just as you control users' access to other network resources.

Centralized Management. You can use the familiar NWADMIN utility to manage the intraNetWare for SAA gateway. Because the SAA Configurator utility and the intraNetWare for SAA Service Manager "snap" into the NWADMIN utility, you can access these utilities through the Tools menu of the NWADMIN utility. The SAA Configurator utility allows you to configure the intraNetWare for SAA 3 gateway, and the SAA Service Manager allows you to manage the gateway. (You can also run both utilities standalone.)
You will especially appreciate the SAA Services Manager, which includes extensive management tools for monitoring and maintaining intraNetWare for SAA 3 gateways anywhere on the network. With SAA Services Manager, you can dynamically control services all the way down to the session level. For example, you can perform the following management tasks:
Load and unload NLMs.

Restart a remote NetWare for SAA 3 gateway.

Reload communication services.

Begin a trace on a session.

Reset a host session.

Get real-time information such as session status, network address, user ID, and LU pool status.

Collect trend data over configurable time settings for LU usage per PU profile, LU pool usage, concurrent licensed-user activity, link throughput, and even adapter errors. You can display statistics collected at defined intervals as graphs or print the statistics for later analysis.
Alerts from intraNetWare for SAA 3 gateways appear in the Event Monitor window of SAA Services Manager. These alerts include monitoring fault tolerance and performance of intraNetWare for SAA 3 gateways.
In addition, intraNetWare for SAA 3 offers the following advanced management features:
FAULT TOLERANCE AND LOAD BALANCING
intraNetWare for SAA 3 offers hot standby for mainframe environments, providing fault tolerance for mission-critical applications. You can designate an intraNetWare for SAA 3 gateway as a hot standby for other intraNetWare for SAA 3 gateways. If one of these gateways goes down or experiences a problem that prevents the gateway from responding to requests, the hot standby gateway immediately takes over, without your intervention. Users continue to work uninterrupted, unaware a problem has occurred.
intraNetWare for SAA 3 also offers load balancing for mainframe environments, allowing you to better utilize your company's resources. intraNetWare for SAA 3 can distribute host sessions across multiple gateways. Using an intelligent algorithm, intraNetWare for SAA calculates the number of sessions each server is handling and then creates a table of servers and their load factor. (The load factor defines the number of sessions a particular gateway is handling.) When a client requests a new session, the server that is least busy (with the lowest load factor) provides the session.
Although previous versions of intraNetWare for SAA offered hot standby and load-balancing, intraNetWare for SAA 3 uses Service Location Protocol (SLP) to provide these capabilities in a TCP/IP environment.
WEB-TO-HOST CONNECTIVITY
To many people today, the wordclientmeans web client. intraNetWare for SAA 3 allows you to connect your company's mainframe or AS/400 server to the Internet. After making this connection, you can use third-party software to publish data from the mainframe or AS/400 server to Internet users. One way to publish this data is intraNetWare HostPublisher, a server-based 3270-to-HTML converter. To use intraNetWare HostPublisher, you must have intraNetWare for SAA 3 and web server software running on an intraNetWare or NetWare 4.11 server.
intraNetWare HostPublisher makes it relatively easy to grant web clients access to mainframe applications, without converting the mainframe to TCP/IP. intraNetWare HostPublisher allows you to customize user profiles to control session resources such as the session pool, public sessions, dedicated sessions, or all sessions. Other options allow you to control display details and launch specific mainframe applications. (See Figure 1 and Figure 2.)
Figure 1: The standard screen for intraNetWare HostPublisher.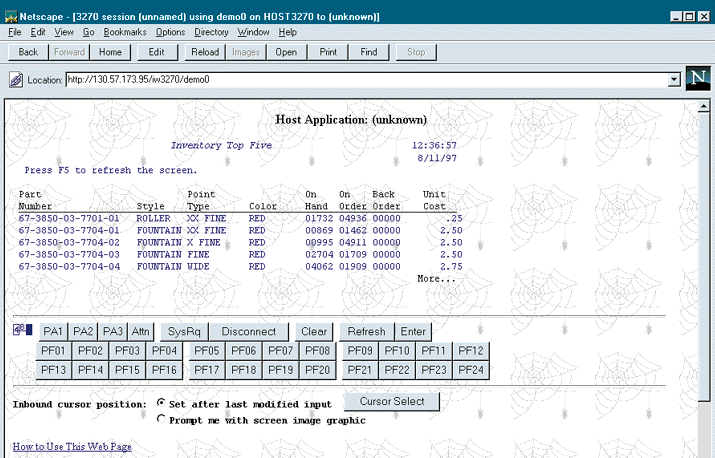 Figure 2: A customized screen for intraNetWare HostPublisher.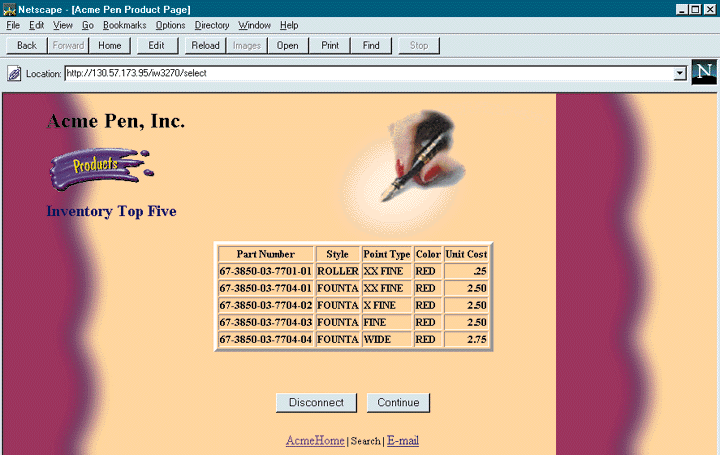 For most SNA gateways, security for web clients is a mediocre username/password sequence requiring a separate database on the host. However, because intraNetWare for SAA 3 and intraNetWare HostPublisher are integrated with NDS, they provide three levels of security:
First, users log in and are authenticated to the NDS tree. If users have the necessary rights, they can then access intraNetWare HostPublisher, which is running on the intraNetWare for SAA 3 gateway. (See Figure 3.)
Figure 3: You must supply your NDS username and password to access host applications through intraNetWare HostPublisher.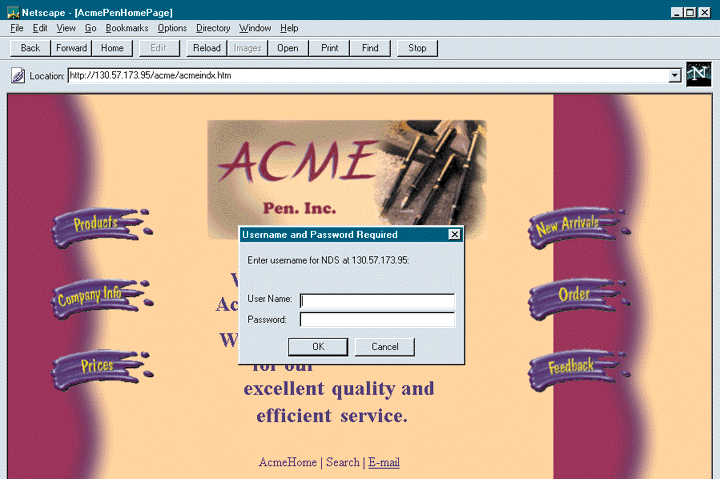 Second, once users establish a session, NDS uses Secure Socket Layer (SSL) 3 to encrypt data packets as they are transmitted over the Internet, preventing hackers from eavesdropping on the wire.
Third, intraNetWare HostPublisher ensures session integrity: If a user temporarily loses his or her link, intraNetWare HostPublisher ensures that this user receives the same session once the link is reestablished. intraNetWare HostPublisher also ensures that a user cannot take over another user's session.
Remote users, particularly users who travel, will find the combination of intraNetWare for SAA 3 and intraNetWare HostPublisher invaluable. Hotel rooms never have an SNA network connection, but they all have telephone lines. Using a web browser, remote users can now easily connect to a mainframe over the Internet.
Existing NetWare clients can take advantage of intraNetWare HostPublisher without waiting to convert to TCP/IP. An IPX/IP gateway, which is included with intraNetWare or is available from third-party companies such as FTP Software, provides a relatively simple means of granting IPX/SPX clients access to TCP/IP applications, such as web browsers, in a controlled and secure manner.
In addition, web application developers receive SAPI (Novell-designed low-level API) and High-Level Language API (HLLAPI) support. JavaScript is embedded inside HTML templates, paving the way to customized front-end displays for host applications. "Screen-scraping" applications, which pull data from particular fields on the host application and display these fields in different positions on the client, are supported in C, C++, and NetBasic.
intraNetWare HostPublisher is available in additive licenses, and each intraNetWare HostPublisher connection uses one intraNetWare for SAA 3 connection. For example, if your company had 270 mainframe users and 125 users who needed to access intraNetWare HostPublisher, you would need a total of 395 intraNetWare for SAA 3 concurrent users.
IMPROVED CLIENT SUPPORT
To help you manage the growing number of desktop operating systems on your company's network, intraNetWare for SAA 3 supports the following:
DOS

Windows NT, Windows 98, Windows 95, and Windows 3.1

UNIX

OS/2

Macintosh
Supporting more clients doesn't mean much unless those clients can do something useful. intraNetWare for SAA 3 supports the following communications:
3270, TN3270, and TN3270E.

5250 and TN5250.

IBM's PC Support/400.

Client Access/400.

OS/2 Communications Manager.

Third-party emulators from companies such as Attachmate, CONNECTronix, Dr. Materna, Eicon Technology, IBM, Memorex Telex, Wall Data, NetSoft/ NetManage, Systems Strategies, Relay Technologies, Walker Richer Quinn (WRQ), and Zephyr Development. (WRQ and Zephyr have emulators that support SLP in a TCP/IP environment.)
In addition, intraNetWare for SAA 3 includes a software developer's kit (SDK), which contains reference materials and sample programs to help you develop applications that use the Logical Unit 6.2 (LU6.2) protocol for session establishment and use Lux and the NetView interfaces for better management. The SDK includes standard APIs that support Advanced Program to Program Communications (APPC) and Common Programming Interface-Communications (CPI-C). CPI-C uses APPC verbs as the foundation for a common programming interface across IBM platforms.
IMPROVED COMMUNICATIONS
Despite the rush to Internet standards, more communications options are available today. intraNetWare for SAA 3 supports the following protocols:
TCP/IP

Token-Ring

Ethernet

Frame relay

Fiber Distributed Data Interface (FDDI)

Synchronous Data Link Control (SDLC)

Qualified Logical Link Control over X.25 lines (QLLC/X.25)

Channel attachments
ENHANCED SNA SUPPORT
intraNetWare for SAA 3 offers advanced peer-to-peer networking (APPN) node-based SNA routing capabilities, which provide host connections and LU allocation for downstream devices. PU concentration makes a downstream PU device appear to the intraNetWare for SAA 3 gateway as a PU. However, the host sees this device as an LU, thanks to intraNetWare for SAA 3. PU concentration reduces the number of PUs supported on the host, decreasing SNA management overhead.
The APPN support also provides High-Performance Routing (HPR), class of service routing, and nondisruptive routing, improving performance and ensuring uptime.
E-MAIL EVERYWHERE
One of the critical features for the new generation of SNA gateways identified by IDC is e-mail compatibility. Connecting to legacy, mainframe systems such as IBM's PROFS provides an excellent upgrade incentive. After all, users have been complaining about PROFS for years, but you can't leave behind all the legacy data and control PROFS offers.
Using intraNetWare for SAA 3 as the connecting point, you can use Novell's GroupWise OfficeVision/VM Gateway 4.1 for OS/2 to provide messaging communication between GroupWise 5 and 4.1, IBM's OfficeVision, and PROFS. GroupWise 5 and 4.1 include NDS support, a critical component for e-mail integration. (For more information about the GroupWise gateway, visit http://www.novell.com/groupwise/gateways/vision.html.)
THE COMPETITION
Microsoft has lessened its rhetoric about replacing the mainframe, although the company may resurrect this story when Windows NT 5.0 gets closer to shipment. Moving its target a bit, Microsoft now aims to surround the mainframe with Windows NT servers. When comparing Windows NT SNA Server and intraNetWare for SAA 3, keep in mind the following:
intraNetWare for SAA 3 leverages the power of NDS, which provides centralized management, remote management, and security. You can use the NWADMIN utility to manage intraNetWare for SAA 3 in the same way you manage other network resources.

intraNetWare for SAA 3 provides real-time management capabilities.

Upgrading earlier versions of NetWare for SAA is easy.

intraNetWare for SAA 3 is integrated with NetView and other host management software systems.

intraNetWare for SAA 3 provides hot standby and load balancing in a TCP/IP environment.

intraNetWare for SAA 3 supports APPN and HPR, which provide high performance.
As you can see, NDS integration can simplify the management of your company's SNA gateway. With other SNA gateways, you must recreate and establish security profiles for all SNA gateway users. With intraNetWare for SAA 3, you can use NDS to quickly set up a new, secure SNA gateway.
Don't underestimate the time and savings NDS provides when coupled with intraNetWare for SAA 3. How many network administrators have the time to install a new product and create security profiles for all SNA gateway users? On the other hand, how many network administrators would it take to create a new Group object in NDS, add the access rights, and click once on each member of the group? Even in large companies, creating a new Group object for intraNetWare for SAA 3 can be measured in minutes to hours, rather than the days to weeks required by other SNA gateways.
CONCLUSION
intraNetWare for SAA 3 is the leading network client-to-host gateway available today. By leveraging the performance of the NetWare platform and the security of NDS, intraNetWare for SAA 3 offers a combination of speed, reliability, and control unmatched by other SNA gateways.
Until mainframes are dead (right after politicians become trustworthy and right before the sun runs out of energy), network clients will need SNA gateways. intraNetWare for SAA 3 connects network clients of all types to all IBM mainframe and AS/400 hosts.
For more information about intraNetWare for SAA 3, visit Novell's web site (http://www.novell.com/products/host.) You can also call 1-888-321-4272 in the United States and Canada and 1-801-228-4272 in other areas.
James E. Gaskin is a Dallas-area consultant and author specializing in networking technology. His latest NetWare book isintraNetWare BorderManagerfrom Sybex.
NetWare Connection,September 1998, pp. 24-30
---
Disclaimer
The origin of this information may be internal or external to Novell. While Novell makes all reasonable efforts to verify this information, Novell does not make explicit or implied claims to its validity.