Novell Provides Customers with Year 2000 Solutions
Articles and Tips: article
01 Apr 1999
Novell Directory Services (NDS) Provides the Fastest Way to Manage and Analyze Year 2000 Issues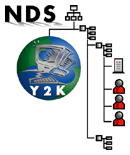 Novell has recently announced that it is prepared to provide its customers with a full line of Year 2000 solutions including more than 90 Y2K-ready products and Y2K updates and tools downloadable from Novell's Web site at http://www.novell.com/year2000. With the millennium just around the corner, organizations must identify problems that will arise in their networks due to the Year 2000 software issue. By providing many of these Y2K updates, Novell is extending the customer's investment in their mission critical networks. "Novell has gone to great lengths to ensure that our products are ready for the next millennium. As our customers continually analyze their Y2K problems, our products provide them with solutions and answers to these issues," said Eric Schmidt, chairman and CEO of Novell. "Novell will be taking more networks into the 21st century than any other company; being Year 2000 ready isn't a question, it's a given."
"By providing customers with Y2K products in a timely fashion, Novell is continuing to demonstrate a high level of commitment and leadership which its customers need to be able to maintain a competitive advantage in the fast-paced world of network computing," said Bob Sakakeeny of the Aberdeen Group.
"Check 2000 and Information Ferret are two products which can provide customers with a set of tools to efficiently and effectively make their businesses Y2K ready."
With NetWare and Novell Directory Services, customers can inventory their managed network environment and identify specific hardware and software components, then utilize this data to analyze their network environment and its Year 2000 exposures. Novell's directory-enabled products provide customers with a solution to quickly administer Year 2000 assessments from a single workstation. To address Y2K problems from the server and client level, Novell offers the Y2K Information Ferret tool and Greenwich Mean Time Check 2000 software. These two tools, along with Novell Y2K-ready products, give IS managers and CIOs the information needed to take their businesses into the next millennium.
The Year 2000 Information Ferret tool is a free Windows 95/98/NT client-based tool that queries servers for Novell products and identifies the Y2K status of Novell products. The resulting report provided by Novell includes the Year 2000 status of Novell products, as well as update and upgrade recommendations when Novell products are not Year 2000 ready. Novell intends to deliver more than 300,000 copies of the Year 2000 Information Ferret tool to customers worldwide this month. Customers have already downloaded more than 10,000 copies of the tool from Novell at http://www.novell.com/year2000/tools.html.
Check 2000 is a Windows product that checks PCs for Year 2000 risks. Z.E.N.works 1.1 ships with a 5-user version of Check 2000, and additional licenses can be purchased through Novell. It analyzes five levels of the Year 2000 problem: BIOS, OS, Applications, Data, and Data Exchange. Based on Novell Directory Services, Z.E.N.works provides software distribution, desktop maintenance, and desktop management to make using Windows-based PCs and thin clients easier for end-users while reducing costly maintenance and troubleshooting tasks for administrators.
Check 2000 with Z.E.N.works identifies and alerts network administrators to potential Year 2000-related issues at the desktop and assists them in repairing problems by pushing manufacturer's recommended solutions or other fixes to all network desktops and resources. The combination of these two products provide a powerful combination that will help businesses assess their networks for Year 2000 issues, deploy Year 2000-ready products and apply appropriate fixes to ease the transition into the next millennium.
* Originally published in Novell AppNotes
---
Disclaimer
The origin of this information may be internal or external to Novell. While Novell makes all reasonable efforts to verify this information, Novell does not make explicit or implied claims to its validity.