Editing Object Properties in ConsoleOne
Articles and Tips: article
Kevin Burnett
Senior Research Engineer
Novell AppNotes
01 Jul 2002
This month we continue our discussion of how to use Novell ConsoleOne. You have the capability of controlling an object's behavior by editing its properties. If you have any exposure to eDirectory, you know that the basic unit in eDirectory is the object. Objects can be of type user, printer, server, and so on. Each of these objects has properties that help define the object.
ConsoleOne displays property pages to allow easy editing of an object's properties. When using property pages, there are some general characteristics that are unique to editing multiple objects simultaneously. You can also customize property pages.
The table below describes the general characteristics of using ConsoleOne property pages.
Feature

Notes

OK, Cancel, Apply

These buttons affect all of the property pages. OK and Apply save all changes to all pages (Apply leaves the dialog box open), and Cancel discards all changes on all pages.

Tabs

Each tab can have multiple property pages. To select the page you want, click the drop-down list on the tab.

Folder Icon

Fields that have this control beside them can have multiple values. To see all of the values, click the control. To enter multiple values, type a value, press Enter, type another value, press Enter, and so on.

Disabled fields and options

Fields and options are disabled if:

You don't have rights to modify the associated properties

You need to modify some other setting first to enable the fields or options
Figure 1 shows an example of a ConsoleOne Properties page.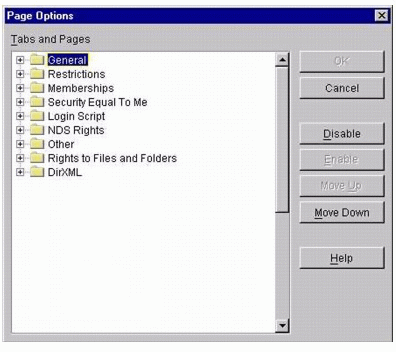 ConsoleOne Properties page
Unique Characteristics of Editing Objects Simultaneously
The following table describes the unique characteristics of using property pages to edit multiple objects simultaneously.
Feature

Notes

Fields and lists

No values are displayed in fields or lists because the existing values might be different for each object.

For a single-value field, any value you enter will replace the existing value in each object when you click OK or Apply.

For a multi-value field or list, any values you enter will be added to the existing values in each object when you click OK or Apply.

Check Boxes

Light-gray check boxes with a check in them are neutral. No changes will be made to these items in the existing objects when you click OK or Apply.

White check boxes and dark-gray check boxes are live. Their settings will replace the existing settings in each object when you click OK or Apply.

Missing items

Individual fields and options are missing if they apply only to specific object instances. For example, it isn't necessary to give multiple users the same last name, so the Last Name field is not displayed when editing multiple users.

Entire property pages are missing if they haven't been designed to allow editing of multiple objects. For example, the generic Other page isn't displayed when editing multiple objects.
Customizing Property Pages
For each type of object in ConsoleOne, you can customize the property pages by rearranging their order or hiding individual pages. Your customizations are saved and used the next time you start ConsoleOne on the same computer. To customize you property pages, do the following:
Open the properties of an object of the type that you want to customize. Click the Page Options button (see Figure 2).

ConsoleOne Object Page Options screen

Rearrange the property pages the way you want them to be. To move the tab or page to a different position, select it, then click the Move Up or Move Down button (see Figure 3).

Rearranging ConsoleOne Object Page Options

Note: You can't move a page to a different tab.

To hide or show a tab or page, select the tab or page, then click Disable or Enable. Disabled items will appear gray (see Figure 4).

Grayed-out items on ConsoleOne Object Page

Click OK to save the changes.
This month we have discussed how to work with property pages in ConsoleOne. Next month we'll continue our discussion of ConsoleOne.
* Originally published in Novell AppNotes
---
Disclaimer
The origin of this information may be internal or external to Novell. While Novell makes all reasonable efforts to verify this information, Novell does not make explicit or implied claims to its validity.