What's New in NetWare 6.5?
Articles and Tips: article
Ken Neff
Managing Editor
Novell, Inc.
kneff@novell.com
01 Aug 2003
This AppNote is adapted from the NetWare 6.5 Reviewer's Guide, the NetWare 6.5 documentation, and various other sources available on Novell's product Web site.
Novell has announced the release of NetWare 6.5, code-named "Nakoma," to give customers a reliable services platform for delivering secure, non-stop access to network and information resources. This AppNote provides an overview of the benefits and new features in this new version of NetWare.
| | |
| --- | --- |
| Topics | NetWare 6.5, NetWare upgrades, features overview |
| Products | NetWare 6.5 |
| Audience | network administrators, consultants, developers |
| Level | beginning |
| Prerequisite Skills | familiarity with the NetWare operating system |
| Operating System | NetWare 6.5 |
| Tools | none |
| Sample Code | no |
Introduction
In 2003, CIOs and those responsible for IT strategy, implementation, and maintenance have the same pressing concerns they have had for years: demands for more capability, maintaining security, staying technologically current, and simplifying administration-all while holding a lid on expenses. Today, organizations of all types and sizes face challenges in the areas of cross-platform network services, secure identity management, and Web-based application development and hosting.
Novell's release of NetWare 6.5 takes square aim at these issues and provides a reliable services platform for delivering secure, non-stop access to network and information resources. NetWare 6.5 builds on the success of NetWare 6.0 to deliver the power, security, and features required by today's most demanding consumers of Internet and network services.
The enhancements made to NetWare 6.5 enable businesses to stay current with the latest technologies, while still enjoying an unprecedented level of security and stability. Executives at customer organizations who take advantage of NetWare 6.5 will be putting powerful new tools in the hands of their IT departments, not to mention their end users. The net results will be an increased ability to reap the potential of Novell Nterprise solutions-managing the constant interaction of people with business systems, regardless of who they are, where they are, or what time of day it happens to be.
Those responsible for meeting tight IT budgets will be happy to know that the enhanced capabilities of NetWare 6.5 do not come at an increase in cost. In fact, administrators, users, and developers can do much more for much less because NetWare 6.5 enables them to take advantage of greater management capacity with less effort, greater user flexibility for access and mobility, and widely available and open source Web applications.
This AppNote provides an overview of the new services, utilities, applications, and development tools provided with NetWare 6.5.
NetWare 6.5 Feature Overview
NetWare 6.5 addresses four categories of concern to network services administrators, end users, and Web developers (see Figure 1):
Business continuity

Virtual Office

Web services

Open source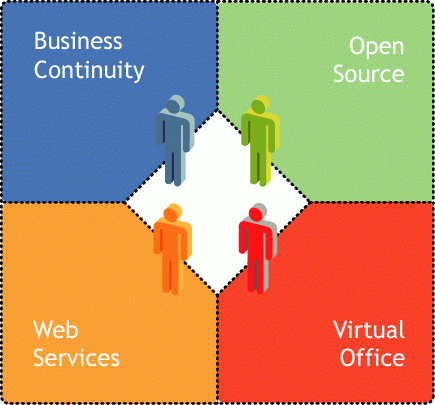 NetWare 6.5 addresses these four strategic areas.
All four of these areas have been thoroughly addressed in NetWare 6.5 with new features, applications, performance enhancements, and a lengthy list of tools and utilities. NetWare 6.5 delivers quantifiable value in each category.
Business Continuity Services
NetWare 6.5 provides the peace of mind associated with a robust services infrastructure that not only keeps customers' enterprises running securely, but also assures that the information that runs their businesses is never at risk. Today's organizations are dispersed across multiple geographic areas creating problems around user access, application integration, and information backup. This added complexity drains already scarce IT resources.
NetWare 6.5 supplies the technologies to solve these problems through intelligent consolidation strategies, which reduce complexities and deliver substantial IT cost savings. It offers tightly integrated capabilities for server consolidation, branch office support, backup, and availability. These are made possible by an advanced management system that lets you install, upgrade, and maintain systems from any place at any time using a Web browser.
NetWare 6.5 supports your business continuity needs by enabling you to:
Create a centralized, highly available storage area network that leverages lower-cost iSCSI standards over standard Ethernet or on standard fibre channel arrays.

Establish a disaster recovery system that ensures a complete geo-site failover, minimizing business risks.

Slash connection and management costs associated with running satellite offices while giving remote users the same performance and services that users at headquarters enjoy.

Protect critical information with centralized backup and restore.
Virtual Office Services
The Virtual Office services included in NetWare 6.5 provide a personal and team productivity environment that allows quick and easy access to file and print services, e-mail, instant messaging, and other team collaboration tools. These browser-accessible services drive end user productivity by giving users secure access to the right information and tools-whenever and wherever they need them. The enhanced collaboration capabilities of Novell Virtual Office offer users they tools they need for effective teamwork, and a simplified yet powerful work environment to help maximize their productivity. This is further enhanced with self-help features that eliminate help desk calls, wasted time, and administrative headaches.
Virtual Office includes the following productivity-enhancing services:
Novell iFolder gives users access to critical information from any location, with any Web-enabled device. Novell iFolder automatically backs up, synchronizes, and securely stores personal files to ensure information integrity and protection.

Novell iPrint gives users secure, global access to printers. Using a standard Web browser, users simply click the printer they want to install, and iPrint does the rest. Users can install printers from a customized list, or administrators can create custom maps to help users find the closest printers.

Novell eGuide lets users locate names, addresses, fax numbers, and e-mail addresses stored in Novell eDirectory or in other data sources across the Web. With the help of the DirXML Starter Pack that is included with NetWare 6.5, users can connect with different user groups and other employees to exchange ideas and information via secure directories and databases.

Virtual Teams lets users from any location create teams, organize projects, and share information through enhanced collaboration and real-time interaction. Employees can conduct meetings, connect with key team members, and keep business moving-regardless of their location.

Automatic file versioning lets users find and restore previous versions of their files without involving IT resources.
Web Application Services
NetWare 6.5 provides a comprehensive environment engineered for deploying and managing applications based on Java and Web services standards. Customers can move forward with their Web services strategy while taking full advantage of greater interoperability among applications, reduced development costs, and increased efficiency from the Web services model.
NetWare 6.5 ships with the Novell exteNd Application Server, which provides the power to unify your technology environment with Web services, and the freedom to create more effective business solutions for your customers, partners, and employees. With Novell exteNd, you can deliver open, standards-based Web services, while realizing a fast, simple, and cost-effective process for developing Web-based applications. And since you can run J2EE (Java 2 Enterprise Edition) applications on the NetWare 6.5 application platform, you'll not only save time and money, you'll leverage and protect your existing systems while allowing complete application portability.
With the Web services capabilities of NetWare 6.5, you can:
Run J2EE applications on the NetWare 6.5 platform and leverage your existing systems.

Take full advantage of the Web services model, including greater interoperability among applications, reduced development costs, and increased efficiency.

Add other components of the award-winning Novell exteNd application development suite (such as Novell exteNd Composer and Novell exteNd Director) to eliminate information boundaries and transform the information locked inside your closed, single-purpose applications into open, flexible Web services.
Open Source Services
NetWare 6.5 can host the best solutions available from the open source community. As a result, you'll realize the significant cost benefits associated with these solutions running on the industry's most scalable, reliable, secure platform. NetWare 6.5 protects the technology investments you have already made and gives you an easier, more consistent way to integrate your business systems and services. It provides the open, flexible foundation, based on open standards and technologies-such as SOAP, UDDI, Java, Perl, Apache, PHP, and MySQL-that can help you adapt more quickly to new business requirements and capitalize on the advantages of standards-based solutions, regardless of your schedule or budget.
An open source system is only as good as the platform it sits on. With Novell and NetWare 6.5, you can count on a reliable, supported environment that delivers to users the benefit of non-stop access. And you can take advantage of open source services without reducing system availability or increasing management costs.
NetWare 6.5 supports open source solutions in a variety of ways:
Open source services such as Apache, Tomcat, MySQL, Perl, and PHP are integrated with NetWare 6.5.

You can seamlessly manage open source projects through the NetWare 6.5 browser-based interface, making it easy to orchestrate processes across the entire organization and have them appear as a single, integrated business solution.
NetWare 6.5 Graphical Overview
Figure 2 is a graphical overview of the NetWare 6.5 environment, showing how you can use the features and capabilities of NetWare 6.5 to build an integrated, end-to-end solution.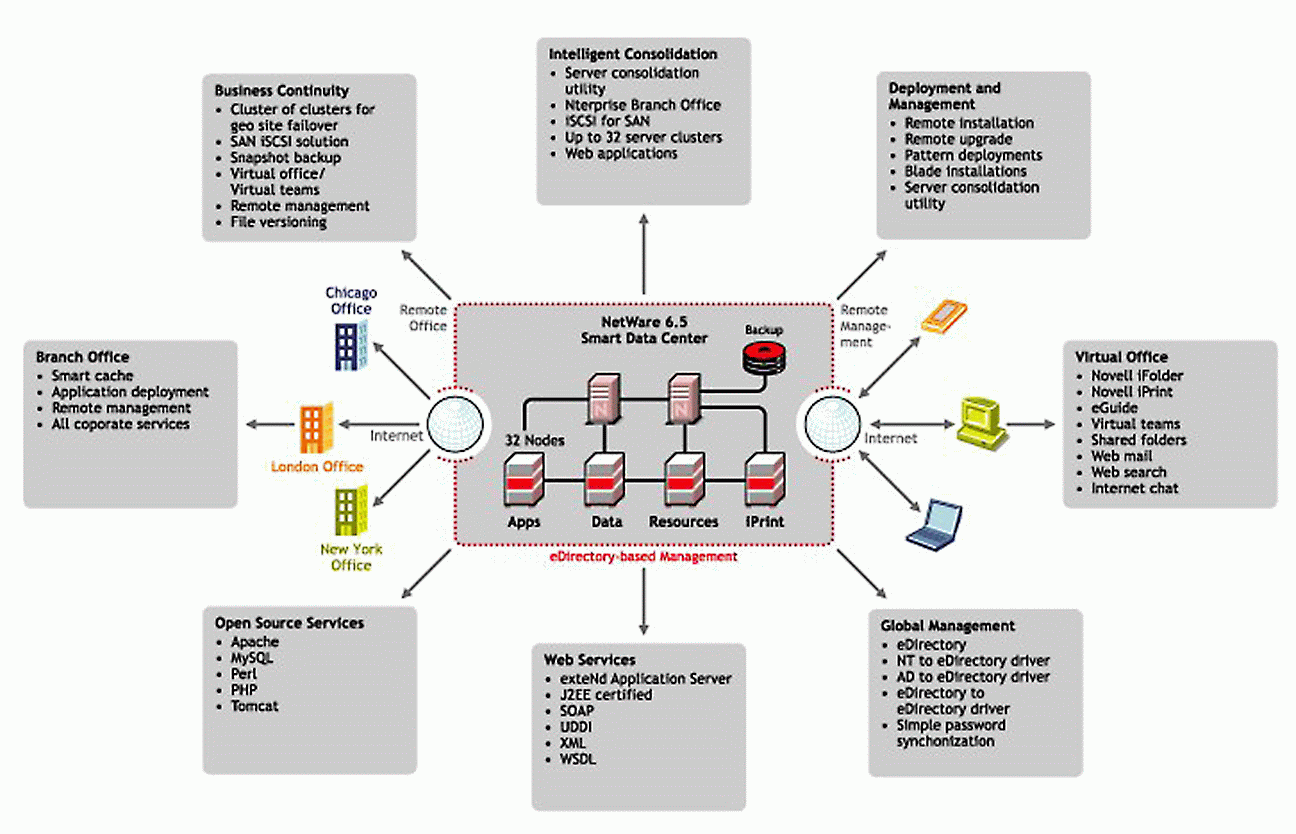 Figure 2: Graphical overview of the NetWare 6.5 environment.
The following sections go into greater detail on the new features and enhancements available in NetWare 6.5.
Business Continuity Features
In order to get their jobs done, almost every individual in today's organizations is dependent on the viability, security, and stability of network services. Information technology enables communication, productivity, and the flow of business for and between organizations of all types and sizes. It is therefore imperative that network services and net business solutions are secure, always available, and able to recover from any type of disaster.
New NetWare 6.5 services and utilities ensure business continuity across locations and organizations in the event of unplanned emergencies and disaster, while simplifying responsibilities of administrators and reducing IT costs.
Novell iManager 2.0
NetWare 6.5 includes iManager 2.0, a single browser-based management tool that enhances the productivity of the IT staff. iManager provides the ability to mangage Novell eDirectory and all of its associated resources and applications. In addition, iManager 2.0 provides administration capabilities for NSS, Product Metering, iPrint, iSCSI, DNS Server, FTP Server, and Nsure UDDI Server.
Server Consolidation Utility 2.5
With the increased capacity of NetWare and Novell Cluster Services, consolidating existing servers is often desired and feasible. The new Server Consolidation Utility included in NetWare 6.5 allows for easy consolidation of your server and printer infrastructure, thus simplifying administration and lowering costs without degrading performance.
The Novell Server Consolidation Utility 2.5 enables you to do the following:
Consolidate multiple servers within the same tree or between trees.

Copy from any volume type to any other volume type (NCS, NSS, or traditional).

Copy file system data from anywhere to anywhere within the same eDirectory tree and maintain all file system trustees, ownerships, and attributes.

Move printer agents from any print services manager to any other print services manager in the same tree.
The source server can be running NetWare 4.x, 5.x, or 6.x; the destination server can be either NetWare 5.1 or 6.x.
For more information, see "Novell Server Consolidation Utility, Migration Wizard, or Volume Split/Move: Which Should I Use?" in this issue of AppNotes.
Novell Cluster Services (NCS) 1.7
NetWare 6.5 includes Novell Cluster Services (NCS) 1.7, a reliable and cost-effective server clustering solution that provides you with virtually uninterrupted access to your critical storage resources. With support for up to 32 nodes per cluster, NCS allows you to create a storage area network (SAN) system connected via fibre channel hardware. NCS's automatic redundancy and failover help ensure that your critical systems are always available.
NCS 1.7 has been enhanced with Cluster Volume Broker (CVB) rebuild capabilities, a maintenance mode to pause the change of heartbeat information, refreshed IP information when a new node joins the cluster, cascade failover to detect and isolate bad resources, and script-based cluster management.
iSCSI SAN Support
iSCSI is an emerging standard for running SCSI block storage protocols over high-speed TCP/IP networks. NetWare 6.5's support for iSCSI provides the ability to create low-cost storage area networks (SANs) using standard Ethernet hardware. This provides signicant cost savings when compared to the costs required to create a SAN using third-party fibre channel hardware and RAID storage arrays.
iSCSI 1.0 for NetWare 6.5 allows you to build a SAN using the same hardware that is used in a traditional LAN. It consists of software that you add to your existing NetWare servers to create a SAN and a NetWare cluster. The iSCSI "initiator" software is installed and configured on servers in the SAN that will be used to access shared storage. Initiators can be cluster servers. They use the iSCSI protocol to communicate with an iSCSI storage server or "target" over a TCP/IP network. The "target" software is installed on a NetWare server and provides access to shared disks through the iSCSI protocol. It enables the server to function as a disk controller for the shared disk system. iSCSI is configured and managed through Novell Remote Manager.
DirXML Starter Pack
DirXML is a bidirectional data sharing service that leverages Novell eDirectory to distribute new and updated information across directories, databases, and critical applications on the network and across firewalls to partner systems. DirXML achieves uniform data integrity and automated efficiency by helping to eliminate the manual and repetitive tasks of creating and modifying user identities in different systems and applications within an enterprise. It makes automatic changes based on business rules and preserves authoritative data sources.
NetWare 6.5 includes the DirXML engine and DirXML drivers for Novell eDirectory, Microsoft Active Directory, and Windows NT Domains.
Backup and Storage Enhancements
The NetWare 6.5 Storage Management Services (SMS) have been enhanced to provide better performance, increased scalability with optimized hardware configurations, and more cost-effective management of storage resources across the network.
For example, business continuity functions are improved with NetWare 6.5's Snapshot Backup feature, which makes possible a continuous backup to a server over a network so that work is safer. Backups are no longer restricted to rigid backup windows, making backup schedules more flexible and encouraging a higher level of backup.
Nterprise Branch Office
For distributed enterprises looking to save time and money deploying and managing network services at remote sites, Nterprise Branch Office, included in NetWare 6.5, is the answer. Its secure replication of branch office information to the data center and automatic identity provisioning eliminates the need for a costly dedicated connections and simplifies management. This multifunction software appliance provides the following features:
Auto-provisioning. Nterprise Branch Office automatically grants users-whether they be onsite, mobile, or visiting-access to appropriate resources, on demand. If the user does not exist in the local directory, Nterprise Branch Office checks the corporate LDAP directory and caches the user's identity locally.

Network Attached Storage (NAS). Nterprise Branch Office appliance acts as a workgroup NAS appliance, allowing users to access and share files over any protocol.

Printing. Users can discover and install printers using a Web browser, and print to local printers using Nterprise Branch Office as a local print spool.

Centralized Backup. Because all data and services located on the Nterprise Branch Office appliance are also available at the central office, the local Nterprise Branch Office appliance is really just a disposable service cache, which allows for a high level of disaster tolerance.
Other benefits of Nterprise Branch Office include the ability to consolidate environments, build an employee portal, and allow users the freedom of secure communications and application access across the Internet without the high user cost associated with VPNs. You can replace your old WAN infrastructure with faster Internet connections, decreasing connectivity costs by as much as 50 percent while experiencing up to a ten-fold increase in bandwidth. You can also leverage Nterprise Branch Office with other Novell technologies such as Novell Cluster Services, ZENworks Synergy, and ZENworks for Desktops to create an full-featured Internet office.
Virtual Office Features
In general, users of network services are more mobile today, even if it's just the requirement to work at home once in a while. The ability to access network resources from any location-whether it be the main office, a remote or branch office, an Internet kiosk, the office of a customer or partner, at home or any station on the Internet-is critical.
NetWare 6.5 includes several services that enable the Virtual Office and provide secure file, application, and printer access from anywhere with a minimum of backend integration and management effort. In addition, it is easier than ever before to integrate communication and collaboration services and universal access to create a user-friendly, single-login Web experience though NetWare 6.5 Virtual Office. With NetWare 6.5, end-users are more connected, even if mobile, and can be much more productive.
Following are brief descriptions of the end-user productivity improvements in NetWare 6.5.
Virtual Office
NetWare 6.5 can be configured to create a complete "virtual office" for end-users that provides file and application access, printing, and team communication and collaboration from any point on the Internet. Virtual Office provides users consistent access, as well as self-help and self-service options in a portal environment (see Figure 3).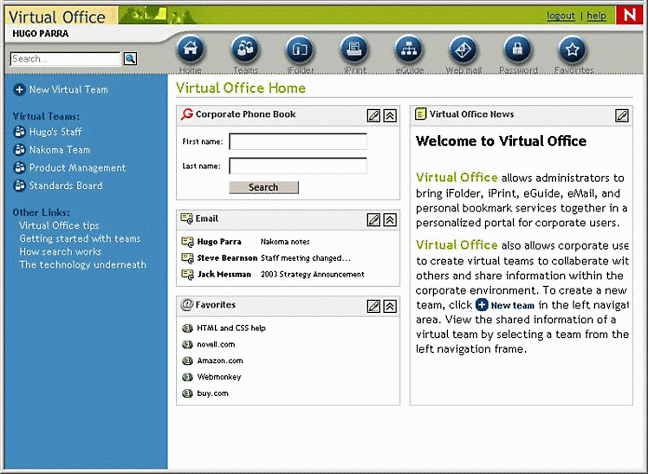 Figure 3: Virtual Office presents users with consolidated access to corporate resources.
Virtual Office components include:
Web-based e-mail access through a standard browser to Novell GroupWise, Microsoft Exchange, and Lotus Notes back-ends

Powerful Web document searching capability for personal and public files.

An organized "Favorites" collection of preferred locations/documents/data.

Password management capability to create and reset personal passwords.

Personal Web page creation gives Virtual Office users a powerful way to publish documents and other information to a wide audience through a system-generated Web page. All creation and posting of the Web page can be easily completed without IT intervention.

Single point of access and authentication to other Virtual Office components such as Novell iFolder, iPrint, and eGuide.

Virtual Teams group collaboration resources, which are described next.
Virtual Teams
Virtual Teams provides specific Web-based applications for group communication and collaboration. End users can create or join a virtual team where each member of the team has common access to team resources. Virtual Team components include:
Shared folders, which provide common file and directory access to any member of the team.

Internet chat (instant messaging), which allows users to engage in real-time, online dialog using a responsive and intuitive interface.

Team calendar, which gives team members the ability to track team events and activities.

Team discussions, which allows team members to participate in online threaded messaging by posting queries and comments and monitoring message board discussions.

Team favorites, which is a collection of addresses and resource locations pertinent to the team objective.

Team public Web page, which creates a system-generated Web page that provides a select view of team documents and information to be made available to individuals outside the team.
Novell iFolder 2.1
Novell iFolder provides data synchronization technology that enables users to access updated information for any device from any location. In effect, Novell iFolder provides a virtual, centralized file repository through the Internet. Each time a user device activates the Novell iFolder client, the files at both the client and server are checked for updates and any new changes are synchronized. Novell iFolder tracks all changes and keeps all subscribed clients and the server in sync with the latest modifications over standard HTTP Internet connections. Files from the virtual file server are securely updated at every client where a user connects. The reality is that files follow users online, offline, all the time.
Novell iFolder employs state-of-the art security to ensure that iFolder files can only be accessed by authorized parties. Login to iFolder requires a user ID and password which is enforced by eDirectory. Files are transmitted using encryption based on a pass phrase that only the user knows and has access to. Both login and transmission are securely protected.
New Novell iFolder features for NetWare 6.5 include:
Server pooling. Multiple Novell iFolder servers can be pooled from multiple locations to act as a single system.

PDA file access. Personal digital assistants can access files through a standard PDA browser.

Local iFolder directory specification. You can specify any directory on the local client (such as MyDocuments) as the Novell iFolder directory.

Billing and management reporting. Organizations desiring to charge for Novell iFolder services can now track and log Novell iFolder use for billing.

Apache 2 support. Novell iFolder is now supported on Apache 2.
Novell iPrint
Novell iPrint enables printing to any printer on the Internet. Using Internet Printing Protocol (IPP) and Novell Distributed Print Services (NDPS) technology, iPrint allows users to browse for available printers via an online map, automatically download and configure drivers, and print to the printer as if it were local.
New iPrint features in NetWare 6.5 include:
Printer Auditing. You can now track who printed, to what printer, and how many pages.

Local LPT port redirection. You can redirect a local printer port to an iPrint printer (similar to Capture functionality in NetWare's QMS-based printing).

Moving printer agents.  iPrint now provides the ability to move printers to different print managers.

User install. Power users can install iPrint printers on Windows workstations for Internet access.

Terminal server support. The iPrint client now supports a terminal server environment.

Enhanced SNMP support. Novell Remote Manager, iManager, and SNMP monitors can receive out-of-paper, toner low, busy, and other printer messages.
Novell eGuide 2.1.1
Novell eGuide was developed as an end-user tool to provide controlled and rapid access to information contained in eDirectory. Users are able to search for names, addresses, phone/fax numbers, e-mail, and any other information which may be stored in eDirectory or an LDAP-based repository.
New Novell eGuide capabilities in NetWare 6.5 allow:
Self-service. End users can manage their own personal directory information.

Organization Charts. Using the inherent eDirectory user/group/organization structure, end users can determine personnel reporting structures and even generate org charts.
Automatic File Versioning
NetWare 6.5's automatic file versioning feature protects data by allowing users to find and restore previous versions of files. Through a browser interface, users can access properties of the file, including restoring recent versions and managing rights to files and folders.
Web Application Development Features
Web-based access to network resources is a primary requirement for today's IT services. End users demand access from any Internet location, not just to Web sites and e-mail, but to files, applications, collaboration tools, and other network resources. Since many of these information resource requirements are unique to each organization, it is critical that development resources are available, based on open standards, and are cost feasible.
Web development technologies in NetWare 6.5 include Novell exteNd Application Server, which is a foundation for building and deploying cross-platform, high-performance, J2EE and Web service-based applications. The exteNd offering includes exteNd Workbench, a high-productivity J2EE and Web services development environment.
Novell exteNd Application Server
With SilverStream now part of Novell, the exteNd Application Server has been included with NetWare 6.5 at no additional cost. This comprehensive, integrated services environment simplifies and accelerates the creation and delivery of Net business solutions. exteNd Application Server 5.0 provides the most complete foundation for building and deploying cross-platform, high-performance, J2EE and Web service-based applications.
exteNd provides breakthrough technology for XML integration to legacy systems, business process management, and advanced, Web-based applications. Features include personalization, content management, user management, wireless device support, and core functionality for creating J2EE and Web Services applications. Besides a J2EE Client and support for HTML, HTTP/HTTPS, LDAP, and XML, exteNd Application Server compatibility support includes: Common Object Request Broker Architecture (CORBA) 2.3, Enterprise JavaBeans 2.0, Java Connector Architecture 1.0, JavaMail 1.1, Java Remote Method Invocation (RMI) 1.0 and Internet Inter-ORB Protocol (IIOP) 1.0, Java Message Service 1.0.2, Java Server Pages 1.2, Java Database Connectivity (JDBC) 2.0 + extensions, Java Transaction APIs 1.0, Servlet 2.3, Simple Network Management Protocol (SNMP), Simple Object Access Protocol (SOAP) 1.1, Secure Sockets Layer (SSL) 3.0, Transport Layer Security (TLS) 1.0, Universal Description, Discovery and Integration (UDDI) 1.0, and Web Services Definition Language (WSDL) 1.0.
exteNd Workbench
exteNd Application Server includes Novell exteNd Workbench, a high-productivity J2EE and Web services development environment, and industry-leading, high-performance CORBA, JMS, transaction management, and Web Services engines.
Beans for Novell Services
These provide developers with an easy-to-use suite of Java components for rapid and effective development of Web applications with Net services.
NetWare Web Search Server
Another Web-based tool included with NetWare 6.5 is the NetWare Web Search Server, which is a powerful full-text search engine you can use to add search capabilities to your Internet or intranet Web sites.
For more information on NetWare 6.5's Web features, see "Overview of Novell Web and Application Services in NetWare 6.5" in this issue of AppNotes.
Open Source Features
NetWare 6.5 includes all of the "open source" development resources that are necessary for organizations to quickly and easily develop and implement sophisticated Web-based solutions. Open source support delivers advantages on two fronts. First, existing open source applications, utilities, and modules can now run in a NetWare environment without modification. Thousands of these are available from sources such as http://www.sourceforge.net and http://www.hotscripts.com. Second, it opens the way for AMP-based solutions to be deployed on NetWare 6.5. (For examples of AMP solutions running on NetWare, see http://osnamp.com.)
According to TheOpenEnterprise, "Apache . . . is the most widely-used of all Web servers. PHP, meanwhile, is most often deployed as an Apache add-on. Developers have been writing server scripts in Perl since the Web's first days. And MySQL gained traction serving Web pages, leaving transaction-intensive jobs to commercial databases." These services, commonly referred to as AMP (Apache, MySQL, PHP/Perl), are now available on NetWare and provide organizations the ability to host Web-based applications-whether existing or self-developed-with a minimum of integration effort and expense.
In addition, the large, existing LAMP (Linux, Apache, MySQL, Perl/PHP) developer community and its body of work is now available for NetWare environments. There are over 23 million Apache Web servers running, seven million existing PHP scripts, and over four million MySQL licenses.
Apache Web Server
NetWare 6.5 includes Apache Web Server version 2.0.45. This version of Apache on NetWare has been optimized for better performance and has improved Web-based administration. For more information, see "Apache Manager: A Directory-Based Approach to Managing Apache Web Servers" in this issue of AppNote.
Tomcat Application Server
Tomcat is an application server developed by the Apache Group that accommodates Java Servlets and JavaServer Pages (JSP). Tomcat version 4.0.18 is included with and runs on NetWare 6.5. It is installed automatically for NetWare Web applications and is available for use by developers.
MySQL
Also included with NetWare 6.5 is the MySQL Database Server v4.0.12. Considered by many to be the world's most popular open source database, MySQL is fast and easy to customize. Extensive reuse of code within the software and a minimalistic approach to producing functionally-rich features has resulted in a database management system unmatched in speed, compactness, stability, and ease of deployment. MySQL's unique architecture with separation of the core server from the storage engine makes it possible to run with strict transaction control or with ultra-fast transactionless disk access.
Perl
NetWare 6.5 includes a new version of Perl, the general purpose programming language for Web-based applications. Capabilities include support for mod_Perl 5.8 and increased performance for the scripting engine through the exteNd Application Server. Perl scripts can be executed from the Apache Web Server using mod_Perl. Perl APIs also support LDAP extensions for eDirectory. Perl for NetWare, Novell's previous Perl solution, is also supported.
PHP for NetWare
PHP Hypertext Preprocessor (PHP) is a widely-used general-purpose scripting language that is especially suited for Web development and can be embedded into HTML. PHP has enjoyed phenomenal growth since its introduction and is primarily focused on server-side scripting to collect form data, generate dynamic page content, or send and receive cookies. In addition, PHP has extensive support for various output formats including images, PDF files, and Flash, plus strong support for text processing, database, protocols, and other extensions.
NetWare 6.5's inclusion of PHP version 4.2.3 for NetWare enables a large collection of existing PHP applications to run without modification on NetWare. It also provides developers with the scripting, command line, and GUI application tools necessary to create state-of-the-art Internet and XML applications.
OpenSSH
OpenSSH lets you perform secure transactions to and from your NetWare network via scripts, file copy, and FTP with most OpenSSH-compliant clients.
Nsure UDDI Server
Novell's Nsure UDDI Server leverages open standards such as HTTP, XML, and SOAP. It works with any LDAP v3 compliant directory in the backend. If you integrate UDDI server with Novell eDirectory, it leverages the eDirectory features such as authentication, authorization, unified account management, replication, and synchronization. It also provides centralized management of UDDI services.
Novell Nsure UDDI Server provides a Web interface that performs UDDI operations. The UDDI administration interface and UDDI user interface are Web-based utilities that run in a browser window and manage the UDDI registry. They share a common interface with other utilities that are based on the iManager framework and use eDirectory services.
Other New Features
Here are brief descriptions of some of the other new features in NetWare 6.5
Auditing
Novell Nsure Audit 1.0 provides robust auditing services to effectively monitor and track system activity so you can make informed decisionst hat ensure the safety of your valuable corporate information.
Authentication
Novell Modular Authentication Services (NMAS) 2.2 provides advanced levels of authentication to strengthen security. Supported methods include Smart Cards, biometrics, RADIUS, tokens, and X.509 certificates. Graded authentication lets you restrict access based on user identity or access method. Multifactored authentication secures access through multilevel authentication methods.
Internet Protocol v6
NetWare 6.5 includes support for Internet Protocol v6 (IPv6). IPv6 solves the Internet scaling problem (addresses), provides a flexible transition mechanism, meets the needs of mobile users, and supports automatic configuration (plug-and-play).
TCP/IP Stack Enhancements
The TCP/IP stack for NetWare 6.5 has been enhanced with new features such as Virtual IP Addresses. Also provided is a centralized framework that stores and displays the IP addresses of the applications running on the server. This also helps in resolving IP address and port conflicts.
For more information, see "Virtual IP Addresses in the NetWare 6.5 TCP/IP Stack" in this issue of AppNotes.
Licensing
NetWare 6.5 has a simplified licensing scheme based on users, not servers. This reduces licensing costs and allows unlimited connections per user.
Native File Access Protocols
NetWare 6.5's support for native file access protocols (NFAP) allows Macintosh, UNIX/Linux, and Windows users to natively access files on NetWare servers from these desktop operating systems. Files stored on NetWare servers appear and are manipulated just as if they were Macintosh, NFS, or Windows files. This simplifies network use in mixed desktop environments and reduces training requirements. Improvements to NFAP in NetWare 6.5 include:
Macintosh. NetWare 6.5 includes AFP 3.1 support for Mac OS X natively, encrypted passwords, long file names (256 characters), files greater than 4GB, and cluster failover auto reconnect.

NFS. Native file access for NFS has been completely redesigned for better performance and new capabilities, which include file locking, NetWare rights mode, files greater than 4GB, easier NFS filename export and format, and Web-based NFS server administration.

Windows. Native file access for Windows has improved context handling and login methods with support for encrypted passwords, full UNICODE support, improved CIFS performance, Microsoft login scripts, and 64-bit support for files greater than 4GB.
NetWare Remote Manager
NetWare Remote Manager is a global server management utility that lets you manage servers remotely, thus boosting IT staff productivity. Improved inventory management and group management features in NetWare 6.5 let you manage more NetWare servers globally and synchronize specific settings on them.
Novell eDirectory 8.7.1
NetWare 6.5 comes with eDirectory 8.7.1, the industry's most popular directory. For a listing of new features, see "New Developer Features in Novell eDirectory 8.7.1" in this issue of AppNotes.
NetWare 6.5 Installation Enhancements
The NetWare 6.5 installation procedure has been simplified and modularized to allow flexibility in creating different server configurations. A DOS boot partition is still required, but the installation process from the bootable NetWare 6.5 CD1 (Operating System) CD automatically creates this partition. NetWare 6.5 installation has been further enhanced with the introduction of the remote upgrade feature and "patterned deployments."
Remote Upgrade
One of the new features in NetWare 6.5 is the ability to remotely upgrade any servers in your network from any location, eliminating the time and expense of travel to remote sites. The process is a simple one that can be accomplished either through the Remote Upgrade option in iManager 2.0 or by selecting Remote Upgrade from the NetWare Deployment Manager.
Patterned Deployments
Patterned deployments allow administrators to select from any one of a number of server installation options which reduces the time and steps required to set up a new server. The following installation options are available.
Basic NetWare Server. The "basic" NetWare file server option has been reduced to installing just the Apache Web server and Tomcat application server. These servers are used for NetWare administration and management. The install of other products has been modularized and all other services can be installed later at any time. Manual creation of a DOS partition is no longer required and installation is automated if using a bootable CD-ROM.
Custom NetWare Server.  The "custom" NetWare server option allows advanced administrators to individually select which services, applications, and utilities they will install. Customized components available for install include:
Apache 2 Web server and Tomcat 4 Servlet Container

eDirectory SNMP Subagent

exteNd Application Server

MySQL

NetWare FTP server

NetWare Web Search Server

Novell DNS/DHCP Services

Novell eGuide

Novell iFolderr

Novell iPrint

Novell Nsure UDDI Server

Novell Nterprise Branch Office - Central Office Server

Novell iManager 2.0

Novell Virtual Office

OpenSSH

WAN Connectivity

WAN Traffic Manager
Pre-Configured Servers.  The following Pattern Deployment options are available for creating pre-configured NetWare servers with a minimum amount of effort:
DNS/DHCP Server

exteNd J2EE Web Application Server

LDAP Server

NetWare AMP (Apache, MySQL, PHP/Perl) Server

NetWare Backup Server

NetWare Web Search Server

Nterprise Branch Office Server

Apache/Tomcat Server

Network Attached Storage (NAS) Server

iSCSI Storage Server

Management Server

Novell iFolder Server

Virtual Office Server
Pre-Migration Server.  The Pre-Migration Server feature creates a NetWare 6.5 server to which an existing server can be migrated.
Installation Requirements
The minimum system requirements for NetWare 6.5 are:
A server-class PC with a Pentium II or AMD K7 processor

512 MB of RAM

A Super VGA display adapter

A DOS partition of at least 200 MB with 200 MB available space

2 GB of available disk space for volume SYS: (unpartitioned space outside the DOS partition)

One or more network adapters

A CD drive

A USB, PS/2, or serial mouse (recommended but not required)
Note: Some NetWare 6.5 installation options have other recommended system requirements. For more information, see the related installation documentation.
The software requirements for NetWare 6.5 are:
NetWare 6.5 CD1 (Operating System)

NetWare 6.5 CD2 (Products)

DOS 3.3 or later (Do not use the version of DOS that ships with Windows 95, Windows 98, or Windows NT operating systems. A bootable OS floppy diskette can be created when booting the NetWare 6.5 Operating System CD.)

DOS CD drivers

Client connection utilities (optional for installing from a network)

Novell Client for DOS and Windows 3.1x (optional for installing from a NetWare server running IPX)

IP Server Connection Utility (optional for installing from a NetWare server running IP only)
Other pre-installation requirements include the following:
If this is the first NetWare 6.5 server on the network, you must have Supervisor rights at the [Root] of the eDirectory tree.

If this is not the first NetWare 6.5 server on the network, you must have Supervisor rights to the container where the server will be installed and Read rights to the Security container object for the eDirectory tree.

If you will be connecting your NetWare 6.5 server to the Internet, you'll need an IP address for the server, the IP address of a Domain Name Server, and the name of your domain.
A complete (or even cursory) description of how to install NetWare 6.5 and all associated NetWare services is beyond the scope of this AppNote. For more information, refer to the installation documentation.
Conclusion
NetWare 6.5 is the most reliable services platform for delivering secure, non-stop access to network and information resources. It is engineered to deploy business-critical, open source-enabled services. With NetWare 6.5, Novell provides customer choice and flexibility, greater application interoperability, continuous availability, and tools that deliver new levels of productivity.
As customers pursue Nterprise solutions in particular, NetWare 6.5 will play a central role, bringing new capabilities to people in all parts of the enterprise. It provides end users with services that enhance personal and team productivity. For IT administrators, it provides infrastructure and administrative tools to manage a complete business continuance solution. And it offers a strong Web services and open source strategy for IT developers.
* Originally published in Novell AppNotes
---
Disclaimer
The origin of this information may be internal or external to Novell. While Novell makes all reasonable efforts to verify this information, Novell does not make explicit or implied claims to its validity.