What's New in NetWare 6? A Features Overview
Articles and Tips: article
Kevin Burnett
Senior Research Engineer
Novell AppNotes
kburnett@novell.com
01 Oct 2001
Portions of this AppNote were taken from the NetWare 6 White Paper available at http://nw6launch.novell.com/nw6launch/.
Novell's NetWare 6 is the Net Services software solution that brings accessibility to networked environments. But, you may ask, isn't NetWare 6 just a new version of the NetWare operating system workhorse? Why would I want to upgrade my stable, reliable NetWare 5.1 network to NetWare 6? What's so special about NetWare 6? This AppNote provides an overview of the new and enhanced features in NetWare 6 that make it a compelling upgrade for existing customers and an attractive choice for new network installations.
| | |
| --- | --- |
| Topics | network operating system, NetWare features, NetWare upgrades |
| Products | NetWare 6 |
| Audience | network installers and administrators |
| Level | beginning |
| Prerequisite Skills | familiarity with NetWare |
| Operating System | NetWare 6 |
| Tools | none |
| Sample Code | no |
Introduction
NetWare 6 is the first release of Novell's venerable network operating system to come out since last year. In keeping with this vision, NetWare 6 provides non-stop access to networked information. It enables you to work across all types of networks and all leading operating environments as a single network. NetWare 6 gives you constant access to all network services from a variety of devices ranging from desktop and laptop computers to cellular phones and handheld devices. Plus you can access network resources across all types of networks: corporate and public, wired to wireless (see Figure 1).
NetWare 6 plays a key role.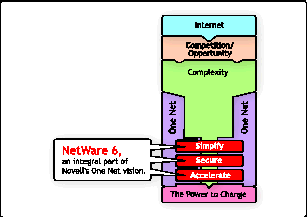 So why install or upgrade to NetWare 6? For starters, it offers you enhanced file, print, and directory services; 32x32-way scalability to networked storage environments; and enhanced network client accessibility. Novell suggests several other reasons to upgrade to NetWare 6:
It's additive. NetWare 6 is complementary to your existing network infrastructure. Unlike previous versions and competitive offerings, NetWare 6 does not require a wholesale server upgrade.

It's innovative. NetWare 6's iFolder and iPrint technologies allow users to have non-stop access to their files and easily print their documents through a browser . . . anywhere, anytime.

It's reliable. NetWare 6 is the most secure and highly-available network operating system on the market today. It is built on Novell's more than 15 years of experience in networking technology, field-hardened on more than 4.5 million servers supporting 81 million users worldwide.

It's scalable. NetWare 6 is built for the stringent demands of a growing business, supporting up to 32 clustered servers with up to 32 processors. What's more, Novell Storage Services (NSS) supports billions of volumes, with each volume capable of holding billions of files that can grow up to eight terabytes in size.

It's profitable. NetWare 6 allows businesses to excel by reducing support calls, maximizing hardware investments, and lower overall cost of ownership by up to 20 percent over competitive offerings.
Part of Novell's mission is to simplify, secure, and accelerate the transformation of today's isolated computer systems into tomorrow's highly-connected eBusiness systems. NetWare 6 does this by:
Simplifying access to and management of all network resources

It provides users with universal access to information and printers through any portal, from any device, in any location.

It consolidates the use of file, print, and other resources (directory, e-mail, databases, and so on) across networks, storage platforms, and operating systems.

It centralizes and manages storage capacity and resources, quickly and easily, across NetWare, Windows, and Unix desktops.

Securing the integrity and availability of all digital assets

It identifies users with single sign-on and controls access through policies with high precision.

It allows you to back up and restore business-critical information quickly and easily, in real time, from a central location.

It guarantees the availability of business-critical storage resources with support for up to 32 clustered servers.

Accelerating the scalability of enterprise networks

It allows you to combine from 2 to 32 clustered and load-balanced servers, each supporting up to 32 processors.

It meets growing capacity demands with volumes which can be added in seconds and support up to 8 TB of storage across multiple servers.

It deliver performance that supports millions of users in the most demanding enterprise network environments.
This AppNote gives you a brief overview of the new and enhanced features included in NetWare 6.
Major New Features in NetWare 6
This section looks at the major new features included in NetWare 6. The following section covers features that already exist in NetWare 5.1, but which have been significantly improved.
Novell Cluster Services 1.6 "In the Box"
In an effort to hold back the tide of information, reduce cost of ownership, reduce IT staff, and increase network efficiency, many businesses are pulling the storage off their distributed servers and bringing it into a central location. The obvious challenge with consolidation of stored resources is the risk of failure. If a single server fails, several hundred users could be without service. If a shared disk array fails, potentially thousands of users are without service-resulting in lost production, lost revenue, and in the case of e-commerce, lost business as millions of customers head to your competition. However, the benefits of consolidation are many. Management is simplified, IT staff can be reduced or re-allocated, and, most importantly, users can be sure that their information will be available.
Storage Area NetWork (SAN) technology provides excellent, high-performance storage options. A centralized SAN arrangement uses a single storage system- usually a RAID device with plenty of capacity and redundancy-to serve multiple hosts. The storage system uses a separate, back-end network for communication between storage devices and the server that connects the SAN system to the corporate network.
SAN technology dramatically expands the storage capability of a network, which results in significant advantages. The entire management overhead for individual storage units in the SAN falls to the SAN server, not to the distributed hosts accessing the storage system. Relieved of the storage management overhead, hosts can perform tasks more quickly.
Reliability becomes more critical than ever when host storage becomes separated from the server in a SAN configuration. A dead SAN server blocks storage files, making every host on the network useless. Network downtime due to dead storage will hurt any company, from small shops to large global Web sites.
Novell's solution is to use a cluster of NetWare servers to control your SAN. NetWare 6 includes free cluster software for up to two systems. With additional software, you can form a cluster of up to 32 NetWare servers, each of which is automatically ready to pick up the work of any other server in the cluster (see Figure 2). The software constantly monitors the health of the cluster. In the event of a failure, the sick node's processes are automatically forwarded to the remaining healthy nodes. This failover process eliminates any single point of failure and is transparent to your users.
Novell's server clustering technology.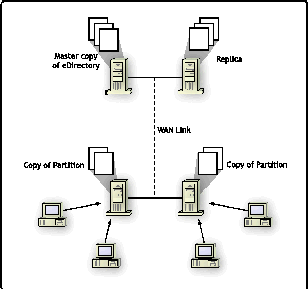 Management tools offer tremendous advantages to network administrators of critical SAN systems. NetWare provides excellent file-system control and security through eDirectory. It makes sense to build SAN security on a directory foundation that has a decade of experience and seven major upgrades behind it.
For more information about clustering, see "High Availability Networking with NetWare 6: NSS 3.0 and Cluster Services 1.6" in this issue.
Novell iFolder: Non-Stop Access to Your Files
People now travel to more places, towing technology in every briefcase and coat pocket. But no matter how much technology people carry with them, they always need something else. Sooner or later, they always need the files and information they left behind.
The Internet connects almost every network in the world to every other network. Yet reaching your files on your network from another network remains difficult, and is sometimes even impossible.
For years, people have searched for universal data access, and they still struggle mightily today to juggle files and keep multiple sets of data files synchronized. Desperate users e-mail files to themselves, shuffle decks of floppy disks, and manually copy files hither and yon to keep their files current. None of these options works reliably or transparently.
Novell iFolder breaks the chains that, until now, have linked users to particular hardware. iFolder also eliminates location as the most important aspect of file access. New with NetWare 6, iFolder provides the technology tools to access, synchronize, and back up your files and applications anywhere and at any time.
iFolder performs data-file synchronization automatically, transparently, and securely. iFolder intelligently sends only file changes back and forth across the network, speeding performance by eliminating complete file replacements. iFolder does all this synchronization while also reducing the security hassles that are created by linking a client computer through the Internet to a remote server via Virtual Private Networking.
Notice the liberating result of iFolder: you have access to your updated files no matter where you are, and whether you are connected or offline. With basic Web access or on an iFolder client, your files and applications are available anywhere. You no longer have to go to the data, because the data will come to you.
Figure 3 shows a typical iFolder implementation.
Typical Novell iFolder implementation.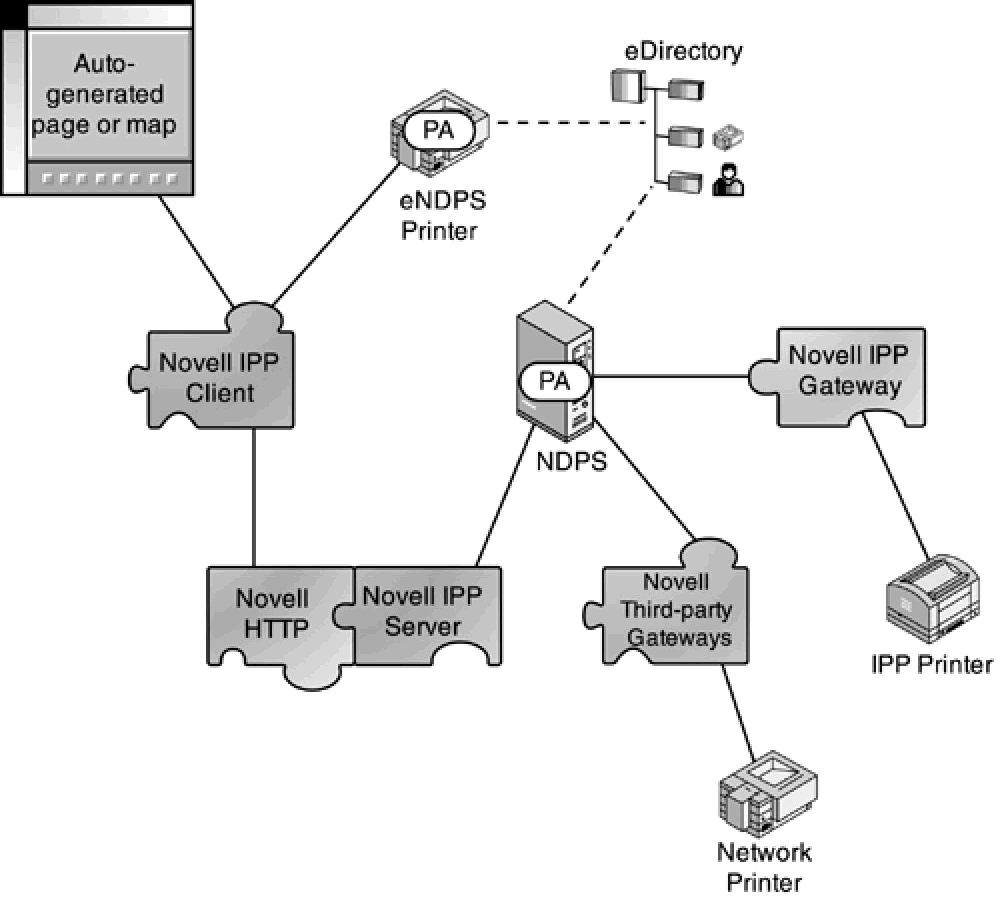 Three components work together to power Novell iFolder:
The iFolder client allows access to current files on a personal computer, whether or not it is connected to the network during the work session. Running on Windows 9x/ME/NT/2000, the iFolder client performs synchronization whenever connected to the network, keeping all files up to date and properly backed up. The iFolder client software also guarantees security by providing an encryption option for files stored at the central server.

An iFolder plug-in for Web browsers provides secure authentication links to the central iFolder server. The iFolder browser addition gives users the normal file operation tools they expect (copy, delete, rename, and so on).

The iFolder server provides the necessary infrastructure for secure file synchronization and access. Using LDAP for authentication, the iFolder server runs on NetWare and includes modules for the Apache Web server on NetWare. Encryption between the client and the iFolder server, LDAP authentication, and stored file encryption provide peace of mind for iFolder users and network managers.
iFolder surpasses competitors by using standard Internet protocols and tools. It uses the Internet standard HTTP for both connections and file transfer between client and server.
The benefits of iFolder are numerous. Travelers benefit because their files remain current, synchronized and secure. You can access your files through a standard , always-available Web browser no matter where you are in the world. Owners of new machines benefit because updating your new system with iFfolder is a snap. Add the iFolder client, connect through the company LAN or through the Internet, and your new machine automatically receives a copy of all your current files. Network managers benefit because secure file synchronization for far-flung clients is now automatic. iFolder also performs backup, one of the most critical network management challenges for traveling clients. Changes made to files on a laptop system by travelers will be synchronized automatically with the central iFolder server each time the traveler makes a connection. Backups for the central data storage devices will include the latest modifications made by travelers.
For more information about iFolder, see "iFolder: Data Accessibility, Where and When You Need It" in this issue.
Novell Internet Printing (iPrint): An End to Printing Hassles
Novell has provided shared printing services since the earliest versions of NetWare. During the initial wave of laser printers, NetWare enabled companies to amortize several thousand dollars worth of laser printer among multiple employees. As printing demands grew, so did Novell's support for printing options. NetWare led the way among all network operating systems in supporting network-attached print servers, server-controlled printing through workstation- attached printers, and remote printer control options.
Novell provided another major improvement in network printer control by making printers, print queues, and print servers objects inside eDirectory. NetWare 4.x made printer administration less time consuming and more reliable by using the same management tools that are used for every other network resource. Users were able to find and use printers more easily than ever before. Novell Distributed Print Services (NDPS) added even more management and user support.
NetWare 6 takes network printer functionality to a higher level by using the best network print option as the foundation for Novell Internet Printing (iPrint). Built upon the IETF-ratified Internet Printing Protocol (RFC-2910-1), Novell iPrint introduces printer job control through Web browsers and Web server technology.
Network users struggle with several nagging details when trying to find the best printer for the job. The first problem is location. A great printer that is located two buildings away on a corporate campus might as well be in another state when quick printouts are needed. Sometimes poorly-configured networks will list printers without mentioning their locations. In this situation, users are likely to send their critical jobs to a printer in the wrong location, sometimes even in a different state, by accident. better printer management helps prevent these mistakes.
Second, print drivers remain a constant problem. Nothing ruins a print user's day like finding a critical document full of hieroglyphics rather than text, tables, and numbers. Print drivers and applications baffle many users, so the more help the network can give them, the happier they are.
Finally, remote printing capabilities, including security, remain a mystery to many users. Why print out a job, stuff it into an expensive overnight delivery envelope, and send it away? Because the user has no idea how to transfer the file and have control over the resulting printout. To ensure a quality printout, file transfer, e-mail attachments, and even transmitted floppy disks require more coordination than most companies can guarantee.
Your users want a way to find the right printer, automatically receive the right print driver if they don't have it already, and send the print job to a remote printer without fighting through security and a firewall. They have only one option: Novell iPrint.
Novell built a three-part answer to end the user's printing nightmare:
First, Novell iPrint server components transform any printer into an IPP printer, putting it on the Internet and making it easily available to all authorized users.

Secondly, the Web server portion allows users to click on their printer of choice, learn details such as physical location and printer features, and download drivers as necessary.

Finally, using HTTP basic authentication and SSL encryption, the user can send the print job to the desired printer without worrying about security.
Figure 4 shows a typical iPrint configuration.
Typical Novell iPrint configuration.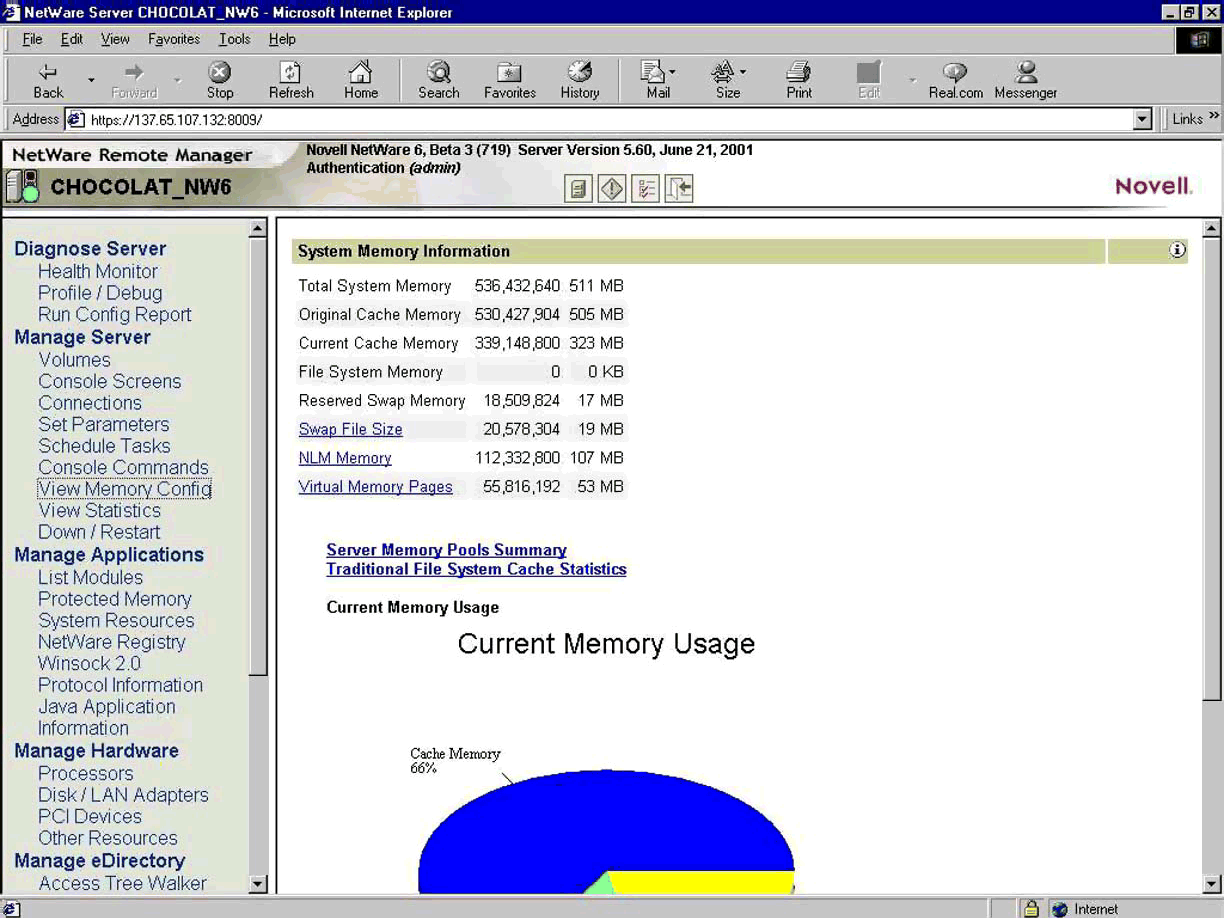 Users feel comfortable with Web pages. Even if the information on the Web page merely duplicates what the user sees inside a printer control dialog, users prefer the Web page option in most cases. Using Web pages works well for network administrators because it puts much of the printer control at the server side. Asking the user to make judgment calls about printer support, drivers, and features almost always leads to a user request for technical support.
From the iPrint Web page (either the default page from the IPP software or a customized version), the user can start the print driver download process by clicking on a printer. Another option begins the print driver download process automatically. Either way, the user immedialy eliminates the frustrations that come from mismatched print drivers. The Windows client software adds the new printer to the list of available printers, making it immediately available to the user.
For more information about iPrint, see "Novell iPrint: A Best-of-Breed Print Solution for Businesses" in this issue.
Native File Access: No More Need for Client Software
Over the years, proprietary communication protocols such as Novell's Internetwork Packet eXchange (IPX) and Digital Equipment's DECnet have given way to standardized protocols. While it may sound like the world spins around a single protocol today, that's not the case. Novell products support a variety of different file protocols, all of which are standards in their own markets. File protocols allow different client machines to communicate with the NetWare file system.
NetWare 6 adds more standard file access protocols into the server than ever before. In addition to support for FTP (File Transfer Protocol) and WebDAV, the basic NetWare 6 package includes Native File Access for Windows machines through CIFS (Common Internet File System), for Macintosh machines through AFP (AppleTalk File Protocol), and for Unix machines through NFS (Network File System).
With NetWare 6, you can now take an iMac computer out of the box, plug it into your network, and immediately begin accessing files off of a NetWare 6 server without installing any additional client software. The same holds true for a Windows client, a Unix workstation, an FTP client, or a Web browser. The emphasis is to work within an existing infrastructure, capitalizing on the strengths of each platform and clients, not to rip out the existing infrastructure and replace it with a one-size-fits-all solution.
Enhanced NetWare Features
This section discusses existing NetWare features that have been enhanced in NetWare 6.
Multi-Processor Enabled File System and Services
By improving on the Multi-Processing (MP) capabilities of NetWare 5.x, Novell has made NetWare 6 fully compliant with Intel's MP architecture. What this means to you is that you don't need to tie up a single processor on your server with both the NetWare OS and your applications; you can farm out your MP-complaint applications to other available processors on your MP system hardware.
In addition to the OS, the following components are MP-enabled for NetWare 6:
Protocol Stacks

NetWare Core Protocol (NCP)

Service Location Protocol (SLP) 2

TCP/IP Stack

HyperText Transfer Protocol (HTTP)

Ethernet Connectivity

Token-Ring Connectivity

Web-based Distributed Authoring and Versioning (WebDAV)

Lightweight Directory Access Protocol (LDAP)

NetWare News Server

Storage Services

Novell Storage Services (NSS)

Distributed File Services (DFS)

Protocol Services Request Dispatcher

Transport Services Request Dispatcher

Fiber Channel Disk Support

Security Services

Novell International Cryptographic Infrastructure (NICI)

Authentication

Authentication ConsoleOne snap-ins

Miscellaneous Components and Services

eDirectory (NDS)

Novell Java Virtual Machine (JVM)

Web Engine

Search Engine

Additional Web features

And many more . . .
With NetWare 6 supporting up to 32 processors on a single box, your applications will run faster, and more applications can run faster on the same box-all with no performance hit to the NetWare OS.
For more information about multiprocessing, see "Multiprocessing Support in NetWare 6" in this issue.
Novell eDirectory
Novell eDirectory (formerly known as Novell Directory Services) is the proven leader in directories. With more than 139 million users worldwide, eDirectory has become a household name by sheer acceptance. The version of eDirectory which ships with NetWare 6 adds polish to an already smooth performer.
With NetWare 6, you get all of the features and benefits eDirectory has to offer:
Cross-Platform Support. Novell eDirectory supports all Internet clients, and eDirectory server software runs on all common Internet servers. Besides NetWare, which is the first and highest-performing eDirectory platform, eDirectory runs on Linux, Solaris, Compaq Tru64 Unix, and Windows NT/2000.

Robust Security. With its RSA-based algorithms, eDirectory provides robust security for networks large and small. Security features include Novell International Cryptographic Infrastructure (NICI), encrypted passwords, private/public key encryption, and secure authentication services.

Scalability. One of the directory group's favorite demonstrations shows eDirectory safely and securely managing over one billion objects. Will you ever need to manage one billion objects? No. Do we recommend loading a production directory with that many objects? Again, no. But it does remove any question about scalability and eDirectory's ability to manage a large corporate network.

Solid Partitioning and Replication. Partitions allow eDirectory to split a large directory database into smaller portions for better client support and performance. Replication allows distributed databases to update each other quickly in the background, ensuring that changes in one portion of the directory will become available to the entire network as quickly as possible

Simplified Information Management. eDirectory is designed to act as your company's data repository. It prepares a foundation for capturing, storing, and organizing a wide range of user and customer information. eDirectory can be used to model your company, regardless of the size of the company. Additionally, eDirectory can be used to leverage customer demographics, product interest, and transactions.

Unified User Management. Novell Account Management is a tool built on top of NDS eDirectory to reduce redundant user administration across enterprise systems by providing a single point of management for user accounts, profiles, access policies, preferences, and security credentials (passwords and digital certificates).

Directory Management Tools. eDirectory is easily managed via snap-ins for ConsoleOne and directory-specific utilities. In addition to ConsoleOne, DSRepair and DSTrace are popular utilities that aid in repairing the eDirectory databases and in debugging its operation. With these utilities, you can manage eDirectory running on any supported platform.

Platform for Applications. eDirectory serves as the basis for supporting third-party applications. In fact, Novell provides eDirectory free of charge to members of Novell's DeveloperNet program to encourage them to develop applications that take advantage of eDirectory. (For more information, visit http://developer.novell.com).
For more information about what's new in the NetWare 6 release of eDirectory, see the Directory Primer column in this issue of AppNotes.
ConsoleOne Improvements
ConsoleOne, the Java-based management utility for NetWare, continues to get better in NetWare 6. Now any client with a Java Virtual Machine (JVM) running on it can execute ConsoleOne. All eDirectory administrative functions can be performed via ConsoleOne, which uses a secure, encrypted connection. Figure 5 shows a sample screen from ConsoleOne.
ConsoleOne screen.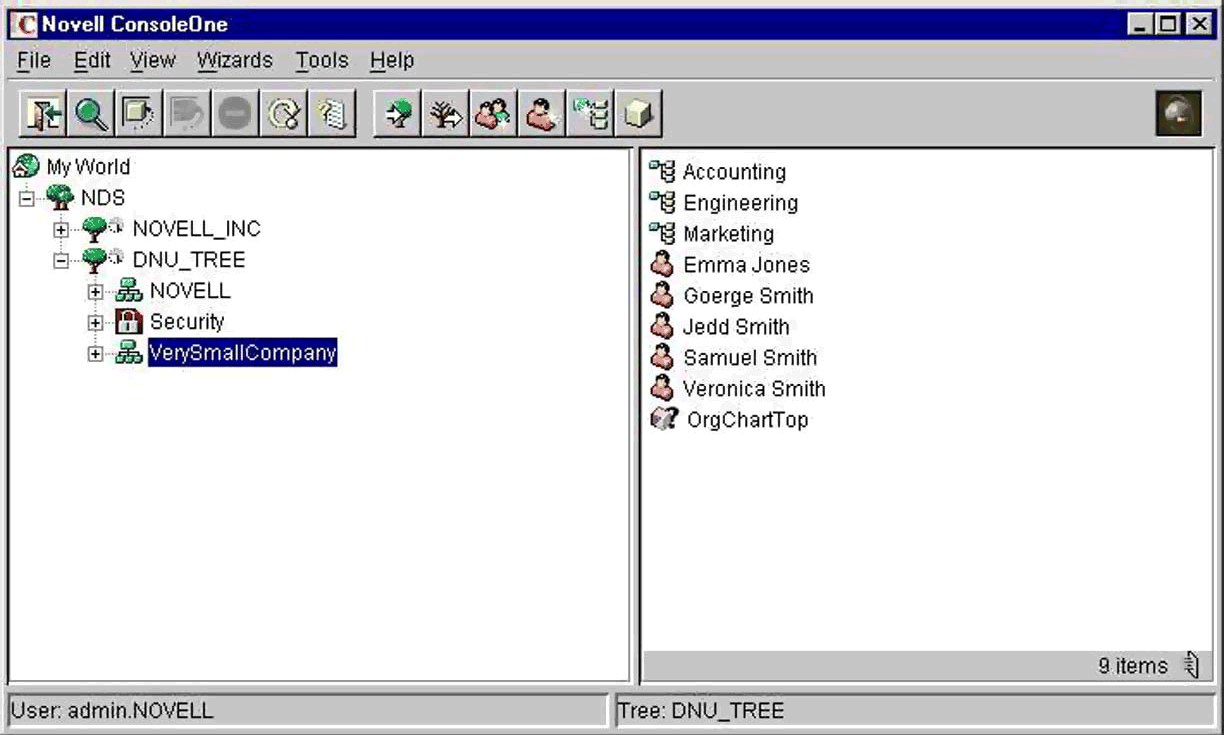 In addition to eDirectory functions, ConsoleOne controls many NetWare file system components, such as disks, volumes, folders, and files. You can change specific rights and attributes, and even set disk space limits for individual users. New ConsoleOne snap-ins are being created all the time to allow Novell services- from DirXML to clustering-to be administered in one convenient utility interface. With ConsoleOne, almost every administrative function can be run from a wide variety of clients.
NetWare Remote Manager for Browser-Based Management
Browser-based management, which first appeared with NetWare 5.1 as the NetWare Management Portal, allows network administrators to work from any client that is equipped with a Web browser. In NetWare 6, this popular tool has been rechristened as the NetWare Remote Manager utility. With this utility, complete server-specific information displays clearly and securely within the client browser. A monitoring page with a traffic signal icon (green, yellow, and red lights) immediately indicates the health of dozens of servers. With one click, a system administrator can select any server to see more detailed information or to make configuration changes. Encrypted password exchange via SSL keeps the management connection secure.
NetWare Remote Manager provides far more than just minor configuration changes. Server console screens that allow a network administrator to control all server-based applications may be viewed through the browser. The directory tree and established partitions are displayed, and servers may be downed, restarted, or reset through the browser.
Figure 6 shows a screen shot from the NetWare Remote Manager utility.
NetWare Remote Manager screen.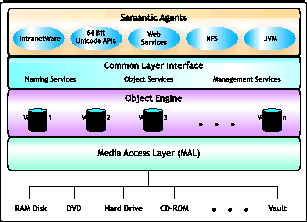 For more details about what's new in the NetWare 6 Remote Manager utility, see the Beyond the Basics column in this issue of AppNotes.
Novell Storage Services (NSS)
Early on, server operating systems devoted most of their attention to better disk performance in the hope of minimizing the time it took to serve up requested files. Today's operating systems must perform many tasks while maintaining exceptional file service. As storage demands increased and NetWare servers began hosting multiple high-capacity disk drives, NetWare customers demanded more from their file systems. Customers wanted to control higher total disk capacities and larger single files, while mounting the file system and making disks available more quickly than ever before. Novell responded by developing Novell Storage Services, or NSS.
Novell engineers faced three critical hurdles when developing NSS: the need to make the file system compatible with all existing NetWare installations, the need to eliminate limitations in the earlier-generation storage services, and the need to provide a strong foundation for new storage advancements.With the first version of NSS, Novell engineers were successful in all three areas.
Improving upon the market-leading performance of the traditional NetWare file system, NSS first appeared with NetWare 5.0. NSS allows for unlimited disk volumes that can be up to 8 TBs (terabytes) in size. For example, a single 8 TB file can fill one volume. This might be necessary to accommodate a huge database table. Alternately, a single disk can be logically separated into an unlimited number of smaller volumes to meet security or application requirements.
The key to this storage advancement in NSS is the use of a 64-bit interface, which offers significantly more addressing capacity for more files than ever before. This "journaling" file system keeps track of volumes, partitions, and files differently and uses less server memory than earlier NetWare file systems. Because of the journaling file system, NSS is more resistant to errors caused by server crashes and offers higher reliability and fewer fault conditions.
NetWare 6 continues the improvement of file services through better NSS performance and flexibility. The NSS version included with NetWare 6 now supports file compression on all NSS volumes. Since NetWare 4.x, Novell offered a way to compress files stored on the server after a set period of time. The compression utility's efficiency generally ranged around 50 percent, meaning a 10 GB disk suddenly held almost 20 GB worth of files.
Other features of NSS in NetWare 6 provide real benefits as well, matching and surpassing the NSS abilities in NetWare 5.1. NSS now employs the U.S. Green Book File Security standard for "data shredding." This allows you to delete a file with full confidence that it will never return, no matter which utilities promise file reincarnation.
The list of NSS features is lengthy, but the short story simply promises better file system performance, reliability, and management using the newest generation of file-service technology possible. Here are some of the most notable improvements:
SYS volumes supported and recognized

Incredibly fast volume mountings

Partition-level mirroring

RAID 0 striping support via software

Pooling space from a disk available for any volume to use

Faster streaming speeds for backup

Advanced "journaling" system tracks uncommitted changes and can get a volume back online in less than one minute, eliminating the need for VRepair

Ability to mount any size volume with as little as 4 to 10 MB of memory, with even better performance on larger systems with more memory

Multiple name spaces share the same storage space instead of reserving an individual space for each namespace

Objects stored in balanced trees (B-trees) for efficient and fast access

Support for user and directory quotas

Support for legacy NetWare file system features such as mirroring and hot-fixing (traditionally referred to as SFT I and SFT II), Transaction Tracking System (TTS), and utility monitoring
Application developers will greatly benefit from the modular and open design of NSS. Since NSS is language- and platform-independent, developers can program in any format they choose, including Java and C/C++ NLMs.
For more technical detail on NSS 3.0, see the AppNote entitled "High Availability Networking with NetWare 6: NSS 3.0 and Cluster Services 1.6" in this issue.
Open Standards
NetWare 6 supports the following open standards, which are critical for customers interested in using the Internet, the World Wide Web, and any type of e-commerce applications:
TCP/IP (Transmission Control Protocol/Internet Protocol)

LDAP (Lightweight Directory Access Protocol)

XML (Extensible Markup Language)

SQL (Standard Query Language)

ODBC (Open DataBase Connectivity)

JDBC (Java DataBase Connectivity)

Java Beans

JNDI (Java Naming and Directory Interface)

SSL (Secure Sockets Layer)

HTTP (HyperText Transfer Protocol)

DNS (Domain Name System)

DHCP (Dynamic Host Configuration Protocol)

J2EE (Java 2 Enterprise Edition)
NetWare 6's support for these standards translates to more options and better value for customers. For example, NetWare Web Access allows secure access to file, print, and e-mail via a Web browser. No longer is a VPN connection required.
Developer Resources in NetWare 6
NetWare 6 supports a rich variety of developer-related technologies which can be used to write applications to run with NetWare, eDirectory, or both. This section provides general information about developing to NetWare 6.
Kernel-level NLM Development for NetWare 6. To take advantage of better multithreading and multitasking in NetWare 6, Novell has developed an improved set of interfaces and execution environment for the NLM programmer. NLM applications written to standard interfaces such as CLIB or SMS and which run on NetWare 5.x should run on NetWare 6 with little or no modifications. However, these applications will see little or no MP scaling on NetWare 6. The new Novell Kernel Services (NKS) library allows you to write applications that can take advantage of MP scaling on NetWare 6.
For more in-depth information, see the AppNote entitled, "Multiprocessing Support in NetWare 6" in this issue.
Java Environment for NetWare 6. NetWare 6 includes the Novell Java Virtual Machine (JVM) v1.3 which supports Java applications, servlets, and applets. NetWare 6 also includes Tomcat v3.3 which is part of the Jakarta initiative and a sub-project of Apache.org. Tomcat maps closely to the requirements of the Novell customer base for Java Servlet and Jave Server Page development in a NetWare environment. In addition, the Novell Enterprise Web Server and the Apache Web Server are both included with NetWare 6.
Scripting Support. Scripting languages are used to do everything from automating maintenance tasks to providing Web-based functionality for applications. NetWare 6 includes support for Perl, Novell Script for NetWare (Visual Basic Script compatible), and the Universal Component System (UCS).
Other Developer Enhancements. In addition to the above, NetWare 6 specifically adds developer support for:
WebDAV redirector

LDAP (C and Java based)

FTP/TelNet
Continued support is available for the Java Developers Kit (JDK), C/C++ development, Beans development, and much more. Novell provides a Web page for downloading Novell Developer Kits (NDKs) for popular development environments. Visit http://developer.novell.com for the whole story on NetWare 6 development platforms.
Conclusion
What do system administrators and users want most from a network? Uptime and reliability. Uptime refers to the time a server or networks stays running continuously. Reliability means a service that continues to function until it is deliberately stopped. In the past, NetWare (when configured correctly) has been measured to give 99.999% uptime. NetWare 6 builds and improves upon the track record set by prior versions. You won't find a more stable, reliable platform for your eBusiness network than NetWare 6.
For additional information, refer to the following resources:
NetWare 6 product information (http://www.novell.com/products/netware)

NetWare 6 online documentation (http://www.novell.com/documentation/lg/nw6p)

NetWare 6 Deployment Solutions guides (http://www.novell.com/products/netware/deployment_solutions)

NetWare 6 Education Courses and Training (http://www.novell.com/ecucation/netware6)
* Originally published in Novell AppNotes
---
Disclaimer
The origin of this information may be internal or external to Novell. While Novell makes all reasonable efforts to verify this information, Novell does not make explicit or implied claims to its validity.