Printing from a Macintosh on an IP-Only NetWare Network with NDPS
Articles and Tips: article
Richard Jones
Manager, Storage Projects
Novell, Inc.
rjones@novell.com
01 Jul 2001
With the growing popularity of Internet printing standards designed for TCP/IP networking environments, users of Apple Macintosh workstations have had questions about how to use these standards in Novell NetWare networks. This AppNote discusses the past, present (transitionary), and future plans for printing from a Macintosh in an IP-only NetWare environment with Novell Distributed Print Services (NDPS) installed.
Introduction
Apple Computer has supplied "plug-n-print" printing capabilities in their products for over a decade. Apple had implemented all of these capabilities using their proprietary AppleTalk networking protocols. With the move to TCP/IP and open standards over the past several years, printing from a Macintosh has changed. Similarly, Novell has moved its services to run natively over TCP/IP and to utilize open standards.
This AppNote describes the past, present (transitionary), and future plans for printing from the Macintosh platform on a Novell network. It briefly explains how to set up printing on an IP-only NetWare network with Novell Distributed Print Services (NDPS) installed.
The Past: AppleTalk
Novell support for AppleTalk-based Macintosh printing has existed for years. This was supported at the Novell file server via the ATPS NetWare Loadable Module (NLM). The Macintosh workstation would use the built-in native AppleTalk protocol to send a print job to the NetWare server, from which the job could be sent to any type of network-attached printer. This feature allowed Macintosh workstations to print to non-AppleTalk compliant printers.
However, managing both IPX and AppleTalk protocols on a Novell network was not an enjoyable task for system administrators. Feedback from customers prompted Novell to develop an IPX client for Macintosh workstations. The goal was to help customers eliminate the AppleTalk protocols from the network. Printing with the IPX client was accomplished via direct connection to the NetWare Print Queue over the IPX protocol. The drawback to this method was that Apple's printing modules did not have extensible and open APIs. The Novell IPX client had to patch into the Apple printing modules using "dirty hooks." This resulted in many configurations that simply would not work. As a result, support for IPX-based printing proved costly, difficult, and unreliable.
With System 8.x, Apple released a newer Apple LaserWriter driver that allowed for third-party plug-ins. At this time, Prosoft Engineering, Inc. (www.prosofteng.com) was managing the Novell Macintosh client code, and Prosoft completely rewrote the printing components to leverage the published interfaces in the new LaserWriter driver. This made printing with this driver much more reliable, but negated the use of older third-party drivers that were not compliant with the new LaserWriter driver.
Throughout this time, AppleTalk-based printing was supported using the ATPS NLMs which are part of the NetWare for Macintosh product (both the version from Novell and the version from Prosoft Engineering).
The Transition: LPR
Both Apple and Novell are moving away from their proprietary pasts. The networking protocols of AppleTalk and IPX have not been enhanced nor improved for at least four years. The printing protocols tied to those networking protocols (Printer Access Protocol or PAP for the AppleTalk world, and QMS NCP and PServer for the IPX world) have also not been enhanced or improved. For the future, both companies are embracing open-standard printing protocols on top of TCP/IP.
The first order of business for both companies was to support TCP/IP as the networking protocol, and to support the de facto standard printing protocol for TCP/IP. This is the LPR protocol.
Novell LPR Support
Novell first supported the LPR protocol with its Unix Printing Services product, which was released for NetWare 3.x and 4.x. A version for NetWare 5.x was released to ease customer transition to NetWare 5.x from previous operating systems. But starting with NetWare 5.x, the Unix Printing Services product has been replaced by NDPS (Novell Distributed Print Services) solution.
NDPS first shipped as the TCP/IP native print solution for NetWare 5. A release was created to run on NetWare v4.x to ease customer transition to NetWare 5.x. NDPS in NetWare 5.0 supported printing to LPR printers, but did not support accepting print jobs from LPR clients. NDPS in NetWare 5.1 added support for printing from LPR clients. NDPS allows for complete integration of many types of printing protocols over the TCP/IP networking protocol. As such, NDPS does not support the AppleTalk networking protocol, nor is it ever planned to support AppleTalk.
Enabling LPR support in NDPS is accomplished by clicking a checkbox in the LPR Client Support tab of the Printer object snap-in in the NWAdmin utility (see Figure 1).
Setting up an LPR printer with NDPS in NWAdmin.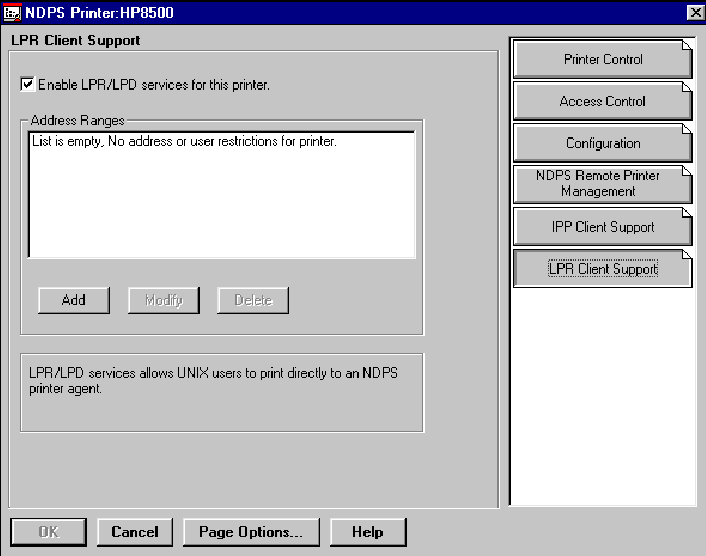 Apple LPR Support
With the inclusion of the Apple Desktop Printer Utility in MacOS 8.x and above, Apple started supporting LPR printing over a TCP/IP network. This utility is used to create a desktop printer icon, which can then be printed to over a TCP network. To print to NDPS in LPR mode, a user simply specifies the server that is hosting NDPS and the NDPS Printer Agent when creating the desktop printer.
The desktop printer utility is located in Apple Extras: Apple LaserWriter Software: Desktop Printer Utility. To create the printer, select "Printer (LPR)" from the Create Desktop list and click OK (see Figure 2).
Selecting an LPR Printer.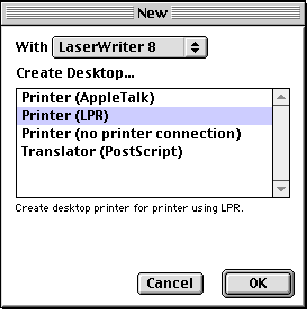 At this point, you need to specify the PostScript Printer Description (PPD) file for your printer type. The PPD tells the Macintosh LaserWriter driver about the physical features of your printer (trays supported, duplexing, color, and so on). Selecting Generic will work fine (see Figure 3).
Specifying the PPD file for the printer.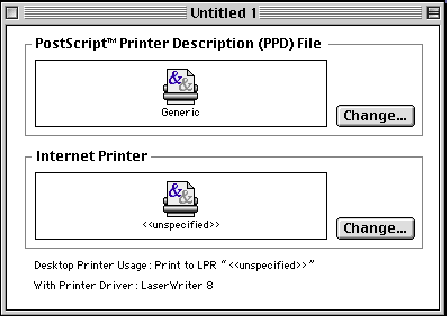 You also need to specify the "Internet Printer." To accomplish this, click on the Change button. You will see the Internet Printer window shown in Figure 4.
Defining the Internet Printer.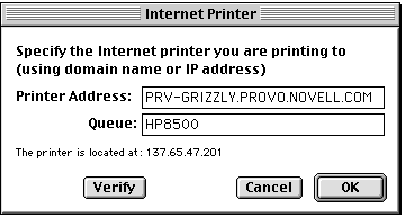 For Printer Address, enter the DNS name or IP address of the server that is hosting the NDPS Printer Agent. For Queue, enter the NDPS Printer Agent name. Click on the Verify button to ensure you have entered the information correctly. Once the printer has verified, click OK.
Next, select "Save" from the File menu to save your newly-created desktop printer to your desktop. You can rename it if you like (see Figure 5).
Saving the newly-created desktop printer.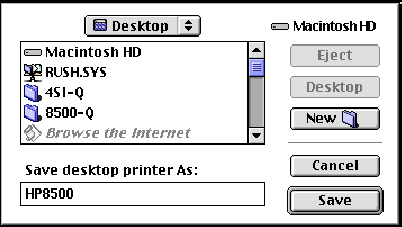 You can now print via LPR to NetWare on a TCP/IP network. If you have more than one desktop printer, you can set the default printer by Control-clicking on the desktop printer icon and selecting "Set as Default Printer".
Creating an LPR Printer in MacOS X. To create an LPR printer in MacOS X, go to Applications: Utilities: Print Center. You will see the screen shown in Figure 6. Click the Add Printer... button to add a new printer.
Creating an LPR printer in MacOS X.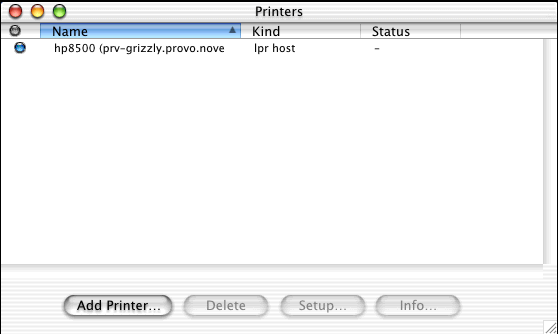 From the Printers screen (see Figure 7), click on the pulldown menu at the top (the blue up-down arrows). The list by default begins with "Directory Services." Select "LPR". For the LPR Printer's Address, enter the DNS name or IP address of the server hosting the NDPS Printer Agent. For Printer Name, enter the NDPS Printer Agent name. For Printer Model, select the appropriate PPD file ("LaserWriter" is the default).
Entering the LPR printer information.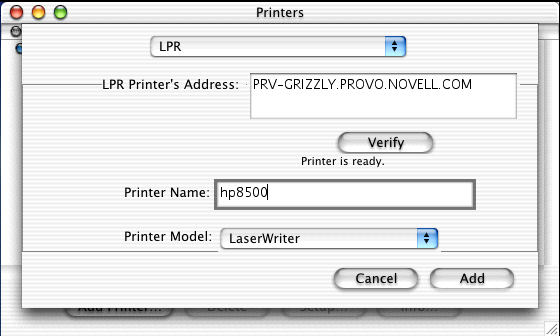 Click the Verify button and if all is okay, the message "Printer is ready" will appear. Click the Add button, and the printer is ready to accept print jobs.
The Future: IPP
Both Novell and Apple are moving to the Internet Printing Protocol (IPP), an HTTP-based protocol which runs only over TCP/IP networks. The majority of the computing/printing industry is moving to support IPP as well. Novell has focused its development teams on IPP, and Apple is doing so as well.
Novell IPP Support
Novell supports IPP clients printing to NDPS in NetWare 5.1 and later. IPP printing is enabled in the same fashion as LPR printing is enabled (see Figure 8).
Setting up an IPP printer with NDPS in NWAdmin.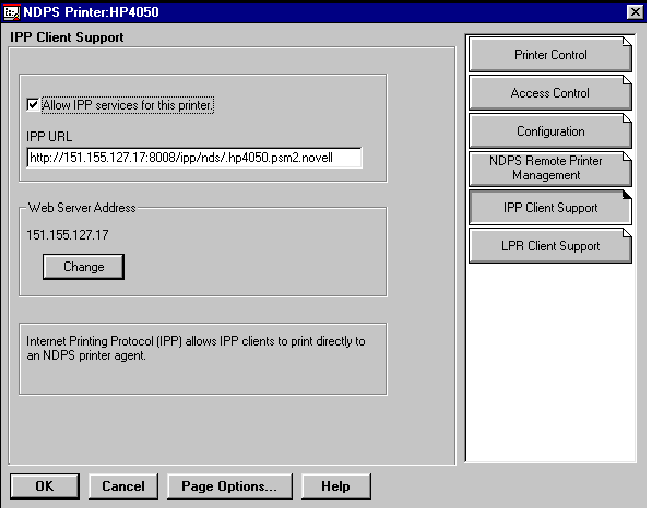 As the IPP specification develops, Novell is adding additional capabilities into its products for printing support. Novell is also actively participating in the IPP standards group, and has submitted code and ideas to help the IPP specification move forward in key areas.
Apple IPP Support
IPP is Apple Computer's strategic direction for printing. Apple's IPP Server and Client solutions will not be ready in time for the first release (v1.0) of MacOS X, but they will be released later.
Conclusion
This AppNote has described how to set up Macintosh printing in an IP-only NetWare environment with NDPS. For more information, visit the NDPS Web site at http://www.novell.com/products/ndps.
* Originally published in Novell AppNotes
---
Disclaimer
The origin of this information may be internal or external to Novell. While Novell makes all reasonable efforts to verify this information, Novell does not make explicit or implied claims to its validity.