What's New in ManageWise 2.7
Articles and Tips: article
01 Mar 2000
This AppNote is adapted from product descriptions and other documents found on the ManageWise product site.
ManageWise is Novell's comprehensive network management suite that allows organizations to proactively monitor and manage cross-platform networks from a single location. First introduced in 1995, ManageWise integrates a number of maintenance and troubleshooting functions so the network can be managed as a system rather than as a set of independent devices. With ManageWise, you can monitor all devices on your network--regardless of the protocols they use--and display information about them in an easy-to-use interface on your workstation. You can also inventory the current hardware and software on all networked workstations.
ManageWise unifies all NetWare administration and configuration functions into one user interface. In addition to gathering detailed configuration and performance information about devices on the network, ManageWise allows administrators to perform remote management and troubleshooting tasks such as changing server and workstation configurations, taking control of a workstation's screen and keyboard, transferring files, and so on.
ManageWise also contains many reporting, analysis, and trending tools. With ManageWise, you can proactively track the health of the network and receive alerts of potential problems before they disrupt user productivity. You can also track server and network efficiency and analyze performance trends for use in network growth and change planning. And because ManageWise is based on industry network management standards, you can use it to manage your network from any Simple Network Management Protocol (SNMP)-based console.
Novell recently released ManageWise 2.7, an updated version with several new features and enhancements. Foremost among these is full support for NetWare 5 and the Pure IP environment. This AppNote provides a brief overview of what ManageWise in general can do, and then takes a closer look at what is new in ManageWise 2.7.
Additional information on ManageWise is available on Novell's Web site at:
http://www.novell.com/managewise
Overview of ManageWise
ManageWise is a network management product you can use to manage and remotely control your entire network. It provides tools for monitoring NDS, managing NetWare and Windows NT servers, analyzing network traffic, identifying trends through network usage statistics, monitoring performance with an extensive server performance summary, and keeping track of network inventory. In addition, early-warning alarms help prevent downtime by alerting you to problems before they impact network performance.
ManageWise unifies network administration and configuration functions into one user interface so that you can accomplish all of these management tasks from a single point of administration. Because ManageWise is based on the SNMP standard, you can manage LAN environments from any SNMP-based console.
This overview highlights some of the key features and benefits of ManageWise as a comprehensive network management solution.
Remote Control from a Single Location
ManageWise allows administrators to view, manage, and control their entire network and networked PCs at a remote site from a single location, as shown in Figure 1.
Figure 1: ManageWise provides comprehensive server management capabilities based on the SNMP standard.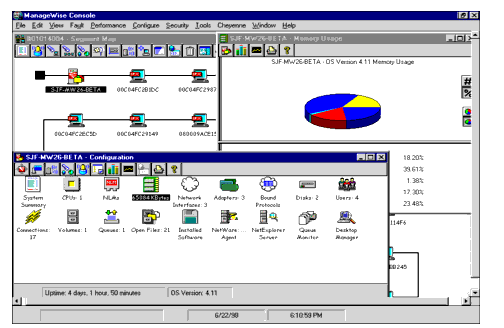 As a network administrator, you can perform the following tasks from your desktop computer:
Analyze network traffic

Automate network inventory

Prevent virus infiltration

Take control of a workstation's screen and keyboard

Gather detailed configuration and performance information

Transfer files

View problems

Change configurations

Demonstrate applications
Large businesses with distributed, unconnected branch offices can manage their remote networks over standard telephone lines, thus eliminating the costs associated with dedicated lines. Smaller businesses can delegate their management tasks to a management service provider, who can access the network over telephone lines.
Mapping and Autodiscovery
You can use the ManageWise NetExplorer autodiscovery feature to discover and map every device on your network automatically. ManageWise provides integrated graphical maps of your network, enabling you to customize displays of networked devices that reflect the actual geographic organization of your company. With the maps you can also access management details in a graphical form. Even large maps are quick and easy to navigate.
Automated Network Inventory
With ManageWise, creating an automated inventory of all network software and hardware (including workstations) is as easy as double-clicking the appropriate icons (see Figure 2). This eliminates the time-consuming process of taking a physical inventory of the network.
Figure 2: ManageWise provides a detailed inventory of each PC on the network.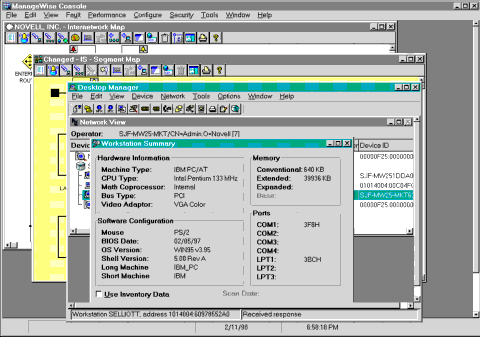 You can integrate information gathered by the hardware and software inventory with other NDS inventory information to quickly resolve end-user problems.
Proactive Alarm System
To warn you about potential network problems and their severity, ManageWise can alert you to more than 650 problems (including more than 130 relating to NDS) through its alarms and threshold settings. The alarm system in ManageWise is proactive: it will warn you when network problems are about to occur. Network users will experience fewer interruptions, because many such problems can be resolved before they actually take place.
Server Management
You can configure ManageWise 2.7 to detect hundreds of server fault conditions, and to notify you--24 hours a day, seven days a week--if they occur. The integration of NetWare Administrator (NWAdmin) enables you to fix server problems by remote control or by using the graphical NetWare SET commands.
Printer Management
With ManageWise you can manage print servers and multiple print queues centrally.
Desktop Management
With ManageWise, you can quickly and efficiently monitor, diagnose, fix, and control Windows NT, Windows 95/98, Windows 3.x, OS/2 2.1, OS/2 Warp, and DOS workstations across your network. You can edit files or demonstrate to users how to navigate an application. You can also communicate with users in real time through their monitors, and selectively transfer files to users' local hard disks. In addition, with ManageWise you can expedite troubleshooting and user support by requesting notification of changes to common configuration files on remote workstations, such as AUTOEXEC.BAT, CONFIG.SYS, or NET.CFG.
Address Management
ManageWise simplifies address management with a planning tool that assigns IP and IPX addresses and identifies any duplicate addresses.
Reporting and Analysis Tools
ManageWise also includes many versatile reporting capabilities that enable you to configure reports for problem-solving, proactive planning, or budgeting as you shape your network. It includes many tools to help you perform an efficient analysis of network status and health. Its trending features also enable you to document the history of your network's performance for analysis and planning. The network health report can even be automatically exported into an HTML file for viewing by any browser over your intranet or the Internet.
The following table summarizes the network and protocol statistics and alerts that can be reported by ManageWise.
| | |
| --- | --- |
| Category | Description |
| Network Statistics | Network segment utilizationByte ratePacket rateBroadcast/multicast rateError breakdown |
| Per-Workstation Statistics | Network segment utilizationPackets in and outBytes in and outErrorsBroadcasts/multicastsProtocols usedTime of first and last transmit |
| Token-Ring-Specific WorkstationStatistics | Workstation ring orderWorkstation state/durationError breakdownTime of last entryTime of last exit |
| Per-Conversation Statistics | Workstation loadingPackets in and outBytes in and outErrorsProtocols usedTime of first and last transmit |
| Alerts | PacketsUtilizationBroadcastsMulticastsDuplicate IP |
| Ethernet-Specific Alerts | CRC errorsUndersize packetsOversize packetsJabber packetsFragments |
| Token-Ring Alerts | BeaconingReceiver congestionMonitor congestionLine errorsBurst errorsInternal errorsAC errorsAbort errorsLost frame errorsFrame copied errorsFrequency errorsToken errors |
Network Traffic Capture and Analysis
The NetWare LANalyzer Agent included with ManageWise can monitor network traffic to detect potential problems before they disrupt your network. The LANalyzer Agent stores statistics and trend information about every workstation on the network. You can analyze the whole network, a single workstation, or an individual conversation. You can also store packets in server memory for future analysis and interpretation.
The LANalyzer Agent fully supports all nine Ethernet remote monitoring (RMON) groups. As an RMON agent, it provides continuous, real-time information about the network status (see Figure 3). It displays any network bottlenecks, and identifies the users responsible for the overloads, what they are doing to cause overloading, and any resources available to resegment network traffic and achieve better load balancing. The trend statistics will also show you when the overloads occur.
Figure 3: The LANalyzer Agent monitors and displays key information about network traffic.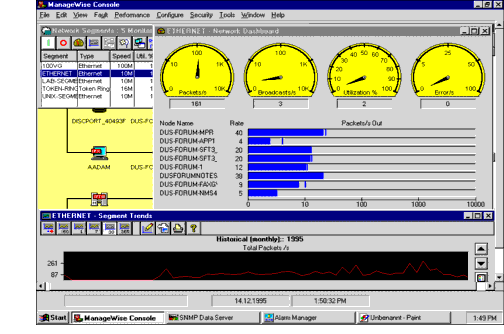 Because NetWare LANalyzer Agent immediately forwards error alerts to the ManageWise console, you can solve problems quickly, with no interruption of network services. NetWare LANalyzer Agent can warn you of potential problems (such as duplicate IP addresses) before they cause costly network downtime. You can configure the NetWare LANalyzer Agent to notify you of excessive packets, utilization, broadcasts, and multicasts. When complex problems arise, NetWare LANalyzer Agent can capture decoded packets and display them on the ManageWise console.
With the LANalyzer Agent in ManageWise, you can filter packet capture by address, protocol, and packet status. Protocol decodes are available for native NetWare protocols, TCP/IP, AppleTalk, NFS, and SNA. Other decodes are available from third-party vendors. In addition, NetWare LANalyzer supports SNMP, which makes it compatible with a variety of network management consoles.
The NetWare LANalyzer Agent also provides a complete planning tool to manage growing networks, gathering and storing various network statistics you can use to plan and maintain your network.
Standards-based Interoperability
Because ManageWise is based on accepted industry standards, your investments in existing systems and employee expertise are preserved. ManageWise supports SNMP, TCP/IP, IPX, and RMON standards for easy integration with enterprise consoles such as Computer Associates' Unicenter TNG, Hewlett-Packard's OpenView for UNIX, and IBM's Tivoli TME 10.
You can compile the management information base (MIB) of any SNMP-manageable device--such as a hub, router, or switch--that provides an SNMP-level of management. As a result, you can receive the alarms from such devices and use the integrated MIB Browser to retrieve their management information.
Because ManageWise is an open system, you can enhance the extensive management capabilities of ManageWise with a variety of third-party applications and services from many industry leaders. American Power Conversion, Compaq Computer, Geneva Software, and Seagate have all created third-party applications that can help you get the most from ManageWise.
New Features in ManageWise 2.7
This section highlights the new features and enhancements in ManageWise 2.7.
Full Compatibility with NetWare 5
ManageWise 2.7 is fully compatible with NetWare 5, including pure TCP/IP-based networks. This NetWare 5 support includes many alarms, trends, and monitored objects that have been developed specifically to manage NetWare 5 servers, including the abend recovery alarms.
ManageWise 2.7 is a set of NetWare Loadable Modules (NLMs).You can therefore install it easily on any existing NetWare 5 server: no dedicated systems or hardware is required. Installation is simple, because all the software is contained on one CD-ROM. You can even install ManageWise on all your servers from your desktop, making deployment quick and easy. Similarly, all workstation agents can be installed automatically.
Support for Pure IP
ManageWise 2.7 is built on the TCP/IP protocol for greater compatibility with today's standards-based networks. Native support for IP means ManageWise 2.7 runs cleanly on your NetWare 5 servers. It also supports mixed IP and IPX networks for better management of your NetWare 3 and NetWare 4 servers.
In this ManageWise release, Pure IP segments and networks are supported natively, eliminating the need for NetWare's IPX compatibility mode. This greatly speeds up server management functions, while also streamlining the administrator's management process. Network administrators will be better able to manage their rapidly growing IP network, as well as manage mixed protocol environments and mixed NT and NetWare networks.
NDS Monitoring
ManageWise 2.7 builds on Novell's directory-services management, with more than 130 alarm types to monitor various events in NDS and NDS eDirectory (formerly known as NDS 8).
This directory service support employs SNMP monitoring to show you various NDS events and conditions. By monitoring events occurring within the directory, ManageWise can alert you to potential problems and help you resolve them before they affect network uptime.
NetWare and NT Server Agents Included
In ManageWise 2.7, agents for managing all NetWare and NT servers are included in the box. In previous versions, they were sold them separately. ManageWise 2.7 now comes with all the tools you need to effectively manage NetWare and NT servers.
With the Novell ManageWise Agent and the ManageWise Agent for Windows NT Server, you can easily manage multiple NetWare, intraNetWare, and Windows NT servers concurrently. You can monitor hundreds of conditions on each server, including directory structure, disk drive, volume, and memory. In addition, you can monitor each server's performance trends, such as file activity, volume data, disk-drive configuration, and adapter card and CPU utilization.
The ManageWise Agent for Windows NT Server enables you to manage Windows NT servers transparently from the ManageWise interface on any network station. You can continuously monitor Windows NT servers and employ full configuration management. Furthermore, its trending capabilities give you information to help you with future network planning.
Optimized Mapping and Autodiscovery
In ManageWise 2.7, the autodiscovery process has been significantly improved from earlier versions, running up to ten times faster. This advanced autodiscovery feature speeds up the process of scanning the network, identifying all network devices, and mapping the router/segment connections. This results in faster retrieval of management information and more efficient inventorying of network assets.
Additional Network Topology and Protocol Support
The LANalyzer agent in ManageWise 2.7 provides packet capture and decodes for many common network protocols: TCP/IP, IPX/SPX, AppleTalk, Fast Ethernet, token-ring, and now FDDI network topologies. ManageWise 2.7 customers can download LANalyzer Agent with the FDDI network analysis upgrade free from the Novell software download site at:
http://www.novell.com/download
Furthermore, the LANalyzer Agent has been enhanced by several new protocol decoders, including those for Dynamic Host Configuration Protocol (DHCP), Bootstrap Protocol (BOOTP), Simple Mail Transfer Protocol (SMTP), and Service Location Protocol (SLP).
Windows NT Console Support
You can run the ManageWise 2.7 console on a Windows NT or a Windows 95/98 workstation. Although ManageWise 2.7 is compatible with Windows 95/98, many network administrators use the Windows NT Workstation operating system to take advantage of its high stability, better performance, and full multitasking capability.
Integration with ZENworks
ManageWise 2.7 can be integrated with ZENworks, Novell's directory-enabled desktop management and software distribution product. This integration allows ManageWise to manage and remotely control ZENworks clients, and vice versa. You can now use the powerful combination of both ManageWise 2.7 and ZENworks for the desktop without having to choose one over the other.
Virus Protection Included
ManageWise 2.7 provides virus protection for your servers and workstations by including McAfee anti-virus software from Network Associates, Inc. The National Computer Security Association has certified that McAfee software can detect and cure viruses, including macro viruses, in general distribution. It can also detect and isolate programs that display virus-like behavior.
ManageWise 2.7 customers can download the following McAfee software from the Network Associates Web site.
| | |
| --- | --- |
| For workstations | VirusScan for Windows 95/98VirusScan for Windows 3.xVirusScan for Windows NT (Intel)Virex for Macintosh |
| For servers | NetShield for NetWareNetShield for Windows NT (Intel) |
To ensure that your network remains protected from the latest viruses, you can configure the included SecureCast client to download the latest virus signature files from NAI's Web site, and distribute them to all servers and workstations protected by McAfee software.
ManageWise 2.7 includes a six-month update subscription to McAfee virus software and the virus signature file update. Extended subscriptions may also be purchased from Novell.
Hardware and Software Requirements
The requirements to load the ManageWise software on a NetWare 5 server are:
NetWare 5.0 or higher

Pentium processor

64MB of RAM (96MB recommended)

27MB of disk space

Note: With ManageWise 2.7, compatibility mode is required only in mixed IP and IPX networks.
For a managed NetWare server, the requirements are as follows:
NetWare 3.12 and above, intraNetWare, NetWare for SFT III, NetWare SMP, NetWare for Small Business, or NetWare/IP

27MB of hard disk space

365KB of RAM on each managed NetWare server

6MB of RAM for Virus Protection on each server

620KB of RAM for LANalyzer in each segment

5MB of RAM for Desktop Management Utilities

LANalyzer server also requires an Ethernet, Fast Ethernet, token-ring, or FDDI adapter supporting the promiscuous mode
For a managed Windows NT Server, the requirements are as follows:
Windows NT 4.0 or NT 3.51

600KB of additional RAM

ManageWise Agent for Windows NT servers
ManageWise can manage clients running the following operating systems:
Windows NT 3.51 or above

Windows 95/98

Windows 3.1, Windows for Workgroups 3.11

OS/2 Warp, OS/2 2 or above

MS-DOS 3.3 or above, Novell DOS 7

Mac OS System 7
The ManageWise Console must meet the following requirements:
Pentium-based PC or above

Windows NT or Windows 95/98

CD-ROM drive

32MB of RAM (64MB recommended)

48MB of RAM (64MB recommended) for NT only

9MB of disk space for executable programs

18MB of disk space for SyncComplete and TrendComplete

10-15MB for ManageWise database, depending on network size

NetWare 5 Client (recommended)

ZENworks Client 1.0 or later
Availability and Pricing
ManageWise 2.7 is available beginning in January 2000. It is priced based on the number of managed nodes. Only workstations and print servers count as nodes--file servers and printers do not. Licensing for ManageWise 2.7 is on a per-user basis. Customers can purchase the ManageWise license for the number of users in their network, and the server software can be installed on any managed server. ManageWise requires that all users connecting to a managed server be covered by a ManageWise license.
Customers may purchase licenses starting at $75 per node from any authorized Novell reseller or by contacting Novell directly at (888) 321-4272. ManageWise customers with previous versions can upgrade to version 2.7 for $40 per user, depending on quantity. Novell also provides special pricing for customers who upgrade from competing products.
* Originally published in Novell AppNotes
---
Disclaimer
The origin of this information may be internal or external to Novell. While Novell makes all reasonable efforts to verify this information, Novell does not make explicit or implied claims to its validity.