The Novell Support Connection Forums on the Internet: 1999 Update
Articles and Tips: article
KIM GRONEMAN
Program Manager
Novell Support Connection
01 Mar 1999
Novell's technical support forums are getting better all the time. This AppNote gets you up-to-date with the latest enhancements and introduces all of the SysOps.
Introduction
It has been about a year since the Novell Support Connection Forums were moved from CompuServe to the Internet. Over this past year the forums have gone through some significant changes and improvements—so much, in fact, that what has previously been written about the forums is now obsolete.
This AppNote replaces "Accessing the Novell Support Connection Web Forums on the Internet" published in February 1998 and provides an updated overview of the Novell Support Connection Forums, covering the following areas:
How to access the forums

Which forums are available

General information about the forums

An introduction to our forum SysOps
This update is necessary because, like most technology-based methods of delivering information, the Novell Support Connection forums are changing and continue to improve over time. This update is intended to introduce readers to the forums as they are operating at the time of this writing. Due to ongoing improvements in the system, the exact screens and messages you see may vary to some degree from those shown in this AppNote. The application you use to access the forums may also have a somewhat different interface than those shown as examples.
We are always interested in receiving customer feedback and ideas for improvements. Please direct any questions or comments about the Novell SysOp Program or the forums in general to Kim Groneman at
sysop_program@novell.com
How Do I Access the Novell Support Connection Forums?
The Novell Support Connection Forums are a collection of free peer support discussion groups staffed by volunteer System Operators or "SysOps", and sponsored by Novell. In these discussion groups, users of Novell products can seek technical information and assistance in using and supporting these products from their peers in the industry and from the forum volunteer SysOps. This is a free service provided by Novell for our customers. All discussions take place publicly, thus ensuring that everyone can benefit from the questions, answers, and discussions. Though the forum SysOps are there to assist the discussions as much as possible, all forum users are invited and encouraged to join in on a discussion at any time to add their knowledge and experience to the group.
The Novell Support Connection Forums can be accessed in one of two ways :
Via a web browser (HTTP)

Via a news reader (NNTP)
Basic Forum Access
For basic access to the forums, use a Web browser such as Netscape Navigator or Microsoft Internet Explorer. Once the browser connects to the Internet, enter the following URL:
Once the Support Connection home page is displayed, click on the FORUMS link underneath the page header. A screen similar to the one shown in Figure 1 will be displayed.
Figure 1: Novell Support Connection Forums entry page.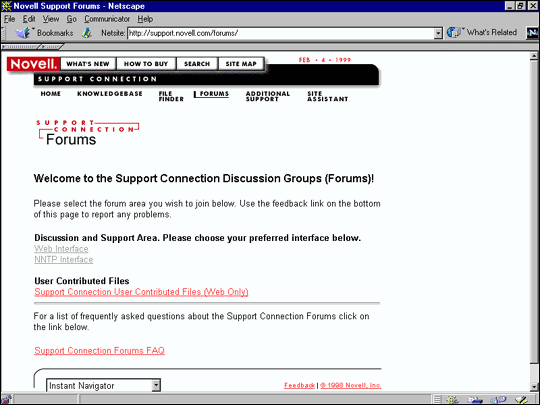 If you have visited the forums in the past, you will notice that registration is no longer necessary for access to the forums (discussion groups). At this page, you have four options as follows:
Access the support forums via the Web interface.

This interface is for those who are comfortable with using a Web browser or who don't have news reader software installed on their PC. It is also for those who have port 119 blocked at their firewall and can't access Usenet news groups. The disadvantage of this interface is that it is a bit slower than using the NNTP protocol. It also doesn't keep track of which messages have been previously read from session to session.

Access the support forums via the NNTP (newsgroup) interface.

This interface does not require any knowledge of newsgroups or of the NNTP protocol. However, it does require that news reader software such as Netscape Collabra (which comes with the Netscape Communicator package), Microsoft Outlook Express, or similar software be installed and configured on the accessing PC. If you are unsure if your system is set up correctly, just give it a try and see what happens. This interface is somewhat faster than the Web interface and previously read messages are tracked from session to session. The disadvantage of this interface is that it will not work if you have port 119 blocked and it does require additional (news reader) software to be installed on the PC.

Access the User Contributed Files.

This area is undergoing significant change at the time of this writing so we will only touch on it briefly. This area is for users and third-party developers to upload any Novell related file or utility they have written and would like to distribute to the public. Files are uploaded and then checked for appropriateness, as well as scanned for viruses before being released to the public. Most files are uploaded as freeware, shareware, or demo versions and have the contact information of the uploader included. Novell provides this service free of charge to both those uploading files and to those looking for a file to download. We are looking at integrating this User Contributed Files area into the Novell Community discussion area, so look for that possibility in the future.

Access the Novell Support Connection Forums FAQ.

This link will take you to the forum FAQ area where you can get information on how to get the most out of the forums, how to use NNTP to access the forums, what the rules of the forums are, and even some technical information you might want to look at before posting a message in the forums in case your question has already been answered.
Note: The discussion groups available via the Web and NNTP interface are the exact same groups. There are not separate groups for each interface. Each method is just a different access point to the same information.
Web Interface
A screen similar to the one shown in Figure 2 is displayed when the Web Interface option is selected.
Figure 2: Web interface configuration.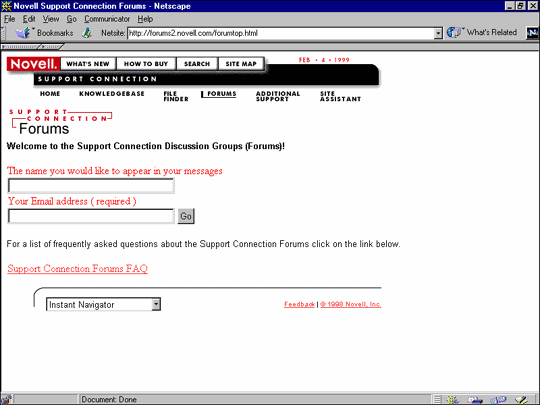 Each time you use the interface, you will need to enter your name and your e-mail address. The e-mail address is required to feed the message to the NNTP protocol which is the protocol on which the forums are based. This will also allow our SysOps to contact you directly if necessary. It is preferable to use the same e-mail address each time you access the forums, because this helps us in accumulating and interpreting our forum statistics and will help ensure your messages get replies in the appropriate message threads.
Once you have entered in the appropriate information and have clicked on the Go button, a screen similar to that shown in Figure 3 will be displayed.
Figure 3: Web interface discussion group selection.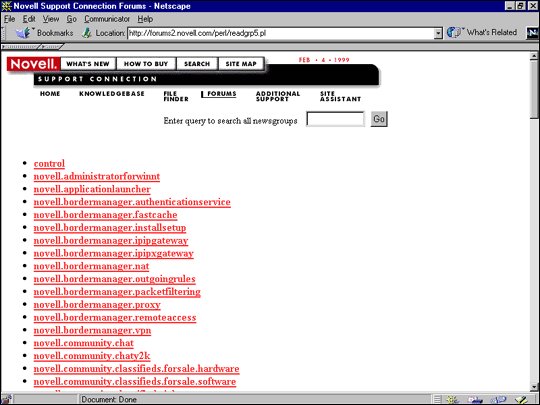 On this screen you can pick from the list of available discussion groups, arranged by product. You also have the option of entering a keyword or two and searching for messages containing those keywords across all groups.
Once you have selected your desired discussion group, you will enter a screen similar to Figure 4.
Figure 4: Web interface interaction screen.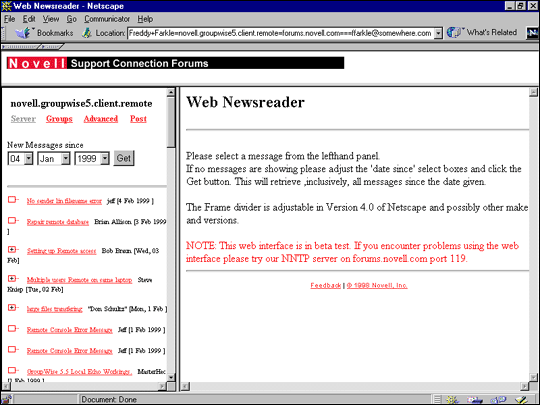 As a default, only new messages from the current date will be displayed. This can be changed by adjusting the "Date Since" select boxes and then clicking on the Get button. Clicking on any of the messages displayed in the frame at the left of the screen will display that message in the frame at the right of the screen. Threads in the left frame can be expanded by clicking on the plus sign (+) next to the thread.
Note: It's easy to tell which messages have one or more replies by the plus sign (+) next to them. Any message without a plus sign does not currently have a reply associated with it.
From this screen you can read messages and post replies in the chosen discussion group. You can also select another discussion group, do some advanced searching, or post a new question to the group. More detailed and current instructions can be found in the Forum FAQ previously discussed.
NNTP Interface
A screen similar to that illustrated in Figure 5 will be displayed when the NNTP interface link is selected.
Figure 5: NNTP interface group selection.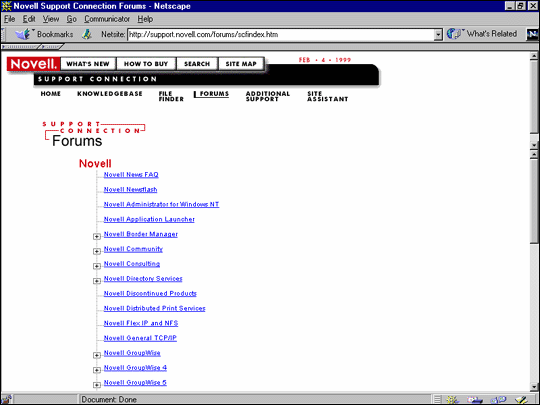 Your name and e-mail configuration are already defined in your news reader so there is no need to input this information each time you enter the discussion groups. As with the Web interface, you can select from the list of available discussion groups, arranged by product. The plus sign (+) indicates a particular product has sub-groups to help you select the appropriate group for your interest. These sub-groups will be displayed when you select any product so indicated.
Once you have selected and clicked on the group of your choice, your browser should launch your default news reader and display the selected discussion group. An example of what would be seen if Netscape Collabra were the default news reader is shown in Figure 6. Other news readers would have the same information available but might be arranged differently on the screen.
Figure 6: Netscape Collabra view of the NNTP interface.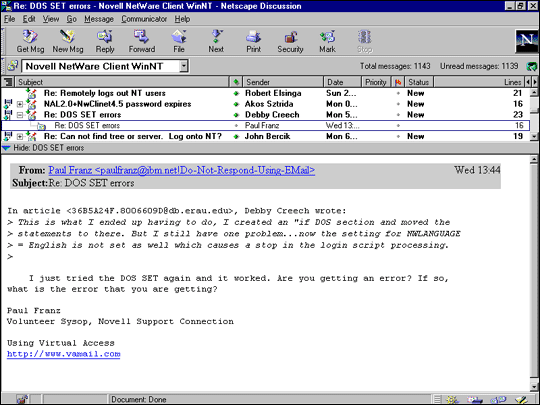 As with the Web interface, subjects, threads, and messages are displayed. Messages can be read and replied to. New threads can be started with a new question or comment. Refer to the documentation on your news reader for specifics on its operation.
Note: In NNTP, searching is a function of the NNTP client used and each client has different capabilities. Novell has our server search enabled for your client to take advantage of searching.
Advanced Forum Access
For those who visit the forums on a regular basis and/or require advanced searching and sorting capabilities, we recommend the use of an offline news client to access the forums. There are many offline news readers available; some that we have tested, along with where to obtain them, are listed in the forum FAQ we discussed earlier.
Using an offline reader has a few advantages over the other access methods discussed to this point:
Fast. Offline readers download the discussion group message base to the local machine so the user can read, respond to, and search messages offline eliminating the wait for bits of information to be passed via the Internet. Most readers have the option to connect and download the entire message base, or just message headers which can be marked for retrieval at a later time. Once the messages have been downloaded to your machine, browsing through the messages and searching the message base can be done very quickly. Most offline readers will allow you to reply to messages which will be held in a queue until the next Internet connection.

Versatile. Using an offline reader on a laptop, it is possible to connect once in the morning and then read and respond to messages while traveling. You can do an upload connection later from a hotel room without holding the phone lines open for an hour or more.

Advanced searching. Many offline readers have advanced searching capabilities that allow quick sorting and searching of the message base which is stored locally. Many offline readers allow such searches as "all messages to me" or "all messages since a particular date."

Direct access from news reader. With a properly configured offline (or online) reader, there is no need to use a Web browser for the initial connection to our discussion groups. Groups can be accessed directly from the news reader.
Though setup varies from news reader to news reader, it should generally be configured as follows:
News Server Name: forums.novell.com

Port: 119

Secure: No

Requires Authentication: No
Which Forums Are Available?
The following forums (discussion groups) are currently available for public access. This list of forums is in constant change with the release of new products and services and the obsoleting of old products.
As a service to our customers, we have recently added a "Community" area to our discussion groups as a place to buy or sell hardware and software, a place to post a job opening or a resume, or a place to just relax and have fun with others having similar interests. We also have a Newsflash and a NewsFAQ group to proactively keep you informed of what is happening with Novell and Novell products.
| | |
| --- | --- |
| Discussion Group | Sub-Groups |
| Novell News FAQ |   |
| Novell Newsflash |   |
| Novell Administrator for Windows NT |   |
| Novell BorderManager | Authentication ServiceFast CacheInstallation & SetupIP to IP GatewayIP to IPX GatewayNetwork Address TranslatorRemote AccessOutgoing RulesPacket FilteringProxy ServerVirtual Private Network |
| Novell Community | ChatChat Y2KClassifieds Jobs OpenClassifieds Jobs ResumesClassifieds For Sale HardwareClassifieds For Sale Software |
| Novell Consulting | Data Shredder Object Import/Export |
| Novell Directory Services | LDAPNDSNDS for NTRADIUS |
| Novell Discontinued Products |   |
| Novell Distributed Print Services |   |
| Novell Flex IP and NFS |   |
| Novell General TCP/IP |   |
| Novell GroupWise | Gateways SMTPGateways Internet AgentGateways Other |
| Novell GroupWise 4 | GroupWise 4.x AdministrationGroupWise 4.x Client MacintoshGroupWise 4.x Client NotifyGroupWise 4.x Client RemoteGroupWise 4.x Client UNIXGroupWise 4.x Client WindowsGroupWise 4.x ConnectivityGroupWise 4.x InstallationGroupWise 4.x Message Servers |
| Novell GroupWise 5 | GroupWise 5.x AdministrationGroupWise 5.x Client MacintoshGroupWise 5.x Client NotifyGroupWise 5.x Client RemoteGroupWise 5.x Client UNIXGroupWise 5.x Client Win16GroupWise 5.x Client Win32GroupWise 5.x DocumentationGroupWise 5.x and 4.x IntegrationGroupWise 5.x ImagingGroupWise 5.x InstallationGroupWise 5.x Library AdministrationGroupWise 5.x Library User InterfaceGroupWise 5.x Message ServersGroupWise 5.x Other ConnectivityGroupWise 5.x Web AccessGroupWise 5.x Workflow |
| InForms |   |
| Novell Lanalyzer Agent |   |
| Novell Lanalyzer for Windows |   |
| Novell LAN WorkGroup |   |
| Novell LAN Workplace |   |
| Novell Macintosh |   |
| Novell ManageWise | ManageWise Agent for Win NTManageWise ConsoleManageWise General ManagementManageWise ServerManageWise WorkstationManageWise NetWare Mgmt Agent |
| Novell Multiprotocol Router |   |
| Novell Netscape | Netscape Enterprise Server for NetWareNetscape Message Server for NetWare |
| Novell NetWare 3 | NetWare 3 ABENDsNetWare 3 DocumentationNetWare 3 Installation & UpgradesNetWare 3 LAN Cards & DriversNetWare 3 NLM & Console UtilitiesNetWare 3 Pre-Install PlanningNetWare 3 PrintingNetWare 3 Public UtilitiesNetWare 3 Server BackupNetWare 3 Storage Media |
| Novell NetWare 4 | NetWare 4 ABENDsNetWare 4 DocumentationNetWare 4 Installation & UpgradesNetWare 4 LAN Cards & DriversNetWare 4 NLM & Console UtilitiesNetWare 4 Pre-Install PlanningNetWare 4 PrintingNetWare 4 Public UtilitiesNetWare 4 Server BackupNetWare 4 SMPNetWare 4 Storage Media |
| Novell NetWare 5 | NetWare 5 ABENDsNetWare 5 Console One & JavaNetWare 5 DocumentationNetWare 5 Installation & UpgradesNetWare 5 LAN Cards & DriversNetWare 5 LAN ProtocolsNetWare 5 NLM & Console UtilitiesNetWare 5 Storage ServicesNetWare 5 Pre-Install PlanningNetWare 5 PrintingNetWare 5 Public UtilitiesNetWare 5 Server BackupNetWare 5 SMPNetWare 5 Storage Media |
| Novell NetWare Clients | NetWare Client DOS/WinNetWare Client NETX/VLMNetWare Client Win 95/98NetWare Client Win NT |
| Novell NetWare Connect |   |
| Novell NetWare for SAA |   |
| Novell NetWare for Small Business |   |
| Novell NetWare IP |   |
| Novell NetWare Telephony Services |   |
| Novell NIAS |   |
| Novell Personal NetWare |   |
| Novell Print Services for UNIX |   |
| Novell Replication Services |   |
| Novell SFT 3 |   |
| Novell Stand-by Server |   |
| Novell Web Server |   |
| Novell ZENworks | InstallInventoryRemote ControlWorkstation Manager for Win 95/98Workstation Manager for Win NTApplication Launcher |
General Information About The Forums
Forum Rules
In order for these discussion groups to fulfill the purpose of providing quality support, we have established a few forums rules, which are discussed below.
Posting Messages. To get technical assistance, post your message as a new topic in the appropriate news group and include as much information about your configuration/setup as possible. If you are receiving an error message, post the complete message including any numeric indicators.

E-mail Support. Technical support via e-mail is NOT provided by the Volunteer SysOps nor by any Novell employee. Please do not send e-mail to the volunteers unless specifically asked to do so by the volunteer. Please do not ask for replies to be sent via email. Keeping the discussions in the discussion groups helps everyone benefit from shared knowledge and email replies rob the group of this benefit.

Security. For your protection, do not publicly post product serial numbers, credit card numbers, CNE ID numbers, or any other private information. Though "hack" or "break in" products are readily available, they are not considered a viable threat to network security if appropriate measures have been followed. Novell has established a policy of non-discussion of where to obtain these products. We will freely discuss protecting a network from these products as long as the discussion does not include information on obtaining these products. This policy serves to reduce the likelihood of unscrupulous persons obtaining these products for the purpose of breaking into a network. Public messages in violation of this policy will be deleted from the discussion groups and may be grounds for lockout.

Appropriate Language. Please don't use any profanity in your messages. Messages containing profanity will be deleted from the news group. Also, do not make any personal attacks on another participant in the newsgroups or on the SysOps. We want to maintain a friendly, helpful environment where everyone can participate without offense.

Related Topics. To provide the maximum value to these support groups, not only to those that post questions, but to those that spend time reading, we ask that you stay on topic and refrain from using our technical discussion groups as chat rooms with wandering topics. For this reason, and to limit the impact on our storage space, people posting non-technical messages will be asked to move their conversations to e-mail or to the community chat area. If it becomes necessary, messages will be deleted from the technical groups.

Commercial Messages. We realize there are vendors who have products which may help customers resolve problems. We welcome and encourage vendors to participate in the discussions. Product features may be discussed in response to an inquiry; however, to maintain a non-sales atmosphere of strictly support, we ask vendors to:

Restrict your postings to customer inquiries which may be directly resolved by your product.

Specify your vendor affiliation.

Do not discuss pricing or purchase requirements. Instead, direct customers to contact the vendor via e-mail or phone.
Failure to adhere to any of these rules will result in messages being deleted from the service and possible lockout.
Frequently Asked Questions
The following section contains a number of questions we get asked frequently about our forums.
Q. What is the purpose of these news groups?
A. The message forums are the place to discuss and obtain technical support with regards to released Novell products. Feel free to ask questions, respond to any forum message that interests you, or tell all of us about your latest adventure with your Novell product. If you can assist a fellow user, feel free to jump into the conversation.
Q. Does Novell monitor and/or reply in these news groups?
A. Novell personnel do not officially monitor these news groups though you might see a Novell person visiting here from time to time on their own. Novell relies on the volunteer Support Connection SysOps (System Operators) and you, as a participant, to share knowledge with other participants in the groups. The SysOps are experts in their field with years of real world experience. The SysOps also have direct connections to Novell's technical support if needed so you are really getting the best of both worlds. If you wish to talk to a Novell representative or if your problem is urgent, call 1-800-858-4000 (US/Canada) or your Novell Regional Support Center.
Q. How long should I wait for an answer?
A. SysOps are online daily. They do their best to catch as many unanswered questions in their area of expertise as time allows. However, sometimes neither a SysOp nor any other user will know the answer to your issue. Sometimes messages fall through the cracks. If you do not receive a reply to your message, you can try reposting it or using one of the other avenues for technical support. Be sure to check back frequently for any replies as the messages do expire from the news groups on a regular basis. Replies from SysOps are posted in the newsgroups only. No e-mail replies will be sent.
Q. I'm interested in becoming a SysOp. How do I apply?
A. Our SysOps are here because they love being here. If you respond to other user questions frequently and regularly, you will be noticed. Becoming a SysOp is by invitation only.
Q. I have found a problem with the news groups. Where do I report it?
A. Because of the fact that we are mere human beings, you may find mild to serious problems with the news group structure or operation. You may just have a great suggestion we could use to improve the look or functionality of our site. Use the feedback link of any Support Connection page to submit a message to our news server team.
Who Are the SysOps?
Following are short bios of the current Novell support Connection SysOps, a group of wonderful volunteers that take time out of the otherwise hectic days to answer your questions. They are listed in alphabetical order by first name.
Al Stearns - Novell Clients, NDS, Netware
Al is a Computer Systems Integrator and Network Analyst in the Augusta, GA area. His computer experience includes 8+ years with PC networking hardware/software, 16+ years with PC hardware/software, and 6+ years assisting users to solve problems on the Novell Support Connection Forums. His certifications include Novell's CNE, CNE-3, AND CNE-4 certifications and CTIA's A+ Service Technician certification.
Alan Adams - Novell Clients
Alan is the network administrator at the Seventh-day Adventist Church World Headquarters in Silver Spring, Maryland. He has been programming and working with computers professionally since 1989 and started working with NetWare and toward his CNE certification in 1994. Alan likes to tackle operating system integration issues with Novell Client software.
Allen Harris - NetWare, GroupWise
Allen is a Senior Systems Administrator for EDS in Plano, TX, specializing in remote client support of GroupWise and NetWare. Prior to EDS, he was Technical Architect for Cardiovascular Provider Resources in Dallas, Texas, and before that he worked as a senior consultant/system integrator for six years. Allen started his "NetWare" career as a test engineer at Novell (1985), where he helped develop NetWare 2.0 through NetWare 3.1. Allen has spoken at several NetWare User Conferences and has served on the Board of Directors for NetWare Users International. He has also spoken at Novell's Developer Conference, at BrainShare, and at NetWorld, has served as a SysOp for the Novell Support Connection since 1990, and has been a CNE since the program's inception. He has a degree in Operations Management from Brigham Young University.
Anders Gustafsson - NetWare, Novell Clients, ZENworks, BorderManager, NAL
Anders lives in the Aland Islands, Finland and is a founding partner in Pedago Ab which is a company focused on three areas: Advanced Communications, Network Consulting, and Education and Programming. Anders was a founding partner in the company Rox which is the only Novell Gold Reseller in the Aland, Finland area. Anders passed the matriculation exam in 1978 at Alands Lyceum.. He obtained a B.Sc. (eng) from Tekniska Laroverket i Helsingfors in 1983. He became a CNE in 1992, a Compaq ASE in 1996, and joined the SysOp team in 1998.
Andrew Taubman - NetWare, Novell Clients, Macintosh, NDS, SFT III
Andrew actually works for Novell as a Senior Technical Support Engineer in Novell's Asia-Pacific Support Center in Sydney, Australia. He does his SysOp work in his free time. His experience includes over 10 years with PC networking and over 12 years with PC hardware/software. He holds a CNE, ECNE, and MCNE certification.
Barry Schnur - Novell Clients, NetWare
Barry is an independent consultant from Scottsdale, Arizona. He has 15 years experience with personal computing and six years hands on NetWare experience starting first in the corporate world. As well as being a SysOp on the Novell Support Connection, he is also with Corel's CTECH program. He started his SysOp work in 1988 with Borland. He has a BA from Yale University. His publications include a number of articles in Absolute Reference, Cobb journals for Quattro Pro, and work as a technical editor for Sybex. Speaking engagements have included the Borland Developers Conference and NetWorld.
Barry Merchant - GroupWise
Barry has over 25 years experience in IT and has been involved in mainframe and Unix application development. For the last 7 years, he has been focusing on Novell products, particularly GroupWise. Barry designed and almost single- handedly installed one of the UK's largest GroupWise systems.
Barry St. John - Novell Clients
Barry is the systems manager for First Federal Bank in Kansas City, a position he has held for the last 10 years. He has been installing and maintaining Novell- based LANs and WANs in the banking industry since 1985. Barry has been a user of the Novell Support Connection since its inception on "The Source" online service.
Bob King - NetWare
Bob has spent the last three years working for EDS as a network system administrator at several client sites. He has worked extensively with DRDOS, Novell DOS, NetWare Lite, Personal NetWare, and now with NetWare for Small Business. He has operated for more than 17 years as an independent full service consulting firm supporting small businesses. Bob has written or contributed to several books over the years with Que Publishing.
Brad Doster - Novell Clients, NetWare
Brad is president of Insight Network Solutions, a network consulting and training company based in Pleasant Hill, California. He has worked with computers for 26 years, and computer networks for 14. He is a Master CNE, Master CNI, Microsoft Certified Trainer, Citrix Certified Professional and a Check Point Certified Systems Engineer. Brad has been a Novell Forums SysOp for five years.
Craig Johnson - BorderManager, ZENworks, NAL
Craig is a Senior Systems Consultant at ENTEX Information Services in Phoenix, Arizona. He has a BS from Purdue University and holds an MBA from Western International University. Craig has worked with computers since 1980 and along with his CNA, CNE 3.11, CNE 4.1, CNE intraNetWare and Master CNE certifications has and IBM PSC, Compaq ASE, Cisco CCNA, and HP routers certification.
Danita Zanre - GroupWise
Danita is a consultant for Caledonia Network Consulting, a GroupWise Consulting firm in the Denver, Colorado area. She has worked with NetWare and GroupWise since 1989. A CNE-GW4 and CNE-GW5, Danita is the co-author of the GroupWise 5.5 Administrator's Guide by Sybex, Inc., is also a SysOp in the Corel CTECH program, and has been a TechShare speaker.
Dave Kearns - NetWare, Novell Clients
Dave spent 10 years as a network manager, ending up as Information Services manager for the former Thomas-Conrad Corporation (now part of Compaq). In 1987 he was a founding SysOp of the Novell Support Connection service on CompuServe (NetWire) and served as the first president of the Association of NetWare SysOps. He is a past recipient of NetWare Users International Nuggie award for "outstanding contributions." Dave's column, "Wired Windows," is carried weekly in Network World magazine. He has also contributed to PC World and The Novell Companion. His book, The Compelete Guide to NDS, was recently published by Sybex.
Dave Parkes - NetWare
Dave is the network manager for IMI Norgren in the U.K. He has worked in the computer industry for the last 17 years. Dave has a BA and MA Cantab and is a member of ImechE and the UK Engineering Institute.
Don Crawford - User Contributed Files
Don is an independent consultant from Phoenix, Arizona. He has 35 years of experience with computers and data processing and has been working with NetWare since 1987. He is a Certified Computer Professional (CCP) and has a Master's Degree in Business Administration.
Frank McCallister - NetWare, Novell Clients, NAL, GroupWise
Frank is a retired USAF pilot, has worked with electronics since 1975, computers since 1983, and Novell products since 1989. He is a consultant with COMPUMAC. Frank is also a Corel CTECH SysOp.
Jim Henderson - NetWare, NDS, Replication, SFTIII
Jim is a systems engineer from Salt Lake City, Utah. He has worked with NetWare since 1989. He also has 16+ years of programming experience in a variety of languages. He co-authored NDS Troubleshooting, has performed numerous technical reviews of NetWare related books and magazine articles, and has spoken at NetWare User Group conferences. He is currently president of the Salt Lake NetWare Users' Technical Symposium, a chapter of NetWare Users International.
Joe Moore - NetWare, Novell Clients
Joe is the Systems Administrator for Crowther Roofing and Sheet Metal of Florida in Ft. Meyers, Florida. He has been working with computers and programming since 1982. Joe started working with NetWare in 1995 and earned his CNA in 1998. He is currently working towards his CNE and working on expanding his knowledge and coverage of other Novell products.
Marcel Cox - NetWare, Novell Clients
Marcel is a network manager at the Centre Informatique de l'Etat du Luxembourg (the Luxembourg State Computer Center). He has been working in his current position since 1991, dealing with a NetWare environment from the beginning. Marcel has been a member of the SysOp team since 1997.
Marcus Williamson - NetWare
Marcus is Managing Director of Connectotel Limited, based in London,UK. Until July 1996 he was Team Leader of Novell Consulting (Europe), based in Duesseldorf, Germany and responsible for consulting activities in Eastern Europe, Germany, Austria and Switzerland. He worked with Novell for over six years and has worked with NetWare for the last 12 years. Marcus has contributed many times to Novell AppNotes and other publications, and is a regular speaker at Novell's BrainShare events in America and Europe.
Marilyn Ratcheson - Connectivity
Marilyn is a network manager from Chicago, Illinois. After several years as a training manager, she began working professionally with computers and data processing in 1985, and with NetWare in 1990. Marilyn holds CNE, ECNE and Master CNE certifications from Novell. She began helping people with their computer and data communications related questions as a CompuServe SysOp in 1988 and became active in the Novell forums in 1993.
Michael Bell - GroupWise
Michael is the Computer Resources Manager at Industrial Economics in Cambridge Massachusetts, where he has been working for the past 4 years in a Netware environment. He is preparing to release several programs to enhance Groupwise 5, including a command line mailer and an antivirus snapin. Michael has been a member of the Sysop Team since May, 1998.
Paul Franz - Novell Clients
Paul lives in West Chester, Pennsylvania, and is a software engineer at Primavera Systems, Inc. He has 6+ years experience with Novell client products, giving him an excellent knowledge of the clients.
Peter Kuo, Ph.D. - Connectivity, ManageWise, NetWare
Peter is President of DreamLAN Network Consulting Ltd. (home of the NDS Toolkit) which is based in Toronto, Canada. He is the first Canadian Enterprise CNE, one of the world's first Master CNEs and Master CNIs and is the world's first Novell Certified Internet Professional (NCIP). Furthermore, he is a Certified Network Expert (CNX, Ethernet and Token Ring). Peter has over 20 years of computer and related experience. He as worked with all versions of NetWare since v2.0a, including NetWare for VMS. In addition to presenting seminars at NetWorld+InterOp and NetWare Users International (NUI) conferences, Peter has authored, co-authored, technical edited, and contributed to many computer books (such as NDS Troubleshooting, NetWare 4.1 Survival Guide, NetWare Web Development, and Special Edition: Using UNIX), Novell AppNotes, and other publications.
Richard Beels - GroupWise
Richard is a Network Administrator for a hospital in the second largest Catholic HealthCare System in the US. He has been involved in the computer industry for over a dozen years and has almost eleven years experience in running NetWare networks. Richard is a CNA/CNE: NW3, NW4, INW, NW5, GW4, GW5:CNS. He is a co-author of the GroupWise 5.5 Administrator's Guide published by Sybex. He has a number of industry certifications and holds a Master's Degree in Business Administration.
Richard Guaraldo - Connectivity, BorderManager
Richard is the senior systems engineer for Light Industries in Millersville, Maryland. He has a BSE in Electrical Engineering, over 11 years experience with Novell products, and 21+ years experience with technology in general. He is a CNE and a Microsoft Certified Professional.
Sandra Harrell - Novell Clients, NetWare, ManageWise, ZENworks, NDS
Sandra recently joined Novell Consulting but still does SysOp work in her spare time. She has 8+ years experience with Novell products and 11+ years experience with computers. She has been a CNE since 1994. She is originally from London, UK but now lives in the Richmond, Virginia area.
Scott Kunau - GroupWise
Scott is president of Certified Computer Services, Inc. a training and consulting firm based in Cincinnati, Ohio. He is an independent consultant and trainer specializing in GroupWise, NetWare, NDS, ManageWise, NT Server, and Exchange. He has been working in the computer industry for 9 years and has 7+ years experience working with Novell products. Scott hold his Master CNE, CNI, MCT, and MPS certifications. Scott published his first book The Ten Minute Guide to GroupWise 5 in 1996 and co-authored the GroupWise 5.5 Administrator's Guide. Scott is also active on the Master CNE Advisory Council.
Shaun Pond - Novell Clients, NDS, NetWare, ManageWise
Shaun is a Systems Consultant for Tesco Stores Ltd., the UK's largest food retailer. He has been in the computer industry for over 22 years and has worked with Novell products for the last 12 years.
Steve Meyer - NetWare
As President and Founder of Avanti Technology, Inc. of Colorado Springs, Colorado, Steve has been involved in networking since 1979 and has been developing Network Management technology for Novell's NetWare server platforms since 1984. He has been a SysOp on the Novell Developer and Support Connection forums, has had his own column and has contributed to columns on network management issues for several major trade publications, and has contributed to or tech edited several books on NetWare server network management. His forte is NetWare internal logic and ABEND issues.
Susan Rickey - Informs, NWSB, GroupWise, Community
Susan is the President of Effective Systems Counsel, a computer consultancy in Honolulu, Hawaii servicing government, legal, service, non-profit and real estate clients in Hawaii and California. Her particular expertise is enterprise application integration on Novell networks. She has been a network Admin on Novell networks since 1989, working with computers since 1983, has been a part of the SysOp team since 1993, and is a C-Tech SysOp for Corel.
Suzanne Miles - NDS, Macintosh, Connectivity
Suzanne is a network administrator from New Jersey. She is a CNE, ECNE, and a Master CNE. Suzanne has been working with Novell networks for over 11 years. She was a contributing author for the book Special Edition - Using IntranetWare.
* Originally published in Novell AppNotes
---
Disclaimer
The origin of this information may be internal or external to Novell. While Novell makes all reasonable efforts to verify this information, Novell does not make explicit or implied claims to its validity.