BorderManager FastCache
Articles and Tips: article
01 Nov 1998
BorderManager Fast Cache Novell Demos 10,000 Hits-per-Second Web Server Acceleration

September 28, 1998- At ISPCON '98, a show for Internet Service Providers from around the world, Novell demonstrated a new service that ISPs can provide to their Web hosting customers. Through Web server acceleration provided by Novell's BorderManager FastCache product, you can accelerate any Web server's capacity up to an incredible 10,000 hits per second (see Figure 1) and over 600 Mbits/sec throughput the equivalent of an OC12 pipeline (622 Mbits/sec).
Figure 1: BorderManager FastCache can dramatically accelerate the performance of any Web server to over 10,000 hits per second.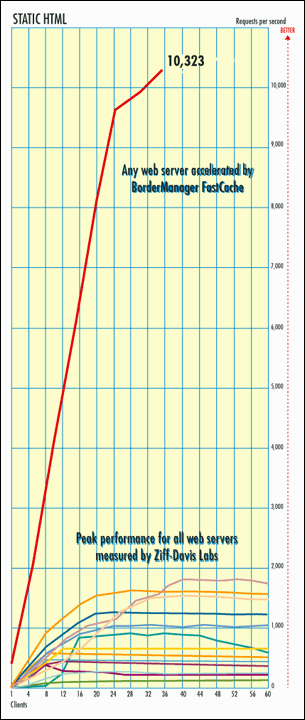 Traditional Web servers are too overburdened and underpowered to produce these kinds of results. The dramatic boost in capacity comes from placing a Novell Web server accelerator in front of a traditional Web server. Border Manager FastCache acts as a reverse proxy cache, caching the most frequently requested Internet objects (HTML pages and graphics) in RAM and servicing browser requests for those objects on behalf of the Web server.
Demo Equipment and Workload
For the demo, the Web server acceleration was provided by Novell's BorderManager FastCache software running on a 400 MHz Compaq ProLiant 7000 Xeon server with 512 MB of RAM. The server contained a single Intel PRO/1000 Gigabit Server Adapter, which was connected via fiber optic link to a Packet Engines PowerRail 5200 gigabit module with a backplane capacity of 52 gigabits/sec. The testbed included 36 clients running Microsoft Windows NT Workstation 4.0, which were connected to the PowerRail via Fast Ethernet links (see Figure 2 on the next page).
BorderManager FastCache was installed on the Compaq server using the default settings. The operating system platform was Novell NetWare 5, also installed with its default settings. The Intel PRO/1000 adapter was configured with the POLL=1 parameter to enable polled mode rather than interrupt mode.
The workload for the demo was WebBench 2.0, a new test workload developed at the Ziff-Davis Benchmark Operation to measure Web server performance. WebBench 2.0 is based on an analysis of log files from popular sites including ZDNet, USA Today, Microsoft, and the Internet Movie Database to reflect the types of traffic and file sizes found on real-world Web sites. Based on this analysis, the test developers designed a workload of 6,010 files ranging in size from 200 bytes to 550 kilobytes, and taking up approximately 63 megabytes of disk space.
What These Results Mean to ISPs
The accelerated Web server capacity and throughput made possible by BorderManager FastCache is beneficial to ISPs who want to provide the utmost performance for co-located Web servers. It can also be applied to remote Web servers located on your customers' premises. And best of all, Novell's solution is available for a fraction of the cost of additional Web servers. (For more information, see the document entitled  BorderManager FastCache: The Power of Novell Web Server Acceleration. )
Figure 2: Diagram of the Web server acceleration demo testbed.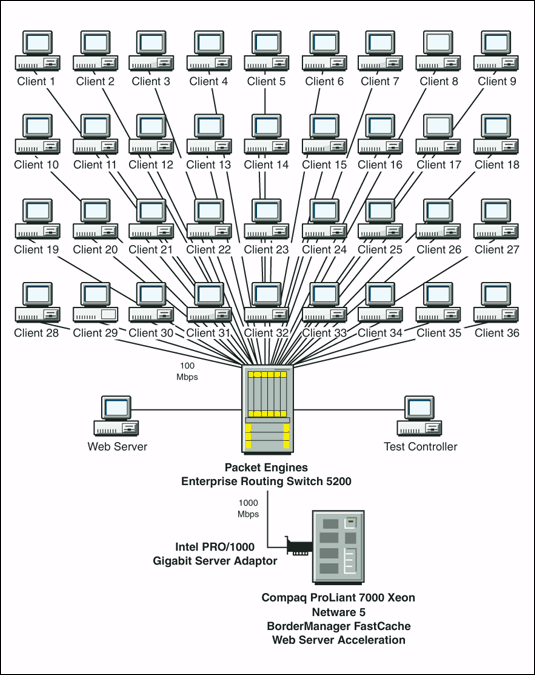 In addition to these benefits for your customers, the use of BorderManager Web server acceleration helps the overall performance of the Internet. The majority of the latency or delay that users experience on the Internet is due to slow, overburdened Web servers on the other end of their connection. By boosting their performance with BorderManager FastCache, you can significantly reduce wait times and provide a more satisfying Web surfing experience for Internet users worldwide.
Conclusion
In today's competitive ISP market, players must distinguish themselves by the quality of service they provide to their customers. Don't let slow or overburdened Web servers turn your customers away — unleash the power of BorderManager Web server acceleration today.
For more information, visit Novell's BorderManager Web site at
http://www.novell.com/products/bordermanager/
— Ron Lee
Copyright © 1998 by Novell, Inc. All rights reserved. No part of this document may be reproduced or transmitted in any form or by any means, electronic or mechanical, including photocopying and recording, for any purpose without the express written permission of Novell.
All product names mentioned are trademarks of their respective companies or distributors.
* Originally published in Novell AppNotes
---
Disclaimer
The origin of this information may be internal or external to Novell. While Novell makes all reasonable efforts to verify this information, Novell does not make explicit or implied claims to its validity.