BorderManager: Using BorderManager to Improve the Quality of Service for International Access to www.novell.com
Articles and Tips: article
01 Aug 1998

On June 25, 1998, Novell launched a global Web site acceleration project for its main site (www.novell.com) through Digital Island's network operations center in Honolulu, Hawaii. Using two Novell BorderManager Web server accelerators, combined with the star topology of Digital Island's global infrastructure, Novell is now able to provide premium Web access to its global community. Novell chose to cache its corporate Web site inside of Digital Island's network because of their private single-hop connections to population centers around the world (see Figure 1).
Figure 1: BorderManager accelerates Novell's Web site within Digital Island's international network.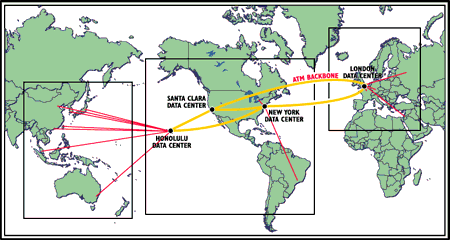 This document describes how this system is set up and what benefits it provides to Novell Web site visitors worldwide.
Caching with BorderManager
Technically, the system is simple and straightforward. The BorderManagers fill their caches from the cache cluster at Novell's headquarters in Provo, Utah, which in turn fills its cache from the main Web servers at the same location. When international users request Web content from Novell's site, it is delivered by the BorderManager caches in Honolulu via Digital Island's network, completely bypassing the public Internet. Delivering this cached content from Honolulu also removes the burden of non-U.S. traffic from Novell's domestic Internet infrastructure.
To accomplish this, Novell has created two public addresses for its Web site. The main address, www.novell.com, serves the domestic United States and all areas not serviced directly by Digital Island. The other address, www.intl.novell.com, represents the two BorderManagers in Honolulu and services requests from the rest of the world.
Routing visitors to the proper Novell Web site is simple. Whenever a Novell Web site visitor selects localized content from country offices outside the United States(see Figure 2), the link automatically redirects them to the Digital Island accelerators. The home pages for these international offices all point to www.intl.novell.com. This simple, obvious selection system results in the delivery of international Web pages to international audiences through the accelerators with an impressive 98% cache hit rate. That translates into much faster response times for customers outside the United States.
Figure 2: Links to Novell's localized content automatically redirect international visitors to Digital Island's BorderManager caches.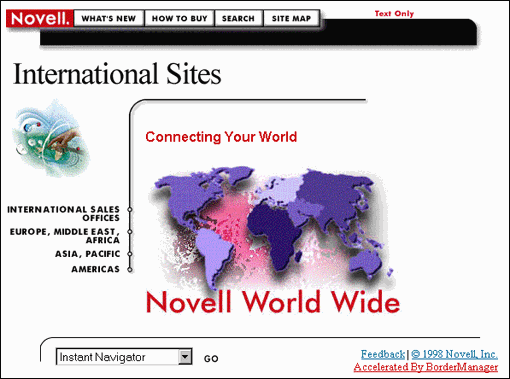 Benefits of BorderManager Caching
Reduction of Internet Traffic. Additional opportunities exist for traffic redirection within this cached delivery service. Software download systems have been configured to redirect download activities based on the country in which the Web site visitor is located. Search engine indexes have been built for localized content sets using www.intl.novell.com as the source system. Documents retrieved through these indexes are delivered through the global acceleration system, thereby removing all international downloads from Novell's Web site infrastructure and offloading them onto the Digital Island network.
Easier Management. On the management front, Digital Island's accelerated service has enabled Novell to retire two non-U.S. caches which had never been fully integrated with the Novell Web infrastructure. The BorderManager servers at Digital Island are now completely integrated with the current infrastructure, which means they are remotely manageable, fully synchronized, and completely secure.
This new service has also allowed Novell to retire several non-U.S. Web server mirrors that were difficult to manage because they required expert maintenance and significant effort to keep the content synchronized. Tedious content synchronization tasks have now been replaced with immediate, automatic cache synchronization functions built into Novell's Web authoring system.
Increased Reliability. For additional reliability, the two BorderManager servers in Honolulu are configured in a "service cluster" (a BorderManager technology that will be available in the next major release of BorderManager). If one of the clustered systems encounters a failure, the other BorderManager server immediately takes over the failed server's TCP/IP address and connections. This automatic fail-over feature assures Novell a stable 24x7 service and provides the added convenience of allowing Digital Island staff to service either of the servers without taking the accelerated service down.
Conclusion
This combination of Novell's Web server acceleration and Digital Island's global network infrastructure provides tremendous flexibility to Novell, allowing us to meet business requirements for quality of service and content management. For internationally accelerated, centrally managed Web sites, there appears to be no better solution.
--David Butcher, Corporate Webmaster, Novell Corporate Marketing Ron Lee, Senior Research Engineer, Novell Advanced Development 
* Originally published in Novell AppNotes
---
Disclaimer
The origin of this information may be internal or external to Novell. While Novell makes all reasonable efforts to verify this information, Novell does not make explicit or implied claims to its validity.