Networking Case Study: The Novell Connecting Points Network at COMDEX/Fall '97
Articles and Tips: article
MARK E. MCKELL
Editorial Intern
Novell Developer Information
01 Feb 1998
Go behind the scenes at the deployment of the world's largest trade show network, and find out how Novell and its partners were able to provide fast and reliable e-mail and Internet access for over 220,000 users.
Introduction
The COMDEX/Fall '97 trade show in Las Vegas attracted over 220,000 resellers and corporate decision makers to view some 2,100 exhibiting companies and participate in more than 100 conferences. For this show, the COMDEX organizers decided to provide the largest live, single-directory, production network ever assembled in order to meet the communication demands of its attendees. Naturally, they asked Novell to create it.
The challenge was to create a massive intranet that would:
Provide a full range of secure collaborative services for 220,000 users

Provide full Internet access for all 220,000 users

Serve over 5 million e-mail messages in one week
No trade show had ever provided a network of this magnitude. Previously, the largest network ever built for a trade show (also built by Novell) serviced 100,000 users. COMDEX/Fall '97 gave Novell the opportunity to demonstrate the power, scalability, and reliability of its enterprise-level network solutions. In partnership with Compaq and Bay Networks, the COMDEX challenge was successfully met and was dubbed "The COMDEX Intranet: Novell Connecting Points." This unique network, created specifically for COMDEX, was powered by Compaq Proliant servers, Bay Networks hubs and switches, and Novell GroupWise 5.2 and BorderManager software, all running on Novell's intraNetWare network operating system.
This AppNote looks at how Novell Connecting Points was conceived and organized, and details the components used to build this massive network. It also outlines the unique features of this show network and how they relate to real-world networking needs.
Conception and Organization of Novell Connecting Points
The Novell Connecting Points network was designed to provide the following services for more than 220,000 users:
Ability to stay in touch with home offices (having e-mail automatically forwarded)

Access to users in the GroupWise address book (seeing who's at the show)

Ability to send or receive e-mail (to and from anyone at the show or anywhere in the world)

Access to COMDEX information and late-breaking news online

Ability to access the Internet and surf the Web

Ability to schedule meetings

Ability to do all this from any Novell Connecting Points workstation, from any hotel room, or from anywhere in the world (using a dial-up connection)
Two months before the trade show, a team of Novell engineers began designing the architecture of the network, from the hardware to the software configurations. Due to the extremely short setup time, reliable hardware was a prime concern. To ensure against any number of possible issues beyond the team's control--such as the possibility of a forklift cutting through a cable at the show--fault tolerance, from backups to redundant hardware (cables, hard disks, and network cards), was also a critical consideration.
Figure 1 is a diagram of the complete network in terms of server hardware, client hardware, WAN connections and gateways, software setup, messaging server architecture, messaging client, and Internet access/management.
Figure 1: Design of the Novell Connecting Points network at COMDEX/Fall '97.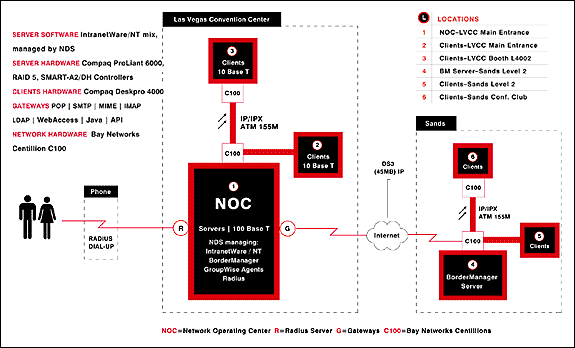 The Right Components
The following list is a description of the network components that made up the Novell Connecting Points network, along with an explanation of why these particular components were used:
Compaq Proliant 6000 servers, DeskPro 4000 workstations, and Bay Networks' Centillion 10-Base T and 100-Base T switches. This choice of hardware was mainly based on high performance and proven reliability.

Novell intraNetWare and NDS. Together, these provide industry-leading performance, manageability, and scalability for large or small networks.

Novell GroupWise. GroupWise 5.2 offers rich functionality, streamlined management, and the best return on investment of any groupware product on the market today.

Novell BorderManager. BorderManager manages, secures, and accelerates user access to information at every network border (where two networks meet--such as the border between a company's intranet and the Internet). BorderManager lets you filter content to prevent access to objectionable Internet sites; cache web sites locally for increased performance; and secure your intranet information, protecting it from unauthorized access. Plus it's fully integrated with NDS for easy management.

RADIUS Services for NDS. This is a server-based interface between NDS and network access servers running the industry-standard RADIUS protocol. RADIUS Services for NDS provides network access servers with the information they need to accept or deny users' requests for network access.
The following sections detail the configuration of these components.
Server Hardware
The Novell Connecting Points network used Compaq Proliant servers running intraNetWare. The servers were connected to the network via Bay Networks' 100-base T switches. The core network ran on seven domain servers--one administrative server, and six user domain servers--with 45,000 users per server. The remaining servers provided fault tolerance, backup, gateways, remote processes, dial-in authentication, and administration support.
To show compatibility, the network also used a mix of intraNetWare and Windows NT platforms, with GroupWise 5.2 server software running on top of each platform.
Client Workstations
COMDEX attendees were able to access Novell Connecting Points using any of the 300 Compaq DeskPro 4000, 6000, 5200, and 6200 machines which were connected to the network via Bay Networks' 10-base T switches. These client workstations were available at two locations in the Las Vegas Convention Center (LVCC) and at two locations in the Sands Convention Center. Each client was running GroupWise 5.2 Java client (GroupWise WebAccess).
WAN Connections and Gateways
The WAN connections and gateways were configured as follows:
LVCC connected to its North Hall via an ATM 155M IP/IPX backbone.

LVCC and Sands Convention Center connected via a DS3 45-megabit line.

Servers and workstations connected to the network via Bay Networks' Centillion C100 hubs and switches.

Novell BorderManager gateways managed access between the LVCC and Sands Convention Center.

Novell RADIUS gateways and access servers within the LVCC provided remote dial-up connectivity for network access from around the world.
The network also had several POP, SMTP, MIME, LDAP, and Java-enabled GroupWise WebAccess gateways.
Software Setup
All servers ran NetWare 4.11 with Service Pack 4. Novell Directory Services (NDS) provided a single Directory. Three user containers were set up beneath the Novell Organization (O) object, with each user container having 12 subcontainers. Users were then assigned to subcontainers based on badge numbers. Containers and subcontainers were separate NDS partitions, distributed across three replica rings for optimal fault tolerance. RAID 5 with Hot Spares was employed for additional fault tolerance.
GroupWise Setup
Novell's GroupWise 5.2 provided the network's messaging service. The domain architecture used is as follows: post office data was distributed across two primary domains and six user domains. One primary domain contained all users. Another primary domain was used for message distribution. Each user domain server contained six post offices, providing collaborative/messaging service to a total of 48,000 users (each post office containing 8,000 users).
GroupWise post office data was distributed across three mail volumes on each of the six user domain servers. Additional servers provided such support as fault tolerance, Internet naming convention support, and administrative support. (For more information on GroupWise architecture, see the White Papers available at http://www.novell.com/products/groupwise.)
Scalability. During the planning stage, scalability testing was done for the following user counts:
36 post offices 7500 users = 270,000 users

36 post offices 8500 users = 306,000 users

48,000 users on one server
Remember, this was not a simulation; it was a live, hands-on network!
GroupWise Client
The GroupWise Java client was installed on each of the client workstations. A special shell was used to lock down the desktop to allow access to GroupWise functions and other select applications, while preventing use of or modification to Network Neighborhood, browsers, the DOS prompt, the desktop, and so on.
Internet Access and Management
Novell BorderManager provided proxy services for faster Internet access, as well as filtering, routing, and security services. Novell RADIUS for NDS was used to provide remote access, allowing users to dial in for full GroupWise and Internet access from anywhere in the world--the motel room, the home office, or wherever.
Unique Features of Novell Connecting Points
Because Novell Connecting Points was created specifically for COMDEX, the network had a number of unique features. While many of these features represent the special needs of a large trade show environment, they serve to demonstrate what is possible today for any size network.
Highly compressed time frame. Novell Connecting Points was designed, implemented, and tested in less than two months, and was constructed on-site in about four days. In a real-life environment, this process would take more time.

Huge number of users. Very few organizations have 220,000+ users. Novell Connecting Points demonstrates the extreme scalability of Novell and Compaq solutions: they can scale to your needs, whether your network is large or small.

Large influx of users in a short time. The Novell Connecting Points NDS tree had to be populated with all 220,000+ users almost overnight. A special import utility was written to extract information about registered COMDEX attendees from the registration database and put them into NDS. User IDs and passwords were assigned automatically, based on COMDEX badge numbers. Login scripts and access privileges were assigned through ActiveX controls in Visual Basic. (Note: Everything used to write the utility can be downloaded for free at http://developer.novell.com/.)

Automatic logons. Show attendees logged on to the network simply by swiping their attendance badges. The GroupWise WebAccess client was then launched automatically. In a corporate environment, the logon process wouldn't be automated this way by default; instead, you would automate it to suit your own environment.

Large number of users per GroupWise post office. Novell Connecting Points' post offices were set up to accommodate 7,500 to 8,500 users. A corporate network would have fewer users per post office.

Large number of users for a small amount of hardware. Novell Connecting Points' users logged in and used the network sporadically. In a production environment with more intensive network use, the ratio of workstations to users would be higher.

Centralized setup and administration. Novell Connecting Points at COMDEX included four main locations which were managed from a single NOC (Network Operations Center). Large corporations might have a broader spread of equipment, making the need for centralized setup and management even greater.
Summary
By the end of the show, the Novell Connecting Points network had successfully carried 5.6 million total messages, processed an average of 1.5 million HTTP server requests, and transmitted approximately six gigabytes of data per day--without any system interruption or downtime. This city-sized network was conceived and planned in two month's time, and was physically assembled within the space of four days. Yet it was thoroughly reliable and noticeably fast.
The success of this network is evidence that an enterprise-level network can be built from currently shipping products from Novell and its partners. It shows that most communication challenges facing businesses today have a proven and effective solution in off-the-shelf, industry-standard products available to all.
For more information about Novell's products and services, visit our web site at http://www.novell.com.
For more information about Compaq servers, visit their web site at http://www.compaq.com.
For more information about Bay Networks products, visit their web site at http://www.baynetworks.com.
* Originally published in Novell AppNotes
---
Disclaimer
The origin of this information may be internal or external to Novell. While Novell makes all reasonable efforts to verify this information, Novell does not make explicit or implied claims to its validity.