An Overview of Novell's GroupWise Document Management Strategy
Articles and Tips: article
GROUPWISE
DEVELOPMENT TEAM
01 Jul 1997
GroupWise 5.1 is more than just a groupware/e-mail application: it also does document management. This AppNote describes the underlying technology and outlines Novell's strategy for supporting and enhancing these features.
Introduction
As the Intranet has become mission-critical to modern business enterprises, so too has E-mail become mission critical as the most popular application on the Intranet. E-mail is the crossroads at which you will control your enterprise's destiny in today's global business community. Among the collaborative computing functions now expected of advanced E-mail systems, document management is considered by groupware users to be exceeded in importance only by E-mail ("Groupware Buying Dynamics," IDC, 1996).
Although desktop applications are the best tools for creating and editing documents, they are not the best tools for sharing and publishing dynamic documents. By combining document management capabilities with a familiar e-mail working environment, Novell's GroupWise product is well-situated to bring document management to the corporate user. GroupWise includes information management tools which apply the power of traditional document management to all information in the GroupWise universal mailbox, including e-mail messages, documents, schedules, tasks, faxes, voice mail, images, workflow items, and web links.
This AppNote provides an overview of Novell's GroupWise document management strategy. It covers:
The goal of information management

Technology overview of GroupWise document management

The Jefferson Project to extend document management to the Web

A roadmap of GroupWise technology enhancements through 1997
For more information about GroupWise, visit the product Web site at:http://www.novell.com/products/groupwise
The Goal of Information Management
Document management can be defined as the management of loosely-formatted data, as opposed to management of tightly-formatted data such as that found in databases. As the name implies, document management revolves around documents. These documents can be created by a variety of desktop applications, and are usually stored in discrete disk files. They are in portable, printable form. Due to their diversity, documents have traditionally been circulated and manipulated in paper form, or simply attached to e-mail messages with no attempt to track revisions. But since documents are the information source for most businesses, it is vital that users be able to access and leverage this information more efficiently.
Document management is one tool among several collaborative computing tools necessary for users to manage information. To be effective, document management must be seamlessly integrated with your total information management solution. In other words, document management should be available at the single, familiar point where collaboration begins: e-mail.
Much of the information sharing that currently takes place through e-mail is part of document management (attaching documents to e-mail messages, filing messages in electronic folders and cabinets, and archiving messages). But to be truly useful, document management must go to the next level. From a universal mailbox, users should be able to collaborate and share information-regardless of the source-across the workgroup, or across the enterprise. Because information management is a collaborative task, users should be able to search personal calendars throughout the enterprise and intuitively schedule meetings from the same tool in which they manage information.
Requirements for a Document Management Solution
Your document management solution should reduce cost of ownership for both purchase and administration by integrating document management into an existing collaborative/information management solution. Your document management solution should also enable you to do the following:
Access information dispersed throughout the organization, whether local or global.

Share information with internal people and external customers and suppliers.

Access electronic information conveniently with technologies such as the Internet, imaging, and forms.

Manage both transaction- and process-based information with workflow and on-line discussion technologies.

Provide quick, easy access to information regardless of the source.
The GroupWise Solution
With the introduction of GroupWise 5, document management functionality has been, for the first time, included in a messaging system. Although document management has existed for many years as a groupware product category, this technology has always been developed, implemented, and administered apart from messaging systems. This requires organizations to maintain and support separate infrastructures for the document management system, messaging system, imaging system, workflow system, and so on.
GroupWise collapses all these separate infrastructures into one easily-managed information store. The GroupWise client presents e-mail messages, documents, faxes, voice mail, images, workflow items, and information from other sources in the GroupWise Universal Mailbox. Every piece of data is automatically accessible via single-point search-and-retrieval in an environment that users are familiar with.
The information management features of GroupWise provide the product with far more than a distinct functionality advantage over traditional document management systems. GroupWise document management is a cornerstone in our information management future.
Document Management in GroupWise
The mismanagement of intellectual assets is as damaging to an organization's bottom line as the delay or loss of manufactured goods during shipment. Of the hundreds of messages users receive each day, they have to decide which ones have important content, and figure out how to access, store, communicate, and manage these messages to make effective business decisions in a timely fashion. As users gain more access to corporate data stores, revision tracking and maintaining security will continue to grow in importance. This is why Novell is adding document management capabilities to GroupWise.
With GroupWise, users can view and extract information stored in company databases using a familiar user interface (the GroupWise Universal Mailbox) to view, collect, circulate, and route information. The GroupWise message store provides advanced encryption, compression, and decompression capabilities, along with a reliable transport system. GroupWise provides both version control and security; for example, people collaborating on a project can be assured that the person who checks out information is the only one editing it, although others can still view it.
GroupWise provides a single point of management for all types of information, including e-mail messages, faxes, voice mail messages, calendar information, tasks, workflow items, and documents. No other messaging-based information management product offers enterprise-wide access to all of these types of information from a single point.
Key Objectives
The GroupWise document management solution has three key objectives:
Leverage the strengths of document management in a messaging-based environment, creating a comprehensive, easy-to-use information management solution.

Enable enterprise-wide information management under a unified, simplified interface.

Extend document management across the web.
Frequently Asked Questions About GroupWise 5.1 Document Management
Q. Why do I need the document management services of GroupWise?
A. To overcome information overload by giving users the ability to organize, filter, prioritize and manage a variety of data types. GroupWise 5.1 is the first to provide such a model.
Q. Doesn't my operating system already provide this functionality?
A. It may provide some basic document management, but it doesn't provide the in-depth features and functionality offered by GroupWise.
Q. What if I don't have time or resources to manage yet another application such as Document Management?
A. Management and administration of the document management services in GroupWise 5.1 are done with the same tools you use for NetWare 4.1.
Q. Why can't I have document management without the messaging system? (In other words, why isn't GroupWise 5.1 a standalone document management system?)
A. As groupware products have evolved, the messaging system has become the most pervasive means of sharing information. As a result, Novell has identified themessaging system as the best possible means to leverage the strengthsof document management services. The messaging environment allowsNovell to address the needs of many more users.
Combining Messaging and Document Management. The advanced technology of GroupWise allows documents to appear as objects in your work space, where you can automatically and immediately retrieve them regardless of object type and associated application-and regardless of where they physically exist in your enterprise. You can edit, share, check out, or copy documents with complete concurrency control, security, and version control in a distributed environment.
Managing Document Management. Traditional document management on large, multiserver networks overwhelms network administrators. It requires separate support infrastructures for overlapping tasks of document management, messaging, imaging, workflow, and so on.
GroupWise collapses all collaboration infrastructures into one easily administrable information store. GroupWise is the first product of its kind to integrate true directory services--Novell Directory Services (NDS)--thus dramatically lowering ownership costs throughout the product life cycle. NDS provides enterprise-wide administration tools to keep system maintenance to a minimum on your preferred client/server platform. Automated, global replication of GroupWise database changes, setup files, and property fields helps reduce administrative time and effort. And with NDS being made available on many Unix platforms (and soon on the Windows NT platform), even administrators outside IntranetWare environments can benefit from NDS.
Extending Document Management Across the Web. As information management needs expand to the World Wide Web, you will need the ability to publish and share proprietary information contained in a document repository using the open standards of the Internet, while maintaining the security, concurrency, and version control of a document management system. This is where Novell's Jefferson Project comes into play. Named for Thomas Jefferson, founder of the public library, the Jefferson Project allows you to publish documents from GroupWise Libraries directly to the World Wide Web (Internet) or to corporate Intranets through any HTTP server. These documents can then be accessed via direct URL reference, by browsing the published documents, or through full-text search. With the Jefferson Project, users can share their documents within their workgroup, via the corporate Intranet, even across the Web. (We'll discuss the Jefferson Project in more detail later in this AppNote.)
Components of GroupWise Document Management
In GroupWise there are three basic components to document management: libraries, storage locations, and indexes.
Libraries. The larger the organization, the more likely it is that an individual who really needs access to the information contained in a particular document will not be able to access it with the appropriate application--or even find it. To make access to documents easier, GroupWise houses documents in logical structures called libraries. These libraries contain the documents created by desktop applications such as WordPerfect, Microsoft Word, and Excel.
GroupWise libraries are direct subordinates to Post Offices. The library database files are stored in the \GWDMS directory under the Post Office directory. Libraries are managed with the NetWare Administrator (NWAdmin) utility. Most library features are managed at the Post Office level. Access to libraries can be restricted to either individual users or distribution lists.
Storage Locations. Documents can be housed in either local or remote libraries or other storage locations. In a local library, users access documents by direct search and retrieval. For documents in a remote library, the documents are accessed using a client/server search and retrieval mechanism.
Indexes. In order for users to be able to find the desired document in a library, the documents must be indexed. GroupWise uses the QuickFinder full-text index technology. With QuickFinder, the indexing is performed by the Post Office Agent on the server. Administrators determine how often indexing is performed.
GroupWise Document Management Features
The following table provides an overview of GroupWise document management functionality for both administrators and users.
Feature

Benefit

Administration Features and Benefits

Integration with Novell Directory Services

This integration provides a mechanism for a single point of entry and administration of NDS objects. For example, when entering or editing a user account, the account need only be added to the system once. Once it has been created or altered, it is changed for both the network operating system and the messaging system.

Server-side indexing

All full-text indexing occurs on the server, relieving the client workstations of this resource-intensive task.

Conversion/Migration

A migration facility that allows conversion of SoftSolutions 4.x datasets and documents into the GroupWise platform makes for a smooth and seamless transition.

7x24 support (7 days a week, 24 hours a day)

GroupWise includes full online maintenance support so users can have access to their information any time they need it.

User Features and Benefits

View properties (document profile)

Changing traditional document "profiles" into document properties allows users to focus on document creation and content, while keeping the profile from interfering with the work process.

Personal work list

Users can quickly reference frequently-used documents using the "Work in Progress" feature of the GroupWise desktop. There is no limit to the number of documents that can be placed in the Work-in-Progress folder.

Portable mode (disconnected operation)

GroupWise includes full mobile document management support, including concurrency control, security, versioning, and master library synchronization.

Interactive folders for the storage and access of GroupWise documents

A foldering system mirrors interaction with folders under Windows 95 to increase usability and reduce the need for user training.

Integrated server processes

Every post office has a server (the Post Office Agent) running, even when all users connect directly to that post office. The presence of servers that support all GroupWise activities increases speed and efficiency of data manipulation.

Enhanced document security at the server

File-level security is integrated with the GroupWise server and does not require a separate server. Full document encryption and full data compression/decompression allows greater protection and better disk utilization.

Document Life Cycle status (official version)

An "official" status marker can be placed on documents to indicate finality on a document's creation state.

Edit multiple versions simultaneously

Greater division of versions associated with the properties (profile) sheet allows multiple versions of a document to be edited simultaneously by different individuals.

Check in as new version or document

Users can check in a document as a new version, instead of being forced to create a new document with a new properties sheet.

Version level sorting

Support for greater separation of version allows for individual versions of a document to be tracked and analyzed.

Version level security

Individual security can be applied to different document versions associated with a single profile.

Exclusionary document security

Instead of having to list everyone who should have access to the document, users can just list those who shouldn't have access.

Nested security group

The ability to nest security group templates allows the overlay of users to access documents.

Support for document templates (document creation based on document type)

Customizable document templates can be created and applied by users and system administrators.

Full-text searching with support for full Boolean operators

Allows for specific, customized searches.

Integrated profile and full-text searching

The unmatched capability to search document contents, as well as other data types, increases your capability to find needed information. Not only will users find documents, but also e-mail messages, voice mail messages, images, faxes, calendar items, and tasks that meet search criteria.

Automated full-text indexing

All information received in the user's GroupWise Mailbox is automatically full-text indexed for instant searching.

Increased searching speed with decreased overhead of indices

Improved searching technology provides users with faster and more comprehensive searching, with index overhead at only 1 percent of document size.

Auto recognition of application used to create documents

Users are not required to indicate what application they are using. GroupWise automatically detects the application used to create and launch a document for users when they access the document.

Macintosh client

Full support Macintosh client support makes GroupWise the most client-independent information management product on the market today.
The Jefferson Project
As mentioned earlier, the Jefferson Project allows you to publish documents from GroupWise Libraries directly to the World Wide Web (Internet) or to corporate Intranets through any HTTP server. Documents in GroupWise libraries can be accessed via direct URL reference, by browsing the published documents, or through full-text search. With the Jefferson Project, users can share their documents within their workgroup, via the corporate Intranet, even across the Web.
The World Wide Web is a low-cost, high-availability infrastructure for publishing information that is then readily accessible through commonly available browsers. The Web is built on the foundation of two Internet protocols: HTTP (hypertext transfer protocol) and HTML (hypertext markup language). Organizations and even individuals who want to distribute information can simply implement a "home page" which provides HTML-based content via an HTTP server to any user who can access the Internet with a browser. Each home page contains URL (uniform resource locator) links to information that the site owner wants to make available.
The information container of the web is the document. Advanced document dissemination via the web can also be done with portable document formats (such as Envoy and Acrobat) or even via revisable format documents such as WordPerfect or Word. Regardless of the document format used for information distribution, organizations must ensure that information in the documents on their web sites is kept current and valid--a daunting challenge. Since most Web servers store the documents referenced in the web site locally, authors must create the document, convert it to HTML (if appropriate), then move it to the Web server. As content changes, the changes must follow the same path. Since most web sites contain URL links to other web sites, changes to documents, storage locations, additions, removals, and so on have a domino effect.
Key Benefits of the Jefferson Project
Among the benefits of the Jefferson Project are the following:
Publishing documents to the Intranet or Internet can be done by any GroupWise user who is given access to a published library. Document editing can be performed from any network or remote workstation.

GroupWise document management services control content, eliminating out of date information on the web. Changes to documents are automatically reflected to the Internet and Intranet.

Static HTML pages that need frequent updates because of document addition/removal can be replaced or augmented by library browsing and full-text search capabilities of GroupWise.

GroupWise document security controls who can access and who can edit Web documents.

No IS (Information Services) intervention is required when the documents are stored via GroupWise. Therefore, ownership costs are dramatically reduced; anyone who knows how to save information in a document can update that document with desktop tools. There is no need to contact the IS department to update information on the web as it changes.
Jefferson Project Architecture
The Jefferson Project is a server-based solution for document publishing. It operates as a NetWare Loadable Module (NLM) or as an NT process. The Jefferson Project Agent interfaces with the Web (HTTP) Server via CGI. Figure 1 is a conceptual diagram of the Jefferson Project implementation.
Documents in the GroupWise library can be edited by any authorized GroupWise user from any network or remote workstation. Document modifications done via a remote workstation are automatically propagated to the library for publishing when the user makes a connection.
GroupWise's powerful document management services provide additional flexibility to the Internet/Intranet user accessing the managed information. Web page authors can use direct URL links to a managed document in their web page. In addition, the GroupWise Jefferson Project supports browsing and searching of published libraries. This allows documents to be added and removed from the Internet/Intranet without continually republishing the web page.
Figure 1: Jefferson project document management architecture.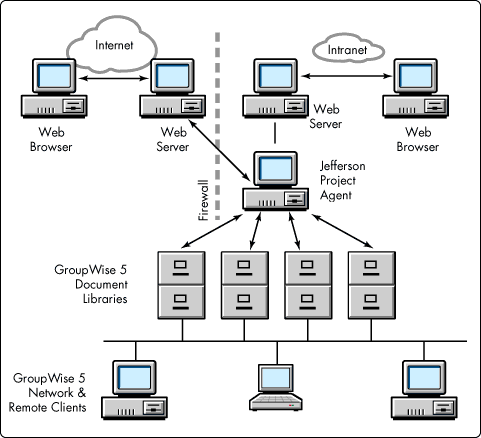 The same libraries can be accessed both for Internet publishing and Intranet publishing through GroupWise Document Management. Any document in a published library can be made accessible either to the Internet community, the Intranet community, both, or neither. Access is granted or denied by the document's author/owner, as shown in Figure 2.
Figure 2: Document access is controlled by the owner.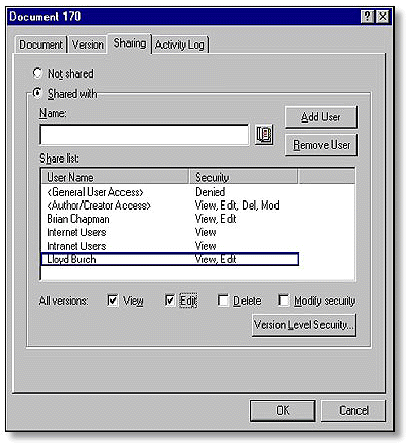 The Groupwise Roadmap Through 1997
Novell's priorities for enhancing GroupWise through 1997 are:
Enhance performance and scalability.

Incorporate Internet standards.

Continue to enhance collaborative computing functionality.
Document management feature enhancements are at the forefront of GroupWise functional enhancements through 1997.
Product Enhancements
Early 97. Early 1997 saw the introduction of overall product enhancements in performance, scalability, and migration for GroupWise, including document management.
Summer 97. GroupWise currently offers access to the contents of the Universal Mailbox via any HTML-standard Web Browser. GroupWise document management is also available through any HTML-standard Web Browser with Java-enabled GroupWise Web Access.
GroupWise will be compliant with Post Office Protocol 3 (POP3), Internet Message Access Protocol 4 (IMAP4), and Lightweight Directory Access Protocol (LDAP). This underscores the GroupWise goal of implementing open Internet standards.
GroupWise Internet functionality will be further enhanced with IDOC and Internet Calendar Access Protocol (ICAP) as they are solidified. (Novell is actively committed to these standards through participating in the appropriate W3 Consortium committees.)
Also in this time frame, GroupWise imaging and workflow technologies will be available.
The Jefferson Project is scheduled for release in Q3 1997.
Year End 97. In the future, as your document management needs grow, functionality currently available only in narrow-market, standalone applications (such as SoftSolutions) will become more and more necessary. The following such functionality will become part of GroupWise document management before year end 1997:
Related Fields. The ability to make the entry in a particular properties field dependent upon an entry in another properties field. For example, in the legal community this translates to the ability to make the "Matter" field entry dependent upon the "Client" field entry. In the absence of related fields, all values in the "Matter" validation table would be available regardless of the "Client" entry.

Document Echoing. The ability to automatically "echo" documents to a local hard drive or other location so that documents are available even if the GroupWise Post Office is not.

Redirected Archive. The ability to specify a desired location for the archival of documents from a GroupWise Library.

Default Public Security. The ability to set default security as either public or private (GroupWise document management security currently defaults to private).

Enhanced Integration. The ability to specify how document management functions will integrate with other applications.

Individual Document Restore. The ability to specify a wide range of options in selecting deleted documents to be restored to the library.

Native Format Storage of Documents. The ability to store documents in their native formats in a defined directory structure, rather than in the database format of the GroupWise Post Office store.

Import/Export of Lookup Table Data. The ability to import ASCII data into a Properties field lookup table or to export table data to an ASCII file.
Conclusion
The crossroads at which you will control and access information is the universal mailbox. Now and in the future, GroupWise document management is the cornerstone tool for managing information at the crossroads, whether on a LAN, an Intranet, or the Internet.
Appendix: Feature Comparison Between GroupWise Document Management and SoftSolutions 4.1 for Windows
This document compares GroupWise 5.1 document management features with those of SoftSolutions 4.1 for Windows. The features are divided into the following categories:
General functions

Baseline functions

Searching and indexing

Integration

Administration and system management
The table is not comprehensive; it covers only document management features. All other aspects of GroupWise 5.1 (workflow, calendaring, scheduling, e-mail, gateways, Web access, and imaging) are not covered in this comparison.
Feature

SS 4.1

GW 5.1

Comments

General Functions

Client/Server architecture

X

X

SoftSolutions provides client server support only through the add-on Server Enhancement Module (SEM).

The GroupWise 5.1 architecture fully supports Client/Server for both database and document operations through TCP/IP.

Direct database access available to client

X

X

Server login not required when using client/server

X

SoftSolutions users a re allowed to perform database operations such as searches, without logging into the server.

GroupWise 5.1 allows complete access to database and documents without requiring server login.

Multiple language support

X

X

Fully integrated online documentation

X

Tables, graphs, and text are available through context-sensitive access

SDK (Software Developers Kit) for third-party developers

X

X

GroupWise 5.1 contains a set of object-oriented APIs for retrieving and manipulating data independently of the Windows client.

Network Independence (IntranetWare, Banyan, Unix platforms, and so on)

X

X

GroupWise 5.1 requires one NetWare 4.1 server for Administration and Management. Post Office Agents are available for NetWare, NT, and OS/2.

Multiple server processes running on a single server

X

Component-based architecture (separation of UI and Engine)

X

Binary compatibility of DOS and Windows clients

X

GroupWise 5.1 is not available on the DOS platform. However, you can use a GroupWise 4.1 Post Office to service DOS E-mail users. But no document management functionality is available in DOS.

Automation of document location via Universal Naming Convention (UNC)

X

X

Documents are stored beneath the Post Office, or within a Document Storage Area that is definable via a UNC path.

Baseline Functions

View properties (Profile)

X

X

Add properties

X

X

Change properties

X

X

Delete (properties and documents)

X

X

GroupWise 5.1 users can delete the document and all its versions, a specific version or just the reference to the document.

Copy & Global Copy (properties or document)

X

X

Mark & Launch

X

X

Available through the Object API; not available from the GroupWise 5.1 client.

Unique document identification for remote sync with network

X

X

Automatic resync with remote mode

X

X

Reset Document Status (In Use)

X

X

Version Control

X

X

Expanded in GroupWise 5.1 to allow users to assign rights at the version level. Also allows users to specify an Official Version.

Comment field

X

X

The GroupWise 5.1 system administrator can define one or more fields to contain comments. Field length is also configurable.

Check-Out / Check-In

X

X

X

Document In-Use (concurrency control)

X

X

Automated Restoration

X

X

Mass Import of Documents

X

X

Import Single Document

X

X

GroupWise 5.1 users can import files through the file feature or simply drag-and-drop them into a folder.

Quick Properties

X

This GroupWise 5.1 feature allows you to quickly create document properties. Users can bypass fields that are not required. They can also select defaults for required fields. This can be configured on a per-library basis.

Personal Worklist

X

X

SoftSolutions maintains a worklist of the last 20 documents accessed by each user.

In GroupWise 5.1, you control the number of documents in your Work in Progress folder.

Document viewer support for multiple file formats

X

X

Property and document security

X

X

Property and document security in GroupWise 5.1 is greatly enhanced over that available in SoftSolutions.

Related documents

X

GroupWise 5.1 has shared folders, which allows much of the desired functionality.

Detailed document descriptions

X

X

Echoing documents to local PC for redundancy

X

X

Echoing in GroupWise 5.1 is done manually via the Hit The Road feature.

Janitor (clean up for echoing)

X

Portable mode (disconnected operation)

X

X

The GroupWise 5.1 "Hit the Road" and remote features provide more functionality than SoftSolution's portable mode.

Customizable property fields

X

X

The GroupWise 5.1 schema provides more flexibility. You can determine the order and size of property fields. Administrators can define a virtually unlimited number of custom fields and lookup tables.

Custom Field Linking

X

Planned for Q3 >97 release of GroupWise 5.1.

Document Activity Log

X

X

GroupWise 5.1 activity information can be viewed for all versions or on specific versions.

Use of Folder paradigm via user interface

X

X

The GroupWise 5.1 user interface supports a much more intuitive foldering model than SoftSolutions' optional Document Desktop.

Customizable Speed Buttons

X

X

Support for OLE 1.0 (server) and 2.0 (container and server)

X

X

OLE 2.0 server with property references. Full drag-and-drop support.

Context-sensitive Help

X

X

Server Enhancement Module NLM for server side database access

X

X

Add-on product for SoftSolutions.

The functionality available in the SEM has been included in the GroupWise5.1 Post Office Agent.

File level security

X

X

Add-on product (Document & Security Server) for SoftSolutions - NLM only.

GroupWise 5.1 provides client/server file access performed by the Post Office Agent, which eliminates the need for network level rights. In addition, all documents are encrypted and compressed.

16-bit client

X

32-bit client

X

Universal interface to access all types of information

X

Documents, electronic mail, voice mail, appointments, faxes, images, and more, are all centrally managed and accessible from one common interface.

Version level security

X

Exclusionary document security

X

Document encryption in remote or portable mode

X

Document Life Cycle status (official version)

X

Integrated document templates

X

Templates can be set up either by the system manager for global access or by end users for personal access.

Edit multiple versions simultaneously

X

Check-In as new version or document

X

Override for document retention

X

Internal document templates

X

Single Import facility (no separation for mass and single documents)

X

GroupWise 5.1's provides a much more intuitive import facility. It includes the ability to drag-n-drop into a folder of choice.

Macintosh client

X

Scheduled to be available shortly following the initial release of GroupWise 5.1.

Full-featured Remote Client

X

Includes full-text searches.

Cost Recovery (Billing)

X

Billing must be provided by a third party.

Remote document access (RDS) via e-mail

X

X

Similar functionality will be available in upcoming releases of GroupWise WebAccess and new project code-named Jefferson.

Searching & Indexing

Very small index overhead

X

X

SoftSolutions utilizes SpeedSearch which provides a one to three percent index overhead. GroupWise 5.1 utilizes Quick Finder which provides comparable index overhead for documents.

Saved Searches

X

X

Query-by-Example (QBE) searching

X

X

Full-text searching with support for Boolean operators

X

X

Integrated Property and Full-Text searching

X

X

Automated full-text indexing

X

X

Global searching across multiple databases (WAN)

X

X

SoftSolutions searches one dataset at a time. GroupWise 5.1 searches all selected libraries at the same time.

Search Scope definition with groups and libraries for WAN searching

X

X

In GroupWise 5.1 you can specify where you want to find the information. Search your folders for all relevant information (including e-mail, appointments, documents, and so on), or choose to search the libraries for specific documents. You can also select both folders and libraries to find the information.

Intelligent Search module for proximity, text expression, numerical expressions, thesaurus searching, and so on.

X

X

Intelligent Search was a add-on module for SoftSolutions. These features are not available in the initial release of GroupWise 5.1 but may be included in the future.

Full-Text indexing

X

X

SoftSolutions requires a dedicated workstation for indexing.

GroupWise 5.1 indexing is done by the POA at the server level. Depending on the workload, multiple POAs can be loaded for indexing.

Multi-File format parsing for indexer

X

Integration

Application Independence

X

X

Application integration via ODMA

X

X

SoftSolutions is compliant with 16-bit ODMA. GroupWise 5.1 is compliant with 32-bit ODMA.

Point-to-point integrations for non-ODMA applications

X

X

Microsoft Word 7 and Microsoft Excel 7.

Automatic template detection based on document type

X

Auto recognition of application (including auto detection of file extension(s))

X

Administration & System Management

Customize layout of Property Sheet

X

X

Menus, labels, Help text, messages, etc. can be customized

X

Super User access rights to all documents

X

Database maintenance utilities

X

X

Handled through the GWCHECK utility.

Conversion/Migration facility

X

X

Internal Transaction Tracking and Rollback

X

NetWare's Transaction Tracking System (TTS) must be turned off. FLAIM contains its own transaction tracking and rollback.

Basic feature extensions via utilities

X

X

Similar functionality may be accomplished for GroupWise 5.1 via the Object API.

Central database administration using global replication

X

X

GroupWise 5.1 administration is done through NWAdmin, which ties directly to NDS. All administration can be performed in a centralized manner. The administrator will not need physical access to a particular file server to create and manage a library.

7x24 database support

X

To ensure consistent backups of the document library data, user access to libraries should be restricted during backup.

File level compression and encryption

X

Provides an additional security layer and lowers the burden of management via smaller disk space overhead.

Utility for updating database when user or other administrative changes are made

X

Similar functionality available through Object API.

Import users from NetWare bindery

X

Not applicable due to ties to NWAdmin and NDS.

Customizable Archive Location

X

Will be considered for future release of GroupWise 5.1.

Report Writer

X

Hooks are available for third party vendors to deliver reporting tools for GroupWise 5.1.

Automatic error detection and repair

X

Importation of validation table data from other systems

X

Scheduled index compaction

X

Automatically runs at specified interval.

Scheduled database verification and rebuild

X

Server side rebuild and compaction

X

All database operations are done through the POA.

Scheduled indexing

X

X

Scheduled archival and deletion

X

Task manager for automating maintenance utilities

X

X

PO scheduler.
* Originally published in Novell AppNotes
---
Disclaimer
The origin of this information may be internal or external to Novell. While Novell makes all reasonable efforts to verify this information, Novell does not make explicit or implied claims to its validity.