Effectively Networking Windows NT with Novell's IntranetWare
Articles and Tips: article
DOMINIC STOREY
Director of Technology
Novell European Support Centre
01 Feb 1997
Windows NT and NT Advanced Server are getting a lot of attention these days, but the best way to connect and manage them is with the new products and technologies Novell is making available for IntranetWare. This AppNote outlines the big picture for networking NT with Novell.
Introduction
Microsoft Windows NT Workstation and Application Server operating systems are becoming established in the market. Many organisations that want to deploy these operating systems in their network are concerned at the prospect of having to connect them using Microsoft's LAN Manager. Many Novell customers would prefer to use the more advanced, flexible, and cost-effective IntranetWare network system to manage these NT resources. This AppNote outlines the new technology from Novell for achieving this.
Novell either already has or will soon have available key software for connecting and managing NT resources in Novell networks. These software components include:
The new IntranetWare Client for Windows NT, which includes the Novell Workstation Manager

Novell Application Launcher

Novell Administrator for Windows NT

ManageWise Client for Windows NT

ManageWise SNMP Agent for NT Server

Novell Mobile Services for Windows NT
In addition, Novell is shipping GroupWise 5, its messaging, document, task and diary management software for Windows NT. With IBM, Novell also offers NetWare for SAA 2.2, a market-leading LAN-to-host gateway product that supports Windows NT clients. Another key technology currently in development is Novell Directory Services for Windows NT.
This AppNote introduces each of these components and describes their basic functions and benefits. Future AppNotes will cover these items in greater detail.
Benefits of Using Novell Products to Network NT
There are several benefits to using Novell networks as the infrastructure for NT components:
Flexibility. Novell networks are very flexible and can be extensively reconfigured with minimum interruption to end-user services.

Manageability. Novell networks use a directory service called Novell Directory Services (NDS). This Directory is a key component in reducing the cost of administration for Novell networks.

Reliability. Building on Novell's unparalleled experience in building business-class networks since 1983, Novell networks are based on mature, reliable technologies.

Security. Novell networks are very secure, to the NCSC C2 level ("Red Book" network interpretation).

Simplicity. By virtue of NDS and their Windows-based administration tools, Novell networks are simple to manage. Administrative operations are performed once, regardless of the number of servers deployed, with all information stored in the Directory. It is this, combined with the policy of "management by exception", that results in Novell networks having the lowest administrative error rates in the industry.
With these benefits in mind, let's look briefly at the various products Novell is offering for integrating the IntranetWare and Windows NT environments.
IntranetWare Client for Windows NT
The new IntranetWare Client for Windows NT fully supports NetWare/ IntranetWare services and utilities, including Novell Directory Services, file, print, security, management, integrated messaging, and multiprotocol support. The IntranetWare Client brings the full power, ease of use, manageability, and security of IntranetWare to Windows NT workstations.
The IntranetWare Client is integrated with the local Windows NT Workstation software to simplify login. An integrated authentication gives users a single, synchronized login to their Windows NT workstation as well as to all authorized IntranetWare and NT network resources. As a result, users don't have to worry about remembering multiple usernames and passwords. Because users gain access through NDS, they have complete access to all IntranetWare services, including stored files, printing and applications.
Easy Installation and Upgrade
The IntranetWare Client for Windows NT is integrated into the native Windows NT network installation process, so it is easy to install and update. The IntranetWare Client can be installed by diskette or CD locally at the workstation or over the network. The IntranetWare Client setup program makes installation fast and easy. The automatic configuration capability of the setup program ensures that the IntranetWare Client takes full advantage of local resources without any administrator intervention. In addition, administrators can install the IntranetWare Client when they upgrade the Windows NT Workstation operating system over the network. This method uses the Windows NT unattended install facility, which eliminates the need for the administrator to travel to each workstation and significantly reduces administration costs.
Updates to the client are easy. The Automatic Client Update utility enables administrators to update workstations across the network. The update mechanism checks the version of the IntranetWare Client and upgrades older client software automatically.
Remote Access
The IntranetWare Client for Windows NT also gives users the ability to dial out to remote IntranetWare and NT servers. Remote access allows mobile users to take advantage of full network functionality even when they are away from their offices.
Novell Workstation Manager
A key issue for many customers who require NT Workstation is how to manage the accounts on the NT clients effectively. Microsoft recommends the use of NT Server and LAN Manager domains, yet many Novell customers would prefer to use the more powerful NDS. The solution to this problem is the Novell Workstation Manager: software which can dynamically create and manage users on NT Workstations without having to manage NT Domains.
Introducing GINA. The IntranetWare Graphical Identification and Authentication (GINA) module is a standard component in Novell's client for Windows NT. The IntranetWare GINA executes a single login to both the IntranetWare network and an NT user account on the local desktop. Although IntranetWare makes this a seamless operation, in fact two user identities are authenticated: one for the network and one for the desktop.
NetWare user accounts are conveniently administered from a central location using NWAdmin and are available to the user from any desktop. The problem is how to manage NT desktop user accounts without resorting to a Windows NT domain. With the domain, the administrator must manage both an NDS and a domain account for each user. The administrator could manually configure each workstation for the set of users most likely to use the machine, but this becomes difficult when dealing with a large number of workstations.
This section explores a technique for generating dynamic user accounts on NT workstations from information stored in the NDS tree. Dynamic user accounts are generated automatically by the GINA with no need for user intervention. This eliminates the need for configuring users on individual NT workstations or for managing the user in both NDS and in a Microsoft domain.
Dynamic user accounts save the network administrator the burden of creating user accounts on each workstation. They also make it easier for the user to roam among desktops because there is no need to create a user account on the desktop. With dynamic user accounts, a public NT workstation (such as might be found in a library) need not contain thousands of accounts for all of its potential users; instead, the account is generated dynamically when the user logs into NDS.
Other key benefits include the ability to centrally configure NT Workstation user properties, GINA login properties, and the ability to automatically update the IntranetWare client.
NT Client Configuration Objects
NT Workstation configuration information is stored within NDS in the form of one or more configuration objects. In a typical installation there might be a "general user" configuration and another "support staff" configuration. User accounts are associated with these objects by way of container, group, or individual associations. An NWAdmin snap-in gives the administrator control of the information, as seen in Figure 2.
Figure 2: Configuring the NT Client from the NWAdmin snap-in.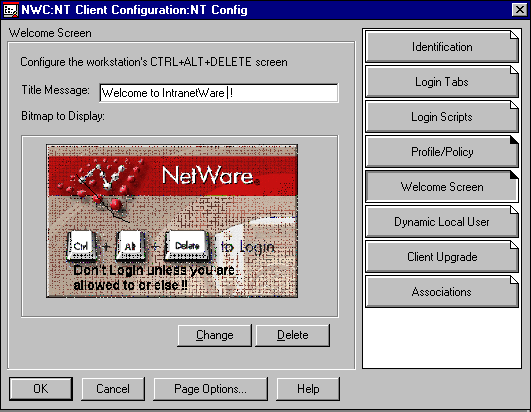 By default, the GINA recognizes and processes the configuration, including the user name, group memberships (admin, user, and so on), desktop profile, and the Windows logon bitmap. Additionally, the GINA could recognize a service provider interface that lets other DLLs interpret records not recognized by the GINA.
The configuration can also be used to control the extent of logon to include IntranetWare connections, NT Workstation, Remote Access Service (RAS), and script processing.
Dynamic User Accounts. The GINA takes advantage of its desktop administrative privileges to actually create the desktop user account during the login process. After authenticating with NDS, the GINA inspects the user object for associations with NT configuration information. If dynamic login is enabled, the configuration is downloaded and the user account is established. The login then proceeds as usual. A time stamp mechanism is used with the configuration records to minimize downloads and workstation configuration when a single user logs in multiple times.
Three modes of operation affect dynamic user login:
Use IntranetWare credentials. When enabled, GINA uses the IntranetWare user name and password for the NT user account. This is the usual mode of operation. When disabled, the NT user name is obtained from NT configuration records and a random password is generated. An administrator could assign a single user name to a group of users so that they all use a single profile.

Enable dynamic login. When enabled, GINA creates a dynamic NT desktop user account based on the NT client configuration. When disabled, no user account is generated.

Create volatile user. When enabled, GINA deletes the NT desktop user account at logout. This keeps user accounts from accumulating on a single machine, but user gets a different SID (NT user ID) on each logon. When disabled, GINA retains the NT desktop user account at logout and will use that account for future logins of the same user.
Other Key Benefits. Following are some of the other key benefits of the Novell Workstation Manager.
Storing NT Workstation Profiles and Policies in IntranetWare. NT Workstation Profiles and Policies may be centrally stored and managed on IntranetWare servers. The network administrator may associate IntranetWare users, groups, or containers to a specific profile or policy stored on the IntranetWare server. This provides great flexibility for the administrator and allows for users to have the same look and feel as they roam from one NT Workstation to another.
Centrally Managing GINA Login Features. Administrators also have the ability to manage the following properties of the GINA Login (see Figure 3):
The GINA "Welcome Screen"

Restrict user access to GINA login properties

Assign alternative IntranetWare login scripts
Figure 3: Configuring GINA login properties.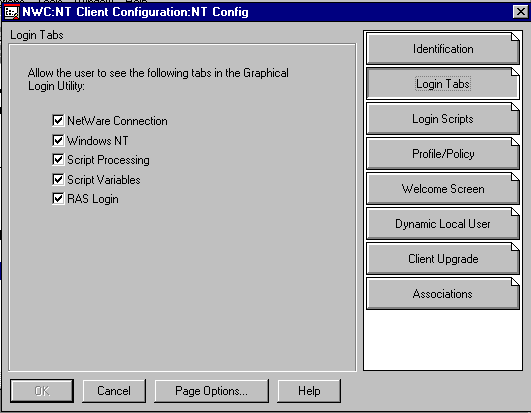 Automatic Client Update. NetWare GINA login script processing enables Automatic Client Update (ACU), which updates the desktop IntranetWare client software when the user logs in. An administrator enables ACU when it is time to install an IntranetWare client update on remote workstations.
When the GINA receives an ACU configuration record, it creates a temporary administrative user on the NT desktop to install the client upgrade. When the update completes, the GINA deletes the temporary administrative user and reboots the workstation to continue normal login. This process requires no user intervention.
How to Get IntranetWare Client for Windows NT
The IntranetWare Client for Windows NT is available now for free download from NetWire on CompuServe or from the World Wide Web at www.novell.com.
32-bit NWAdmin Utility
Using the IntranetWare Client for Windows NT also allows administrators to take advantage of the 32-bit version of the NetWare Administrator (NWAdmin) utility to manage the network. Working with NDS as the single point of network contact, the NWAdmin tool allows the administrator to manage all network resources centrally, from a Windows NT workstation. The result is dramatically lower administration costs.
NWAdmin's point­and­click interface simplifies tasks such as creating users and groups, assigning rights in the NDS tree and file system, and browsing and manipulating NDS objects (including user profiles, printers, file system objects, application objects, directory map objects, and alias objects). Because this release of the NWAdmin utility has been designed specifically for the 32­bit environment, it takes advantage of the high-performance Windows NT environment to speed the execution of administrative tasks and increase administrator productivity.
How to Get the 32-bit NWAdmin Utility
The 32-bit NWAdmin is available now for free download from NetWire on CompuServe or from the World Wide Web at www.novell.com.
Novell Application Launcher
The Novell Application Launcher (NAL) has been enhanced for use with Windows NT. Using NWAdmin, the administrator creates and manages "application objects" in the Directory. These objects contain the information required to successfully locate and launch applications at the client workstation. The applications themselves may be located on an IntranetWare server, on an NT server, or on both. Administrators can then assign applications by user, user group, or organization. Software assignment can be done once for a company group or department so that current and future members of this group will gain automatic access to a standard desktop configuration.
At the client workstation, the NAL executable is run, displaying icons for the various applications. As changes are made by the administrator the appropriate applications dynamically appear on users' desktops. End-users can have access to all applications assigned to them, while administrators can easily support this demand from their management console.
The Novell Application Launcher for Windows NT includes optional containers on the left-hand side, where application icons can be stored conveniently in "user folders" or "system folders" --containers defined in the directory service (see Figure 1). This reduces the clutter on the user desktop and simplifies the central management of multiple applications.
Figure 1: The Novell Application Launcher simplifies the management of user applications.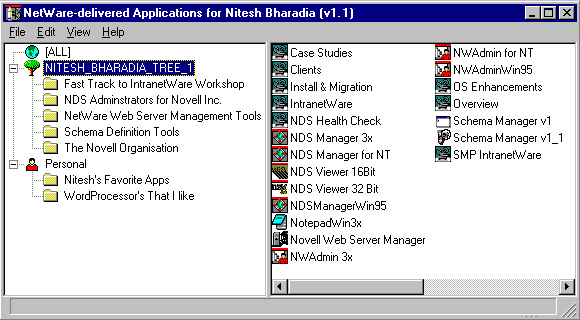 The most recent release of NAL further extends desktop integration by allowing the applications to appear as part of the standard Windows Explorer utility, making access very transparent and promoting ease of use.
When an application is selected by the user, the NAL--based on information from the Directory--performs the tasks necessary to run the application. These tasks include attaching to the required server (either Novell or NT), enabling printers, and performing required startup functions. The most recent release will also adjust registry settings.
If there are problems accessing the application because a server is offline or a communications link has failed, the NAL can locate an alternate copy of the application as defined by the administrator. This technology also allows for load balancing so multiple servers can provide applications. This fault-tolerance feature can reduce support calls and improve user productivity.
When the application is ended, the NAL removes appropriate connections and restores the workstation to its previous state. This helps to reduce the use of network resources and licensed connections.
How to Get the Novell Application Launcher
The Novell Application Launcher is available for free download from NetWire on CompuServe or from the World Wide Web at www.novell.com.
Novell Administrator for Windows NT
Besides the challenge of managing heterogeneous clients (DOS/Windows 3.x, OS/2, UNIX, Macintosh, Windows 95 and Windows NT), network administrators face the following additional challenges:
Providing reliable network access and services

Administering heterogeneous LANs

Providing access to IntranetWare, UNIX, and Microsoft Windows NT servers on the network

Consolidating heterogeneous file systems
Specifically, administrators of IntranetWare and NT networks face the following challenges of dual-environment administration:
IntranetWare users and groups must be administered from NWAdmin and NT users must be administered from User Manager

Loss of time spent in manually migrating NT users to the NDS database

Loss of time spent maintaining two separate databases

Errors that result from manually synchronizing user information for users who need to access both NT and IntranetWare
Microsoft's solution to these problems is to add four tools to NT, two of which are bundled with the Windows NT Server. One of the tools that is sold separately, Directory Services Management for IntranetWare (DSMN), promises to make the coexistence of NT and IntranetWare transparent. But DSMN migrates only IntranetWare servers and associated users, groups, and login scripts running bindery emulation to NT. NDS users suffer a backward leap of technology to a domain system. For this reason, DSMN does not satisfy the needs of the real-world network user.
Maintaining User Access to Network Resources
Users who want the application server platform that Windows NT provides still need a network with a distributed architecture that does not restrict network traffic to specific servers. NDS manages every type of resource on the network.
As an application server platform, NT doesn't have the structure to control users, computers, routers, printers, applications, processes, and all types of data associated with these resources. NDS, however, provides this framework.
Easing Network Administration
The hierarchical structure of NDS can accommodate all of the resources available in an organization by providing unique identification for all objects based on name and location within the tree. Hierarchical directory services have the ability to scale to a worldwide network name and address structure.
NDS is one of the most sophisticated and powerful network technologies on the market. The power of NDS is derived from the following:
Scalability. It is critical that growing companies and divisions can combine their respective directories to create a single directory. NDS scales to any size because of its partition, replication, and synchronization scheme.

Manageability. Administrators must be able to change container and user names, move branches of the tree, and move servers within the network. As a distributed database of network resources, NDS provides a comprehensive infrastructure for accessing, managing, and controlling network resources from a single point.

Schema Extensibility. A standard for the definition of the rules and attributes for objects must exist for administrators to add to the schema without interrupting the network. The NDS schema is capable of extending and customising the schema to allow administrators to completely integrate and centrally manage all network resources, services, and applications.

Security. Because information is replicated and distributed, it must be kept secure. The NDS authentication process establishes user identities and verifies access rights to network services and applications. NDS allows users to log in anywhere in the network and authenticate to all permitted servers.
Novell's Solution
Novell Administrator for Windows NT offers a method of integrating Windows NT Application Services with IntranetWare without having to administer two types of management infrastructures. It provides NT servers with the same manageable foundation for administration as that found in IntranetWare, thus giving network administrators a solution to the problem of dual administration of Novell IntranetWare and Microsoft NT networks.
With Novell Administrator for Windows NT, IntranetWare customers can still use Windows NT­based software packages. Their entire IntranetWare infrastructure and IntranetWare's advanced manageability is maintained. System integrators and Value Added Resellers (VARs) can provide a level of confidence to customers that this combination of services will not result in duplicate administration schemes.
Novell Administrator for Windows NT reduces the redundancy and improves the automation of administration tasks. It allows administrators to:
Use NWAdmin to administer NT servers in the NDS tree

Associate existing users in the NDS database with existing users in the Window NT SAM database

Migrate users from an Window NT database to NDS in bulk
Novell Administrator for Windows NT comprises the following:
Administration Utility (NWAdmin)

Integration Utility

NDS schema extensions and NWAdmin snap-in

NDS Event Monitor

NDS Object Replication Service
NWAdmin. As with other network administration, the NWAdmin utility is the administration tool for Novell Administrator for Windows NT. NWAdmin provides the technology to ensure data integrity and data synchronization between NDS and NT. NWAdmin allows the administrator to centrally manage all NT platforms through one utility. NWAdmin components execute on Windows NT Workstation 3.51 and 4.0 and Windows 95 systems.
Integration Utility. Novell Administrator for Windows NT provides an integration utility to migrate existing NT servers, groups, and users into an NDS tree. This utility can be launched from NWAdmin or run as a stand­alone utility. It allows administrators to integrate existing users and groups in the NT Security Accounts Manager (SAM) database into the NDS system, and existing NDS users and groups to be integrated into NT (see Figure 4).
Figure 4: Integration Utility window showing integration objects.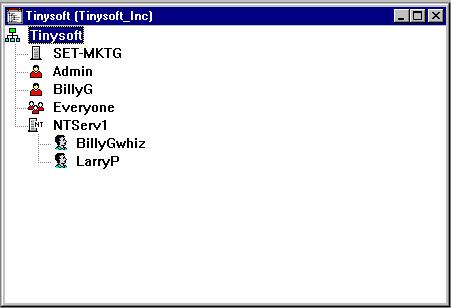 The administrator performs two important integration activities with the integration utility: (1) replicating NT users and/or groups into an NDS context; and (2) synchronising NT users and/or groups with existing NDS users or groups. Administrators can choose to integrate users one­by­one or in bulk. NDS thus becomes the master repository for all user and group information.
NDS Schema Extensions. Because Novell Administrator for Windows NT manages NT objects from NDS, the standard directory service schema is enhanced to accommodate the extra functionality. This is performed during the installation of Novell Administrator for Windows NT.
Once the schema extensions are in place, NWAdmin functionality is extended to manage them. This is achieved by Snap­in service modules to NWAdmin (see Figure 5).
Figure 5: An example schema extension for Novell Administrator for Windows NT.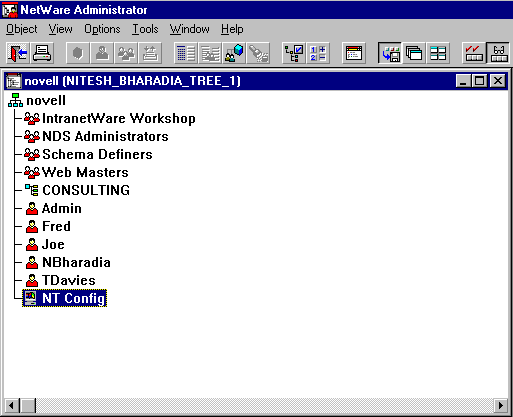 NWAdmin Snap­In Service. NWAdmin uses Snap­in technology to allow administrators to view and modify attributes for new classes as well as adding attributes for existing classes of objects. Snap­in technology provides a means for administrators to hide the complexity of managing NT systems on their NDS network.
Using Novell Administrator for Windows NT Snap­ins, the administrator can create NDS objects that represent NT systems. The NT systems User Groups and Users are presented in NDS as native NDS objects with a reference to the NT Server object in which their membership is held. The NDS User object is extended to include an attribute that identifies in which NT systems this user has membership (see Figure 6).
Figure 6: User and group information schema extensions.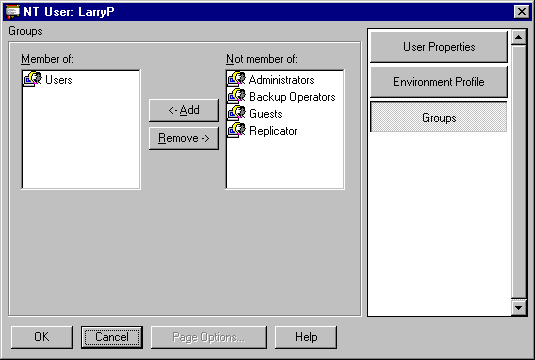 NDS Event Monitor. The NDS Event Monitor securely gathers NDS events and notifies the NDS Object Replication Service. It is used to monitor NDS for certain object type creation, deletion, move and attribute value changes on the behalf of registered clients. Novell Administrator for Windows NT allows the administrator to configure, through NWAdmin, how often NDS events are synchronized on NT systems. This design adds minimal overhead to network traffic. The Event Monitor also provides the ability to send appropriate changes to an NT system that has been down so that, following the reboot of that system, it is brought up to date with the current content of the NDS database.
The NDS Event Monitor is implemented as a NetWare Loadable Module (NLM) and installs like other NLMs on IntranetWare servers. One event monitor is required on every read/write partition in the NDS tree.
NDS Object Replication Services. The NDS Object Replication Service (ORS) resides on each NT Primary Domain Controller (PDC), Backup Domain Controller (BDC), and every Workgroup system targeted for administration through NDS. Its main purpose is to receive NDS object changes from the Event Monitor that pertain to the NT system, validate them according to NT constraints, and make the corresponding changes in the NT SAM database. Conversely, certain commands cause information to be retrieved from the SAM database for use by the administration utilities.
The ORS is designed in a modular fashion so that portions of it are portable as well as expandable. In the initial release of Novell Administrator for Windows NT, the ORS communicates with only the SAM database, but the forward­thinking design has implications for future uses. For example, later releases may allow the ORS to communicate with applications like Microsoft Exchange Server so they can be plugged in and administered directly through NDS.
Security
In general, all communication between IntranetWare and a Windows NT system occurs over an authenticated NDS connection. Communication between the NT ASM services and the NLM occurs with a private NCP using the NCPX protocol. (The only exception to this is the PING datagram that signals the NT system that changes to the NT system need to be requested.) All changes to the NT system come over the authenticated connection it establishes with the IntranetWare server. This gives the maximum safeguards currently available through NDS connections.
How to Get the Novell Administrator for Windows NT
Novell Administrator for Windows NT will be available electronically using NetWire or from www.novell.com free of charge, or on CD­ROM for a nominal media charge, in Q1 1997.
ManageWise Client for Windows NT Workstation
The ManageWise Client for Windows NT workstation delivers all the cost benefits of full-service management to Windows NT workstations. It delivers hardware and software inventory, SNMP alerts, virus protection, remote control, and remote execution.
With ManageWise Client for Windows NT, administrators can proactively manage entire communities of NT users without the need to travel from their desks. Combined with the time savings that remote server management provides, ManageWise can pay for itself within 20 days, cut network management time by 35%, and reduce administrator's travel time by up to 50%.
By using the inventory management capabilities of ManageWise, administrators can police their license agreements, and they can be automatically notified of hardware changes on users' PCs (for example, memory changes from SIMM theft). Similarly, ManageWise can notify administrators of software being installed illegally.
With the completion of the ManageWise Client for Windows NT, Novell will have the most comprehensive multivendor heterogeneous client management system in the industry.
How to Get ManageWise Client for NT Workstation
The ManageWise Client for Windows NT Workstation will be available electronically, free of charge, on NetWire or from www.novell.com, in Q1 1997.
ManageWise Agent for Windows NT Server
The ManageWise Agent for Windows NT Server integrates with ManageWise 2.1 to provide a standards­based, feature­rich solution to trend server performance, detect fault conditions and monitor Windows NT server configurations. IS managers can now leverage a single ManageWise 2.1 graphical user interface (GUI) to manage both IntranetWare and Windows NT Servers, eliminating the need to learn two separate network management systems.
ManageWise communicates both IntranetWare and Windows NT Server management information via the industry­standard Simple Network Management Protocol (SNMP), allowing enterprise administrators to manage their PC LAN environment from their enterprise consoles. For those small business managers who need to outsource their management requirements, ManageWise 2.1 is also optimized to work over phone lines to deliver IntranetWare and Windows NT management information remotely in a proactive manner.
The Windows NT Server agent extends ManageWise 2.1 capabilities, enabling IS managers to proactively manage NT Servers by collecting real­time and long­term performance trends and alarm information for an instantaneous understanding of unusual conditions and changing environments. It provides monitoring of all useful server statistics including disk I/O, memory, CPU utilization, loaded software, network adapters, and print queues to help network managers prevent downtime (see Figure 7).
Figure 7: ManageWise Agent for Windows NT Server.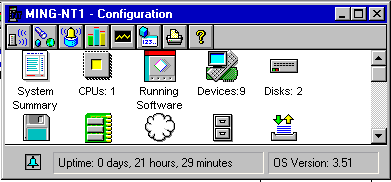 NT Servers are discovered and automatically placed in the ManageWise topology map so administrators can comprehensively document and troubleshoot their heterogeneous PC networks.
How to Get ManageWise Agent for Windows NT Server
ManageWise Agent for WindowsNT Server is available now through the Novell reseller channel.Both the IntranetWare and NT agents are priced idnetically, atUS $595.
GroupWise and Windows NT
GroupWise 5 is Novell's fifth-generation messaging system. It is built on a scalable, proven architecture and remains the only client/server, cross-platform messaging and groupware product to enable users to expand beyond their e­mail capabilities.
GroupWise Client for Windows NT
GroupWise enables users to access and manage personal calendaring, group scheduling, tasks, voice mail, faxes and other message types from within a Universal Mail Box. GroupWise 5 also expands beyond traditional messaging capabilities by offering integrated document management, helping users access, manage, and share all information in the Universal Mail Box. GroupWise 5 offers shared folders, extensive workflow capabilities, and threaded conferencing, as well as integration with the World Wide Web, which allows users to access information and functionality in GroupWise from any machine with an HTML 1.0-compliant browser. GroupWise 5 fully exploits the new capabilities of Windows NT, and clients will also be available for Windows 3.1, Windows 95, Macintosh, Power Macintosh, and UNIX platforms.
GroupWise Server for Windows NT
GroupWise Message Server will run under Windows NT. As both the GroupWise mail system and the network system are managed from one common utility (NWAdmin), customers will, for the first time, be able to completely integrate their user and e-mail administration. An added benefit is that GroupWise message services can be used to drive Microsoft Exchange clients, thereby providing a much more robust messaging service totally administered from the directory service.
Figure 8 shows a sample directory service populated with users. By using the GroupWise 5 snap-in, adding new users to the network automatically adds them to the GroupWise system.
Figure 8: GroupWise objects visible from the directory service.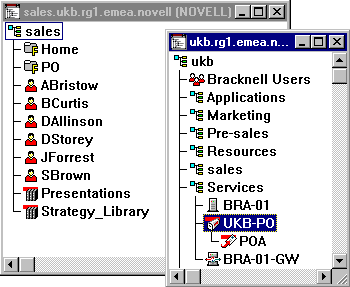 Running the GroupWise Client connects to the message service, regardless of where it is and where you are, because NDS can be used to universally locate resources regardless of location. Figure 9 shows the GroupWise Address Book, automatically populated from the directory service. This functionality significantly eases administrator burdens and reduces the potential for error.
Figure 9: GroupWise Address Book, highlighting the synchronisation between NDS and the post offices' directory.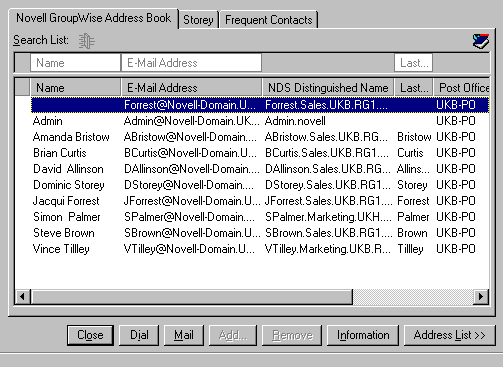 Should customers prefer the Exchange client, GroupWise will automatically support Exchange services through the MAPI 1.1 interface. Figure 10 shows the NDS- populated address book, this time visible from Exchange.
Figure 10: Microsoft Exchange using the MAPI-compliant GroupWise service.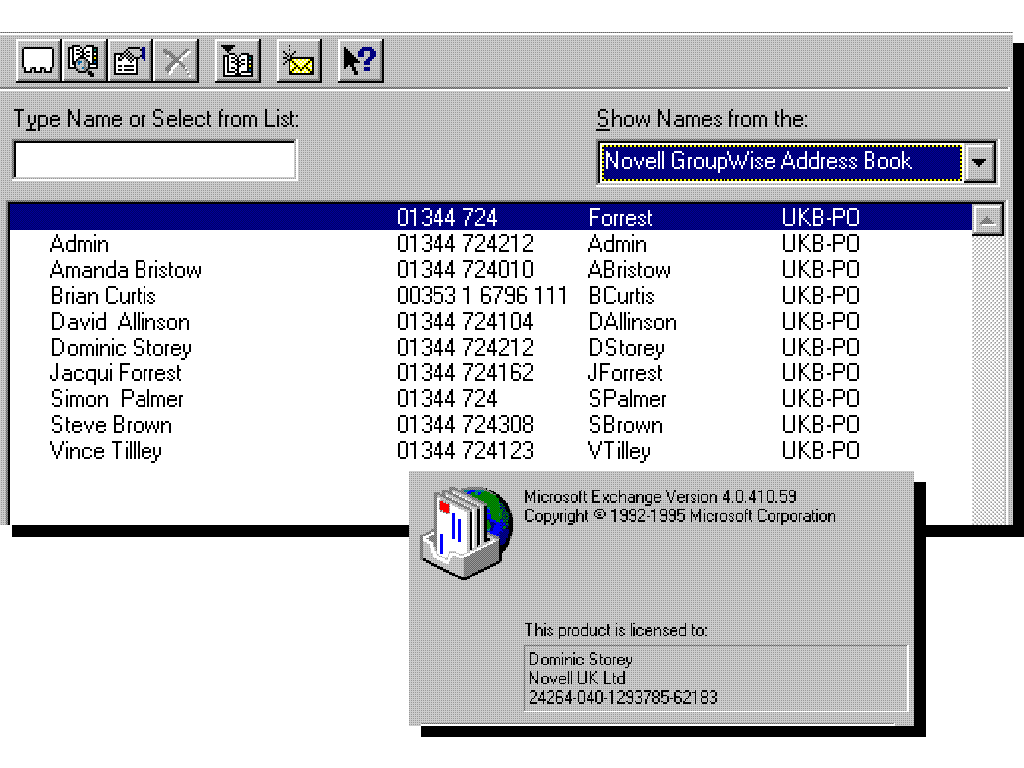 This MAPI support gives administrators "breathing space" in moving people to the more powerful GroupWise system, as continuity of service is maintained through a phased rollout.
How to Get GroupWise for Windows NT
GroupWise for NT is availablenow from your reseller. If you use MS Mail now, GroupWise 5 isthe next logical step up, and Novell offers special competitiveupgrade deals for those considering a move to IntranetWare.
NetWare for SAA and Windows NT
According to a January 1996 report from International Data Corporation, NetWare for SAA led the LAN­to­host gateway market in 1995, with 30.9 percent of worldwide SNA gateway shipments. Novell and IBM are committed to building on this leadership by enabling customers to leverage and expand upon their existing technology investments.
On October 30, 1996, Novell and IBM announced NetWare for SAA 2.2. This new version features tighter integration with NDS, expanded Internet and intranet capabilities, and enhanced client support. As a stand­alone server or as an addition to IntranetWare, NetWare for SAA 2.2 integrates seamlessly with network environments, providing customers increased accessibility to information and resources residing on IBM S/390 and AS/400 systems, both of which are important components of corporate networking solutions. NetWare for SAA 2.2 also delivers an enhanced 32­bit AS/400 router which increases performance to AS/400s.
Enhanced Client Support
Working with third­party partners, Novell and IBM maintain an open platform strategy with a standard set of Application Programming Interfaces (APIs). This ensures that all network users can communicate with the host, regardless of the users' desktop computing choice. In addition to existing support for DOS and Windows 3.1, NetWare for SAA 2.2 provides 32­bit clients including Windows 95, Windows NT, and OS/2.
How to Get NetWare for SAA 2.2
NetWare for SAA 2.2 is available today through your Novell Authorised Reseller.
Novell Mobile Services for Windows NT
Mobile and remote services for NT Workstation is limited at present to Microsoft's Remote Access Service (RAS). Novell is developing Novell Mobile Services for Windows NT which will provide superior remote support for Windows NT by providing:
Remote Access Services over TCP/IP and IPX, authenticated by NDS

Full view of network service while operating off-line

Automatic file replication and synchronisation with full view of file system context maintained (not a briefcase-style approach)

NetWare file system security implemented locally on NT workstation disks

Full administration from NDS
Novell Mobile Services for Windows NT will build on Novell's expertise in delivering mobile services for the DOS and Windows environments (NetWare Mobile). The product will be available in the second half of 1997.
Novell Directory Services for Windows NT
As part of a larger industry programme, Novell is implementing NDS on Windows NT. Initially, the service will be aimed at developers so that NT applications can be administered and authenticated by NDS. It is scheduled for availability in the second half of 1997. NDS will provides users with a platform-independent Directory infrastructure for accessing and managing all network resources in large and small business networks, intranets, and the Internet.
NDS is being made widely available on multiple platforms, including UNIX (Sun Solaris, HP-UX, IBM AIX, System V Release 4 from SCO, ICL, Olivetti, Siemens Nixdorf, Data General, NCR, and Unisys) and other operating systems. Indirectly through Novell's new source licencing model, and directly through the LDAP and DNS personalities, NDS will become the most widely implemented and accessible directory service in the industry.
Providing NDS natively on Windows NT opens the door to allow developers to fully leverage NDS as a cross-platform applications infrastructure. This will make NT an equal participant among the above-mentioned platforms, enabling freedom of choice in the platform while still realizing the benefits of NDS across intranets and the Internet.
With NDS available on so many platforms, single sign-on and universal service management will become a reality, regardless of the platforms customers employ.
Conclusion
This AppNote has reviewed key products from Novell which help solve the management and integration problems of Windows NT and IntranetWare. Using the IntranetWare Client for Windows NT, the Novell Workstation Manager, and the Novell Administrator for Windows NT effectively eliminates the drudgery of managing domains in the network. Combining this approach with the ManageWise NT client and ManageWise SNMP Agent for NT Server can significantly reduce the cost of owning the network. Using GroupWise message server with the Exchange client creates a much more robust messaging system, which is upgradable at your leisure--through the Novell Application Launcher--to a full groupware/document managment service by installing GroupWise Client for NT.
Using IntranetWare to network Windows NT client and Windows NT server can significantly reduce the risk of implementing Windows NT in a corporate environment. By using Directory Services on your key network server and application server platforms--whether IntranetWare, UNIX or Windows NT--you can bring unparalleled access, security and low cost of ownership to your networked and (with NetWare Mobile Services for NT) remote environments.
* Originally published in Novell AppNotes
---
Disclaimer
The origin of this information may be internal or external to Novell. While Novell makes all reasonable efforts to verify this information, Novell does not make explicit or implied claims to its validity.